Image noise refers to the random variations of brightness or color values in a digital image, which can appear as grainy or speckled patterns. This can result in a loss of detail and an overall degradation of image quality. For example, when shooting in low light conditions, a camera's ISO setting may be increased to produce a brighter image, but this can also amplify the noise in the image.
AI photo enhancement apps such as Topaz Labs Denoise AI tool can use techniques which analyze the image and replace the noise pixels with an average of the surrounding pixels. With that said, in this Topaz Labs Denoise AI review, we will not only discuss more about the Topaz Labs Denoise tool but also look into VanceAI Image Denoiser as an alternative.
Topaz Labs DeNoise AI | What Is It?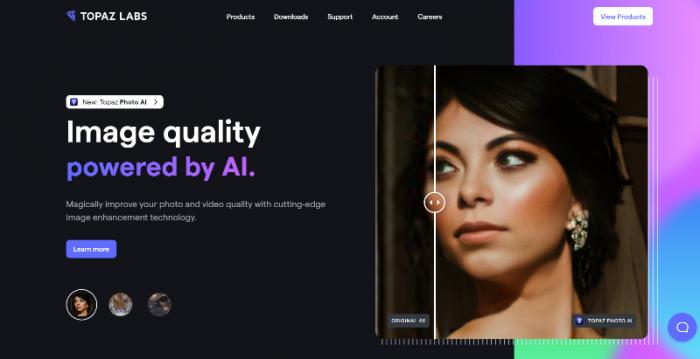 Topaz Labs Denoise is one of the many tools offered by the Topaz photo editing software application. This tool uses AI and Machine Learning algorithms to reduce image noise or film grain from photos. Topaz AI Denoise is a powerful tool for photographers and photo enthusiasts who need to reduce image noise and improve image quality. The software's advanced AI algorithms provide users with a fast and convenient way to produce professional-looking results, even from challenging images.
Topaz Labs Denoise is designed with both simplicity and functionality in mind. The software features an intuitive user interface that is easy to use, even for those who are new to photo editing. At the same time, the software includes a range of advanced tools and features that are designed to meet the needs of professional photographers and advanced photo enthusiasts. The software uses advanced algorithms to analyze the image and remove noise, producing high-quality results in a matter of seconds. The software also features batch processing capabilities, allowing users to process multiple images at once, saving time and increasing efficiency. Try it on!
What Can Topaz Labs DeNoise AI Do for You?
An automatic AI denoise tool such as Topaz AI Denoise can be a valuable asset for photographers, designers, and others in the creative fields by streamlining their workflow and saving time in post-processing. The software's AI algorithms are able to quickly and accurately identify and remove noise from an image, allowing users to produce good-looking results without the need for manual intervention. This can be particularly useful for photographers who shoot in challenging lighting conditions, such as low light or at high ISO, where noise can be a common problem.
An AI denoise tool can also be helpful in improving the quality of images that will be used in print or digital projects. The software's ability to remove noise can result in a clearer and more detailed final product, which can be especially important when the image is being used in a larger design or presentation. The automatic and non-destructive nature of AI denoise tools also makes them ideal for use in a professional setting, where speed and efficiency are critical.
How to Use Topaz Labs DeNoise AI? 
Step 1: Click on Topaz Labs Denoise to get to the download page of the software. If you're not planning to buy the software yet, you can click on "Try for free" to initiate the download. The setup file is around 3.5 GB, so it may take a few minutes.
Step 2: Run the setup and install the software. Once done, run the application and you will see the upload function right in the middle of the UI of the software. Upload an image and click on the "Clear" option on the right. However, you can choose other options as well.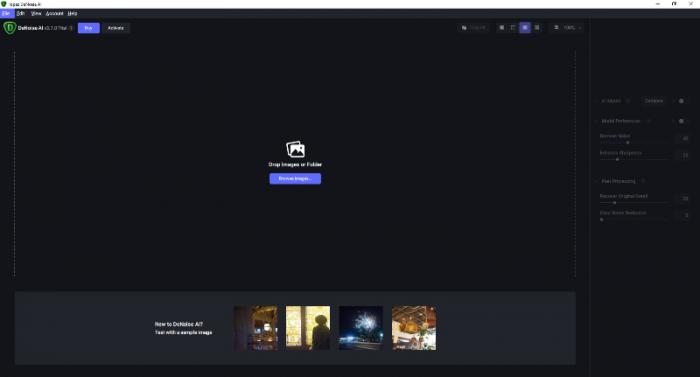 Step 3: The software will only take a few seconds to process the image and display the output. You can then click on "Save Image" to save the image on your device.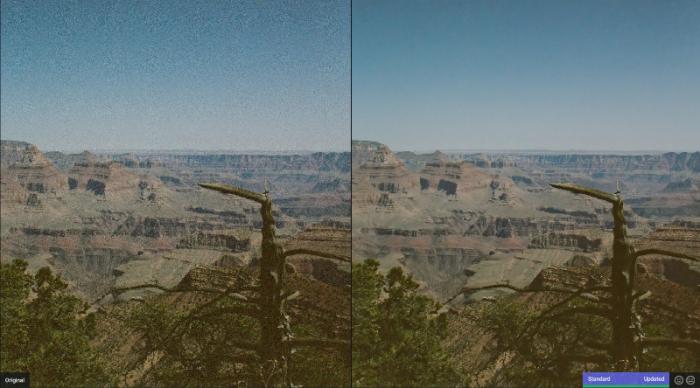 Recommended Alternatives to Topaz Labs DeNoise AI
VanceAI has its fair share of similarities with the Topaz Labs platform. It is another platform that makes use of AI and Machine Learning algorithms to provide the best possible results to users. Moreover, VanceAI offers its own version of Image Denoiser, which is available on desktop software as well as online.
VanceAI Image Denoiser
VanceAI Image Denoiser can instantly reduce image noise or film grain. When using this tool, you can adjust the level of sharpness and image noise reduction you want in the final image. This allows users some level of customization for their photos.
Key features
Online platform: The software is available as an online platform, allowing users to process images from any device with an internet connection.
Fast processing speeds: VanceAI Image Denoiser is designed to be fast, allowing users to process images in a matter of seconds.
Useful UI: The software features a user-friendly interface that is easy to use, even for those who are new to photo editing. In the Workspace, you can also check your image credits, access other VanceAI tools, use features, and more.
Pros
The tool provides good results in most cases and is easy to use.
Offers useful features and UI.
Cons
As of now, it supports JPG, JPEG, and PNG image file formats only.
How to Use VanceAI Image Denoiser?
Step 1: Click on the link given to access the webpage. From there, click on Upload Image to get to the Workspace.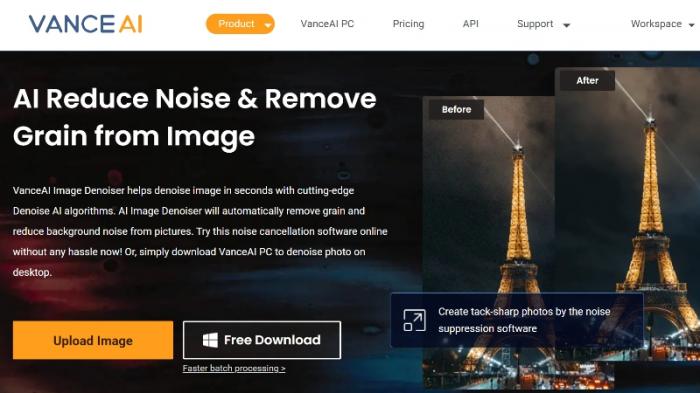 Step 2: Inside the Workspace, you can upload the image, set your preferences, and click on Start to Process. The tool will start to process the image.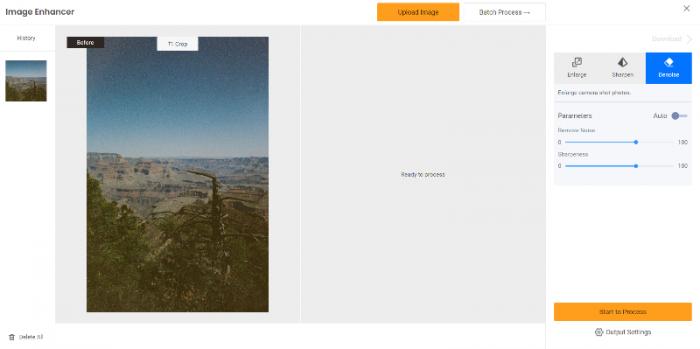 Step 3: In a few seconds, the tool will load the final image onto the screen. You can then click on Download Image to save the image.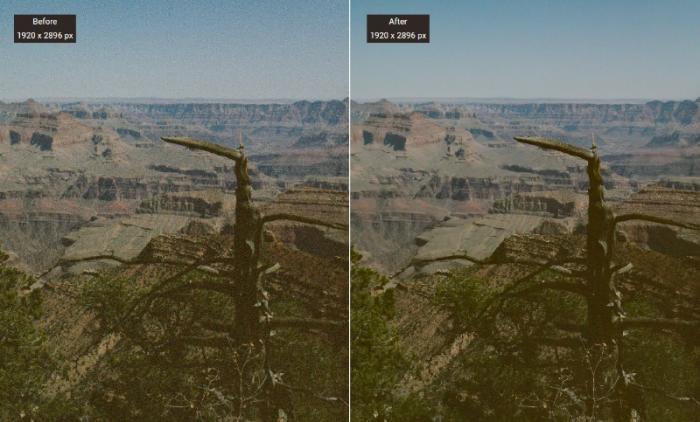 VanceAI Image Denoiser for Windows
Key features
Flexibility: By having the VanceAI Image Denoiser tool on desktop, users can benefit from the tool even when they are offline.
Easy to use UI: The software takes inspiration from the online model and presents the tool in a simple way, allowing users to quickly familiarise themselves and get results fast.
Pros
Users have multiple options for using VanceAI Image Denoiser.
The software application has regular updates and works pretty smoothly.
Provides real-time preview, making it easier for users to adjust their settings according to the image they want.
Cons
The software can add more VanceAI tools.
How to Use VanceAI Image Denoiser on VanceAI PC?
Step 1: Click on VanceAI PC to get to the download page. Hit the Free Download button to download the setup.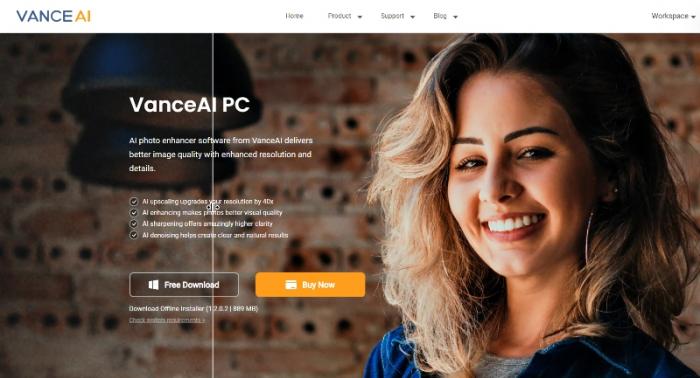 Step 2: Install the software by running the setup. Once you open the software, click on the Denoise tab to open the Workspace.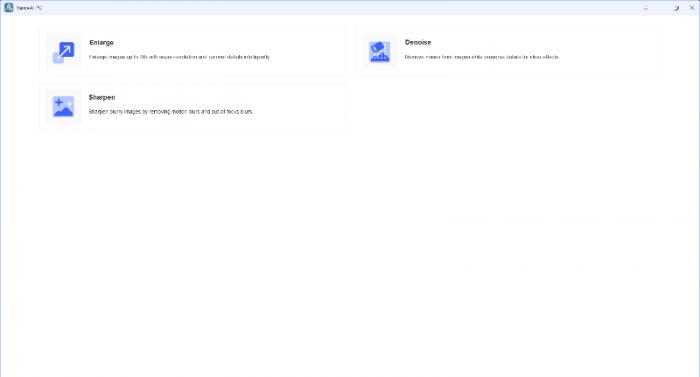 Step 3: Simply upload the image and let the tool work on the image for a few seconds.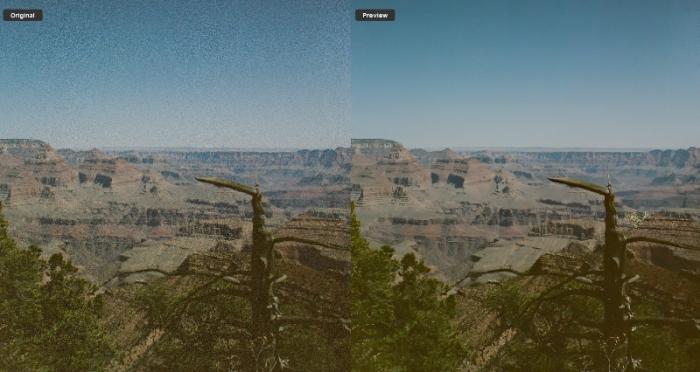 Conclusion
In this Topaz Denoise AI review, we went through the essentials of the platform and application while also introducing VanceAI Image Denoiser, which can be a fitting alternative and more. AI based photo editing and enhancement is increasingly getting popular among users and for good reasons. They can offer convenience, ease of use, and most importantly, good performance. Topaz Labs has been and continues to be popular among users for its performance and AI capabilities. A similar reputation is shared by VanceAI, which offers more than 15 image editing tools on its platform.
With these applications, you can find many photo editing solutions instantly and not worry about complicated editing procedures.
Do you find this post helpful?