Photo denoising has been a headache for many photographers, both amateur and professional. Noise is a kind of visual distortion. Noise in photos is almost inevitable when you shoot with a digital camera or your smartphone. Not all photos with noise are terrible. Some noise can create a vintage film effect for your images. But too much noise gets in your way of creation. Such images appear less clear and they are unusable in most cases.
There are many tools available, most of which, however, don't recover details in your images. To denoise images, Vance AI Image Enhancer is one of your best choices. It is an AI-powered image denoising software that allows you to handle noise in one click. This is possible through its advanced algorithms, which were fed with tons of noisy and clear images. Denoising photos with the Denoise AI software has never been simpler. All you need to do is upload a noisy image. Then AI will reduce noise in your image automatically.



Part 1: Steps to Denoise Photo with Vance AI Image Enhancer
Below is a step-by-step guide for new users. Skip the first three steps if you already have the best noise reducing software installed on your computer.
Step 1: Download the software for Image Denoising

For your safety, you are recommended to download the denoising software from the official website. Tap on "Free Download" and download this light software to PC directly.
Step 2: Install the desktop program for image denoising

Install the desktop program in several clicks as you normally do with other software.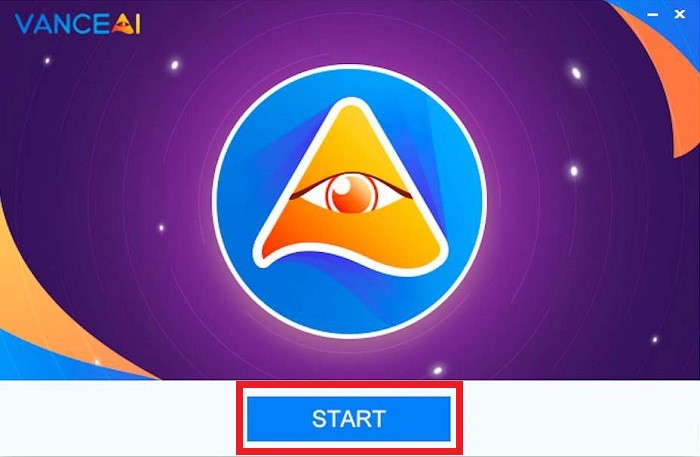 Step 3: Download AI Model

As you launch the software, AI models need to be prepared before you can access all AI features. When you see a pop-up, download the AI model in one click. After a few minutes, you can move to the next step effortlessly.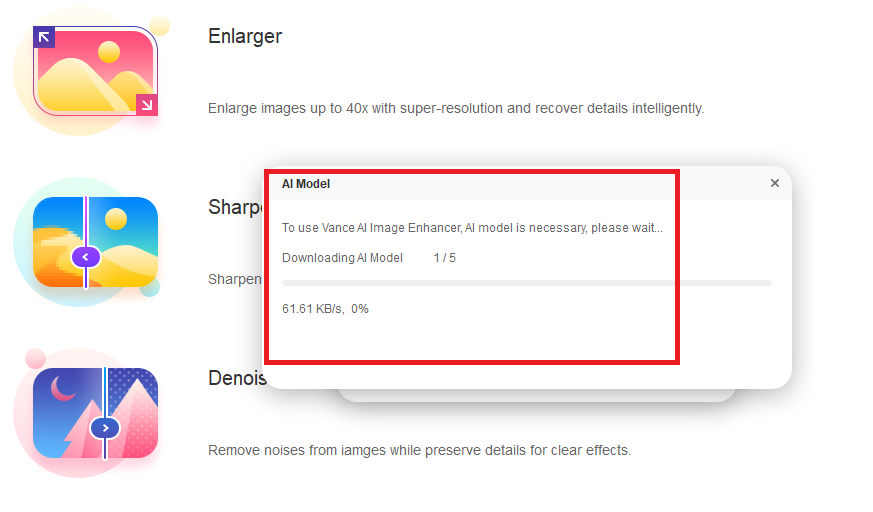 Step 4: Upload an image to this software

You can simply drag and drop files to this Image Enhancer. Or, you can upload by selecting a photo from PC.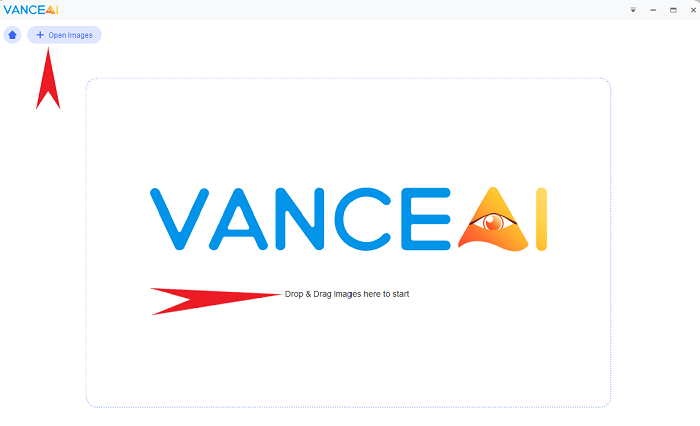 Step 5: Denoise photo in one click with AI

As default, the denoising level is 50% and you can move the slider to further denoise image as you like. There are two ways to preview. You can preview the result only or choose to see the comparison image.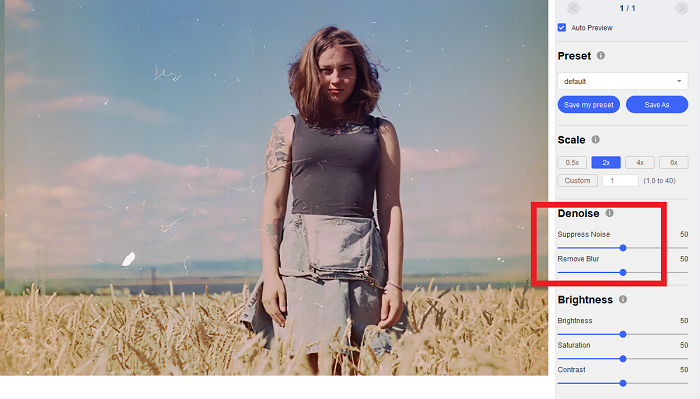 Optional1: Resize image

This software also lets you resize images. You can make your photos smaller or bigger by choosing a scale. The great part about this product is that you can make images larger without losing quality.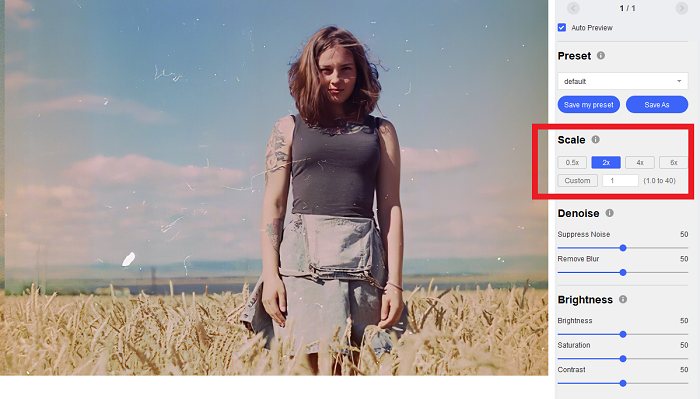 Optional2: Adjust brightness
You can adjust brightness, contrast, and saturation of photos if you want. Just move sliders to adjust the values.

Step 6: Save image denoised from Denoise Photo Software

Before you save the denoised photos to your computer, you can change file name and choose quality of photos. Tap on "Save" and click OK on the pop-up you see.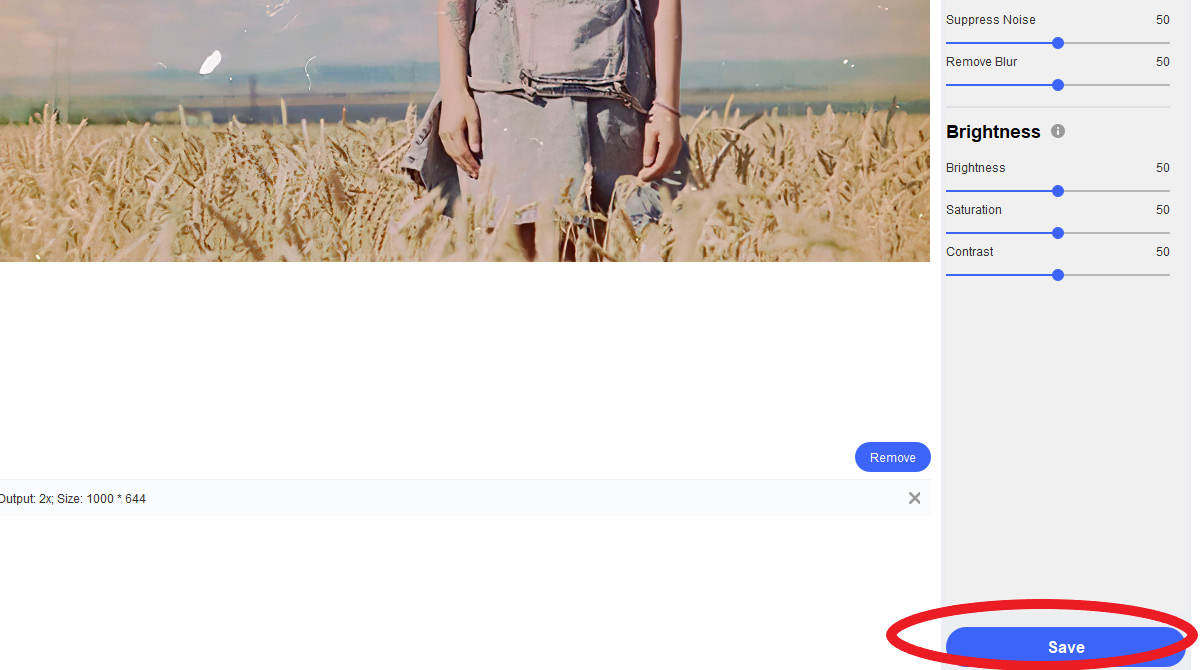 Part 2: An Alternative to Denoise Photo Online

With Vance AI Denoise, you don't need to turn to traditional denoising tools, which focus on handling noise at pixel level. It makes your old and unclear images clear and crisp. It has both paid and free version. You can upload and denoise up to 5 photos for free if enjoy the free trial. Let's look at the features of this product.

1. Denoise photos using machine learning
This product makes it possible to denoise photos automatically with machine learning. It has trained its advanced algorithms to identify noise or grain in your images and reduce them to make images clear and sharp. The online denoising product serves as a handy tool during post-processing.
2. Denoise image online without any hassle

The denoising tool has an intuitive interface. Everything is straightforward. It comes with powerful image denoising feature and it handles the difficult part with AI. All you need to do is upload an image for denoising and leave the rest to AI.
3. Create crisp results through denoising

Noise in images, be it color noise or luminance noise, distorts your images and makes it unusable. To make images clear, photo noise reduction is a key step. You can have free access to clear and crisp results if you enjoy the 7-day free trial.
Steps to Denoise Photo Online with Vance AI Denoise
Do you know how to denoise a photo? With Vance AI Denoise, you can do this automatically.
Step 1: Select a file from your device or drag&drop one to this tool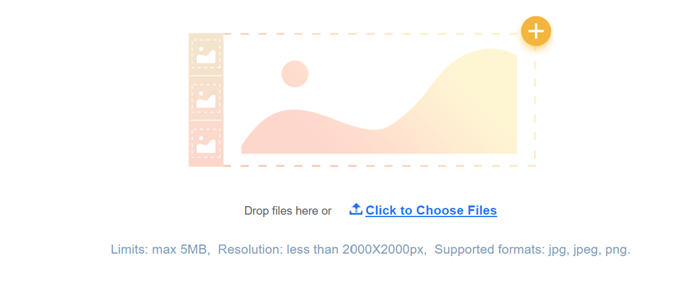 Step 2: "AI Denoise" is selected by default. You can move the slider to adjust the level of photo noise reduction.

Step 3: Click "Start to process"

Step 4: Save denoised image by clicking the download button.

Want to denoise photo online without any hassle? Check out the online product Vance AI Denoise.
Conclusion
Noise or grain in images has different causes, including low light shooting and high ISO ratio. When you need to shoot in low light condition, for example, at a birthday party or in a dark room, you might see a lot of noise or grain in your images. Setting a high ISO ratio is another culprit.
If you have pictures with dots or noise scattered on the surface, you don't need to try heavy software like Photoshop. Try Vance AI Image Enhancer, your best choice for image denoising. This product makes it extremely easy to denoise photo. As you upload a photo to it, this software will handle noise intelligently. With AI technology, it also recovers real details to your photos. Besides, your images are kept and processed in your own computer. No servers are involved. It's safe to use.
Want to learn more about making images bigger? Check out in Selective Image Upscalers to Upscale Image without Losing Quality.