While many tools have difficulties in image upscaling and retaining original quality, tools like vector magic and Image upscaler ensure the preservation of the original quality while enhancing it further.
Hence, this article will give a detailed review of these two tools and how best to leverage them for your image editing needs.
What is Vector magic ?
Vector magic is a tool that can be used to transform images to vector. The sole aim of this tool is to convert images in JPG, PNG BMP and GIF to SVGs and PDF file formats thereby providing immense upgrade in the picture quality and now it can be called by vectorize image.
Vector magic offers both online and offline service since you can install it on your desktop also.
Unlike many other tracing tools, vector magic free is quite unique since it is built to generate utmost precision in tracing out the objects on your image. Every little pixel is analyzed and considered while using the right number of nodes to ensure the details are accounted for.
Pros
Quality image vectorization with precision
Advanced AI tracing
Easy user interface with minimal learning period
Cons
Limited free trial option
Complex bitmap images may be difficult to convert
Loading time can be too long especially on complex images
How to use Vector magic?
Step1: Go to the official site and upload your image. This could be done by clicking on Pick image to upload or use the drag and drop feature or the URL copy and paste.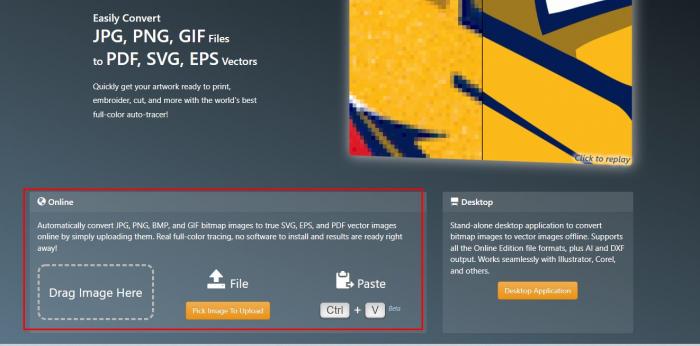 Step2: After image upload, wait for the tool to automatically process the image. Then review it and edit by using the options on the right pane. You can even improve the overall conversion to high just to increase the quality.
Step3: Click on Download result to get your quality image vector to PDF or SVGs.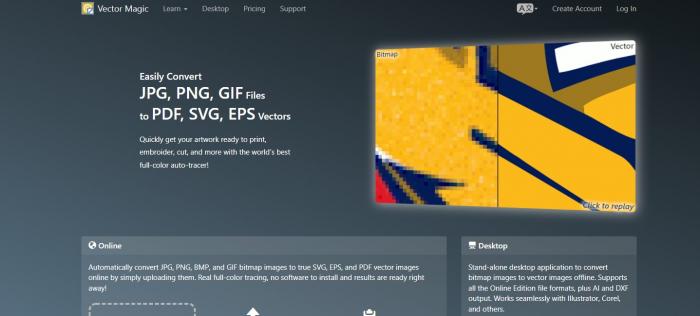 What is AI image upscaler?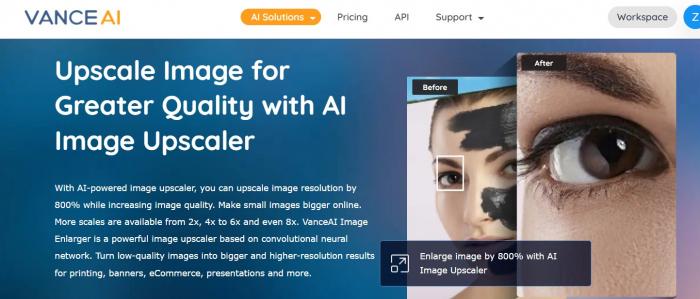 Image Upscaler is an advanced AI-powered tool that can upscale images up to 8x the normal size while preserving original quality. This tool is built for both professionals and everyday users.
One of VanceAI Image Upscaler is it uses convolution neural and generative adversarial networks i.e. image upscaling doesn't work on pixels to improve the image quality.
With this tool, you can upscale images while presenting extra details that might have been lost to noise in the original one. This will help improve overall image presentation. And there is support to experience the full power of VanceAI Image Upscaler with a trial in the pop-up space on the right side. Same as the guide. (Sign up can get 3 credits/month for Free. Click on "×" can exit the mini workspace and return to where you are reading.) Also you can download the software to use.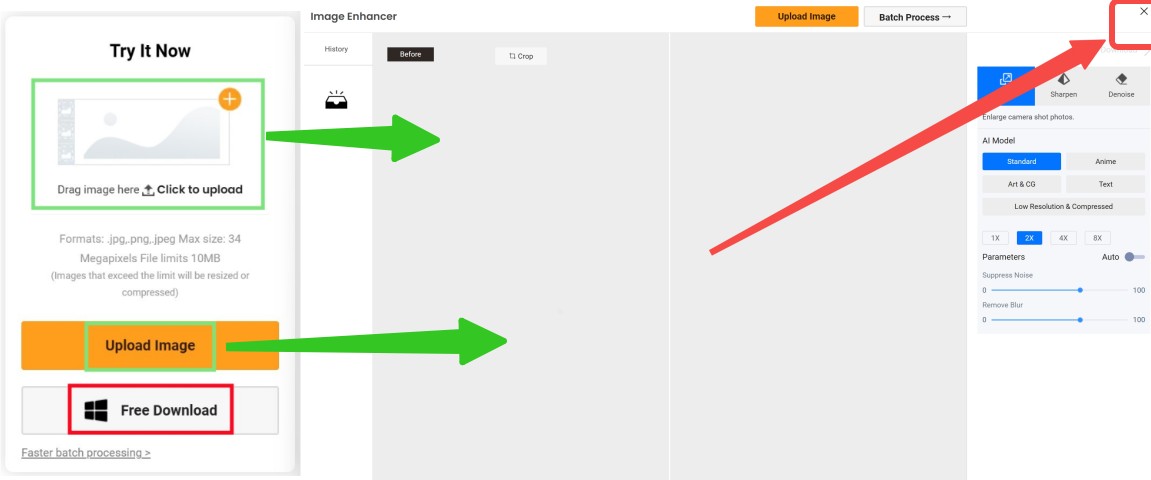 To use this tool, follow these step-by-step instructions:
Step1: Navigate to the VanceAI site by clicking on the link above and click to upload an image. This will take you to the media page for image uploading.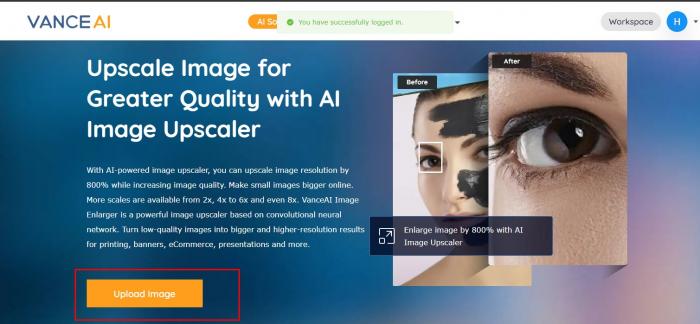 Step2: Uploading the image for upscaling can be done either by simply uploading from the device or through the drag and drop option. After this, click on 'start to process'.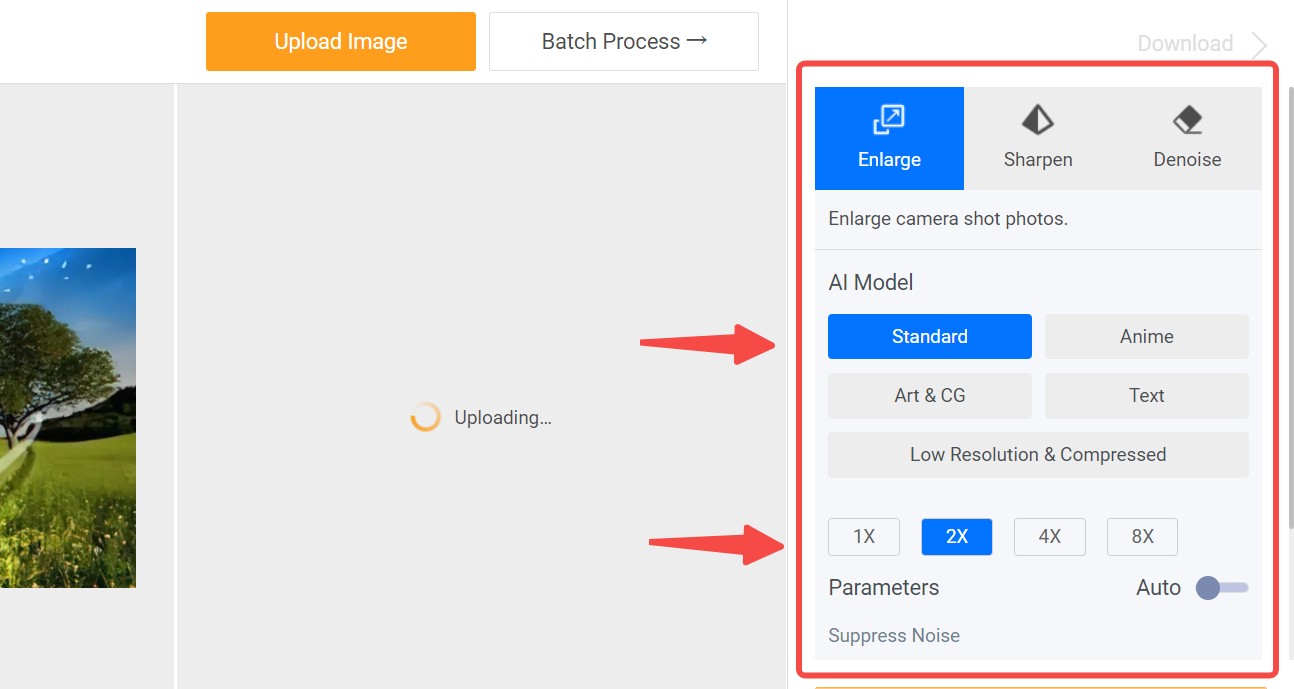 Step3: Wait for the tool to automatically process the photo and upscale the image. From the 'processed' page, there is an option to preview the output with the original image. Also, the upscale image can be further edited by clicking on the edit icon.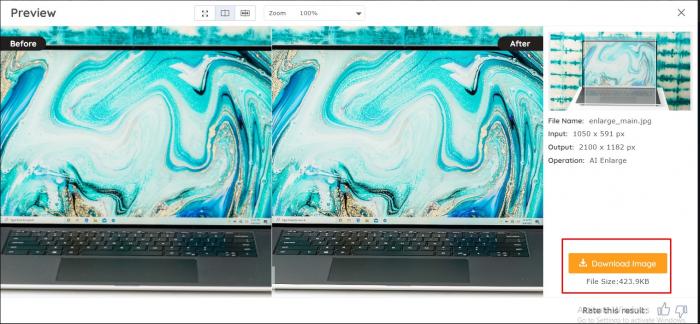 Step4: Proceed to click on the 'download' icon to save the image.
Models provided
VanceAI Image Upscaler provides 5 different image upscaling models. Let's dive into them and see which you can choose to get your desired upscaling effect.
Standard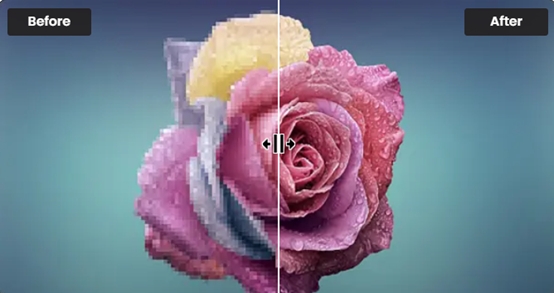 One of the upscaling models from VanceAI Image Upscaler is the Standard model, which is called EnlargeStable. It enables you to upscale any kinds of images, including photos taken by camera, paintings, landscape photography, and so on. If you have a general photo to upscale, never hesitate to try this Image Upscaler to enlarge image online or on AI upscaler software.
Anime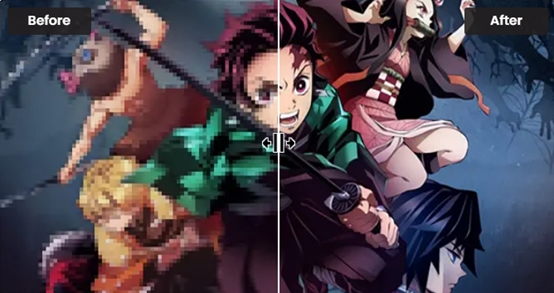 The Anime model of VanceAI Image Upscaler is the best option for anime upscaling. This model can convert old cartoon, anime, and comics to high definition and improve the details. It is divided into 3 submodels: Anime_4x_AnimeSharp, RealEsrganStable and Upconv_7. Simply choose one and start to upscale image from animation to 2K, 4k, or 8K with this AI Image Upscaler now! If you prefer software, image upscaler software is here for you.
Art & CG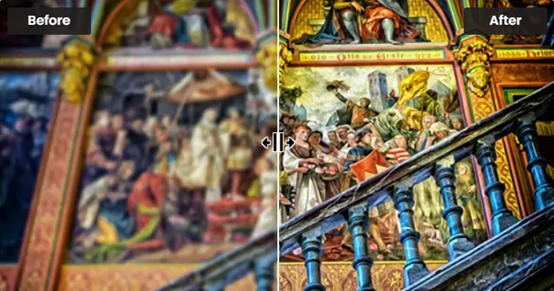 The Art &CG model of this AI Image Enlarger allows you to enlarge CG, art image, drawings or paintings online and restore the original texture instantly. This model is called Universal_UltraSharp_4x. If you want an AI art upscaler to improve image resolution to show the image details more clearly. VanceAI's online Image Upscaler can do this perfectly. And you can have AI image upscaler software to upscale CG images if you need.
Text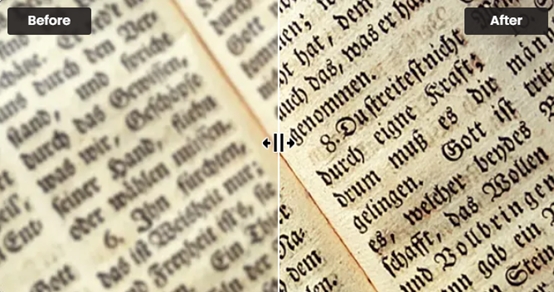 Legible text images can be very essential, including e-signature, e-contract, and scan files. VanceAI Image Upscaler provides you with a text model called Text_4x_TextSharpV1 to AI upscale image with blur text. If you are having trouble upscaling blurred text on a mass of paper documents, this online image enlarger from VanceAI is here for you.
Low Resolution & Compressed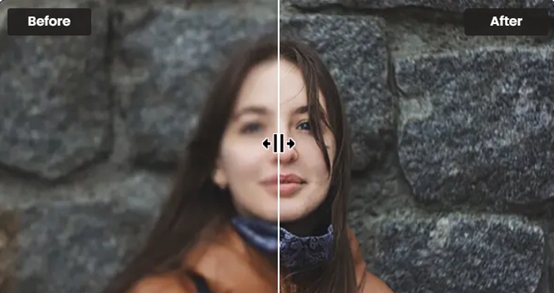 Low Resolution & Compressed model from VanceAI online Image upscaler can upscale low resolution and compressed pictures to HD in one click. If you need more delicate product photos, portraits or wallpaper, this model will always satisfy you. It will never be too late to upscale such images online with VanceAI Image Upscaler or with upscaler software for PC!
VanceAI PC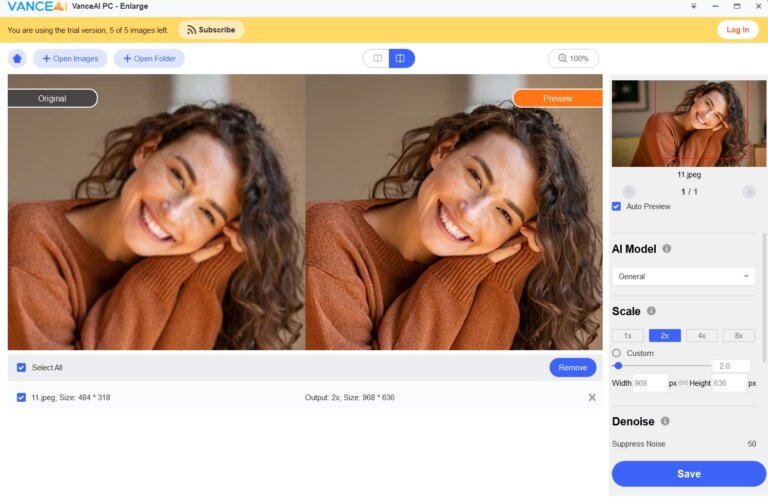 If you need more convenient and professional AI upscaling software, VanceAI PC is your best choice. As AI upscaler software, VanceAI PC helps enlarge image without pixel loss and improves image quality with 100% precise details with advanced AI algorithms.
Before Vs. After Comparison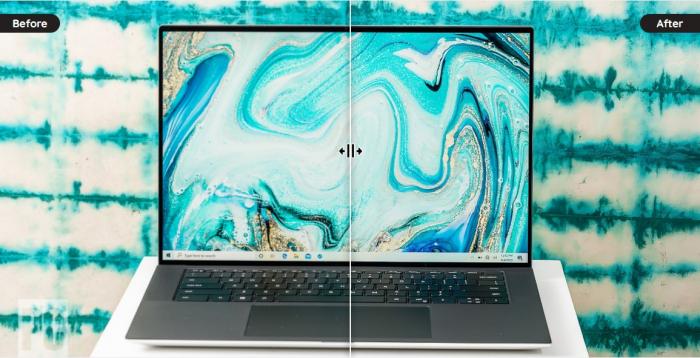 From the laptop image example above, the changes are quite evident. Image Upscaler has improved the poster on the right side while preserving the quality. Also, the details in the image are more obvious and improved due to the upscaling. Further, the after image shows more clarity and has a much better overall quality when compared to the before. The edges are more refined with more attention to the colors and elements on the objects. Learn more about how to increase image resolution of your posters here.
Difference
The major differences are:
Vector magic focuses on tracing the pixels to generate better vector images out of the original bitmap images while Image upscaler uses generative adversarial network that does not include pixels for upscaling.
Vector magic's performance on highly pixilated images is lacking. Meanwhile, Image upscaler excels here by clearly upscaling highly pixilated images without hassles.
In terms of the available post editing features available, Vector magic is considerably minimal when compared to Image upscaler. Editing the final output on vector magic is basic with limitations to what you can do.
Common features
Both Image upscaler and Vector magic share the following features:
They are both used as upscaling tools for improved image quality. While they take different approaches to image improvement, they are both used for the same purpose.
Both of the tools make use of advanced AI algorithm for their operations with little to no manual efforts.
Both of them can be used on the desktop. But you can use vector magic offline while VanceAI PC should be used online.
From the Vector magic review, it is obvious that Image upscaler is better in terms of performance and editing features. Also, the user interface is more immersive and advanced on Image upscaler, thereby making navigation easier for users.
FAQs
Where does vector magic pictures get downloaded to?
The image is downloaded to your device depending on the selected file format chosen for download.
Is vector magic free?
Simply download and install it to test out the Desktop Edition for free. In the trial version, saving of results is not possible, but full preview functionality is available. You receive a product key when you purchase a license, which you can use to activate the program and enable the ability to save the outcomes.

Is vector magic better than VanceAI Image Upscaler?
More people prefer VanceAI Image Upscaler than vector magic because it is powered by advanced ai algorithms and supports more image types and features such as increased image resolution, high magnification of photos and more.
Conclusion
This article has provided basic overview of what Vector magic and Image upscaler are about by highlighting their features, pros and cons. In short, it can quickly vectorize images. Image upscaler emerges as the preferred option because of its image enhancer feature. To be specific, it helps you finish the task of image enhancement with one single click even if you have not sophisticated skills. At the same time, it is able to enhance the resolution of your picture to a higher level within several seconds. Make better images with AI image enhancer easily. One click to increase image resolution with image resolution enhancer and get your images crisper, cleaner, and ultra HD. Also, when you need a tool to make image enlarge, it may be the wise call to consider these tools reviewed here.
Do you find this post helpful?
Yes
No