Recreating wedding photos has become a trend on social media lately. Couples recreate wedding photos as they find it the best way to reminisce about their momentous wedding day. Especially the daughters recreate their mothers' wedding photos. The process is not at all difficult, you have to find the old wedding photos of your parents first. Sometimes, it is not that easy as these photos are too damaged and old to present in an original way. No worries! this blog post would review the best tips on how to recreate parents' wedding photos and also introduce an online solution for old photo restoration.
Why is it important to recreate parents' wedding photos?
A wedding is the beginning of a family, a life-long commitment, and physical as well as emotional and spiritual reunions. Wedding photography is just important as it captures your memories of the special day on which you make a promise to your significant other to spend the rest of your life together. To carry on the memories and recreate your parents' wedding photos, all you have to do is find a similar place and clothes and strike a pose as your parents did back then. For more useful tips, you may go on with the rest of the article that shows you how to restore old photos instantly.
Part 1: Tips on how to recreate parents' wedding photos
Daugters often like to recreate their mother's wedding photos on their wedding day. However, if not done right, the pictures may turn up awkward and cringe, which you must avoid. For your help, we have listed below 7 tips plus one digital photo repair that has a complete guide on how to recreate your parent's wedding photos. If you are interested, you can try to restore your image now or download it directly from the pop-up window on the right without leaving this article.
1. Search for the perfect photo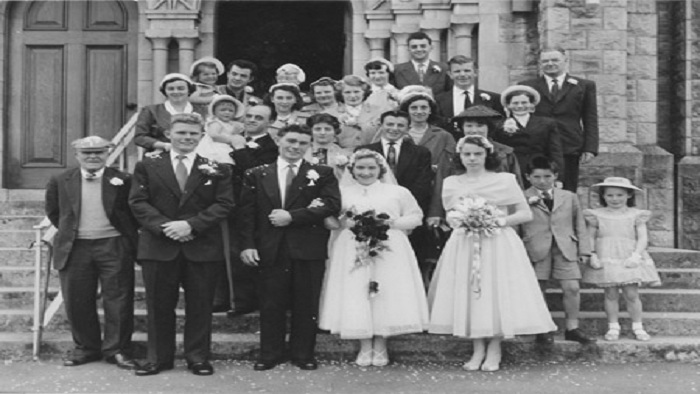 Choose the best photo to recreate on your wedding day. Recreating a wedding picture with your better half and friends is always better than doing it alone. Make sure everyone participates. At first, recreating wedding photos can seem uncomfortable but after some time you will find yourself laughing and enjoying the process with your loved ones.
2. Choose a suitable background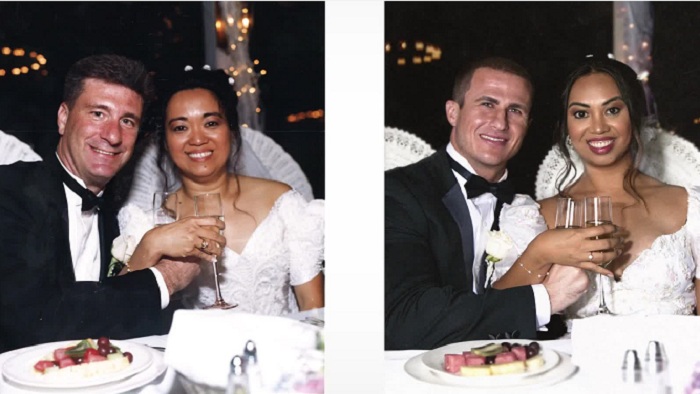 The background is what makes a "good picture". It is undoubtedly the most important factor of photography. While recreating wedding photos of your parents, try to choose a similar background and location. White or neutral color backgrounds can also work if you are unable to find a similar one. Make sure to pay special attention to minor details.
3. Get similar wedding clothes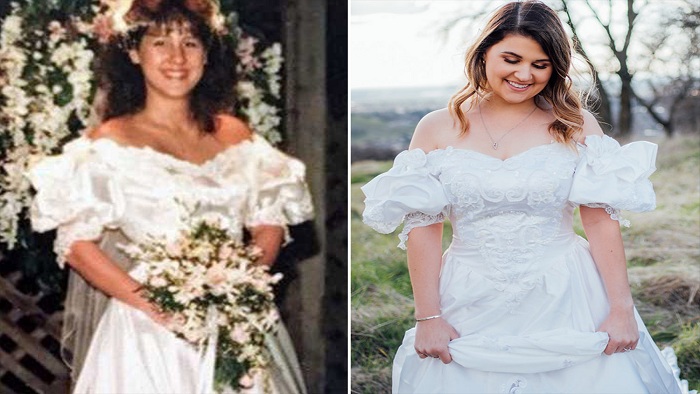 Weddings are all about fancy gowns and sophisticated suits. Try to wear similar clothes as your parents did on their wedding day. Don't hesitate to visit the market or you can just simply ask your parents to give you their wedding dresses for the photoshoot.
4. Smile and pose
Awkward and robotic smiles can ruin the vibes. Try to give a genuine smile to embody the true emotions of your parents on their wedding day. Do you want to recreate wedding photos for boudoir? Don't be embarrassed to do intimate and sensual poses with your partner.
5. Make use of the winds
Blowing hair and gowns in the wind looks aesthetic and breathtaking. Embrace the wind and use it to your advantage to enhance the details of your gown, veil, and hairstyle. If unfortunately there is no wind, you can always use fans and hair dryers to get similar effects. There is always a way!
6. Shadows and lighting
Were the wedding pictures of your parents shot in the evening or at the golden hour? Make sure to shoot at a similar time of day to get perfect lighting and shadows. You can also ask your photographer to add special effects while editing.
7. Utilize the props near you
Was your mother holding flowers in the picture back then? Or were your parents standing near their wedding cake in the shot? Try to utilize the props to get surprisingly similar pictures. You can visit different cake shops to get an identical cake or you can just have it specially customized from the bakery. Use the same colour flowers and decorations to get incredible results.
Part 2: How to restore parents' wedding photos - Online Solution
You may have identical locations and clothes in your recreated photos but they can still seem lacking. A little bit of editing can work wonders in this case. VanceAI has always been the first choice of customers for editing their pictures. Through the VanceAI Photo Restorer, you can easily renew old wedding pictures in a matter of a few seconds. Old photo restoration online is now super easy with advanced AI technology as it can erase scratches, fractures, spots, sepia, and noise from old pictures making them crisp and beautiful. If you are interested, you can try to restore your image now or download it directly from the pop-up window on the right without leaving this article.
VanceAI Photo Colorizer helps turn black and white wedding photos into color automatically in 5 seconds. Additionally, it can remove blur and noise from old photos improving their quality and make photo hd.
Using VanceAI tools is very convenient. By following these four simple steps, you can restore old photos through the VanceAI Photo Restoration easily:
How to use VanceAI Photo Restorer?
Step 1: Visit VanceAI and find VanceAI Photo Restorer from "AI Solutions" in the top bar.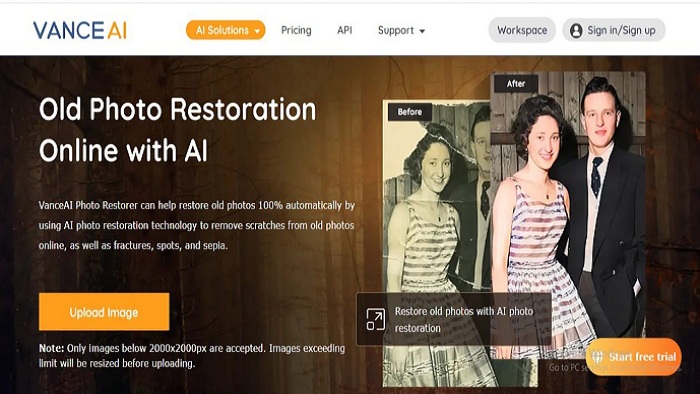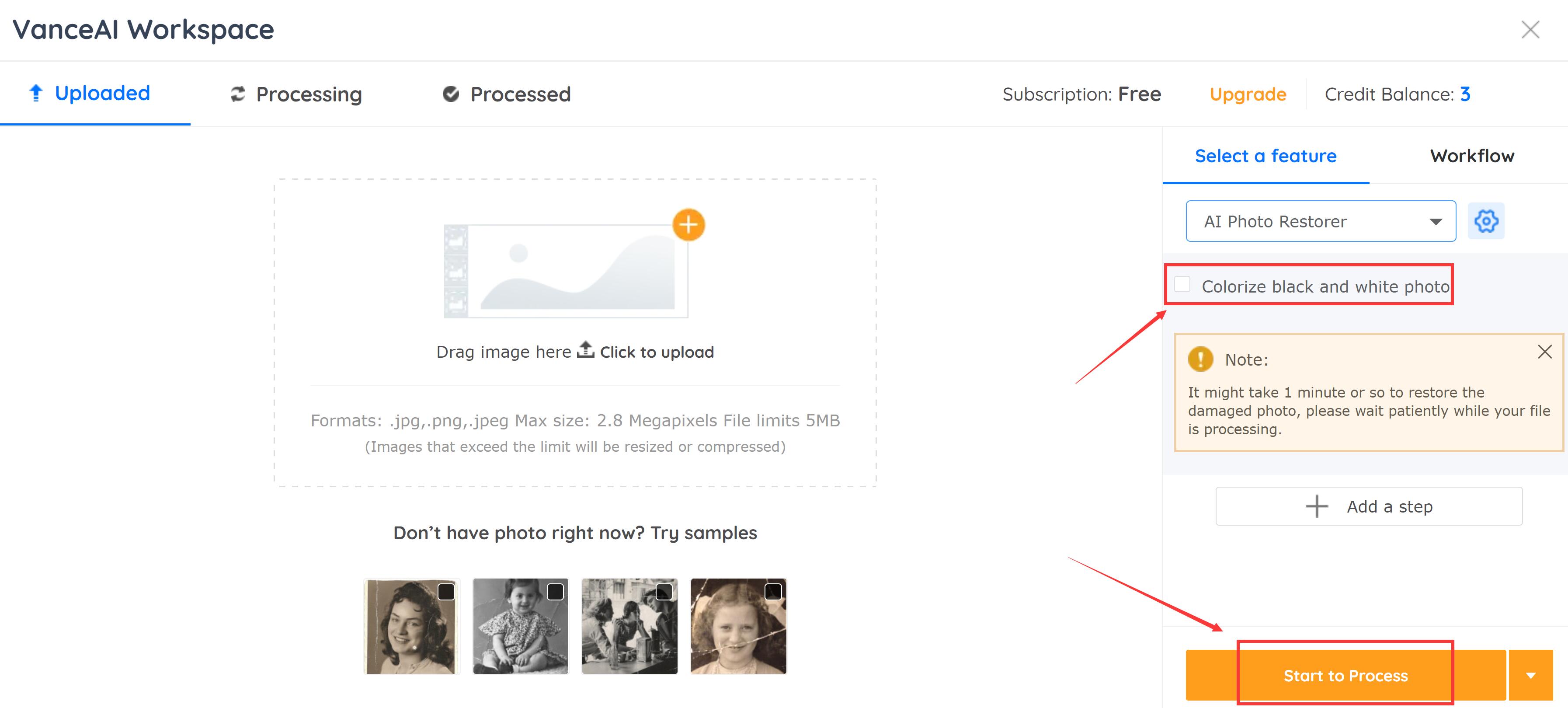 Select the photo you want to restore from your computer and it will be uploaded to the VanceAI Restorer Workspace automatically.
Step 3: Start processing and preview

Click on the "start process" button and the picture will be restored in a few seconds. You can preview the result before downloading.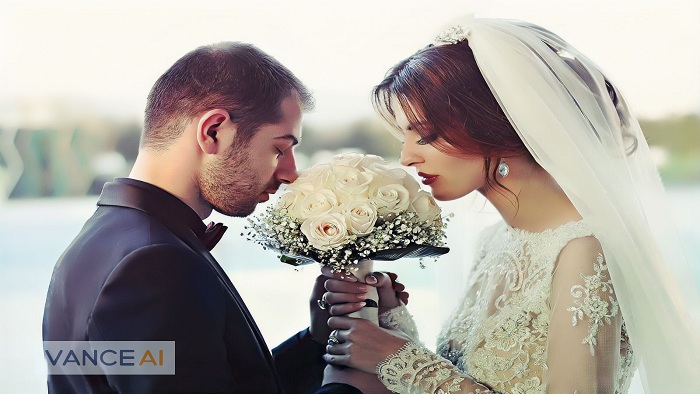 Download the end product. Uploaded images will be deleted from the website after 24 hours ensuring complete user safety. You can also use VanceAI Image Enhancer to further take your picture one step ahead.
Conclusion
Recreating wedding photos is as easy as a piece of cake. You just have to pay special attention to minor details, emotions, background, props, poses, etc. Any photo enhancer or image colorizer can help enhance and colorize old photos in only a matter of a few seconds.
Using advanced AI technology the Photo Restoration can improve the quality of old photos by removing scratches, spots, and sepia from vintage pictures while the photo colorizer can easily colorize old black and white photos and bring out their liveliness and captivation.
Now that you know all about the basic tips and tricks to recreate wedding photos and then edit them using modern VanceAI tools, why don't you go ahead and start recreating your parents' wedding photos to surprise them?
Do you find this post helpful?
Yes
No