Passport photos are one of the essentials for all our official documents and identity proofs. Though they are used everywhere, their dimensions and background features differ with every country.
If you are always confused about what to wear for passport photo or how to crop it perfectly, VanceAI has got your back! Check out how this amazing passport photo maker is your best choice to design and modify your picture.
What is a VanceAI Passport Photo Maker?
VanceAI's Passport Photo Maker is a tool to develop varied official photos using a single snap. Listed below are some of the features of this web application.
VanceAI now also launches its software version. VanceAI PC is full-featured desktop software developed by VanceAI that lets you instantly process local photos in bulk with more customization options, which will significantly simplify your workflow and boost your productivity. Free Download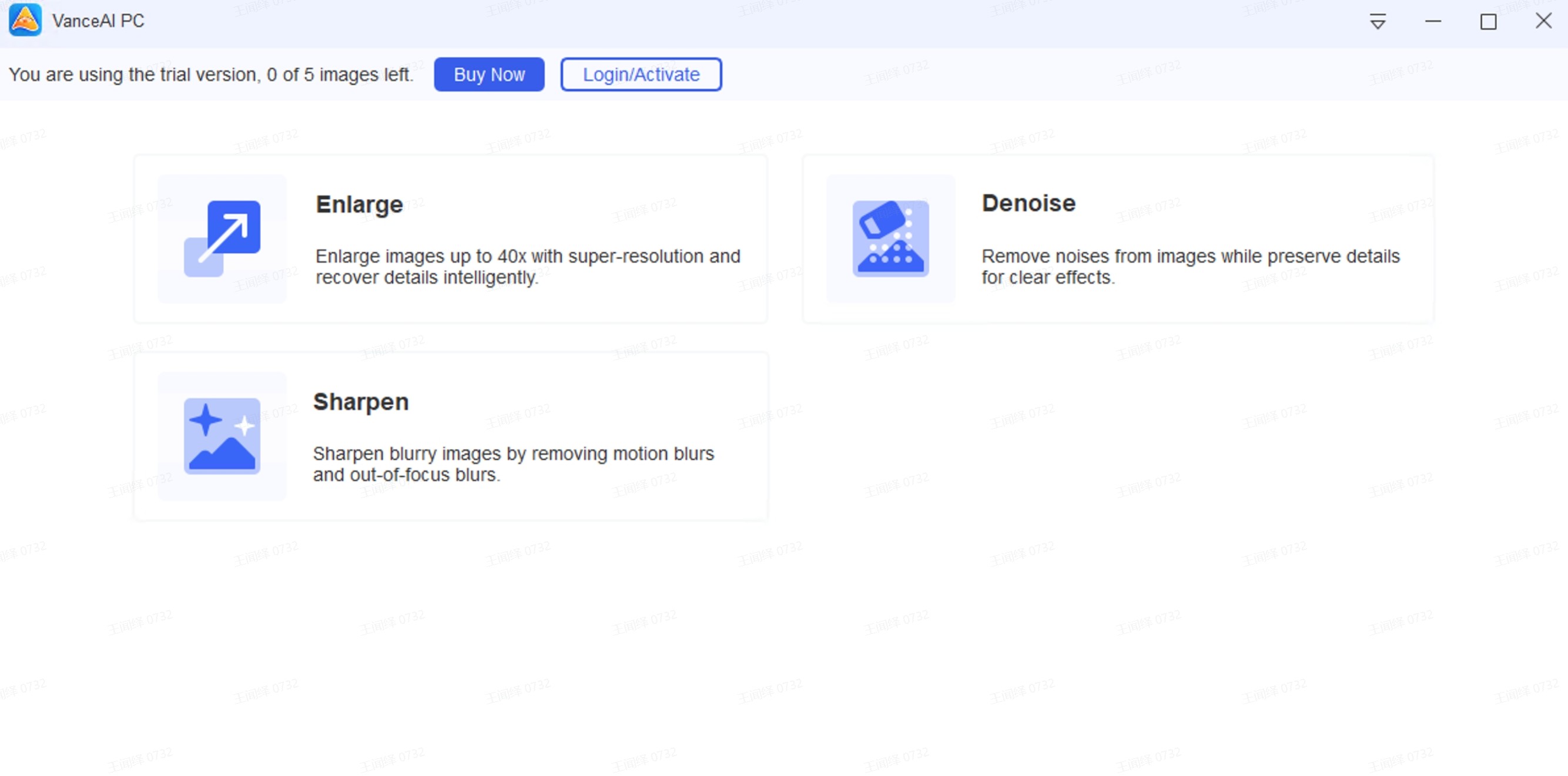 1.It can generate passport photos of any dimensions
Considering that the Canadian passport photo size, Chinese passport photo size, or Indian passport photo size are different in dimensions, it is hard to take new photos every time.
But this app can take only a single picture to crop it into any size required. Depending on your requirement, you can generate a visa passport photo for any country with a few clicks.
2. AI software removes flaws
If you have dark spots, acne, wrinkles on your face, or your studio has bad lighting; you can get dull, unflattering pictures. But you don't have to compromise anymore as for any man and woman passport photo; the in-built software can help you tweak your picture. You can get clear, crisp, and bright pictures with high-resolution and no grainy effects.
3.Completely free of cost
Taking multiple photos or registering for several editing apps can cost a fortune every time you need a modification. Regardless of whether your work is big or small, you can do anything for free using the VanceAI app. You don't have to download the app or register, but just open the website and start your work!
4. You can change background and orientation as required
All the documents that require passport photos have their standard dimensions and background colors. As they differ every time based on country, you don't have to take multiple snaps as this app can change them easily.
For example, you can change the white background color of your target passport photo to any desired color and even flip it to adjust the look.
How to use VanceAI Passport Photo Maker?
If you are looking for an instant passport photo-generating app, you only have to follow ten easy steps on the website to obtain your desired output. Whether you want to alter your target passport photo or remove the blemishes from your snap, follow the steps below to get the perfect picture.
However, you can't change your basic look if you don't know what to wear for passport photo.
1. Choose a picture to upload onto the photo maker app. Make sure the frame covers your entire face. For an infant passport photo, ensure that the child is looking straight, has no pacifier in their mouth, and is sitting straight.
2. Open the VanceAI passport photo maker website and select the required country from the dropdown menu. It will set your picture dimensions according to the official standards set by the region.Click on the icon "Create Passport" to the left of the dropdown menu to start your process. Another window screen then pops up, where you can start editing the photo.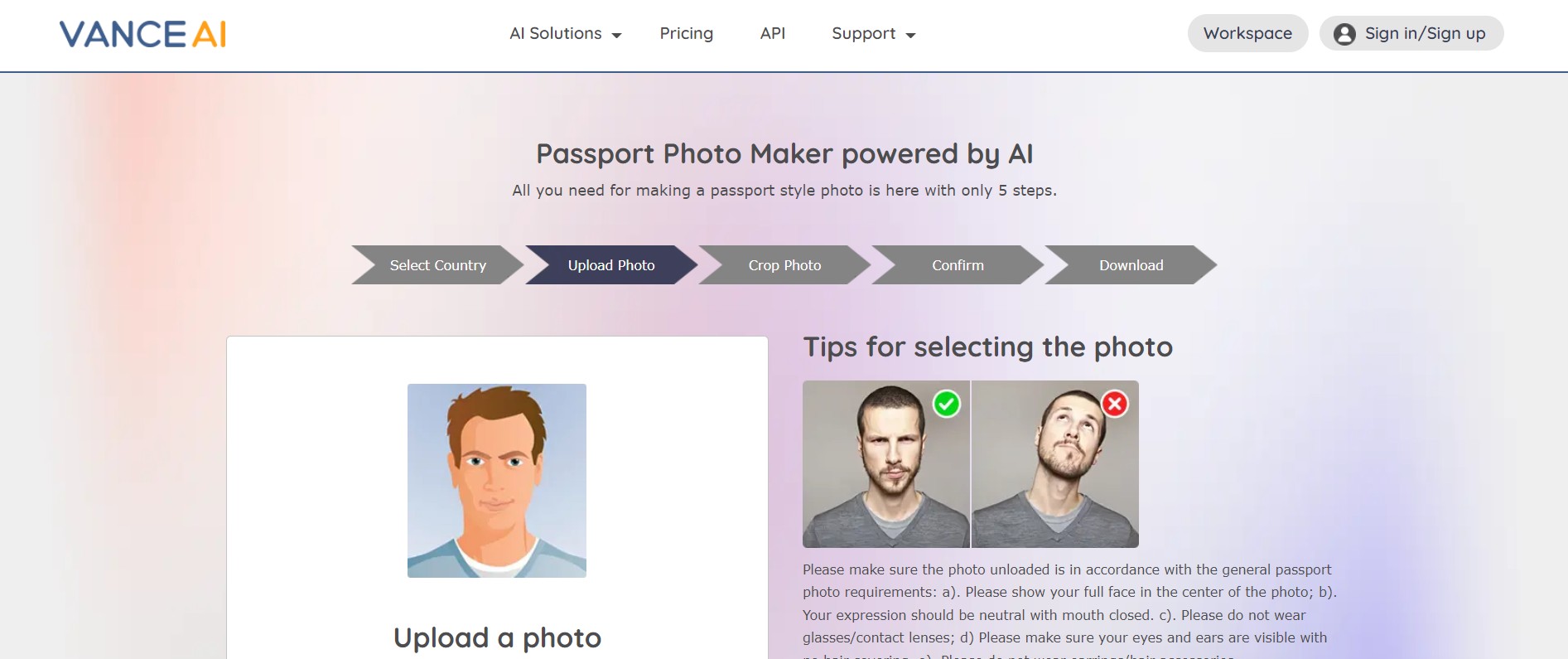 3. Once you upload the photo, another window will open with tools and editing icons. You can first crop the picture according to the dimensions set before. For example, for an Indian passport photo size of 4.5 cm length x 3.5 cm width, you can drag your picture to fit the desired portion into the fixed box. You will also get a drag bar to zoom in and out the photo to position the face exactly at the center.
4. If you need a particular color for the background, you have the background setting options to pick the required gradient. Click on the color shade selecting box, pick your desired color and click OK. However, you also have two more options for choosing a white or transparent background.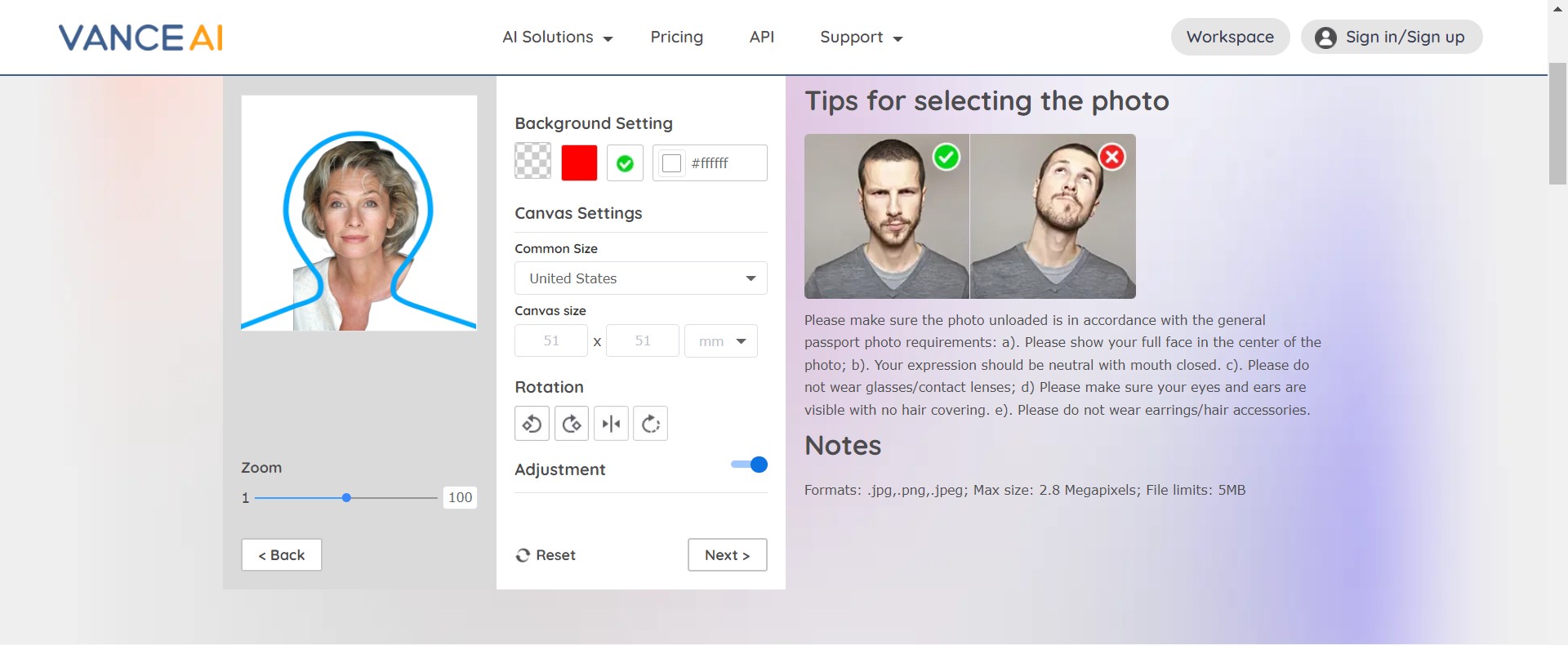 5. If you think the photo is tilted or not in the proper direction, you can also rotate it, flip it left or right or change the angles gradually using the in-built icons. For example, to design a woman passport photo, you might have to switch it left or right to get the perfect view of dominant features.Once done, click on Next to proceed. VanceAI, at this stage, automatically employs smart filters to enhance the facial features and remove any blemishes you may have missed.
6. Once you reach the last stage to download, you have two options, download it as a single photo or as a grid (like for the Canadian passport photo size, you can take 32 photos on a single A4 paper). You can set the grid size according to the sheet and download the file to your device.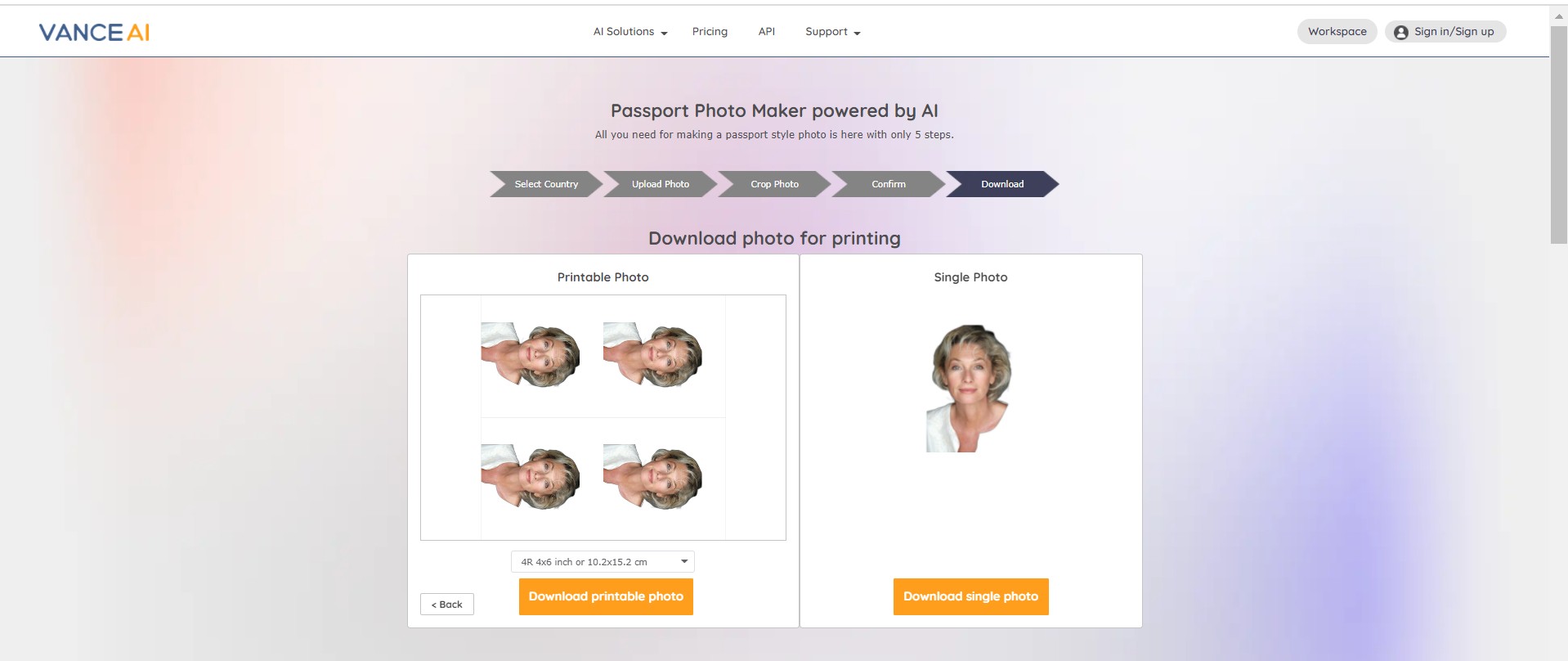 Performance of VanceAI Passport Photo Maker
VanceAI scores the best among the various free passport photo maker apps for its flawless outputs and easy-to-use interface. If you are unsure about can you smile in a passport photo, you can always make modifications within seconds.
VanceAI's app is quite efficient in changing backgrounds and modifying facial features to obtain a clear image. You can also adjust the dimensions and features according to regional standards.
Conclusion
If you compare an Indian, Canadian, or Chinese passport photo size, all have different dimensions and background requirements, making it hard to take the perfect snap. Even if you intend to use passport photos for official purposes, you don't need to look dull.
The best AI-powered photo maker is now available for instant use. This article explores the brand-new VanceAI passport photo maker and its features to develop any adult or infant passport photo. Read more: How to Take Baby Passport Photo At Home?
Do you find this post helpful?
Yes
No