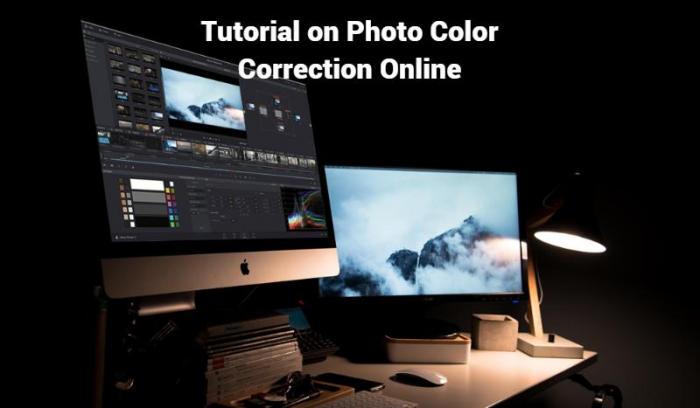 Color correction is an essential step for building and polishing your content, regardless of the type of content or the purpose of it. What color correction can achieve is immense, because we're all visual beings by default. For instance, simply adjusting the contrast of an image of the city at night can make all the difference. It can make viewers get drawn into the picture and look for details or make them think nothing of the image.
Of course, you may know what is color correction but actually doing it takes skill and time. Luckily, you can make use of photo retoucher applications such as the one linked here that make use of advanced AI and Machine Learning algorithms for image processing. These systems are experienced with image editing and can offer you enhanced photos in a matter of seconds. In this guide, we will explore this AI photo color correction tool  offered by VanceAI a bit more and give some tips on how to do photo color correction online.
What is Color Correction?
Camera devices and recorders are really great tools that help us capture moments and experiences with as much accuracy as possible. However, even such brilliant tools fall short of the human eye. We simply see the world in a different light and color than any number of devices. As a result, what professionals do is something called color correction, be it lip color correction or color correction under eyes. The basic purpose behind color correction is to alter the colors of the footage or an image in a way that better imitates the viewing experience of our eyes. With this, we achieve a higher level of accuracy and immersion.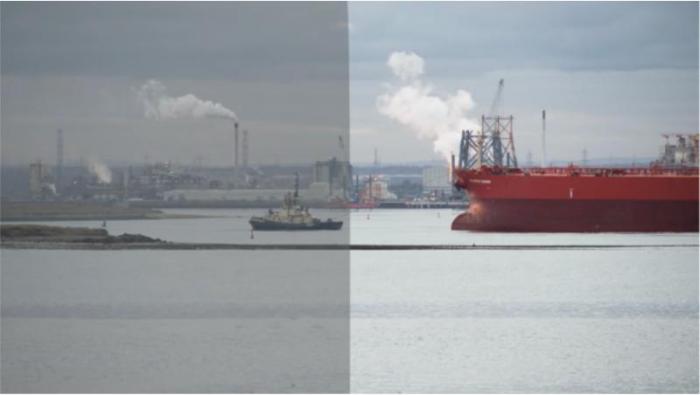 Also, when it comes to creative projects such as photography, filmmaking, videos, and more, color correction enables you to maintain a consistent tone that's not only practical but also aesthetically pleasing at all times. As you can see from the above image, most would find the right-hand side to be the accurate representation of our vision.
Color Correction vs Color Grading
Now let's take a look at color correction vs color grading and what each of them offer to the creative process of making any kind of visual content.
As mentioned before, color correction is a process of taking an image or a video frame by frame and altering their color patterns to a more realistic tone, resembling what we would normally see from our eyes. This has a lot of uses especially when it comes to TV shows, videos, and films, as you then have a foundation to build upon. Color correction can make a massive difference. Not to mention that color correction becomes absolutely important when your videos are taken outside and for a long duration. You can make use of an app like VanceAI Portrait Retoucher to enhance images by color correction. VanceAI also offers a separate tool exclusively for color correction of any image.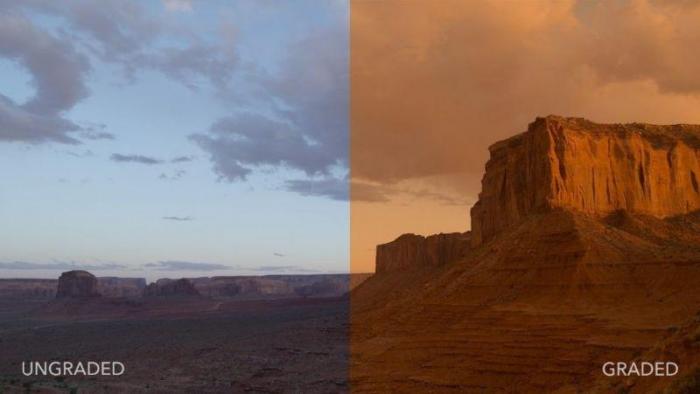 Now, once professionals have made the foundation with color correction, they divide their footage or image and look for the intended tone. For example, most Hollywood films have a particular style of portraying the planet Mars in Science Fiction movies. The land and the atmosphere in Mars always has a brown overtone or filter to it, which helps viewers to distinguish it from Earth. Also, it helps in portraying the loneliness of Mars. That's the summary of color grading.
Similarly, a lot of designers and professionals will do color grading in order to send a message to the audience through colors. These colors define the mood of the film or a particular scene. Blues are usually used to portray the daily life of common citizens, for example. Hence, color grading is just as important as color correction because they enable you to tell a story without words, which is the essence of cinema in the first place.
How to Get Photo Color Correction Instantly?
The VanceAI Portrait Retoucher and AI Photo Retoucher are two of the best color correction tools offered by VanceAI that you can use for enhancing your images significantly. So, if you want color correction under eyes or anything similar, you can make use of the Portrait Retoucher otherwise the Photo Retoucher is your best bet. The good thing is that you can use both tools exactly the same way, thanks to VanceAI Workspace, as it allows users to manage practically everything under one box. Also, all VanceAI tools are powered by appropriate AI algorithms that provide the best results in the shortest amount of time.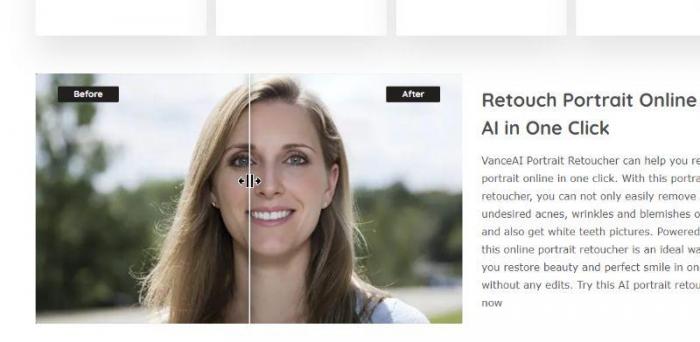 Let's quickly go over the steps on how to do color correction with these VanceAI tools.
1. First, you should click on the link given to access the face retouch online application. From there, use the Upload Image button to proceed.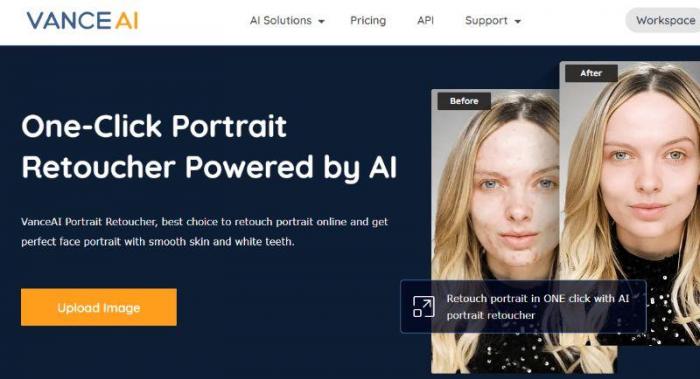 2. What you see is the VanceAI Workspace. Upload the image and change the settings as per your preference, if any. Also, you can use the drop-down menu to switch from Portrait Retoucher to Photo Retoucher or any other tool. Click on Start to Process.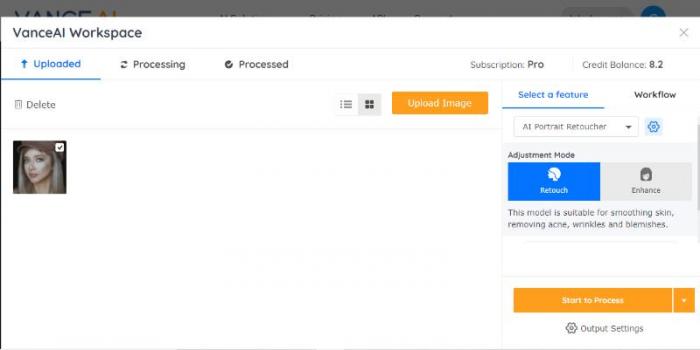 3. Finally, go to Processed and click on the Preview icon. Use Download Image to save the image.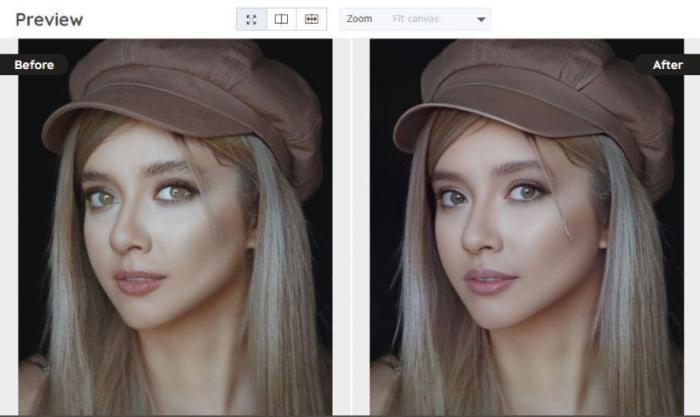 After processing the image with the photo blemish remover, the portrait looks much more natural, especially near and under the eyes. There is an increase in realistic contrast and the details of her face look much more defined.
How to Get Color Grading with One-Click?
The photo retouching application is another great tool for color correction and grading. Not to mention that you can do it automatically thanks to AI technology. Apart from that, the VanceAI Photo Retoucher application can be used for adjusting various elements of an image automatically to make it look more realistic. It can adjust image contrast, saturation levels, warm and cold temperatures in images, and more. Along with that, the app will also handle common issues such as chromatic aberration, blurs, image noise, and similar while processing the image for you.
The steps on using this tool are pretty much identical to any other VanceAI tool.
1. Use the link above to access the tool and click on Upload Image.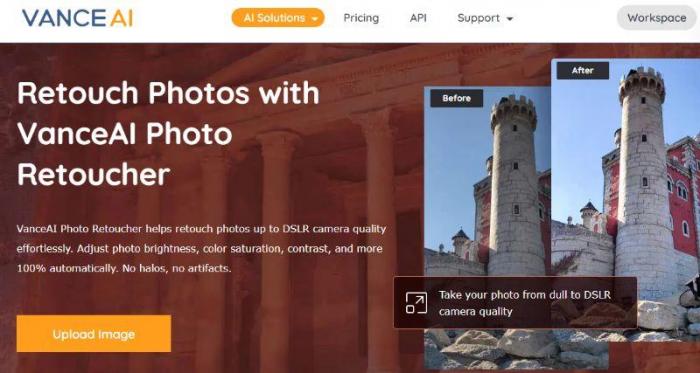 2. Upload an image, change settings if needed, and click on Start to Process.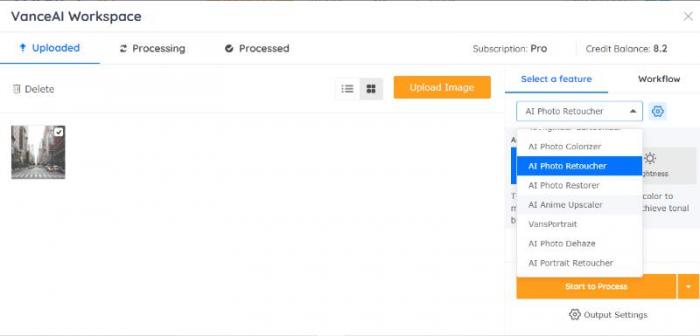 3. Download the image.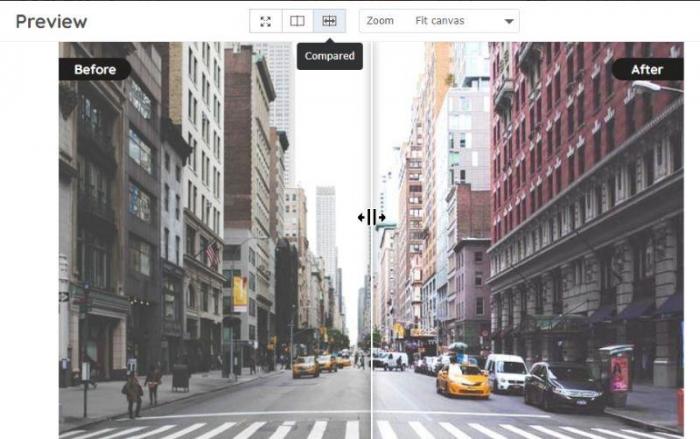 The After image represents the human vision much better than the Before image as it seems too blurry and clouded by a filter.
FAQ
1. What is Color Grading in Photography?
Color grading is an important process in photography and other visual content that involves altering a visual through its color fidelity or pattern. This is done in order to set a certain tone and convey a message. For instance, the common practice of having a brown overtone to shots in films that are meant to portray another planet, such as Mars, in Science Fiction movies. With color grading, you can enable yourself to deliver non-verbal storytelling, be it in films or photography.
Conclusion
Now that you know what is color correction and color grading, you can make better use of the face retouch online tool as well as the photo retouching tool that deals with all other kinds of images. Color correction and grading are both equally important when it comes to making any type of visual content because all visual content has a story and these techniques create a layer of immersion for viewers. 
Do you find this post helpful?