Top 10 NFT Art Makers Review
There is little chance that you don't know about NFT yet. You probably also know about NFT art maker applications or platforms and how you can create NFT art on various online platforms for the purpose of selling them. The main reason that NFT maker tools and NFTs are so popular is the fact that it can guarantee authenticity of art or any object in general. By using Blockchain technology, you can be assured that your name remains attached to your content and if someone buys the content from you, the name will be transferred to theirs. As a result, this creates real authenticity and makes the content unique. In this NFT maker app review, we will give you ten tools that you should use to make NFT art. More interestingly, there are also some popular Vtuber Maker which use similar technology. Try it if you like.
How to make NFT art?
Making NFT art is simple thanks to all the AI based technology present currently. Also, users have options on how to make NFT art. They can choose applications that offer manual tools so that they have creative control over their work. If not, they can also choose automatic tools such as the anime portrait generator from VanceAI and others. In the list below, you will have an overview of ten NFT art maker applications which will give you a better perspective on how these apps work. You can then select the application most suitable to your style and needs. There comes some great AI cartoon generator that makes cartoonish become an easy thing.
In most cases, you will only need to upload an image and select the style you want for your image. The app will do the rest.
Best 10 NFT Art Makers List
Price: The NFT art generator offers up to three image credits for free to all users each month. To get more, you can purchase the Basic account for $9.99 per month for more credits and features.
VanceAI is one of the best options that you can consider for a NFT generator application. The VansPortrait tool offers two distinct features. You can either turn photo into cartoon styled artwork or a complete line drawing, which works the best with portraits. Not to mention that it is an automatic tool that makes use of advanced AI and Deep Learning algorithms to create designs. You merely have to upload an image and choose the feature you want. From there, the app will take care of the rest. Similarly, you can also use the Toongineer Cartoonizer tool from VanceAI to create NFT.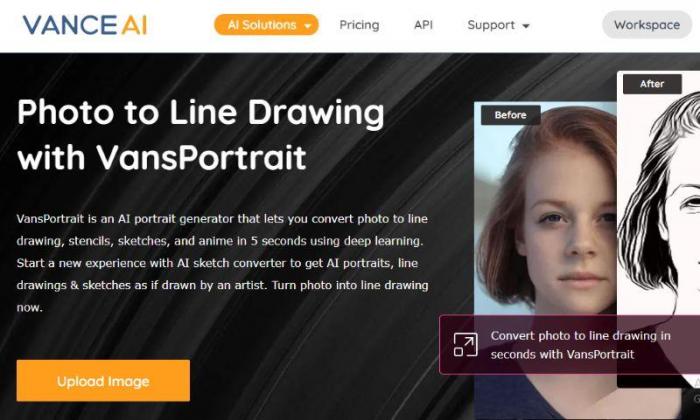 Pros:
Automatic tool with good results.
The anime style feature is ideal for making NFTs.
Easy to use.

 
Cons:
Limited free use.
The drawing tool tends to require simple images.
Can add more presets.
2. VanceAI Art Generator
Price: Generating an image costs 1 credits. Downloading generated images doesn't cost any credit.
VanceAI Art Generator is another creative tool provided by  VanceAI. With Art Generator, you can turn what you think into reality. Just enter text in the input box and AI image generator will give you lifelike artworks. AI  Art Generator still can generate artistic images even though you don't know much more about art. 
Apart from that, there comes some fancy AI Portrait Generator, making fancy selfies at a fast speed. Get to know more about it.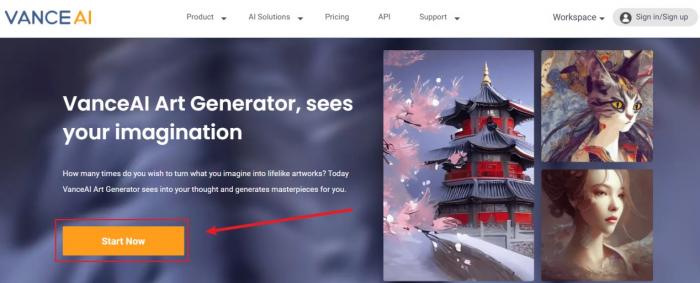 Pros:
A text-to-image AI art generator
Powerful settings (offer image type, style, size and more)
Free copyright 
Cons:
Have a high demand for prompt
Generating process takes up to 20-40 seconds
3. Fotor NFT Creator
Price: The Fotor online platform is for all kinds of photo editing and enhancement tasks. You can create NFT for free although it comes with a watermark. To remove it, you will need to pay for the $2.67 per month subscription.
Fotor is a really good platform for you if you are someone who likes to have creative control over their images. Considering that this NFT digital art platform offers manual tools to users for editing, you can create something unique out of it. However, the filters that the application provides are still automatically applied. There are a fair range of filters to choose from, so you can judge which one to use according to your original picture. You can also choose the format in which you want to export your image, either JPG or PNG.Besides that, more people also seem to be interested in AI Face Generator. You can know more from the link.
Try to read more about Fotor here.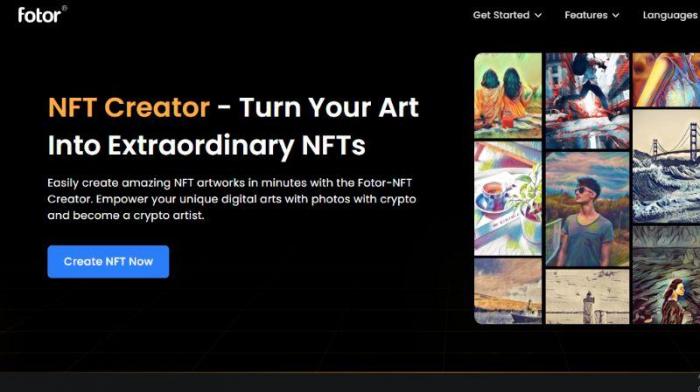 Pros:
Comprehensive tools.
Editing tools are free.
Popular app and reliable performance.
Cons:
Limited free use.
Can be buggy often.
Can add more filters.
4. NFT Art Generator
Price: This website is an automatic NFT generator and art maker which charges nothing if you want to create an NFT collection of up to 100 assets. To create more, you will need to purchase plans accordingly, starting from $179 for 1000 assets.
With this platform, you don't even have to worry about creating an artwork from scratch. This application is designed to create a huge collection of NFTs for users without spending much time. You can simply import files and play around with the editor to make NFT. Furthermore, this application provides multiple export options such as GIF, image, or video. Also, what makes this application highly accessible is the fact that you don't even need an account to start creating.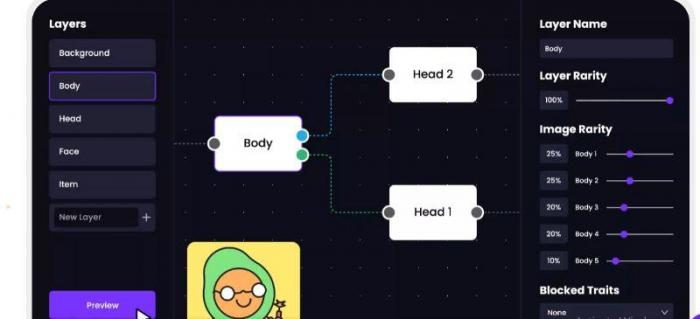 Pros:
Automatic application.
Easy to use.
Highly accessible.
Cons:
Limited free use.
Results aren't always good.
Can add a few manual features.
5. Sketchar
Price: The NFT generator application allows you to use most of its features for absolutely free. However, to gain access to the premium features, you will need a monthly subscription of $14.99 per month. You can also buy yearly subscriptions.
Sketchar or SketchAR is a really interesting concept and app on art creation. Users can easily learn the techniques of drawing and art making quickly by making use of the AR and Computer Vision technologies. Apart from that, the application provides enough features for you to try out all kinds of drawing and art styles. You can take a picture of a drawing in real life and you will see the outlines of the art appear on your screen. The app also offers art based mini games for you to try.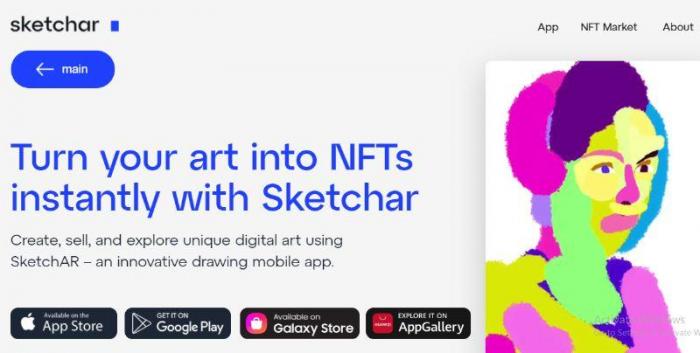 Pros:
Creative application.
Available on multiple platforms.
Great for learners and beginners.
Cons:
Limited free use.
Takes time to get used to the app.
Manual app.
6. Night Cafe
Price: The Night Cafe is an NFT generator that offers up to 5 free credits that you can use for making artworks for free. For more, you can purchase extra credits with payments.
The online application has an interesting feature that lets you mix up multiple styles together into an image to create a unique blend of art. You can upload an image first and then upload a particular style that you want to mix into the picture. The application will automatically give you the optimal design. Another feature is where users can simply type down their ideas and have the app formulate something out of it. You can actually just type anything that comes to mind and have fun with it.
Pros:
Offers cool features.
Easy to use.
Quick processing.
Cons:
Limited free use.
Text to visual features can be improved.
Can be buggy.
7. NFT Arts 3D
Price: This online platform offers a bunch of features to create NFT for absolutely free and you don't need to download anything either.
Though the UI of this platform may seem old, it offers a bunch of really useful tools such as collage maker, water effects for images, online coloring, image to video converter, and more. Using the application is rather easy, as users only have to upload an image and choose the styles that they want to apply to the image. You can experiment with different styles until you find a really good fit. You can then easily place that content on the NFT digital art platform.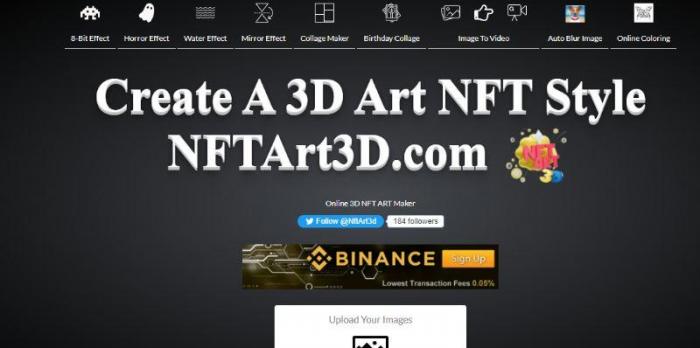 Pros:
Easy to use app.
Quick processing.
Offers cool features.
Cons:
Results aren't always up to the mark.
Can improve the UI.
Can be buggy.
8. Appypie Design
Price: The platform offers a limited amount of usage and features for free. If you want to get access to all the features, you can pay $6 per month with a 7-day free trial given at the start.
This application is also an automatic tool, which makes a complete collection for you in a short amount of time. It is really good at creating avatar type NFTs. You only have to play around with the layers and tools to come up with a cool looking design. Users don't need to be artists or designers, just willing to experiment. It supports most of the major file formats such as JPEG, JPG, PNG, and more. Overall, this is a quick and easy way to make NFT.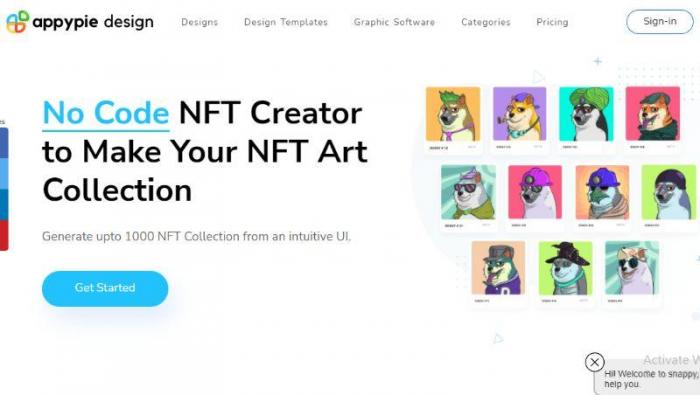 Pros:
An automatic app.
It has a good UI design.
Offers many useful features.
Cons:
Limited free use.
No manual options.
Results can be underwhelming.
9. Hotpot.AI
Price: This NFT maker online offers its features for free as long as they are for personal use. You will need to make a payment if your images are for commercial use.
Just like the name suggests, Hotpot.AI is an online application that relies heavily on AI image processing technology in order to offer outputs and solutions. When it comes to the NFT maker side, you have a couple of interesting features that you can make use of. It has the text to visual converter feature wherein you can simply type an idea and the AI will create a visual for it. Otherwise, you can also upload an image and choose a specific art style for it to make a unique mix.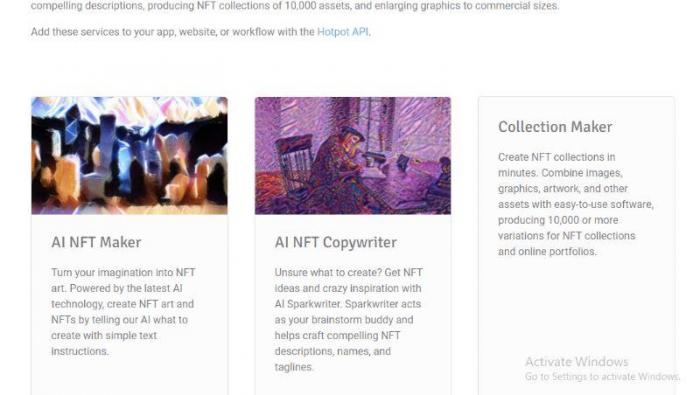 Pros:
Good features.
Easy to use.
Offers good filters and styles.
Cons:
Not free for commercial use.
It is slow sometimes.
Results can be improved.
10. NFT Creator
Price: You can create an NFT for around the price of $30 whereas you can also get just the certificate of authenticity for somewhere around $17.
This is a rather unique application as it not only offers its services as an NFT maker app but also assists users in creating certificates that verify the authenticity of their content or property. With an account creation, users can participate in creating NFTs. All you need to do is upload your work on the website and certify it.
Pros:
Certification services.
Sophisticated application.
Good UI design.
Cons:
Expensive app.
Not easy to use.
Takes time to make an NFT.
10. NFT-Maker.IO
Price: This online platform takes a very dynamic and different approach regarding NFT creation and sales. Your payment or fees will depend on the sales that you make.
The NFT Maker is a highly comprehensive application that is meant for long-term use as compared to other tools mentioned in the list. The reason being that this application is designed to not only make NFTs, but also store and manage them. They offer tools for individuals as well as businesses. They offer storage features, unlimited and on-demand minting, API for other software apps, and more.
Pros:
Offers sophisticated features and tools.
It has a good app design and helpful UI.
Quick processing.
Cons:
Takes time to learn the app.
Needs more creative tools for making NFTs.
Can be more accessible.
How to sell NFT art?
Before venturing into the NFT digital art platforms, there are a few prerequisites that you need to complete. The currency used in such platforms is digital currency, which means Etereum for most of the platforms. Therefore, you will need to purchase a bit of digital currency beforehand. You can do that by making an account at Coinbase. Not to worry however, as you don't need to invest a lot of money to get the digital currency. You can check the current prices of Ethereum and buy some amount as the prices drop low. Ethereum and other digital currencies are highly volatile, so you can get low prices soon enough.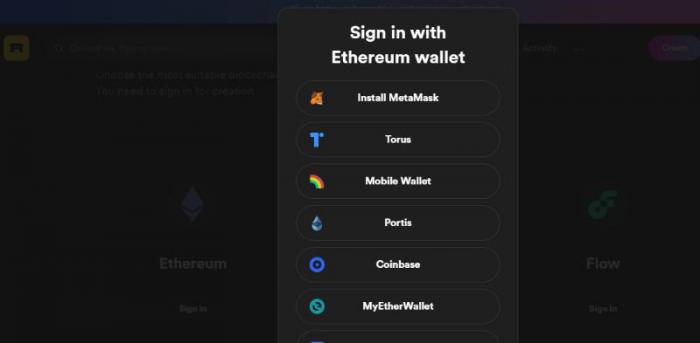 Once you get Ethereum, you can proceed to an NFT digital art platform. Rarible is a really good platform for beginners and you can quickly create an artwork with VansPortrait in order to upload content on the digital art platform. You can choose the Coinbase option for signing up and fill in the important details. By scanning the QR code or similar, your Coinbase wallet will be connected to Rarible, creating an easy and fast access route for you at all times. This NFT digital art platform also showcases other NFT artworks. So, you can freely browse through them to either purchase them or to simply get inspiration from. Now that we are aware of how to buy the digital currency and the platform for NFT digital art, let's take a look at the ten tools for creating NFT artworks in the first place.
Conclusion
NFT art maker applications can greatly assist you in creating valuable NFT artworks. The best thing about them is that they collectively offer a wide range of tools and options to users, which makes them appealing to practically everyone. Other than that, they also open up opportunities for everyone to participate and hopefully get something out of it. As said before, users can use apps like Fotor or other photo editing software apps like Lightroom to make an NFT artwork from scratch. On the other hand, VanceAI and similar tools are the best for automatic creation and it provides Image upscaler to upscale AI generated images.
FAQs
1. What is NFT digital art?
NFT stands for Non-Fungible Token and what it basically means is that these tokens cannot be exchanged, making them one of a kind and unique. Now, when you add "digital art" to it, the token basically becomes a one of a kind art. Since art is universal and beloved by everyone, there is a huge demand for creative artworks and you can sell or buy one yourself.
Do you find this post helpful?
Read More to Know Deeper: