Best 5 Cartoon PFP Makers Review
Also read: Top 10 AI Cartoonizers to Cartoon Yourself Online Free 2022
5 Best Anime PFP Makers
Here is the simple compare of this 5 tools:
 

 

Price

Clean Page

Various characters

Toongineer Cartoonizer

Free for 3 trials

100% no ads

√

Avachara

 

Free and paid versions

×

×(preset styles)

Cartoonify

 

Free and paid versions

√

cartoon version for pay

Discord Avatar Maker

 

Free

√

√

Super Mii

Free and app purchases

Many ads

awesome
1. Toongineer Cartoonizer
Price: The VanceAI anime PFP maker application online -Toongineer Cartoonizer is free to use with restrictions. If you want better access to all features, you can consider buying either Basic or Pro versions which cost $9.90 per month and $19.90 per month respectively. They also have an amazing 50% off discount active right now. Apart from that, there comes some fancy AI Portrait Generator, making fancy selfies at a fast speed. Get to know more about it. 
One of the many things that make this PFP anime maker special is its implementation of AI and Deep Learning technologies for image processing.  Considering that the tool has processed a great number of images already, it is now an expert in producing outputs that are not only stunning but also believable. You can also have batch processing, advanced AI models, other powerful AI photo enhancer features, etc if you choose to get a paid subscription. You can learn more about AI cartoon generator tech and applications through the guide.
Also read: Reinvent Yourself  With the Best Cartoon Maker.
Pros:
One of the best outputs. 
Many features.
Cons:
2. Avachara
Price: This online cartoon PFP maker tool is absolutely free to use. 
Avachara takes the opposite route of Toongineer Cartoonizer and other AI-based applications. Here, the tool provides you with preset styles that you can mix together to create your own avatar. You can choose the face, hair, eyes, and more with just a click. Furthermore, you can dress your avatar as well as give them accessories such as glasses. Naturally, this avatar maker provides options for male and female users. More interestingly, there are also some popular Vtuber Maker which use similar technology. Try it if you like.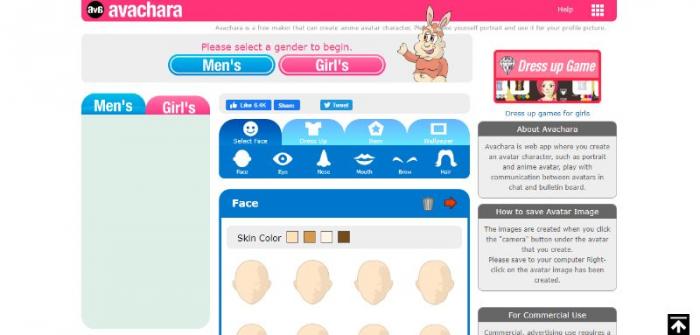 Pros:
Customization application. 
Easy to use. 
Cons:
This cannot be feasible for users who want a cartoon version of themselves.
Also read: Discover How Easy to Convert Picture to Cartoon 2022.
3. Cartoonify
Price: The Cartoonify cartoon pfp maker is free to use though it also has a premium version on its way. You can use the link to contact the developers for the premium version. 
This online application is similar to the previous one on this list though this application works a bit differently. Here, your images can be converted into Gravatars, which are perfect if you want to share them on social media sites as they prove to be unproblematic. Instead of turn photo to cartoon online, this application also allows you to choose elements such as hair, eyes, clothes, background, etc to create a somewhat comprehensive avatar. Since it is all done with a mere click, you won't even need to figure out how to make a cartoon profile picture. With its user-friendly interface and a wide range of cartoon styles, Cartoonify is the perfect tool for creating eye-catching and unique cartoon pfp.
If you are not satisfied with the result, you can use some tools to make photo hd.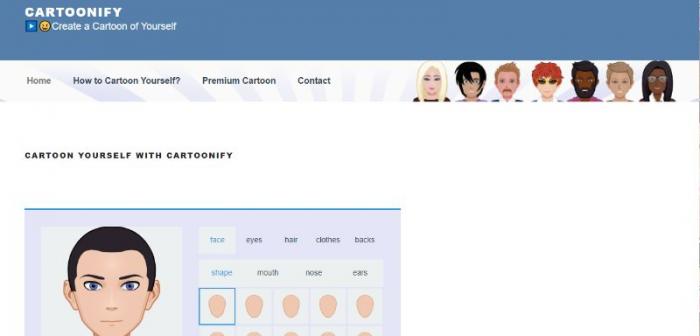 Pros:
Customizable avatars. 
Easy and free to use. 
Cons:
Users can't create a cartoon version of themselves unless they use the premium edition.
4. Discord Avatar Maker
Price: This cartoon PFP maker is free to use though users can donate to the developer. 
This one is a really crafty and unique avatar maker since it doesn't deal with regular faces but still manages to make a fun, lively avatar through Discord icons. When you use the application, you are given choices on choosing your preferred effect and animation. Furthermore, you can click on the dice icon to get various Discord icon faces. With so many effects, animations, color choices, etc this tool is great at giving results while making the process of creating an avatar enjoyable. Besides that, more people also seem to be interested in AI Face Generator. You can know more from the link.
Pros:
Really fun to use. 
Works smoothly. 
Cons:
Mostly usable for the Discord application only. 
5. Super Mii
Price: This mobile application cartoon PFP maker tool is free to use though it contains in-app purchases. 
SuperMii is one of the most creative and awesome mobile applications that you can use to make a cartoon or anime PFP. The editing tools are comprehensive enough to enable users to create popular anime characters such as Naruto, Goku, Giorno, etc. It is also easy to use, as you can see your avatar on the screen and apply effects instantly on them. You can also share your screen for the tool to provide a premade avatar.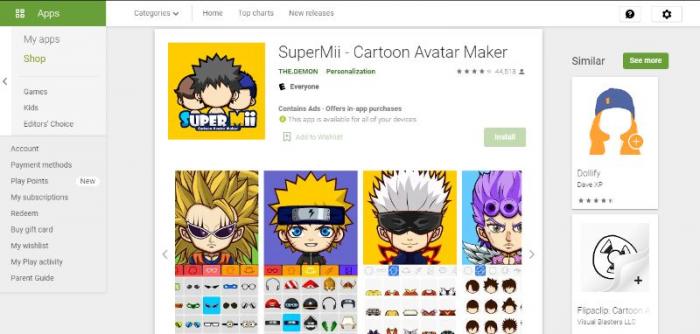 Pros:
Users can create awesome characters.
Free to use.
Cons:
In all, if you want to find an AI image enhancer to make enhancements to your original photo, VanceAI is highly recommended with various AI features except for Toongineer Cartoonizer. While if you want to create new characters, others like Super Mii are exactly what you need.
Tips to choose your cartoon pfp maker
1. Look for a User-Friendly Interface: 
When selecting a cartoon PFP maker, prioritize platforms with a user-friendly interface that allows for easy navigation and hassle-free editing, even for beginners.
2. Assess Various Cartoon Effects
Opt for a PFP maker that offers a diverse range of cartoon effects, ensuring you have plenty of options to choose from and can find the perfect style that best represents your personality.
3. Check Output Quality and Resolution of the produced pfp
Prioritize making cartoon pfp that maintains high-quality output and resolution, ensuring your final avatar looks crisp, clear, and visually appealing when used across different platforms and devices. Quality is key to making your avatar stand out!
Summary
These tools are perfect for you to get started with cartoon and anime styled pfp creation. Tools such as SuperMii and Cartoonify keep the control in the user's hands, allowing them to craft their own avatar from scratch. Though this may allow more freedom, it may nonetheless restrict users from creating avatars of themselves. On the other hand, an application like Toongineer Cartoonizer automatically can be used to cartoon yourself online free and other kinds of images as well. However, it doesn't offer editing options to users.
After you get an anime styled pfp picture, an AI image upscaler may be what you need to upscale anime picture online to 2K,4K,8K. Read more:10 Popular Video Game Characters Recreated as Pencil Sketches
FAQs
1. How do you make your profile picture a cartoon? 
Profile pictures are being used in many different scenarios, such as in social media, business, gaming accounts etc. Making a cartoon profile picture becomes much easier thanks to the online pfp cartoon maker on this list. If you are using the first tool from this list, which is the Toongineer Cartoonizer, you can simply upload an image and get the cartoonized photo in a few seconds. For other tools, you can start using the effects provided to make your avatar and then download them after completion.
2. What's the best cartoon pfp maker?
The best cartoon PFP maker is Toongineer Cartoonizer. It offers a user-friendly interface, stunning cartoon effects, and high-quality output, making it ideal for creating personalized avatars.
3. How can I make a cartoon discord pfp with Toogineer Cartoonizer?
1. Visit the Toongineer Cartoonizer website and upload your photo.
2. Choose a cartoon style that suits your preference.
3. Adjust the settings to customize the cartoon effect if desired.
4. Click the "Start to Process" button to create your cartoon PFP.
5. Download the cartoonized image and set it as your Discord profile picture.
Do you find this post helpful?
Read More to Know Deeper: