Have you ever wondered what pixel art video game characters would look like up close? Due to the very nature of these characters, you generally can't zoom in to take a better look at them while playing. Sure, you can look up concept art and HD recreations but it's not quite the same thing. With that mind, we set out to see if we could enlarge screenshots of pixel art games so we can better see what's going on. Normally, enlarging images would lead to a loss in quality but we just so happen to know of a tool that can do it without any drawbacks. So the following part will focus on introducing AI Image Enlarger.
I'm sure you can immediately figure out what this tool is all about based on its name alone. But just in case you're looking for a more detailed description, AI image enlarger is an online tool that uses artificial intelligence to upscale images quickly and easily. The tool can make pixel art game characters larger by anywhere between 2 and a whopping 8 times their original size. Even more importantly, it can upscale images without any loss of quality.
You can also use it to enlarge pixel art game character, which is exactly what we're going to do in this article. The process itself is very simple so we're not going to waste a lot of time explaining it. All you have to do is visit the VanceAI, pick the Enlarger tool from the "AI Solutions" dropdown menu and upload your photo. Then, it's just a matter of selecting the degree by which you want to enlarge the image and initiate the process.
Top 10 Best Pixel Art Game Characters Enlarged by AI
Down below we're going to show you some examples of Image upscaler in transforming pixel art game characters. We decided to experiment with a handful of popular pixel art games, some of which you're probably already familiar with. If you're not, don't worry because we're going to give you a brief description of what they're all about just in case you want to check them out for yourself.
Also read: Top 10 Pixel Art Generators to Create Pixel Art Like Artists.
| | | | | | |
| --- | --- | --- | --- | --- | --- |
| Game | Price | Quality | Features Options | Support Device | User Friendly |
| Undertale | $9.99 | High | Unique combat system, catchy soundtrack, and memorable characters | PC, Mac, Linux | A |
| Celeste | $19.99 | High | In-depth platformer, modern systems and storytelling techniques | PC, Mac, Linux, Nintendo Switch, Xbox, PlayStation | A+ |
| Dead Cells | $24.99 | High | Roguelike, metroidvania, and souls-like game genres | PC, Mac, Linux, Nintendo Switch, Xbox, PlayStation | A |
| Octopath Traveler | $59.99 | Very high | Detailed pixel art video game with a must-play graphics | Nintendo Switch, PC | A+ |
| Terraria | $9.99 | High | Bestselling game of all time, great example of why pixel art games are popular | PC, Mac, Linux, Nintendo Switch, Xbox, PlayStation | A+ |
| Hyper Light Drifter | $19.99 | High | Strange and wonderful world with a fairly underrated pixel art game | PC, Mac, Linux, Nintendo Switch, Xbox, PlayStation | A |
| Katana Zero | $14.99 | High | Super stylish and bloody action-platformer with unique storytelling techniques | PC, Mac, Linux, Nintendo Switch, Xbox, PlayStation | A |
| Shovel Knight | $9.99 | High | Memorable characters with Shovel Knight being the most well-known | PC, Mac, Linux, Nintendo Switch, Xbox, PlayStation | A+ |
| Stardew Valley | $14.99 | High | Charming pixel art farming simulator with good graphics | PC, Mac, Linux, Nintendo Switch, Xbox, PlayStation | A+ |
| Owlboy | $24.99 | High | Adventure game | Multi-platform | B+ |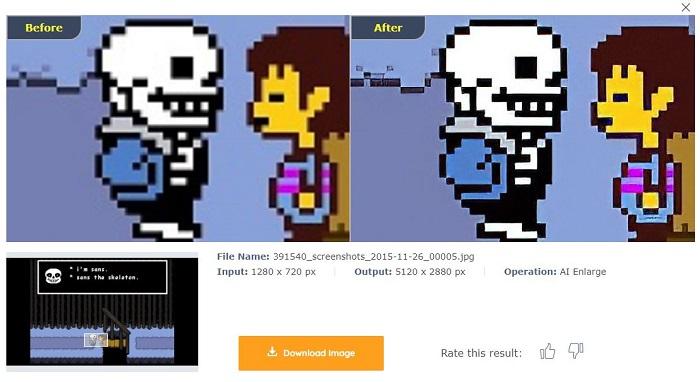 Dubbed as "the RPG where you don't have to destroy anyone," Undertale is a modern classic. The game has a lot going on for itself, including a unique combat system, catchy soundtrack, and memorable characters. The most popular of which is, of course, Sans the Skeleton. There's an absolutely ridiculous amount of Sans fan art out there, but the original in-game version is still the most iconic. Sans looks pretty much exactly like you would expect after being enlarged with VanceAI, so no big surprises here.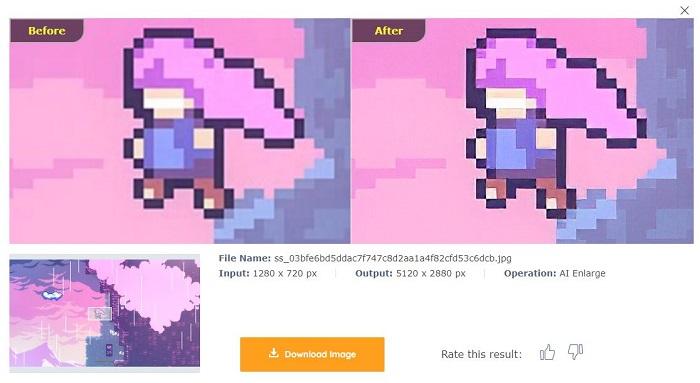 The developers behind Celeste went all out with the retro pixel art, creating a game that genuinely looks like it came out straight out of the 90s. At first glance at least. Upon closer inspection, this in-depth platformer incorporates plenty of modern systems and storytelling techniques while still remaining faithful to its artistic vision. Celeste definitely looks like one of the blockiest pixel art game characters out there when enlarged, but that doesn't take away one bit from the quality of the game.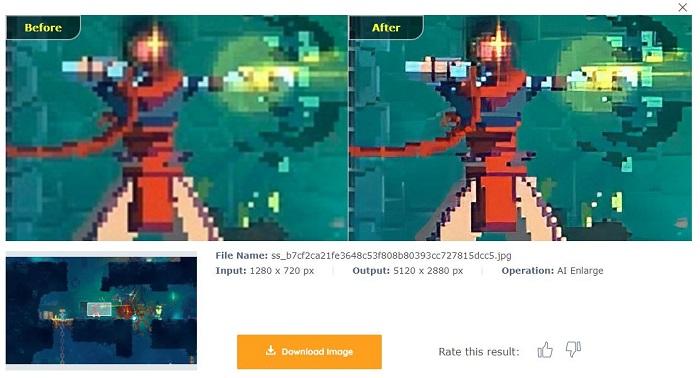 Dead Cells was an instant hit when it launched back in 2018. The game seamlessly blends together multiple genres, including roguelike, metroidvania, and souls-like, to create a challenging but crazy fun experience. It's usually pretty difficult to take a good look at Dead Cells' protagonist because everything is moving so fast during gameplay, but that's no longer the case thanks to AI image upscaler. The protagonist doesn't look very impressive in still images as you can see but that quickly changes whenever he's in full motion.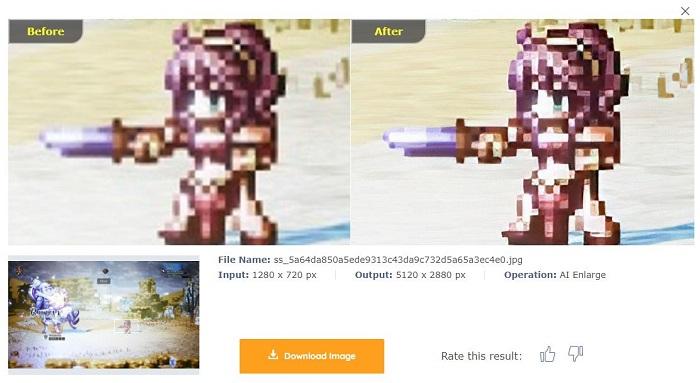 Square Enix's Octopath Traveler is arguably one of the most detailed pixel art video games ever made. You can easily tell while playing but you can get an even better idea when using AI image upscale to enlarge a screenshot of the game. The developers could have gotten away with putting a bit less work into the visuals and still have a great game on their hands, but they decide to go all out and we're sure glad they did. Octopath Traveler is a must-play for the graphics alone, with everything else being just a nice bonus.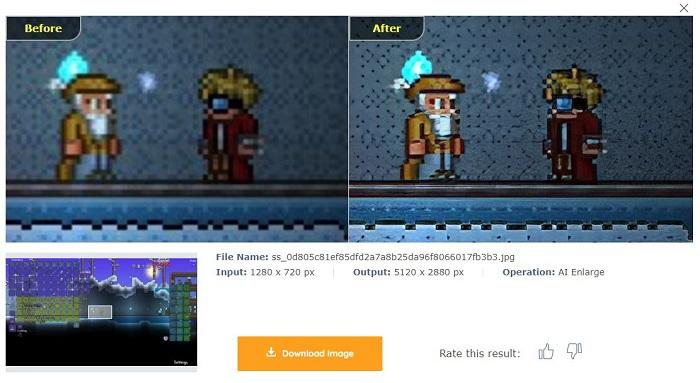 Easily the most popular game on this list, Terraria already sold more than 14 million copies to date. Making it one of the bestselling titles of all time. Terraria is a great example of why so many developers have been focusing on pixel art video games lately. The game came out a decade ago at this point and still holds up great. This type of art style simply doesn't age so we can probably expect people to be playing Terraria for yet another decade. At the very least.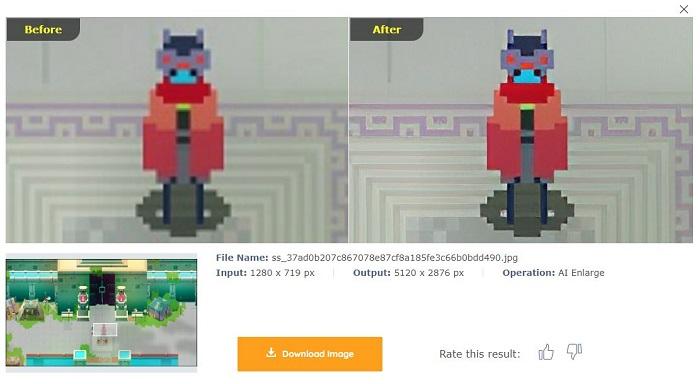 The debut project of developer Heart Machine, Hyper Light Drifter is a fairly underrated pixel art game that fell a bit under the radar when it released in 2016. Luckily, the game slowly started to develop a cult following in the years since, as more and more players discovered its strange and wonderful world. It's interesting to see how the protagonist sort of resembles a cat from afar, however, upon closer inspection we can see that he's actually just wearing a strange helmet. Good thing we had Image upscaler at hand so we could take a better look at the playable character.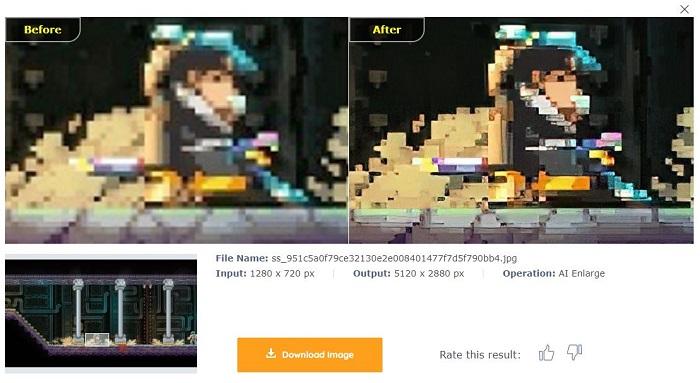 If you're looking for a super stylish and bloody action-platformer you're definitely going to love what Katana Zero has to offer. The game uses some very unique storytelling techniques and a combat system that's a lot more complex than you might expect. The iconic protagonist is also one of the main selling points even though he might not look all that impressive when enlarged. In fact, he's arguably one of the most interesting pixel art video game characters we've had in recent times. But this is a similar situation to the one we saw with Dead Cells where things look much better in motion than they do in still images.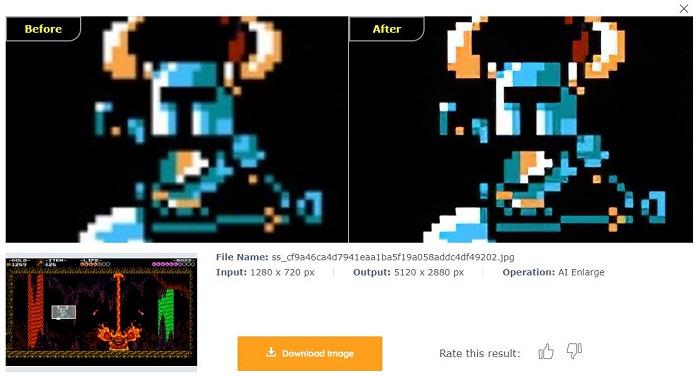 Shovel Knight is a pixel art video games that needs very little introduction at this point. The game features a number of memorable characters but the titular Shovel Knight is easily the most well-known one. In fact, you don't even have to play the Shovel Knight games to run into him because the character was featured in dozens of other titles over the years, including the aforementioned Katana Zero and the ever-popular Super Smash Bros. Ultimate.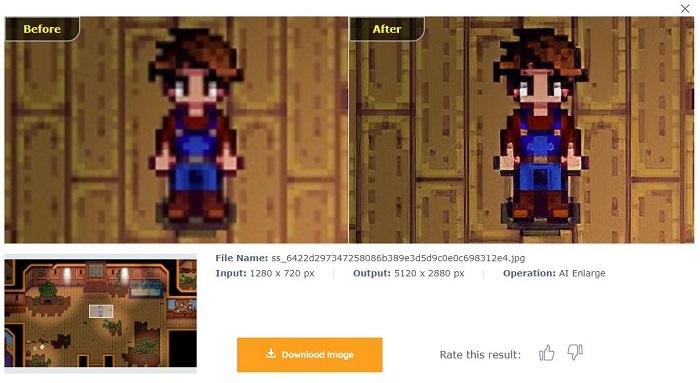 It's hard to believe that a pixel art farming simulator could become a worldwide phenomenon. And yet, that's exactly what Stardew Valley managed to achieve. In essence, the overall gameplay isn't too dissimilar from The Sims, only here you'll spend most of your time harvesting crops and tending to your farm. It may not sound too exciting at first glance but there's something inexplicably charming about this pixelated little game. Stardew Valley's characters look pretty good when viewed up close so we expect its graphics to hold up for a very long time.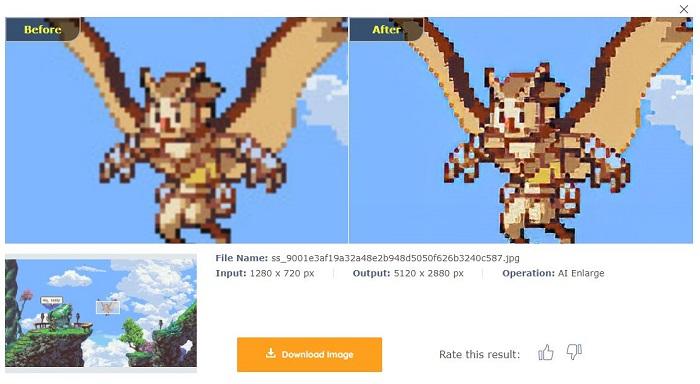 Owlboy is a beautiful adventure game that oozes creativity from every pore. Indie developer D-Pad Studio is said to have worked on Owlboy for around a decade and it definitely shows. But while the game world looks gorgeous, the titular character does look a bit quirky, especially when viewed up close. Then again, the main protagonist is a hybrid between a human and an owl, so I suppose that was to be expected. The main gimmick here is that Owlboy himself isn't a fighter so he carries his friends in battle to do the fighting for him. A pretty original concept and a game that's definitely worth checking out.
Also read: How to Remaster Game into 4K and 8K with VanceAI?
Final Thoughts
Pixel art video game characters are generally not meant to be seen up close and it's easy to see why in many cases. These types of games can lose some of their magic when you zoom in since they don't have nearly the same level of detail as photorealistic games. That said, we think this experiment was still very fun and interesting, so hopefully you enjoyed it. If you want to check out the tool we used for yourself don't hesitate to visit the VanceAI website and try the AI enlarger for free.
Related article: How to Put Yourself into Your Favorite Video Game World with AI

Do you find this post helpful?
Yes
No