Get Cartoon Photos in Just 3 Steps With This Incredible Tool
There are plenty of cartooning tools and apps out there that let you modify your appearance in various ways. Instagram filters are arguably the most popular of the bunch but you also have apps that make you look older or younger, let you swap your gender, let you transform into animals, and so much more. While all of those are pretty fun, in this review we're going to cover a new tool that's even more interesting. Introducing VanceAI's Toongineer Cartoonizer. More interestingly, there are also some popular Vtuber Maker which use similar technology. Try it if you like.
Toongineer Cartoonizer is one of cartooning tools that allows you to get cartoon photos. The technology has only been around for a couple of years but VanceAI recently managed to perfect it and turn it into a tool that's unlike anything else on the market right now. Not only is this particular tool more efficient than other similar apps you might find around the internet, but it's also faster and easier to use.
Also read: How to Create Cartoon Avatar with Toongineer Cartoonizer.
One of the biggest problems with most cartooning tools is that you can't use them online. As I'm sure we can all agree, having to download and install software for everything can get pretty annoying after a while. Luckily, you don't have to worry about that with an AI image cartoonizer,  which is developed by VanceAI and can be used online and you don't even have to register an account. Of course, if you do end up choosing to register one, which we strongly encourage you to do, there will be a number of benefits to look forward to. This great AI cartoon generator makes cartoonish become an easy thing.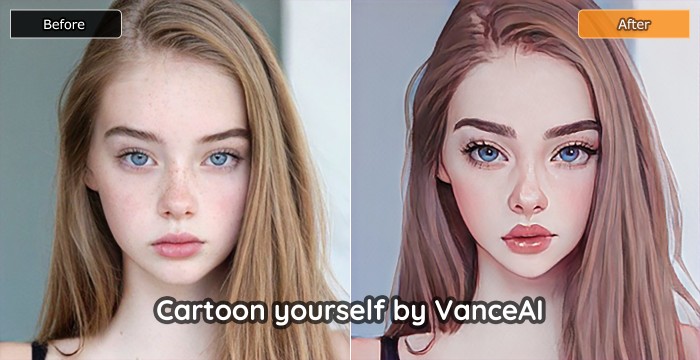 As far as the technology behind this tool is concerned, VanceAI makes use of advanced artificial intelligence algorithms that are able to improve themselves over time. What this essentially means is that you will notice increasingly better results the more you use the tool to cartoonize photo. Naturally, the tool was already trained well before launch using a large database of images. Due to the very nature of artificial intelligence, however, there's always room for improvement.
In addition to being able to get cartoon photos, I discovered that the tool also works perfectly with images that don't feature any people at all.  Apart from that, there comes some fancy AI Portrait Generator, making fancy selfies at a fast speed. Get to know more about it. Toonginner Cartoonizer can be used to transform pictures of animals, landscapes, buildings, and pretty much anything else you can think of. While the ability to get cartoon photos of human faces is arguable its most impressive capability, you can definitely have a lot of fun experimenting with a wide variety of other subjects. Besides, VanceAI now launches new desktop software - VanceAI PC.
VanceAI PC is full-featured desktop software developed by VanceAI that lets you instantly process local photos in bulk with more customization options, which will significantly simplify your workflow and boost your productivity. Download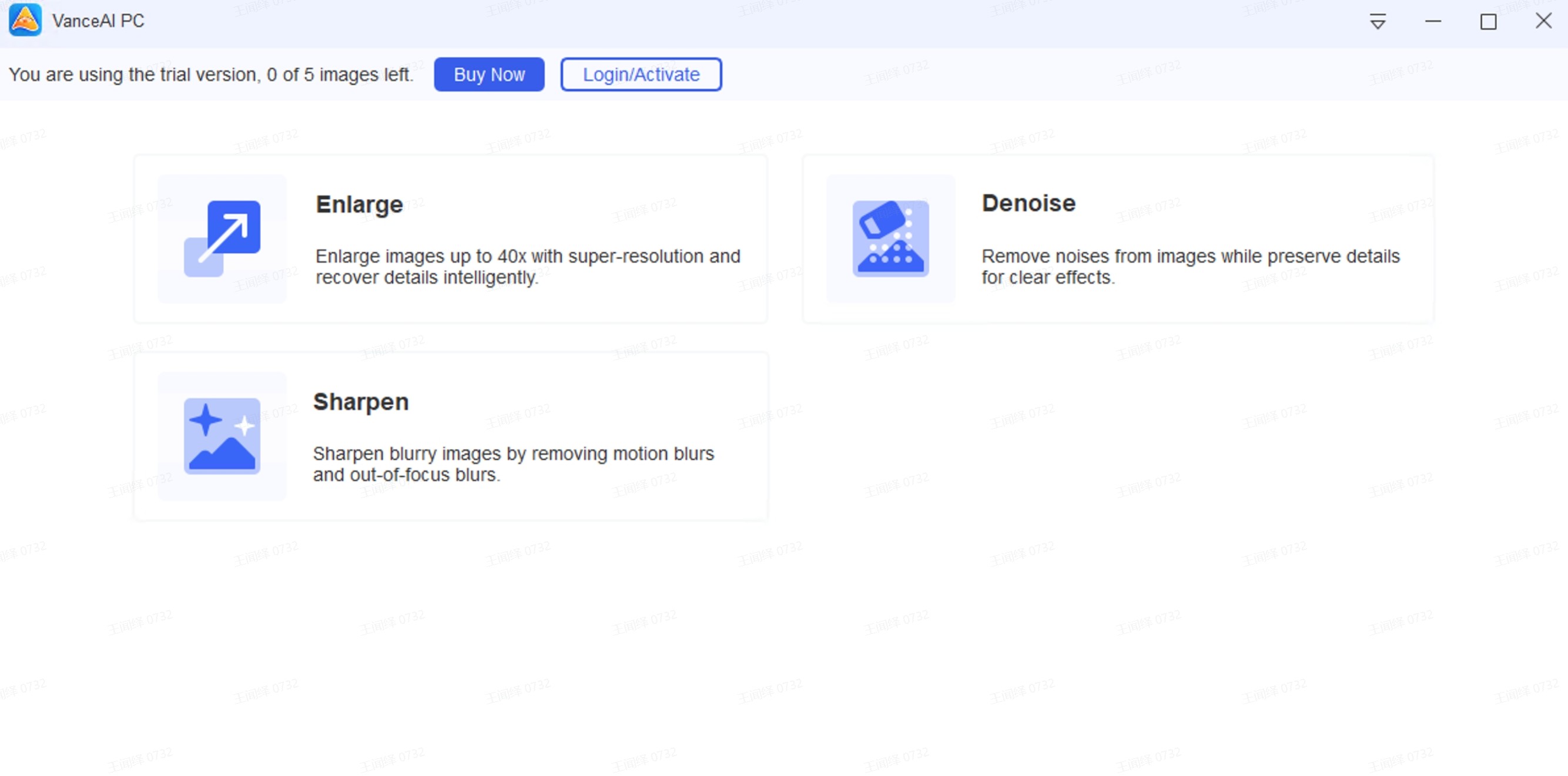 How to Get Cartoon Photos in 3 Easy Steps
1. Visit the official VanceAI website and navigate to the Solutions dropdown menu. There are quite a few tools to choose from there but the one we're interested in is the AI Image tool.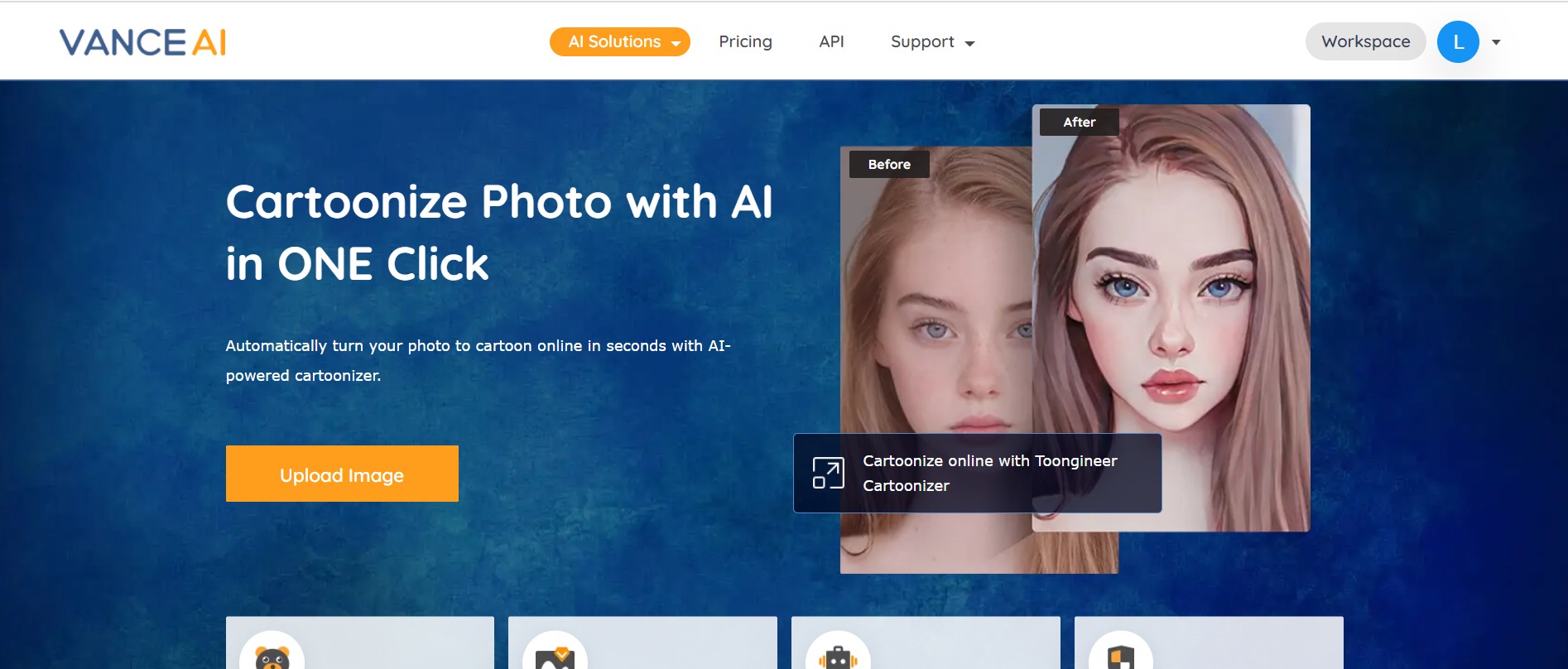 2. Click Upload Image and then select a picture from your computer. You can switch to the Sample tab if you want to experiment with some existing photos before uploading one yourself. Regardless of your choice, click Continue once you're ready to move on to the next step.
3. Compared with other cartooning tools, you may only need to wait a couple of seconds for this tool to do its magic but the process is usually very fast. Once the process is complete, simply click the Download button and enjoy the new photo. Besides that, more people also seem to be interested in AI Face Generator. You can know more from the link.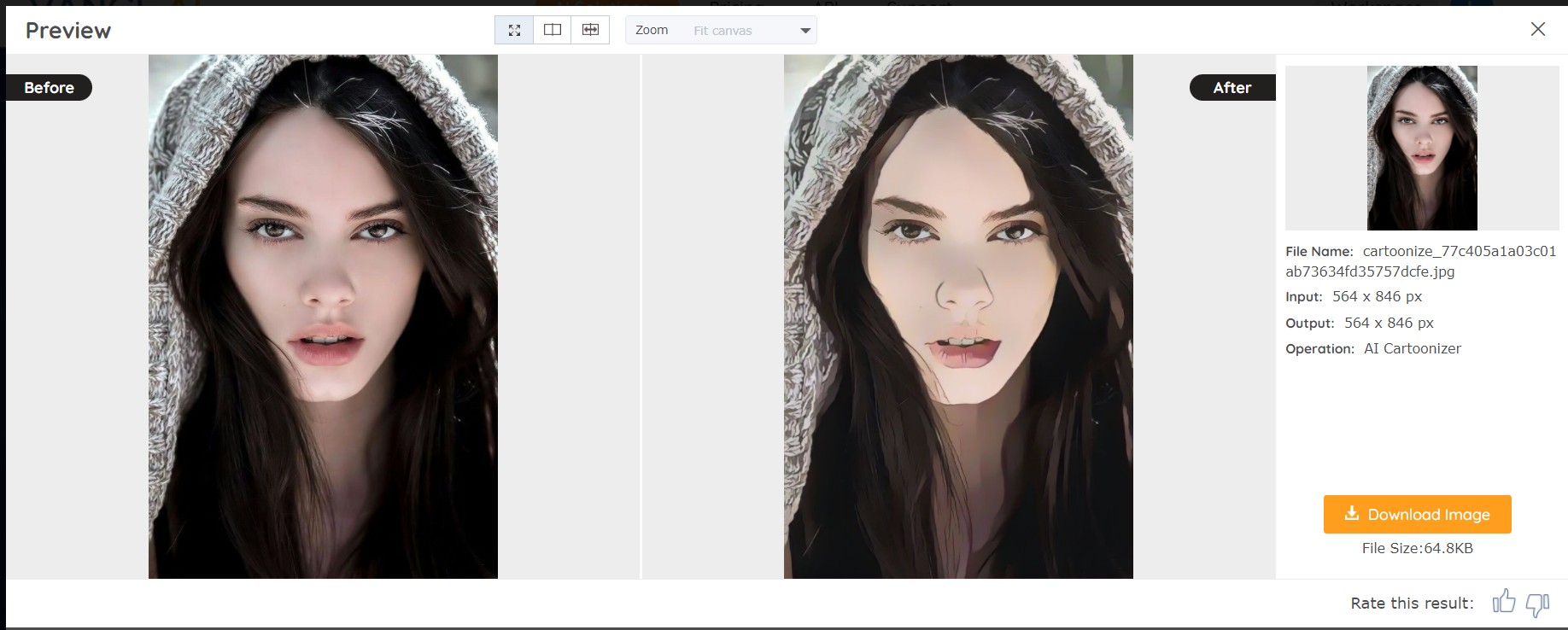 Plans and Pricing
As you may have noticed by the screenshots embedded in this article, Toonginner Cartoonizer can be used for free but you'll only have 5 credits (1 credit lets you process 1 image) per month at your disposal as a free user. That's not a bad deal all things considered but if you want to use the tool often, you'll need to subscribe to one of the paid plans.
In addition to the ability to turn photo into cartoon, a paid plan will also allow you to use the many other tools offered by VanceAI without the limitations that come with free accounts. Some of the other amazing tools you can look forward to including the photo colorizer, background remover, image enlarger, image denoiser, sketch converter, and more. In other words, this is a package deal that will give you a great bang for your buck.
In terms of pricing, you can expect the Basic plan to only set you back $9.90 per month. In exchange, you'll get access to 200 monthly credits, the ability to upload larger images compared to free users, batch processing, faster processing speeds, 24/5 customer support, and more. Another nice bonus is that VanceAI also throws in a 14-day money-back guarantee in case you're not satisfied with the product. Click to check out more best alternatives to selfie2anime.
Final Thoughts
VanceAI lets you turn photo into cartoon in a way that's faster and more intuitive than other similar tools. The fact that you don't have to download anything is another big plus in this day and age when our devices are already filled to the brim with all sorts of software, many of which we only use once and then forget about.  The best feature of Toonginner Cartoonizer is its efficiency and its 100% automatic tool to turn your selfies or pets into cartoon pictures in seconds. Click to get colored pencil drawings easily.
The tool uses very powerful algorithms to ensure that the images you process have that cartoonish feel we all know and love. A lot of the time the results can be quite surprising, but always in a good way. You don't have to take our word for it, though. Check out the cartoonizer tool to get cartoon photos for free and have fun with it.
Do you find this post helpful?
Read More to Know Deeper: