All that we see in real life, such as posters, magazines, paintings, etc. are very much visible on the Internet as well. These visual presentations are used for different reasons but there are always two similarities between them: crystal clear image quality and sufficient resolution. Nowadays, you can surely change size of image with any image editing software but very few of them also offer to change image size with enhanced quality. This is where the image upscaler sponsored by VanceAI technology company comes in.
This VanceAI Image Upscaler lets you change image size while upgrading the image quality. Since pictures now are more than just aesthetic but also about information, we tend to use them much more and sometimes their need comes unexpectedly. A service to enlarge image at any given time then not only requires to be good at what it does but also available for use. It is absolutely inconvenient to come across good images that are way too small in resolution and make it lose quality by increasing its resolution. With that in mind, this review will analyze the AI Image Enlarger tool and also tell you how to change the size of an image. What's more, VanceAI also offers more tools like the tool of photo enhancement awaiting your exploration.
Part 1: Features and basic details of image upscaler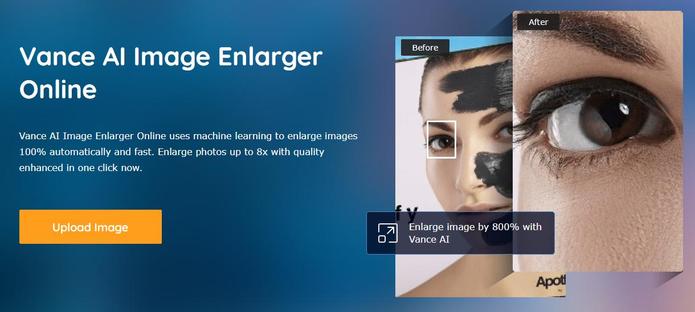 AI image upscaler, also named as image enlarger, which is one tool out of many provided by VanceAI company. It can be accessed from their official website's homepage. When you first use the VanceAI Image Upscaler, you will visit the website as a Guest or in other words, as a free user. A free user can process images for 5 times in a month, also called 5 credits per month. This credit system refreshes each month of course. There are still enough features to keep you going, however. It will accept images within 5 MB in size and will enlarge image up to 4 times. Batch processing is not allowed for free users, unfortunately.
There are two paid options for the AI Image Enlarger: Basic and Pro. The Basic plan will cost you $9.90 per month and offers upgraded features with a few new ones. With the Basic plan, you receive 200 credits per month. The maximum image file possible is 10 MB, image resolutions 3000x3000, and you can batch process 5 images together. Also, you can enlarge image by 8 times in Basic. Other than that, VanceAI will offer faster cloud speeds, customer support, and early access to new features.
The same is mostly true for Pro account holders as well except that they have upgraded features from Basic. The most notable difference being that it allows for 10 images to batch process and provides 500 credits per month. No matter which type of account you buy, the unused credits will be carried forward to the next month. The Pro plan costs $19.90 per month. This plan is suited mostly for those looking for highly professional and daily use.
VanceAI Image Upscaler works on the most common platforms, which are Windows, Linux, MacOS, Android, and iOS with modern browsers.
Part 2: How to change image size with AI image upscaler?
It is known that Image Upscaler is a cloud service SaaS tool, and it offrs users the most convenient processing flow to get your work done. The illustration below is a screenshot of Workspace. After entering into interface of the operation stage, the you can choose the enlarging size from 2X, 4X, 6X, or 8X on the right place. It not only supports users to enlarge, but also allows to choose features to unblur or denoise .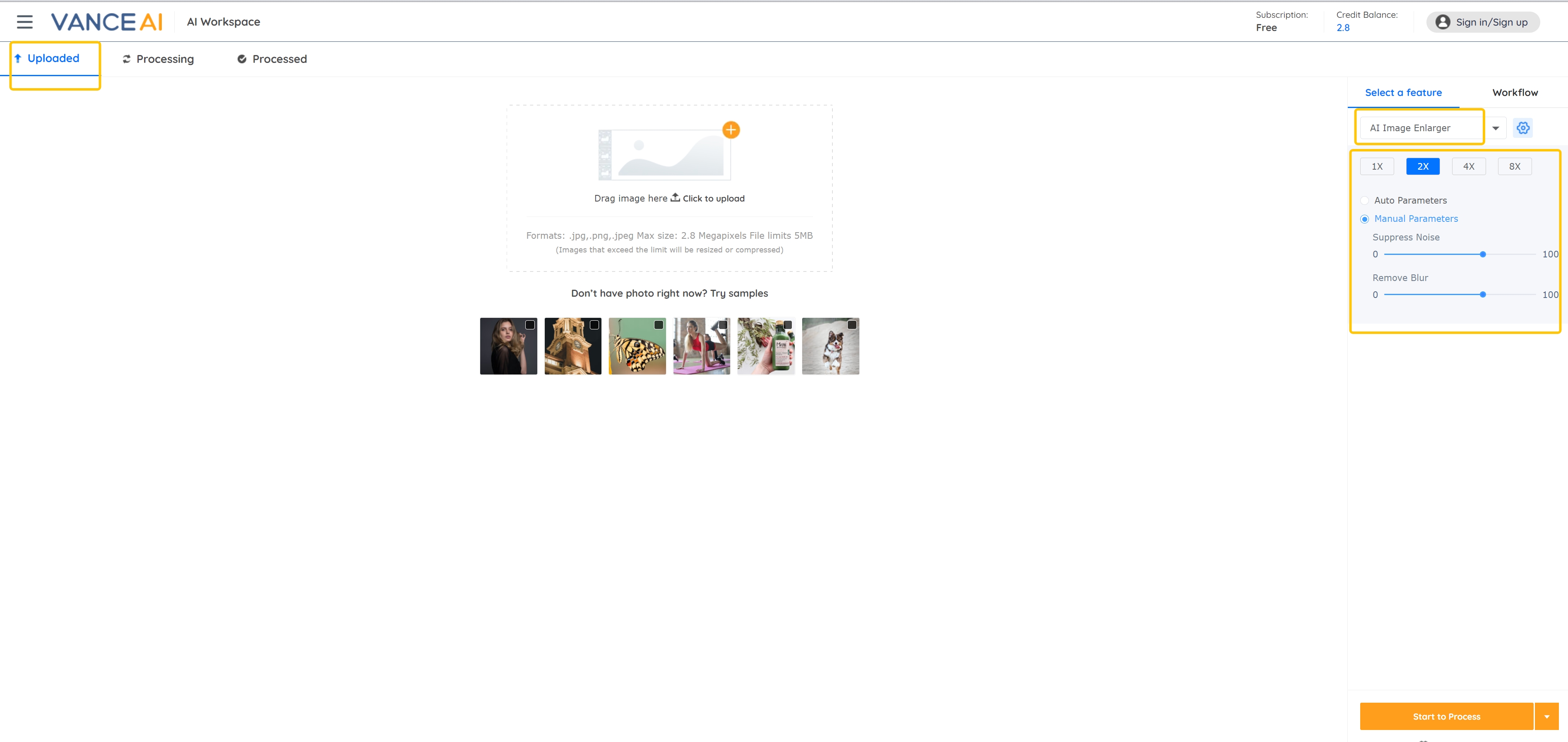 Method 2: Put images through AI Enlarger by logining the offical website
1.Visit the official AI image upscaling website. Now select the yellow Upload Image option to prompt the dialog box.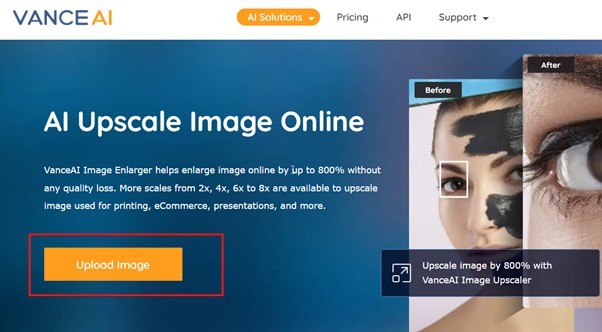 2.The dialog box shows your subscription or account type with the number of credits remaining. Under the Uploaded tab, click on Upload to select an image to upload. Once done, click on Continue.
3.The application should display the output shortly. You can compare the output with the original and hit the Download button when ready. There will be a short and free sign up needed wherein you can use your Google or Vance account.
These are the simple steps on how to change image size with AI Image Enlarger.
A Few Examples
Let's take a look at VanceAI Image Upscaler's outputs.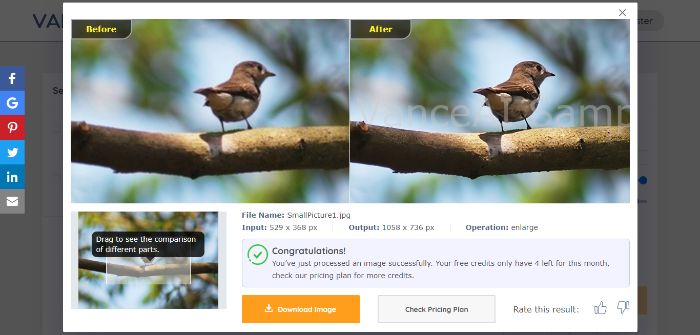 The image enlarger has done a considerably good job on this image. Though the background is rather identical in both the images, there is an obvious quality improvement in the bird and the branch. Of course, it should be known that the original image background is edited with a blur or bokeh effect and hence not intended to change. The textures are much clearer despite the image being enlarged to twice its original size.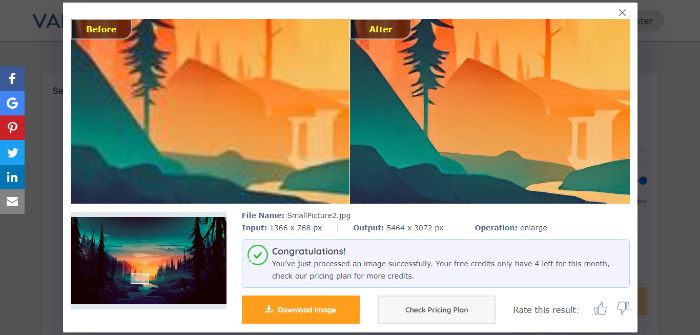 In this case, the original image was of a bigger resolution than the first image. Also, this image was upscaled 4 times. Nevertheless, the application enhances the quality of the original image to noticeable levels. The new output seems much sharper and has much less of the low-quality grainy look that the original image has. This also results in the multiple colors of the image to be distinct. Due to the grainy effect, the colors in the original image lose their definition.
Also read: Top 15 Best Image Resizer Review 2022
Conclusion
VanceAI Image Upscaler easily does enough to justify itself as a go-to image enlarger software and is certainly one of the best free online sources to enlarge image. Images downloaded from the free account do come with a watermark but they are not really disruptive. Besides, VanceAI offers worthwhile paid options that push the software well in the needed direction. Perhaps the option to upload an image by providing a URL link could bring many more people to use the online tool. The UI design and performance of the image enlarger is smooth and effective, creating a good user experience. The VanceAI Image Upscaler is definitely worth using and should be on your list of image enlarger applications. If you have blurry images and want to know how to unblur an image, click on to read more details. Click to see more about how to resize image pixels.
Do you find this post helpful?
Yes
No