How to Enhance Image With VanceAI?
Part 1: What can VanceAI do for you in enhancing image?
Technically, VanceAI is an image processed website that allows you to deal with images anytime, anywhere by offering various AI-powered tools. VanceAI Image Enhancer is also one of the powerful tools. Unlike other photo enhancement tools, the size of your image is more likely to change after the enhanced process. This model enhances image quality and make photo hd without changing image size. You may regard that as a major advantage of the Image Enhancer. VanceAI can help those who are travelling somewhere for example enhance images that are originally low quality. After all, it is difficult for you to carry heavy sophisticated photographic devices. In most cases, perhaps tourists only tend to carry their mobile photos with them. So it is fair to say that the Image Enhancer is designed to enhance super-resolution by denoising, sharpening and retouching low-quality images. With the help of VanceAI, your travel experience will definitely improve a lot.
VanceAI now also launches its software version. VanceAI PC is full-featured desktop software developed by VanceAI that lets you instantly process local photos in bulk with more customization options, which will significantly simplify your workflow and boost your productivity. Free Download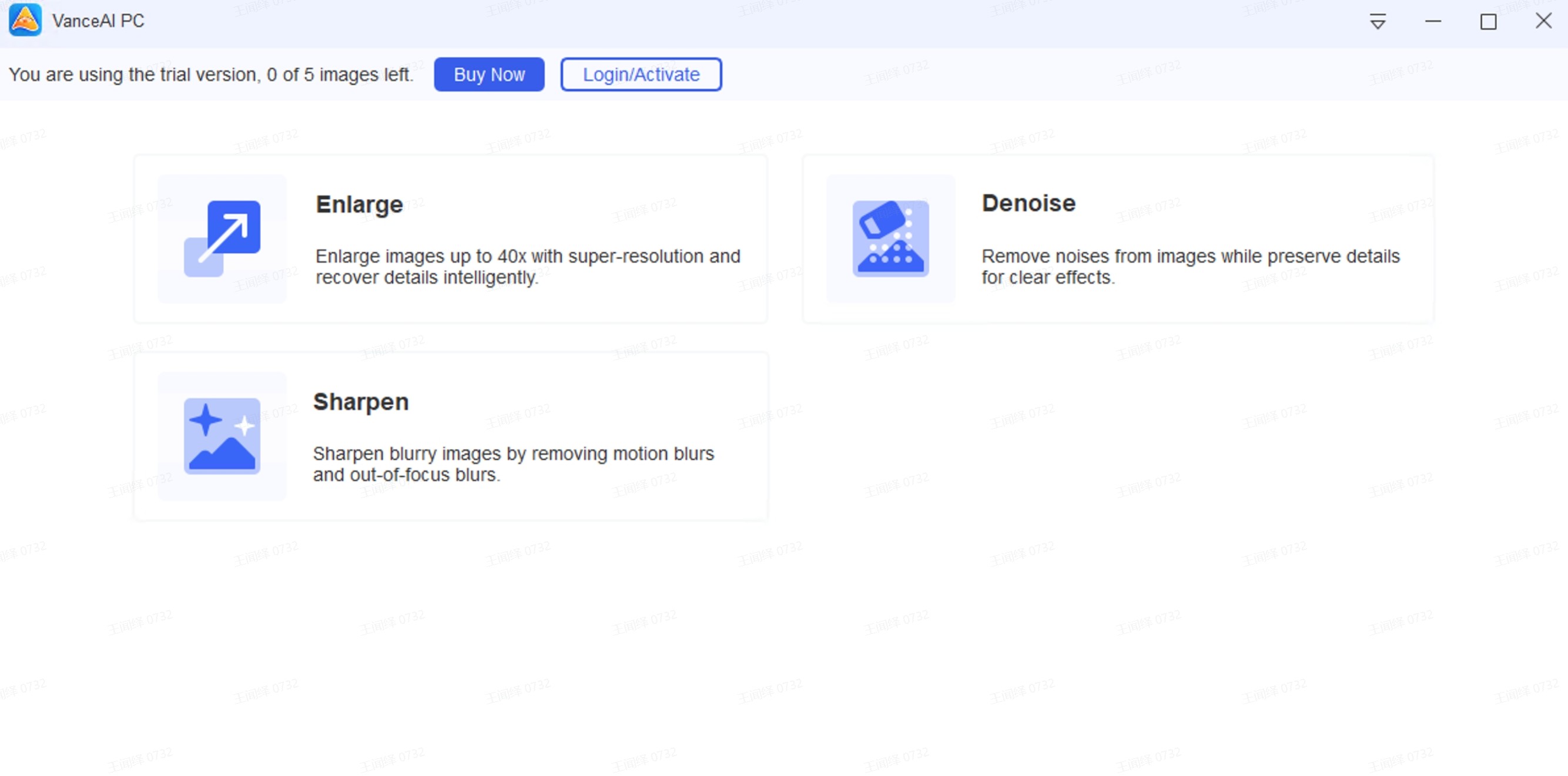 Part 2: How to enhance image with VanceAI?
VanceAI Image Enhancer is a convenient tool for you to enhance image. You just need to follow some basic steps and then the tool will help you reduce the terrible colour, noise, artefacts and blur of your images. And then you can enhance them up to a higher level. There is no need to worry about the steps because it will be easier for you to master them even if you have no idea of expertise in photography. What you need to do is drag and drop the picture you want to enhance in your workplace. After knowing the essential steps, you can use the tool to enhance the quality of an image with flaws online within several seconds. 
Then the article will show you how to enhance image with an easy-to-follow video, and steps.
Step 1: Come to the homepage of VanceAI Image Enhancer
Then you can just go to the homepage of the product to enhance image quality without changing the original size of your  picture. Aftering clicking on that link, you will easily see the picture below. Now you can press on Upload Image to upload the image you want to enhance.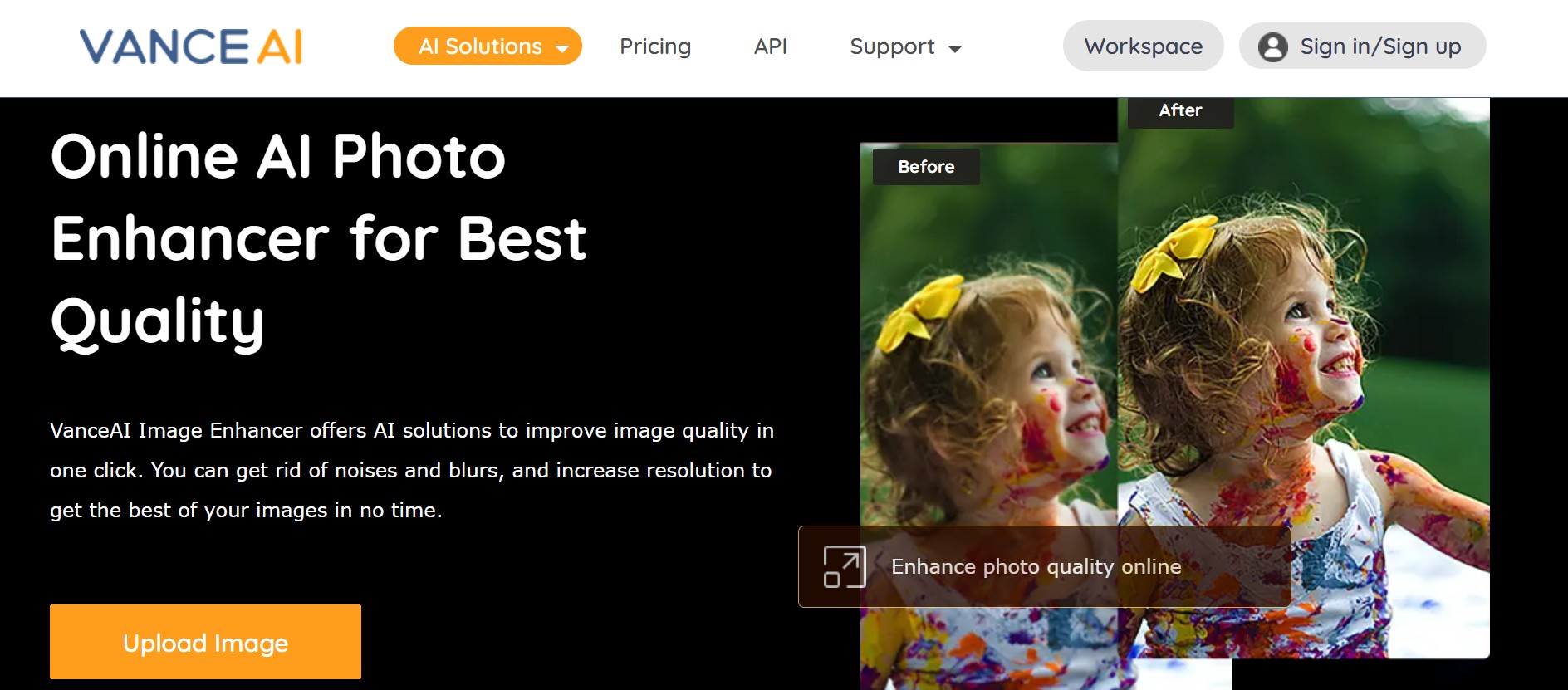 Step 2: Enhance image on VanceAI Workspace
Then you will naturally see the workspace below, or you can also get there by clicking VanceAI Enhancer Workspace. The Workspace is a multitasker powerful enough to enhance image or enlarge image. If you just want to enhance image, you first need to select Enlarge, Camera Shot in Photo Type, and finally 1x. With all things considered, you can also just choose Auto to let the workspace to enhance image automatically.
Hit Start to Process and you will see the final result in a matter of seconds.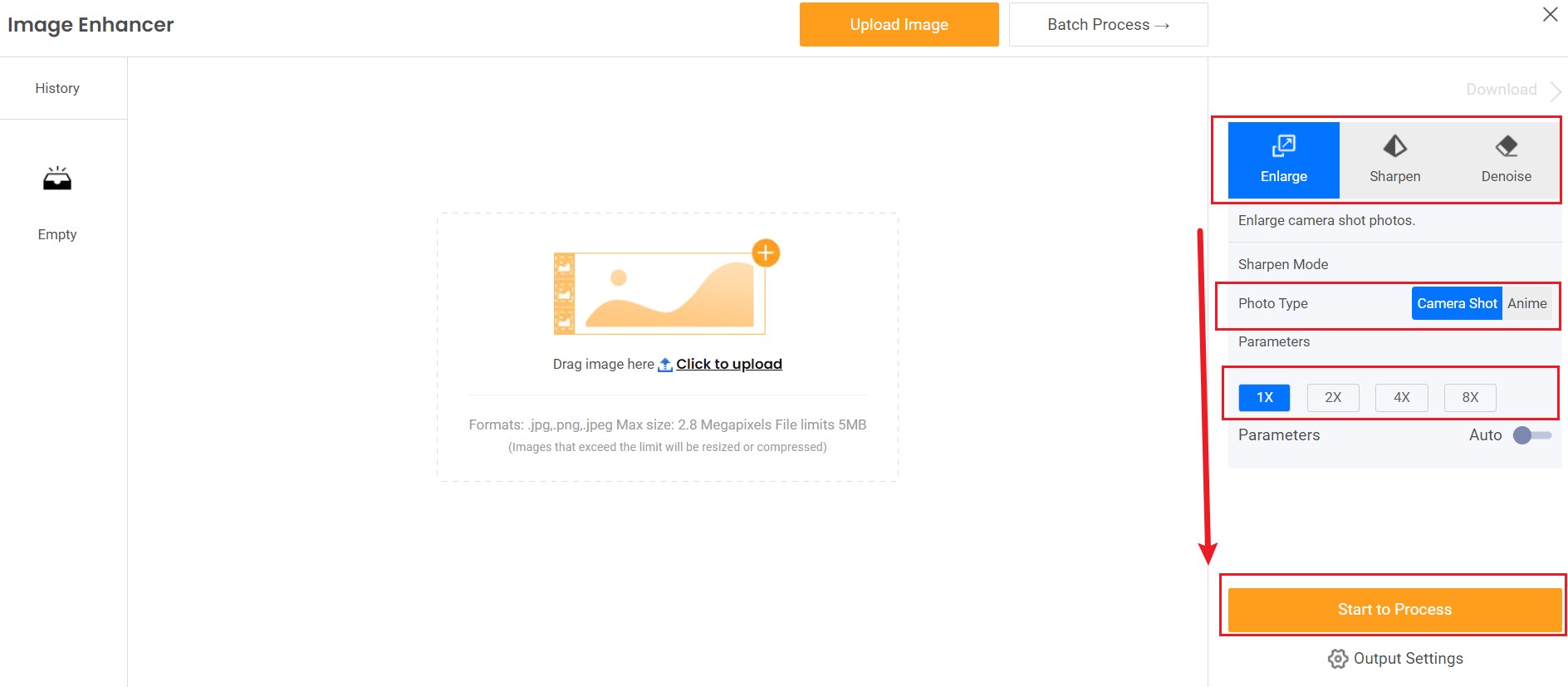 Step 3: Preview and download high-quality image
A picture is worth a thousand words. So you might as well feel the power of the photo enhancer by carefully watching subtle differences between the left and right one. Unique features usually appear in the form of details. As for the cat picture below, you will find that the fur inside the ear becomes much smoother and clearer. And the edge of the ear also becomes less blurry. That is what the Image Enhancer can do for you. More importantly, AI image enhancer will not even alter your image's size (Output: 2049 x 1366 px, similar to Input) while changing your image from low quality to higher quality.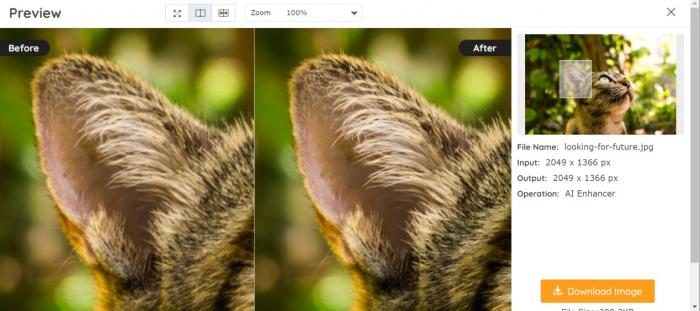 You can download your picture from the Photo Enhancer interface if the enhanced result is satisfactory to you.
Main characteristics of VanceAI
Enhancing image quality effortlessly with advanced AI algorithms. Making your images much clearer and more beautiful
Displaying your most impressive pictures on Instagram.
Giving you the most satisfying images.
Empowering your creation with machine learning: If you are a professional photographer, photo enhancer from VanceAI can help you immerse yourself in creating. Powered by machine learning, this tool handles challenges such as removing noise and blur during your post-processing work. It saves your valuable time so that you have more time to engage in creative work.
Conclusion
When you post images online, you can easily find that many images can hardly be used directly, either due to their low quality or unrecognized details. Therefore, it's necessary to enhance the images you have so that they look more appealing. If you have images that are too old or grainy to be used, try VanceAI Image Enhancer. With this photo enhancing app, you can enhance your images up to a new level. This AI image enhancer is powered by Deep Convolutional Neural Networks, which allow you to create stunning images without artefacts or halos.  
FAQs
Does AI work well in enhancing low-quality images?
AI is a blessing and not a curse, which is beyond doubt. It indeed makes great contributions to enhancing low-quality images. In terms of quality, efficiency and convenience, AI has certainly come out ahead in recent years. Despite the fact that extremely low-quality pictures cannot be enhanced, AI remains a perfect tool for enhancing most pictures.
Unlike most image quality enhancers, which have confusing buttons or options, image enhancer, or VanceAI Image enhancer, simplifies your work with AI. It has trained its advanced algorithms with millions of images, making it possible to enhance images up to super-resolution.
Do you find this post helpful?
Read More to Know Deeper: