How to Make Image Bigger Without Any Quality Leakage
I know that many are interested to enlarge an image in the fastest way possible, without losing quality. Wanting to avoid complex tools like Adobe Photoshop as much as possible and take the shortest path. Many tools have appeared that promise to make an image bigger in an instant, but many doubt them. Either these tools didn't provide positive results as promised, or many don't believe that such software exists.
VanceAI Image Upscaler is part of a suite of image post-processing programs developed by an enthusiastic team, Vance Technology. They aim to use the very best AI technology for the benefit of all. AI technology represents the present and especially the future. Tasks from certain jobs related to image processing will be much easier to accomplish. Of course, these tools, including VanceAI Image Upscaler, can also be used for personal use.
In the following lines, you will see how to make an image bigger with no effort at all. I encourage you to try this at the end of reading this article. You will be amazed by the capability of this product offered by VanceAI.
VanceAI Image Upscaler Profile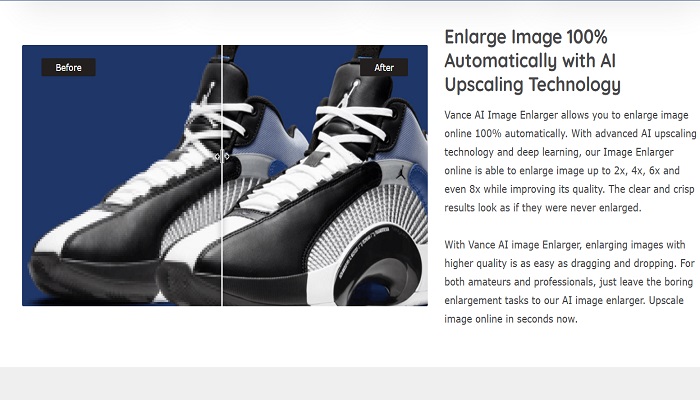 Here are some characteristics :
Make an image bigger 100% automatically up between 2x and 8x, while increasing quality
The whole process takes a few seconds
Reduces artifacts
User- friendly ( both amateurs and professionals)
Data safe guarantee, all photos from the platform will be deleted in 24 hours
Powered by the latest AI technology, which is constantly improving
Free to use 5 times per month
Subscriptions are cost-effective
No matter why you want to make an image bigger, we are aware that we live in a world where the visual has the greatest impact. Therefore, it is important that the image be impeccable from all points of view. VanceAI Image Upscaler, like the related tools, can make your dreams come true.
How to make the image bigger?
This tool is a life-saver. You can make the image bigger within a couple of seconds. Follow this tutorial and if you want to skip this and discover all the steps by yourself just go directly to AI Image Enlarger.
# Step 1: Follow this link " Image enlarge ", which will send you directly to the software page and click on the " upload image" button.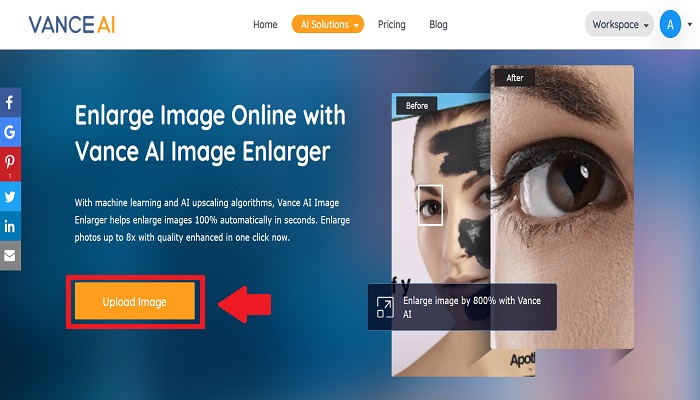 A new window will appear, where you can upload the image that you want to enlarge. It will look something like this: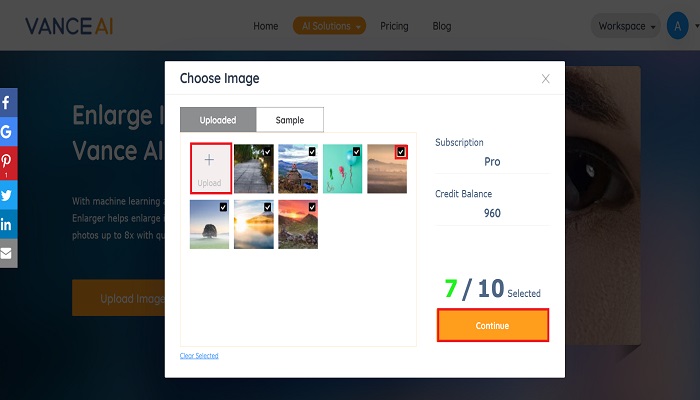 To make an image bigger, you must upload first your image. You can select as many photos as you want ( up to 5) if you are new to this. Select all of them or only one of them ( you decide), then click "Continue".
# Step 2: Once you get to this point you will be redirected to the batch process page.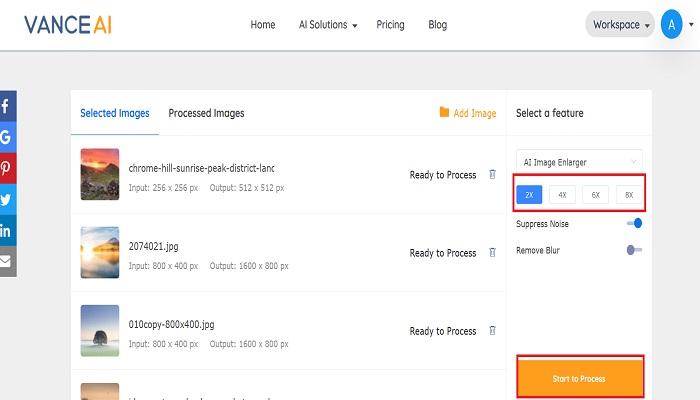 Make an image bigger by choosing a scale like 2x or 4x. Note that only paid users can opt for 6x or 8x. Also, you can activate the buttons that can suppress the noise from a picture or remove blur. Click "start the process" and in a couple of seconds, you will be able to download the enlarged images. 
# Step 3: It is easy to make a picture bigger, don't you think? Now, at the top of the page, you have to click on "processed images". From there you can download the enlarged pictures. You can do a batch download, or you can download just one picture - next to the corresponding image you have a download button.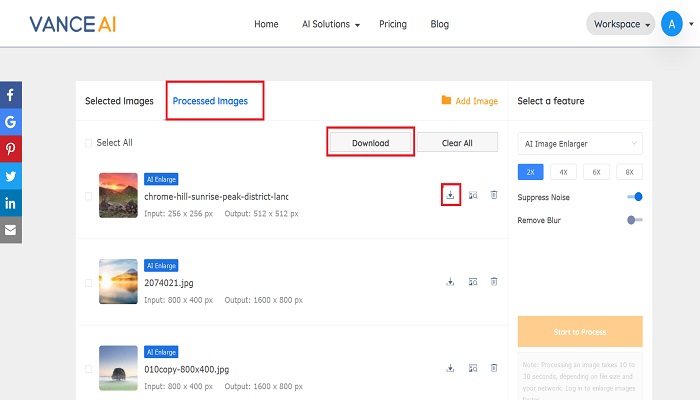 Revealing the results
As you will see, with AI image upscaler is easy- peasy when it comes to making an image bigger. It is fast, reliable and the results are marvelous. I used 800 x 400 and 626 x433 pictures and I chose to scale them between 2x and 8x. Ok, let`s how this tool can help you to make a picture bigger. Bellow, you will see a screenshot with a beautiful landscape. The original size was 800x 400 and the result has 1600x 800 px. VanceAI Image Upscaler enlarged by 2x. Now the tree looks even better than the previous version, it is sharper.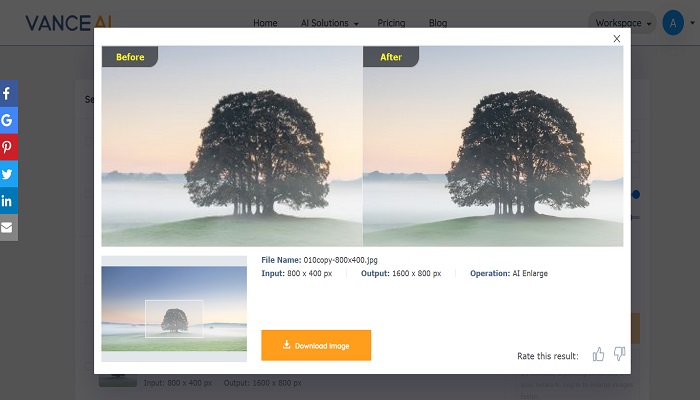 Here are another two examples with the same input and output. The mountain and the trees are many clearers, even if the picture has enlarged by 2x.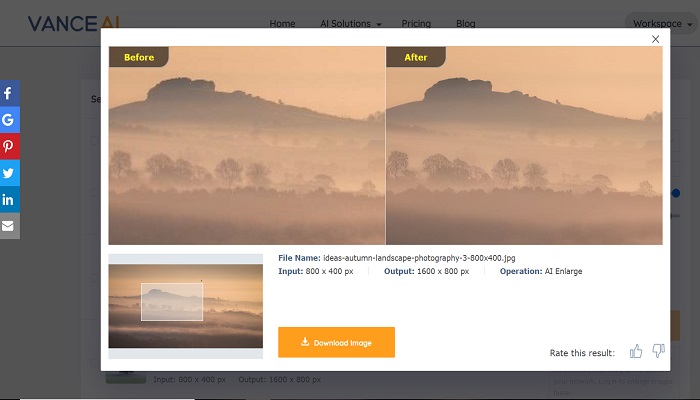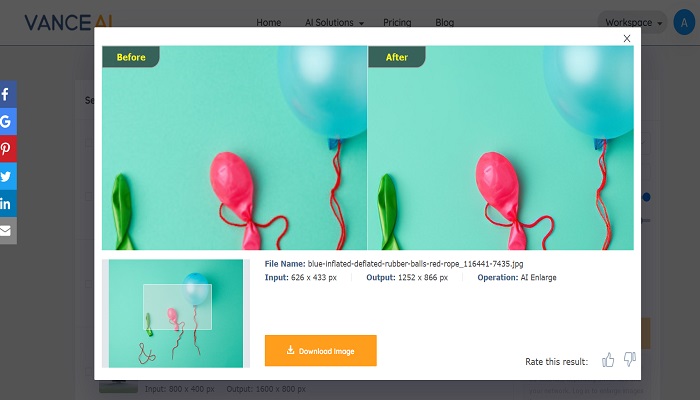 The situation is similar here as well. Look at the technical details. Even if this software helped me to make a picture bigger, does not mean that it affects quality. On the contrary, it improves it 100%.
My next examples will prove to you how reliable is to make a picture bigger by 4x and 8x with AI Image Enlarger. 
Again, look closely at the differences before & after and at the input and output. This picture is 4x bigger compared to the initial one.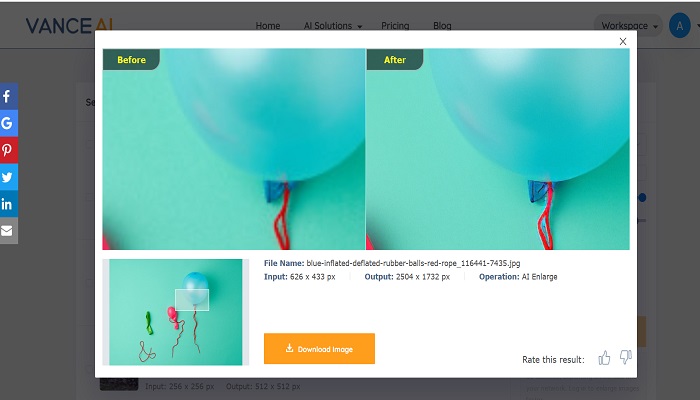 Bellow,  I enlarged the picture by 8x. The differences are really visible.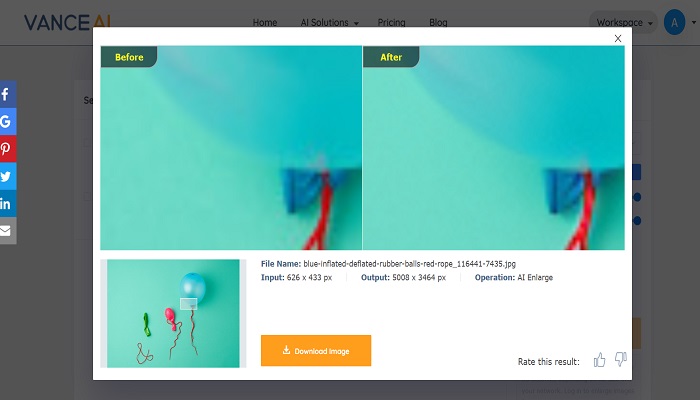 How does AI work?
VanceAI Image Upscaler is the exception that proves that enlarging an image automatically is now possible. Fueled by the latest AI technology, this online software can make an image bigger without any quality leakage and even increase image resolution.
 provides 5 efficient image upscaling models. Let's take a quick look.
Standard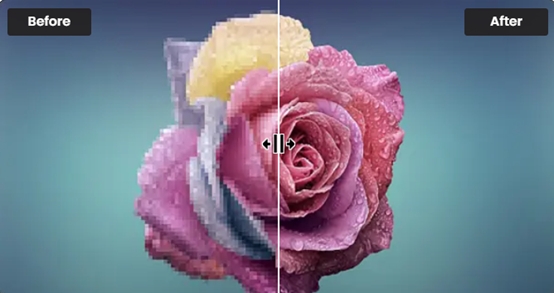 One of the upscaling models from VanceAI Image Upscaler is the Standard model, which is called EnlargeStable. It enables you to upscale any kinds of images, including photos taken by camera, paintings, landscape photography, and so on. If you have a general photo to upscale, never hesitate to try this Image Upscaler to enlarge image online or on AI upscaler software.
Anime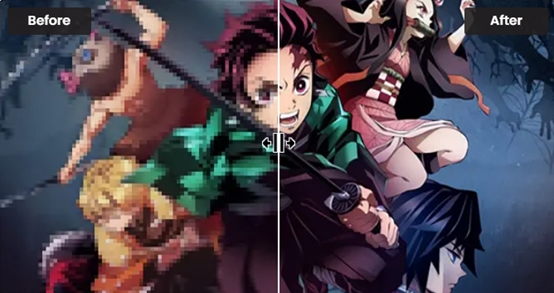 The Anime model of VanceAI Image Upscaler is the best option for anime upscaling. This model can convert old cartoon, anime, and comics to high definition and improve the details. It is divided into 3 submodels: Anime_4x_AnimeSharp, RealEsrganStable and Upconv_7. Simply choose one and start to upscale image from animation to 2K, 4k, or 8K with this AI Image Upscaler now! If you prefer software, image upscaler software is here for you.
Art & CG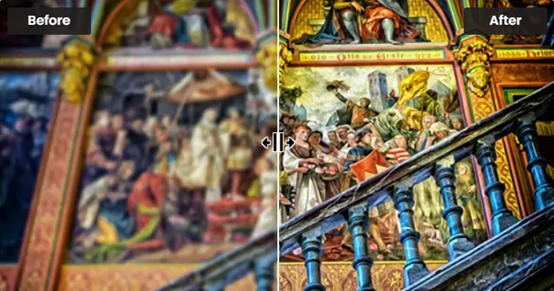 The Art &CG model of this AI Image Enlarger allows you to enlarge CG, art image, drawings or paintings online and restore the original texture instantly. This model is called Universal_UltraSharp_4x. If you want an AI art upscaler to improve image resolution to show the image details more clearly. VanceAI's online Image Upscaler can do this perfectly. And you can have AI image upscaler software to upscale CG images if you need.
Text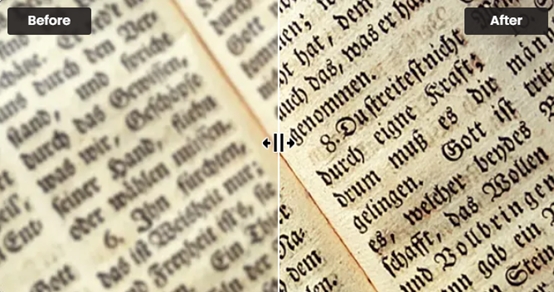 Legible text images can be very essential, including e-signature, e-contract, and scan files. VanceAI Image Upscaler provides you with a text model called Text_4x_TextSharpV1 to AI upscale image with blur text. If you are having trouble upscaling blurred text on a mass of paper documents, this online image enlarger from VanceAI is here for you.
Low Resolution & Compressed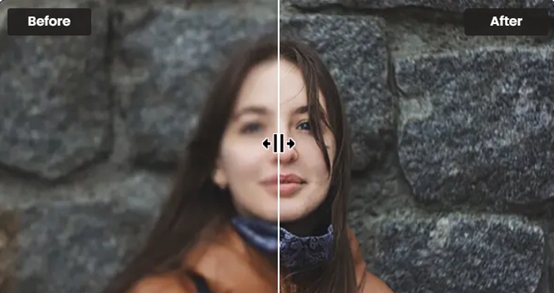 Low Resolution & Compressed model from VanceAI online Image upscaler can upscale low resolution and compressed pictures to HD in one click. If you need more delicate product photos, portraits or wallpaper, this model will always satisfy you. It will never be too late to upscale such images online with VanceAI Image Upscaler or with upscaler software for PC!
VanceAI PC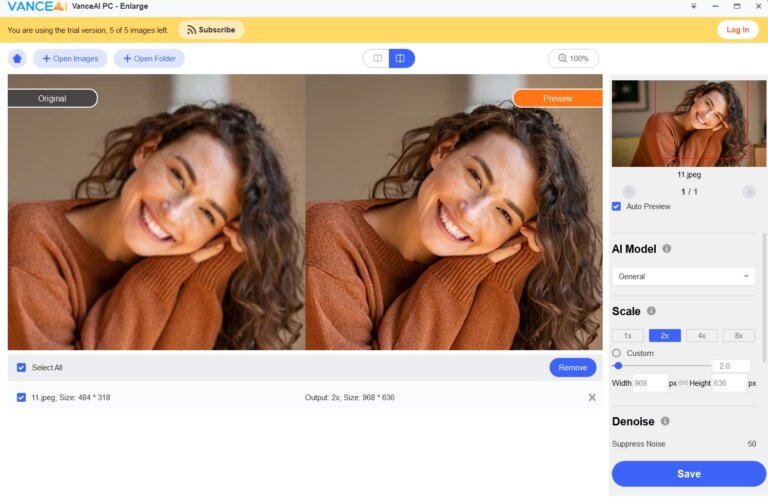 If you need more convenient and professional AI upscaling software, VanceAI PC is your best choice. As AI image upscaler software, VanceAI PC helps enlarge image without pixel loss and improves image quality with 100% precise details with advanced AI algorithms.
Also read: How to Make Discord Emojis Bigger.
Conclusion
Stop asking "How to make a picture bigger?". If you want to make a picture bigger try AI Image Enlarger and you will be staggered. Thanks to the deep learning and algorithm experts and every dedicated member from Vance Technology team, this online software can really help you to make an image bigger. This tool does not promise things in vain, but keeps his promises, not by words, but by deeds. The results can be seen with the naked eye and all in an amazingly short time only with VanceAI Image Upscaler!
Click to get more details about How to Remove Product Photos Background for BigCommerce.
Do you find this post helpful?
Read More to Know Deeper: