A photo colorizer tool is always a highly sought after tool due to its ability to give an image a new style and emotions. A photo colorizer or color palette generator tool can provide a unique and powerful way to enhance old photos, preserve history, and express creativity.
By colorizing old photos, you can help preserve history and bring the past to life and give it a new perspective. Moreover, a colorized photo is more visually appealing and can help draw the viewer's attention to important details. It can also help make the photo stand out and be more memorable.
With that said, this guide analyses Palette, an online app that creates multiple color palette options for an image and colorizes them. The guide also offers alternatives to Palette.
What is Palette?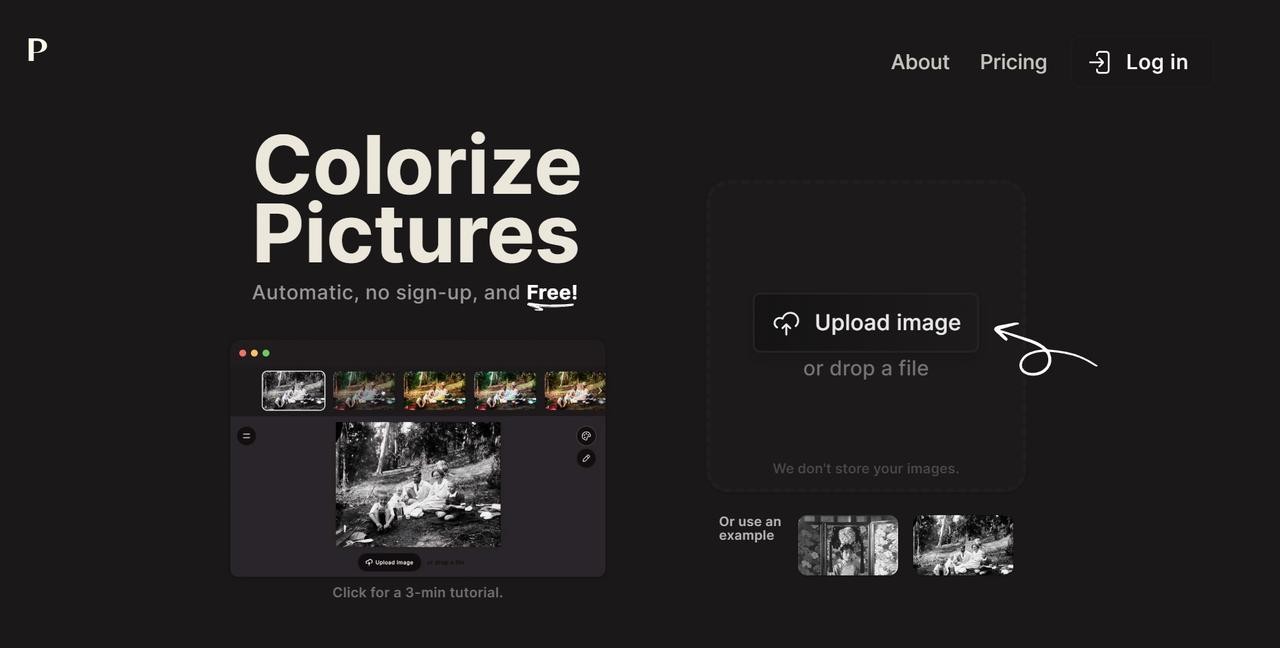 Palette is an online photo colorizer app that uses sophisticated AI and similar technology to automatically colorize black and white photos. It also generates color palette ideas after processing the image. The app is designed to be user-friendly, allowing users to easily upload their black and white photos and adjust the color settings to their liking.
With Palette, users can bring old black and white photos to life, enhancing their visual appeal and increasing their emotional connection to the subject of the photo. The app is accessible from any web browser and does not require any technical expertise, making it a convenient tool for anyone looking to add color to their black and white photos.
Therefore, a photo colorizer tool can also be a fun and creative way to express yourself and add your own personal touch to photos.
What can you do with Palette?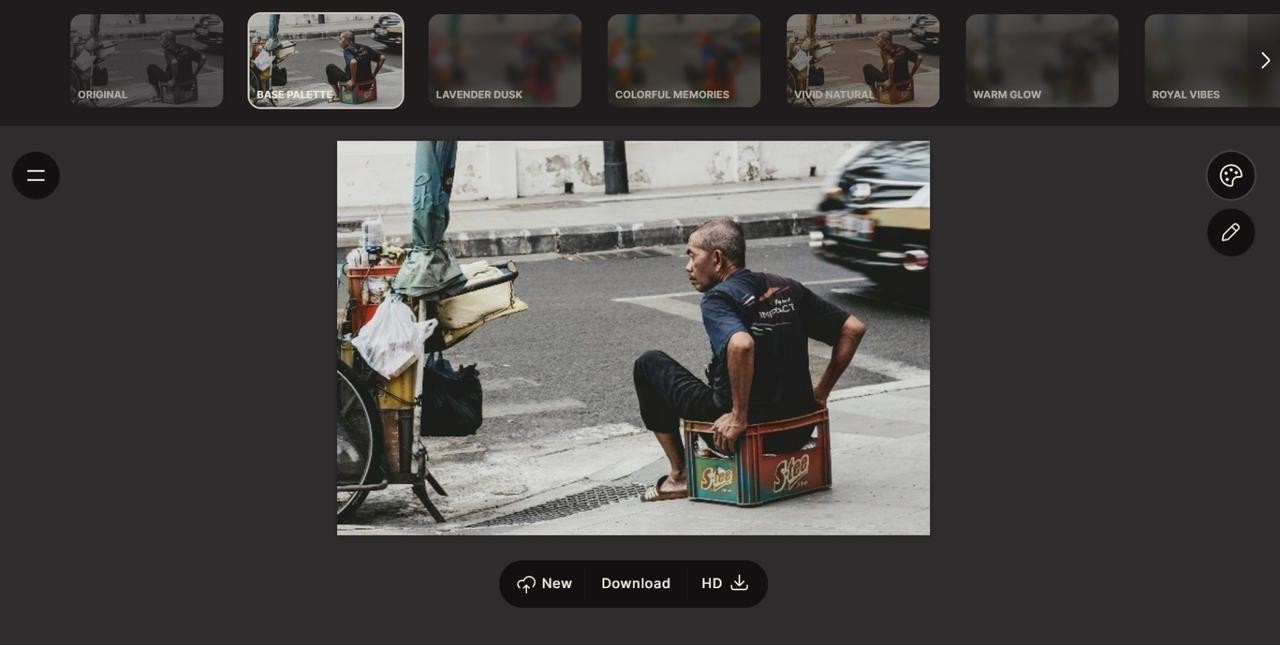 Palette is a user-friendly and convenient tool for adding color to your black and white photos and making images look lively.
Palette also provides various presets or filters that can be applied to the colorized image. These preset include themes such as "Lavender Dusk," "Base Palette," "Royal Vibes," and more.
These preset can give the colorized image a unique and artistic look, depending on the chosen theme. Users can apply these presets by simply clicking on them, and the app will apply the selected filter to the colorized image.
Before finalizing the colorization, you can preview how your photo will look with the new colors applied. Once you're happy with the colorization, you can download the photo in high resolution and share it with friends and family.
How to use Palette?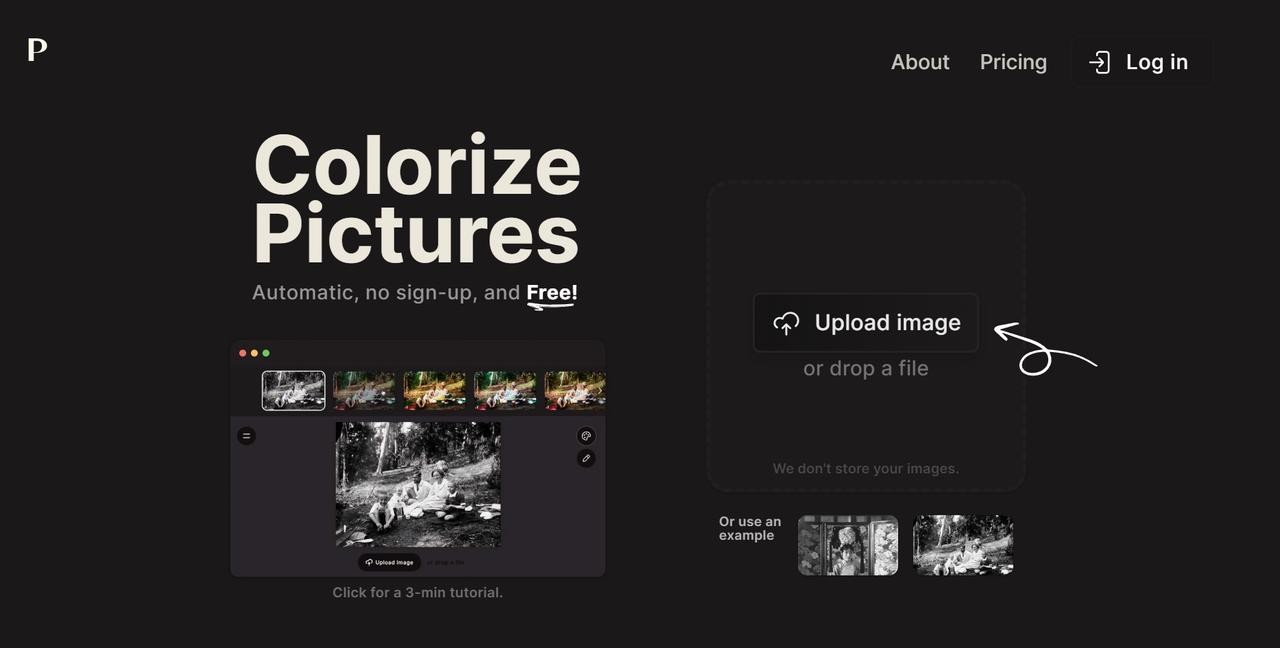 Step 1: Click on the link given above in the header to access the website. From there, you can upload an image by using the Upload Image option or by dropping an image directly.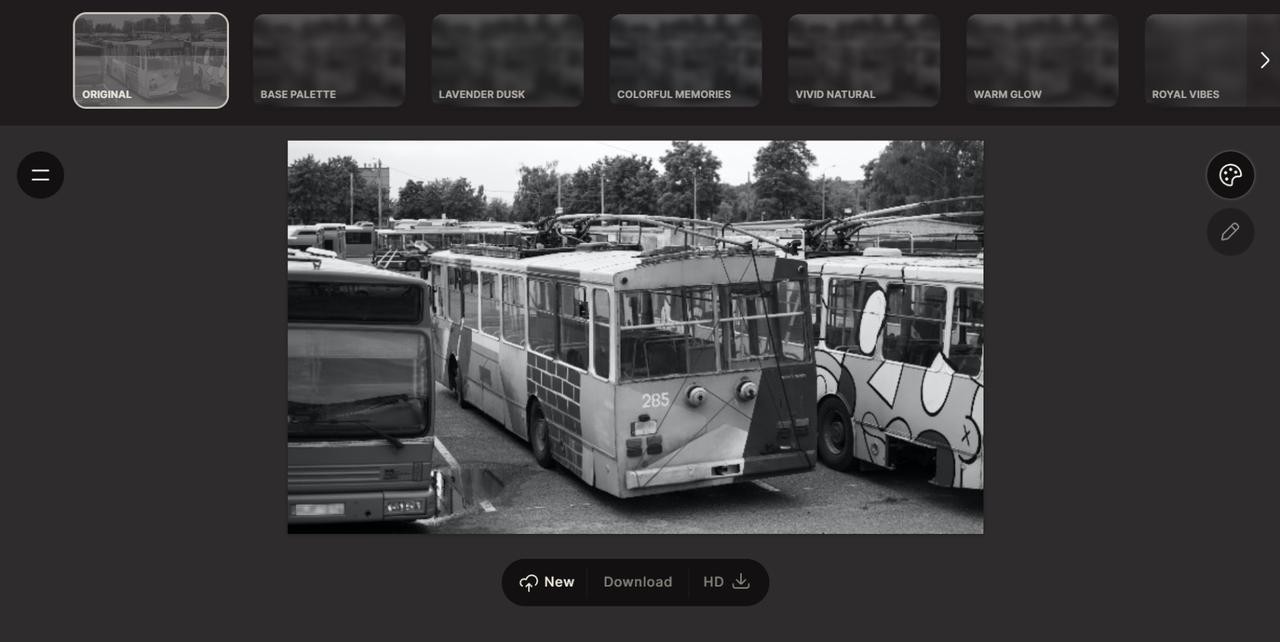 Step 2: The application will start colorizing and you will be able to see the progress as it happens. After that, you can choose from color palette ideas, such as retro color palette and more, to apply to the image.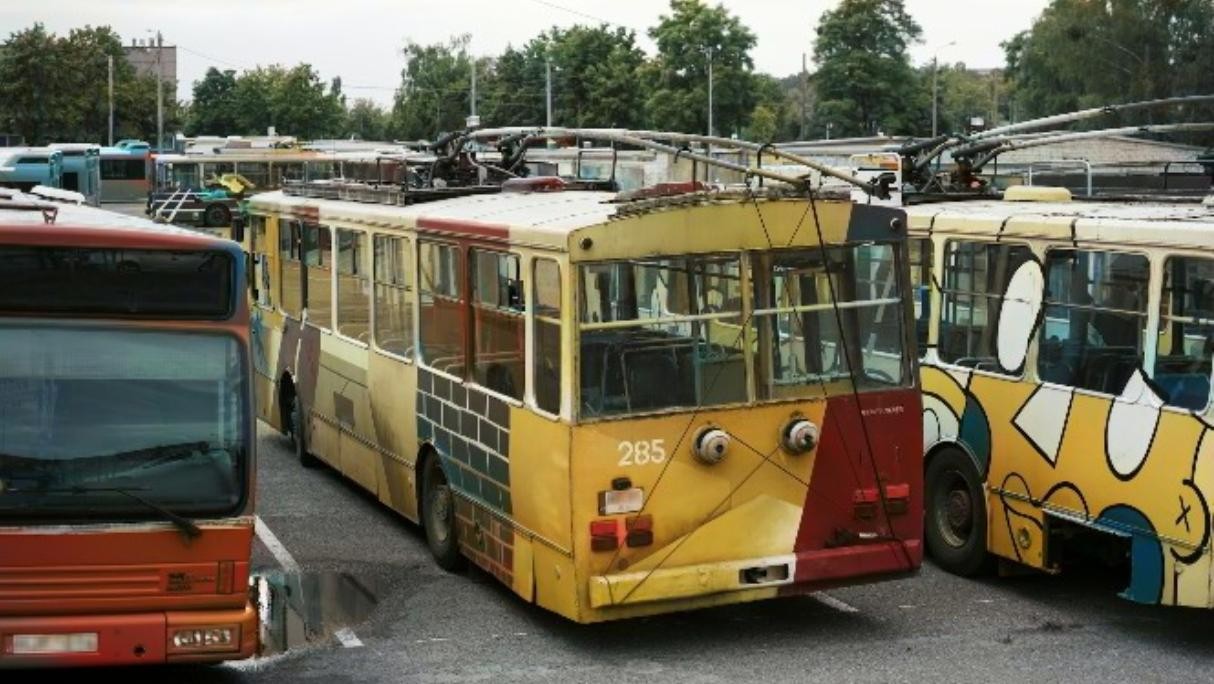 Step 3: Once you're done with the editing, you can click on the download icon to save the image on your device.
Best color palette generator alternatives : Our Picks
Best Performance: VanceAI / Hotpot
Best Price: ImageColorizer / VanceAI
Best Features: Palette
VanceAI Photo Colorizer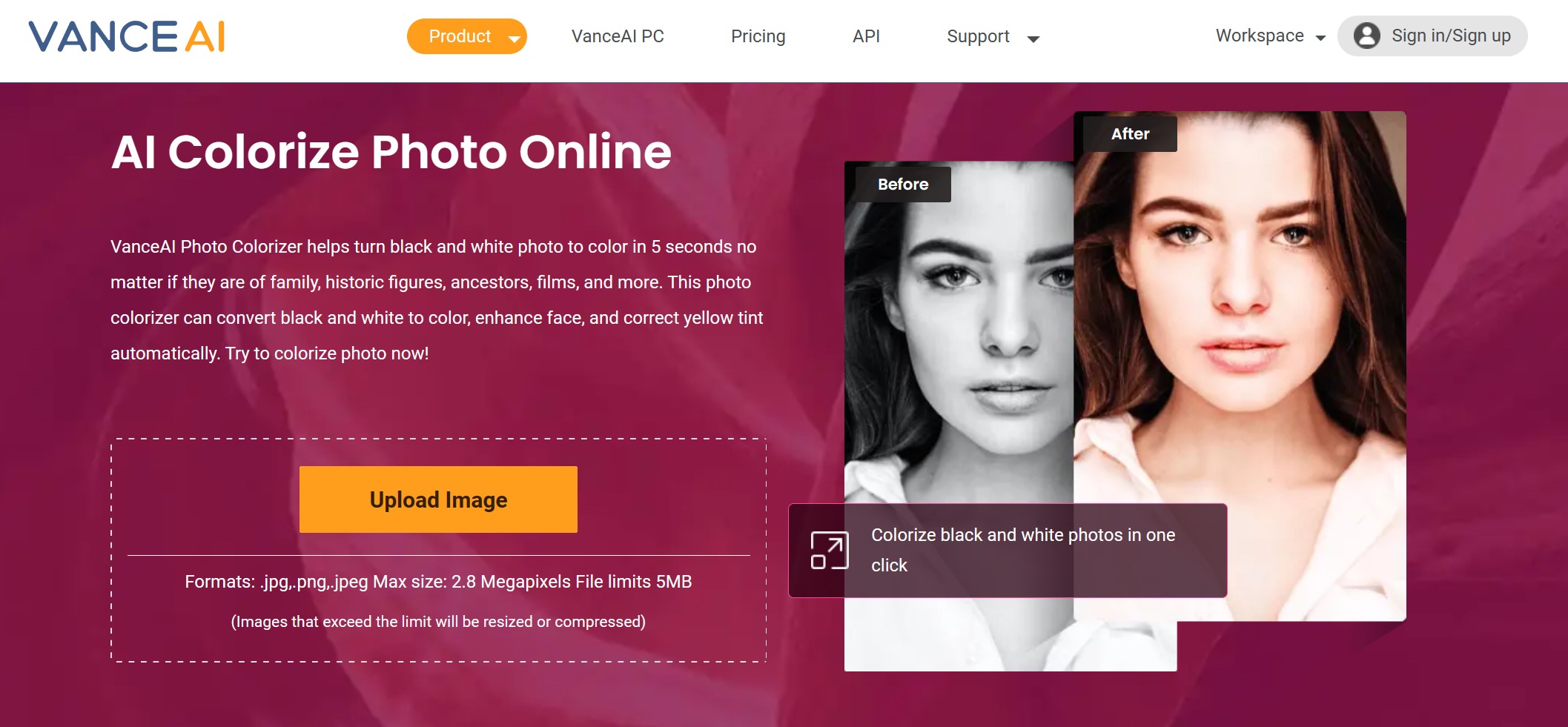 Why it made the cut:
VanceAI Photo Colorizer produces high-quality colorized images, with accurate colorization and fine details, resulting in a realistic and natural-looking final image.
The Photo Colorizer tool has efficient and excellent AI and Machine Learning algorithms working for it, enabling it to produce realistic looking outputs with consistency.
After uploading the image, users can choose whether the image is a landscape or involves humans, which works as a color palette and alters the results accordingly.
VanceAI Photo Colorizer is optimized for fast processing, allowing users to colorize their photos quickly and efficiently.
Pros
The Photo Colorizer is highly effective at giving images a realistic and attractive colorized look. Not to mention that it works for most types of images, be it historical or modern black and white.
With a pro account, users can upload and colorize multiple photos at once, saving time and effort.
Offers two options that can change the way that output may look in the end.
A highly affordable platform that starts at just $4.95 per month.
Cons
While VanceAI Photo Colorizer offers customizable settings, it doesn't provide extensive color palette ideas or similar.
Hotpot AI Picture Colorizer
Why it made the cut:
Hotpot AI Picture Colorizer also offers customizable settings, allowing users to adjust the colorization intensity and image size so that users have better control over their images.
The app is designed to be user-friendly, with a simple and intuitive interface that allows users to upload their photos and colorize them in just a few clicks.
Hotpot AI Picture Colorizer uses advanced AI technology to analyze black and white photos to attach colors to them within a few seconds. This saves the time and effort of users.
After processing the image, the app displays other editing options below the image that users can use for further editing of the image.
Pros
The UI is designed to be simple and quick. Also, the app tends to process and display the final image quickly as well.
The result, in terms of quality, has consistency. They tend to look realistic and balanced in color tones.
Cons
The app does not offer any color palette ideas as such, only the option to choose the colorization intensity.
ImageColorizer Colorize B&W Photos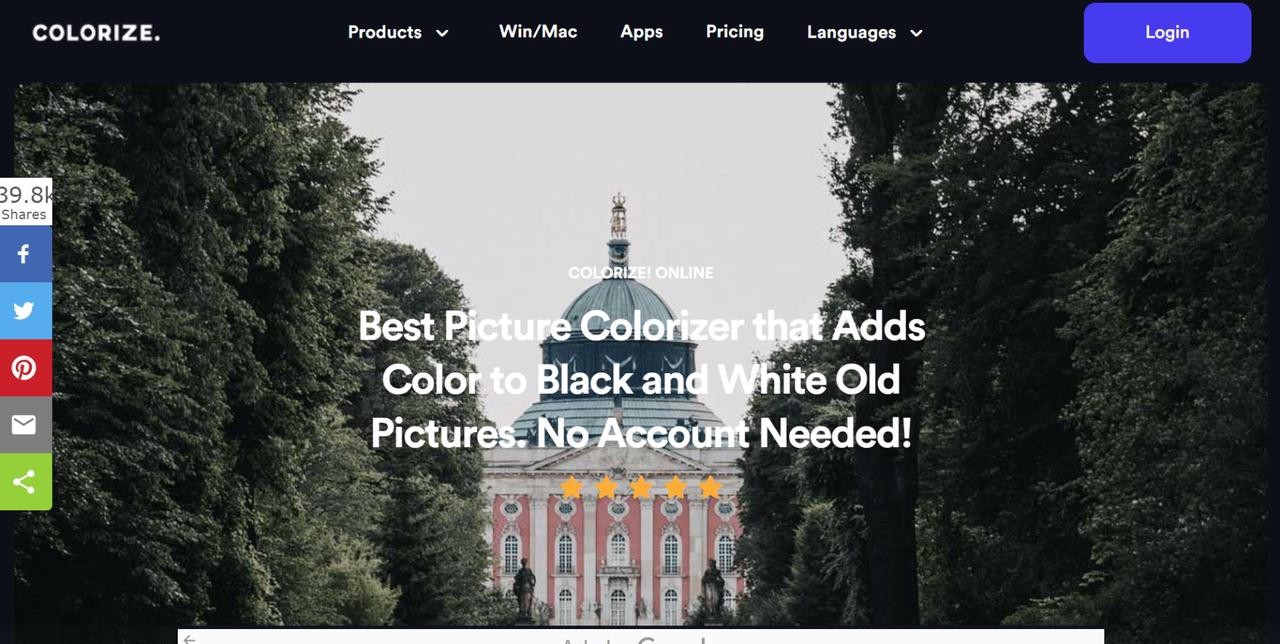 Why it made the cut:
ImageColorizer Colorize B&W Photos tool offers free colorization credits per day, which can also be used for the other image editing and enhancement tools offered by the app.
Before processing the image, users can apply multiple edits to the image, such as adding a frame, annotations, text, filters, and more.
The tool is pretty easy to use due to its AI-based approach to image editing as well as simplistic UI design.
Pros
It offers a generous amount of free credits (8 credits) for users to try out the tools offered by the platform.
The tool processes the image quickly and offers minor editing options along with it.
Cons
Complex images are more difficult to colorize with this tool.
Pixelcut Colorize Image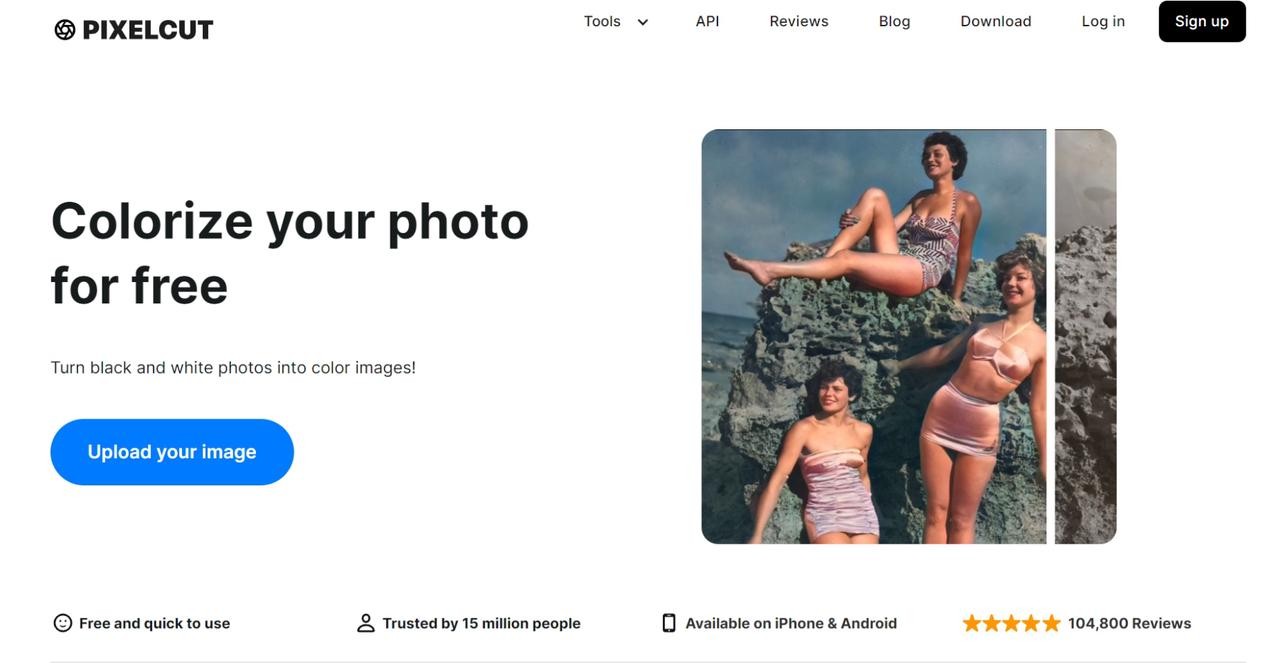 Why it made the cut:
The tool uses Machine Learning algorithms to automatically add color to black and white images based on patterns and color schemes it has learned from a large dataset of colored images.
The tool offers editing tools that help users fine-tune their images and make them look better. It also saves time.
It is also possible to resize the image. This can be helpful for uploading the image on a specific website or app that requires specific dimensions.
Pros
Pixelcut is a platform with many image editing tools that are quickly accessible. With a photo colorizer in the mix, users can practice multiple edits on their image under one platform.
The platform also offers an editing page that makes it easier to edit an image on the spot.
The application is also available on mobile devices running on iOS and Android, increasing accessibility for users.
Cons
The results themselves could be better, compared to other photo colorization tools.
How to colorize old photos easily without Photoshop?
Step 1: Use the link given to get to the web page of the photo colorizer. From there, you can click on the Upload Image button to access the Workspace.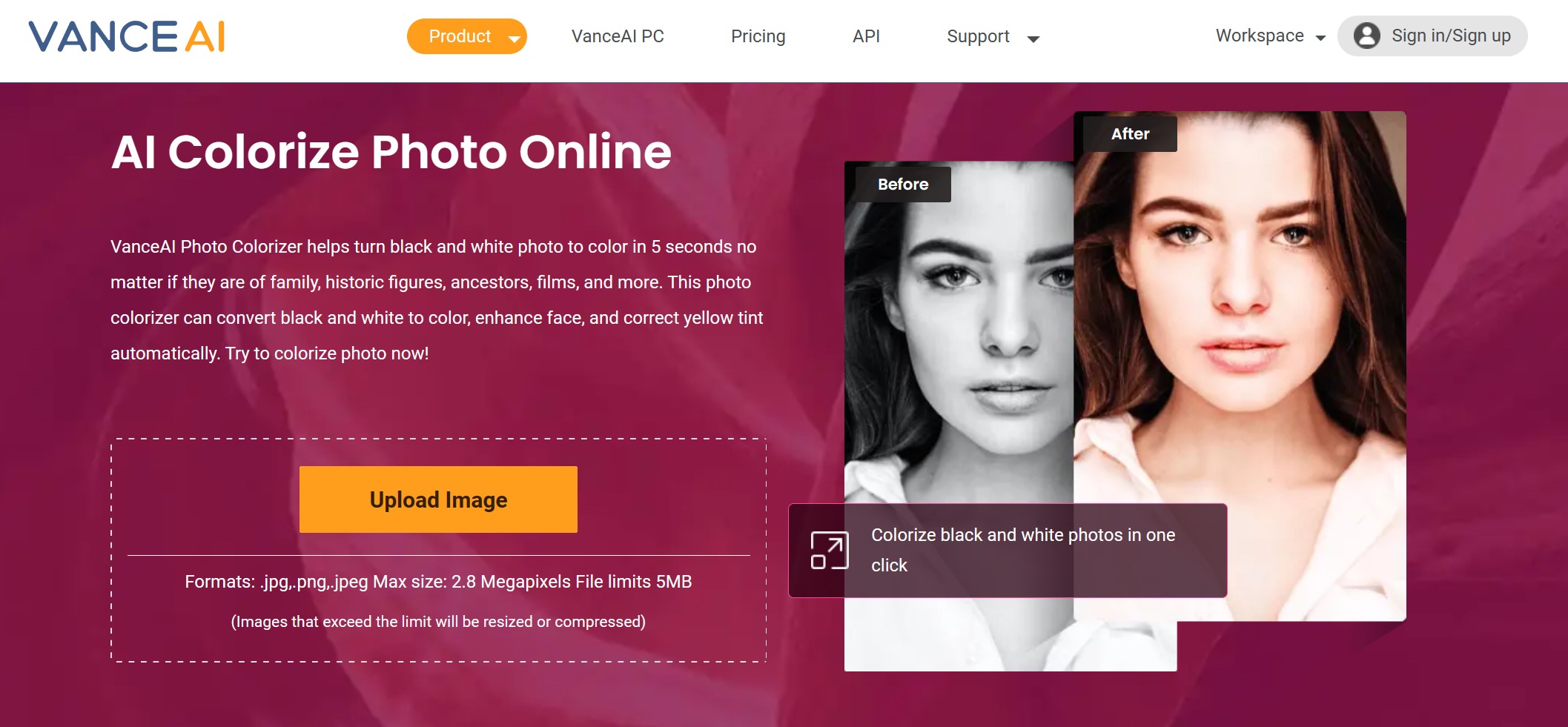 Step 2: Once inside VanceAI Workspace, you can upload your image and choose preferences for the image. Also, you can check image credits, access other VanceAI tools quickly, and more. Click on Start to Process to start the colorization.
Step 3: After a few seconds, the final image will appear on the Workspace. You can then use the Download Image button to save the image.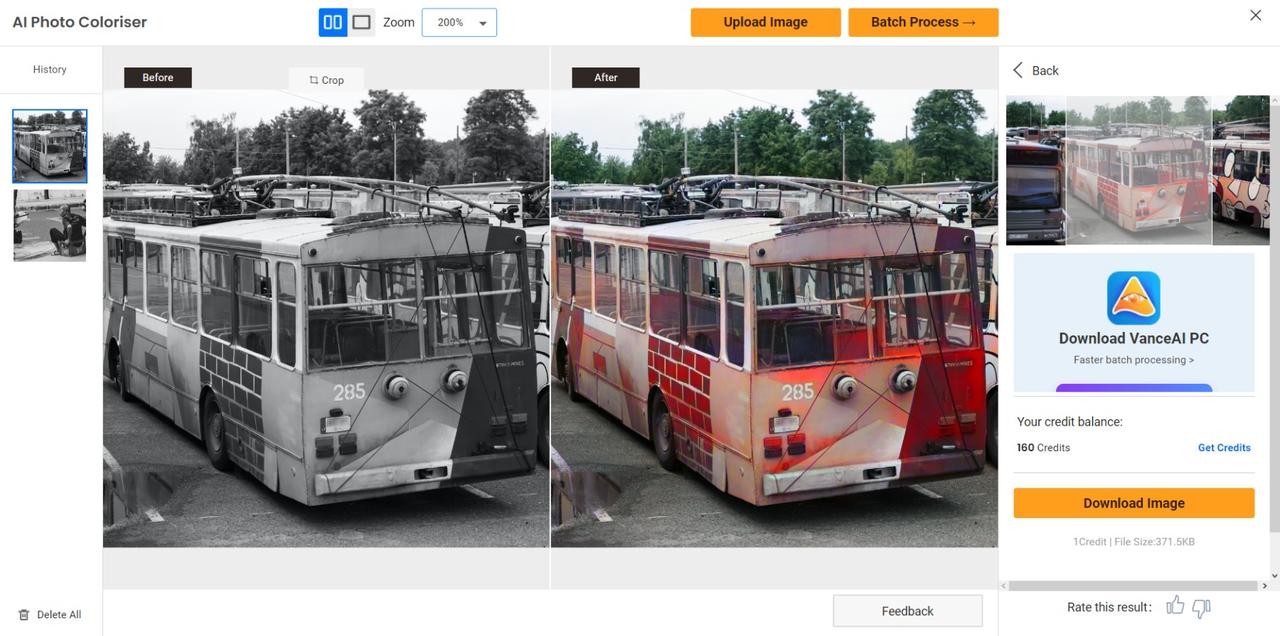 How can I colorize my photos for free ? (Pixelcut Colorize Image :how-to steps )
Step 1: Click on Pixelcut to access the website directly. There, you can use the upload button to select a file to upload.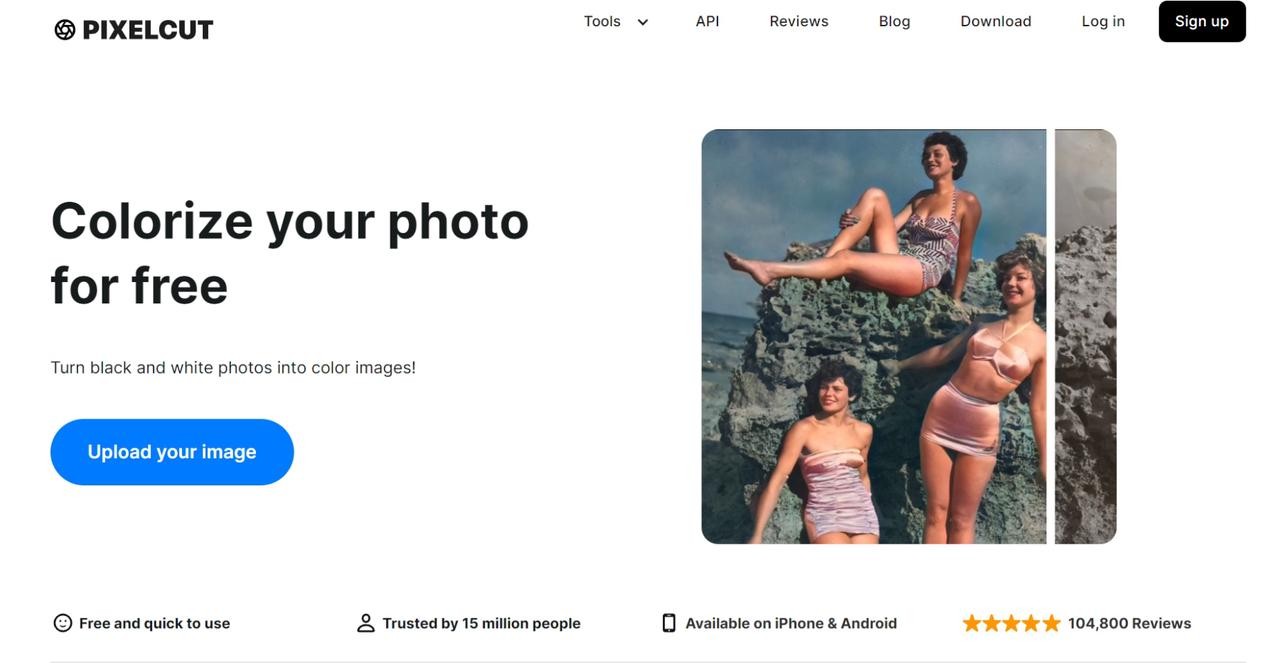 Step 2: You can either upload the image or drag & drop the image there. If not, you can also use a sample image given on the page. The image will start processing after that.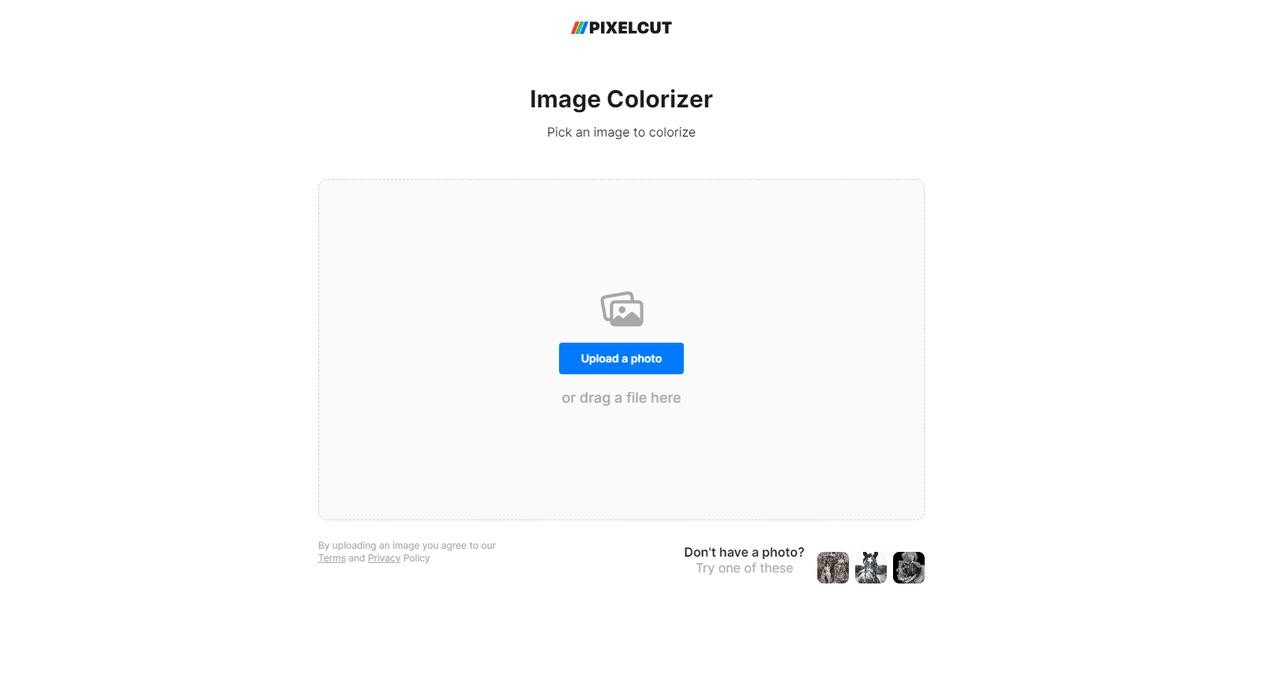 Step 3: The colorized image will be displayed shortly. You can check the original image there as well for comparison. Downloading the preview version is free whereas the HD version will require an account.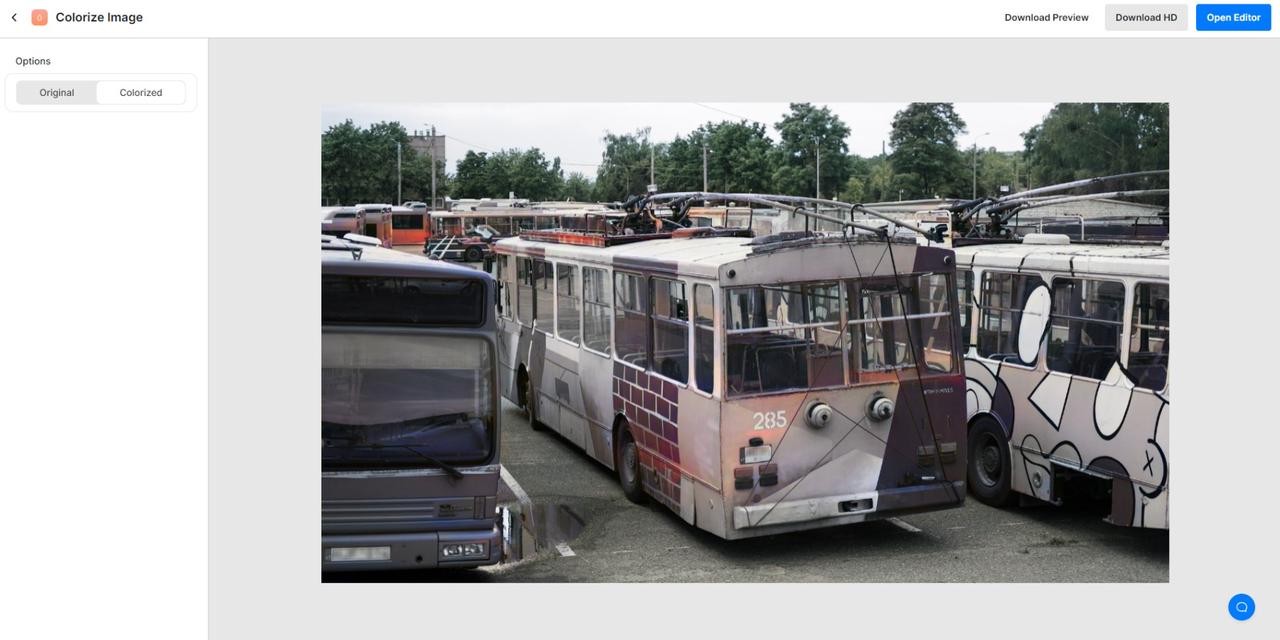 Conclusion
As discussed above, a photo colorizer application can be an asset to your image editing inventory. They are creative photo editing mediums that allow users to witness a black and white image from a different perspective. Moreover, they have uses in many scenarios, such as coloring professional black and white photos through a vintage color palette or giving a historical photo a new look.
Apps such as Palette are impressive because of their ability to offer a variety of colorization options, usually terms as color palette ideas. You can learn more about them in our ImageColorizer Review as well.
When it comes to other applications examined in this guide, they offer immense value as well. Hotpot AI and VanceAI have really good performance along with features. On the other hand, the free credits offered by ImageColorizer are quite generous. All of the apps are quick enough in processing speeds since they implement AI-based processing.
Do you find this post helpful?
Yes
No