An image upscaler is a tool or software that uses various algorithms, including AI, Deep Learning, Machine Learning, and more, to increase the resolution of an image while maintaining or improving its quality. The process of upscaling an image involves adding more pixels to the image, resulting in a higher resolution version of the original. Image upscaling may come across as simple but it requires strong algorithms and have many uses.
For example, when designing websites, it's often necessary to use images of various sizes, depending on the screen resolution and device being used. Upscaling an image can help ensure that it looks good at all sizes.
With that said, this guide will provide you with a stockphotos.com upscaler review along with recommendations of stockphotos.com upscaler alternative applications.
What is Stockphotos.com upscaler?
Stockphotos.com upscaler is an AI-based image upscaler application that is designed to be user-friendly, with a simple and intuitive interface. Users can easily upload an image, select the desired output resolution, and start the upscaling process. It also offers a background remover tool which you access from the website itself.
The tool uses advanced algorithms, including machine learning and deep learning, to upscale images without sacrificing their quality. The resulting upscaled images are often sharper and more detailed than other upscaling methods.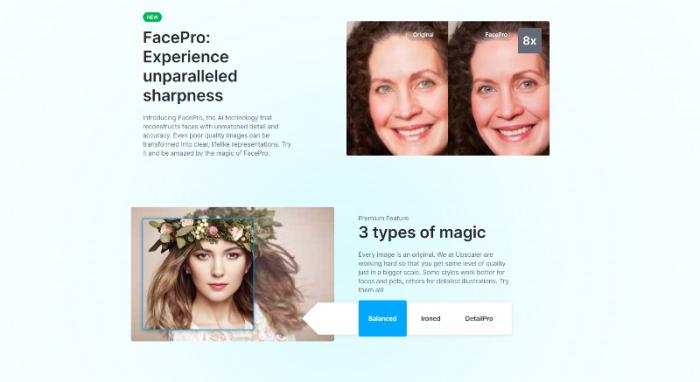 The application makes use of AI and Deep Learning techniques in order to upscale images and make them high quality. Image upscaling without quality enhancement is not really useful as images end up looking low quality and worse than they did before. Also, the application manages to offer results within a few seconds only.
What can you do with Stockphotos.com upscaler?
The upscaler is intended to help users create high-quality photos or other large format designs from smaller images. It may be useful for graphic designers, photographers, or anyone else who needs to increase the resolution of an image without losing quality. Also, the tool offers a few customization options, including the ability to adjust the level of upscaling that you want, going from 2x to 8x, and being able to choose the type of quality as you can see from the image above. This allows users to tailor the output image to their specific needs.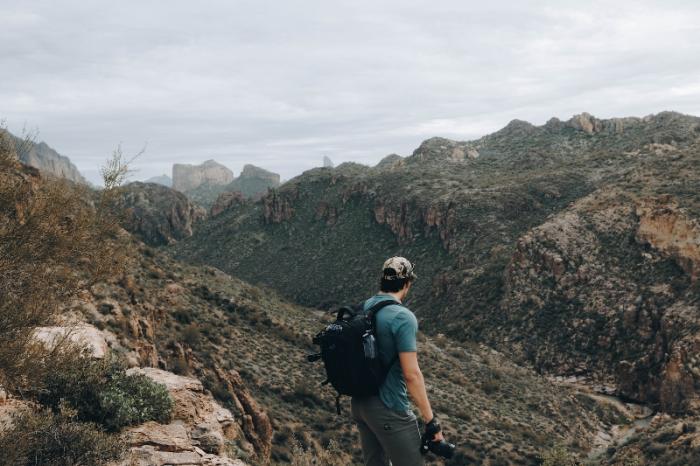 The tool uses secure encryption to protect users' data and prevent unauthorized access. Users can be confident that their images and personal information are safe and secure.
How to use Stockphotos.com upscaler? 
Step 1: Use the link given above to get to the website itself. From there, you can scroll down to read more about the tool or use the upload function to upload an image. All users get 3 free credits at first.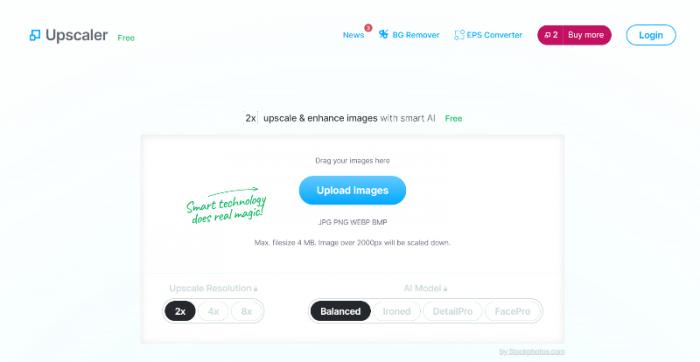 Step 2: If you have the free version, you can upload the image and the app will start processing the image instantly. As a paid user, you can choose to upscale the image more than 2x and use other features as well. The upload area also informs you about the supported image formats and dimensions.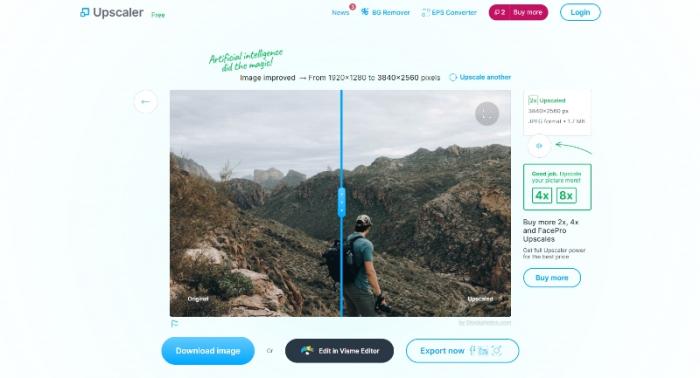 Step 3: After a short time, the next page will display the before-after photo wherein you can see the original and upscaled image. You can either download the image directly or edit it using the option given below the image.
Best Stockphotos.com upscaler Alternatives : Our Picks
VanceAI Image Upscaler
Key features
Multiple upscaling modes: VanceAI Image Upscaler offers several upscaling modes, including Standard, Art, Anime, and Text. These modes are designed to enhance specific aspects of the image, such as color, texture, and detail, based on the type of image being upscaled.
Batch processing: The tool supports batch processing for paid users, allowing them to upscale up to 10 images at once. This can save time and effort for users who need to upscale a large number of images.
Ease of use: The tool has a user-friendly interface, making it easy for users to upload an image, select the desired upscaling mode, and start the upscaling process.
Speed: VanceAI Image Upscaler is designed to be fast and efficient, with most images being upscaled in a matter of seconds.
Pros
The tool uses advanced AI and Machine Learning algorithms to upscale images while maintaining & enhancing their quality. This results in sharp and detailed images that look realistic and seamless.
VanceAI Image Upscaler and the platform as a whole offer many useful features such as customization options, Workspace, Workflow, etc.
Cons
The tool can add a feature for fine-tuning the image.
How to use VanceAI Image Upscaler?
Step 1: Use the link given above and it will redirect you to the webpage of VanceAI Image Upscaler. There, you can click on Upload Image to open the Workspace.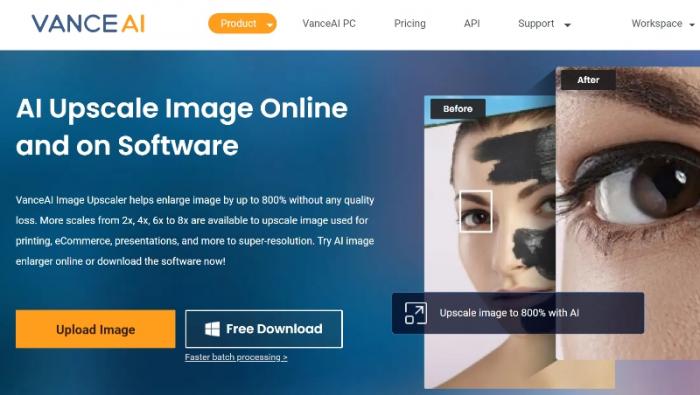 Step 2: VanceAI Enhancer Workspace offers direct access to 4 VanceAI tools, displays remaining image credits, makes it easy to change settings, and more. Upload an image, set your preferences, and click on Start to Process to proceed.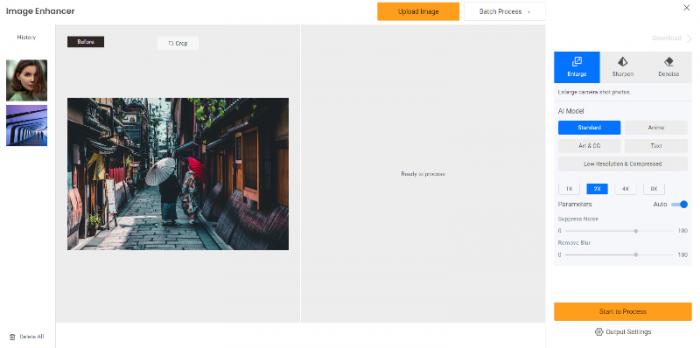 Step 3: Within seconds, the final image will be displayed on the screen as a before-after comparison. You can then click on Download Image to save the output.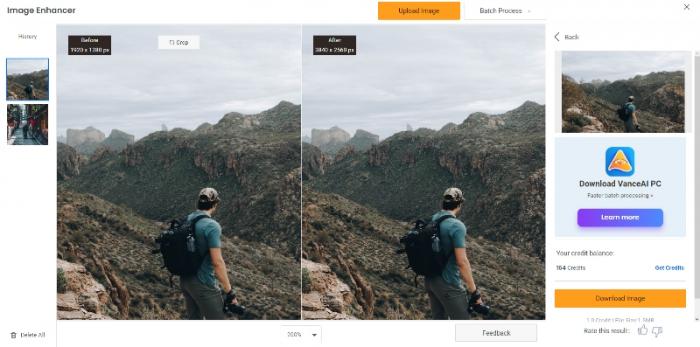 VanceAI Image Upscaler for Windows
Key features
Offline Use: VanceAI PC provides better accessibility to VanceAI's image editing and enhancement tools since the tools are usable online and offline through the software.
Lightweight: The software runs smoothly and does not take up a lot of space in the storage system.
Ease of use: The VanceAI PC software follows a simple design and it can be used by pretty much any kind of user, regardless of their experience level.
Pros
The software is easy to use and offers quick results.
VanceAI PC provides real-time previews, which allows users to observe even minute changes and make adjustments as needed.
Cons
It doesn't contain as many tools as the online version of VanceAI does.
How to use VanceAI Image Upscaler for Windows?
Step 1: Click on VanceAI PC to access the webpage online. On the webpage, click on "Free Download" to start the download for the setup file or click on "Buy Now" to purchase a subscription for VanceAI PC.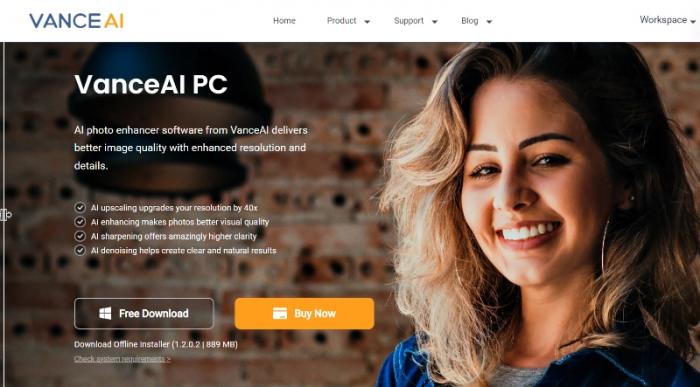 Step 2: Once the setup file is downloaded, run it on your device to begin the installation process. During the installation process, you can set your preferences, such as the location of files. After the installation is complete, open the VanceAI PC software.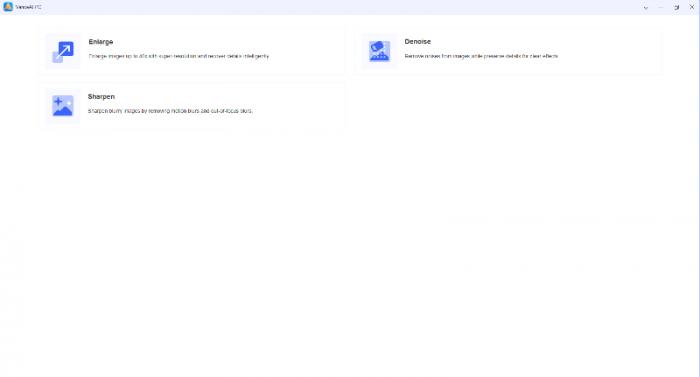 Step 3: From the home screen, select the "Enlarge" option. Within seconds, the software will upscale and enhance the image. Save the image using the options provided in the software.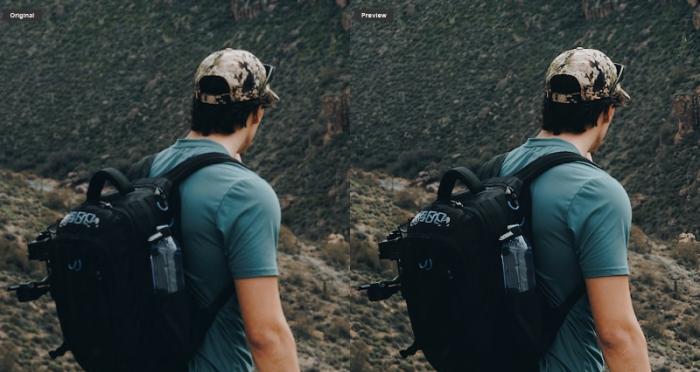 ImgUpscaler
Key features
AI Powered: By using AI powered algorithms, ImgUpscaler is capable of offering high quality results at a quick pace.
Multiple Platforms: ImgUpscaler can be used online through its website based application and on mobile devices running on Android and iOS.
Pros
The application is available on mobile devices and capable of upscaling anime images as well.
The app runs smoothly and receives updates regularly.
Cons
Does not offer anything besides AI upscaling.
How to use ImgUpscaler?
Step 1: Begin by accessing ImgUpscaler, an online image upscaler application, by clicking on its link. You can explore the website or upload an image to be upscaled by clicking on the upload button.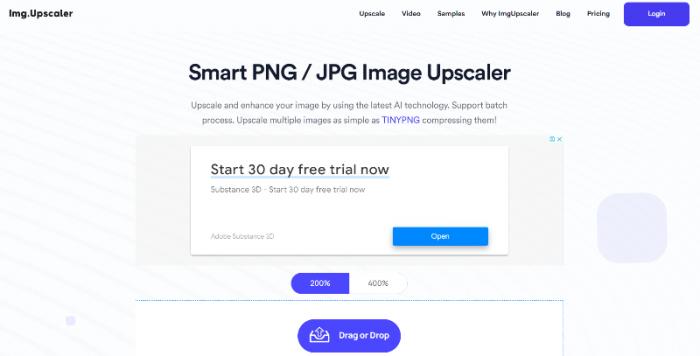 Step 2: Select the desired image, and it will be uploaded and displayed below the upload button. After selecting the image, click on "Start" to begin processing it.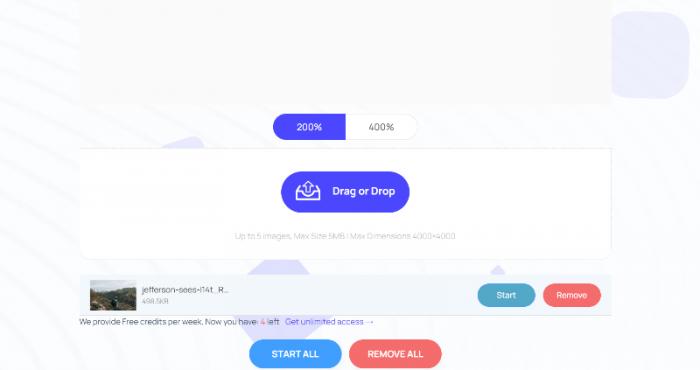 Step 3: The application will take just a short minute to upscale the image. Once the image is ready, you can download it using the given options.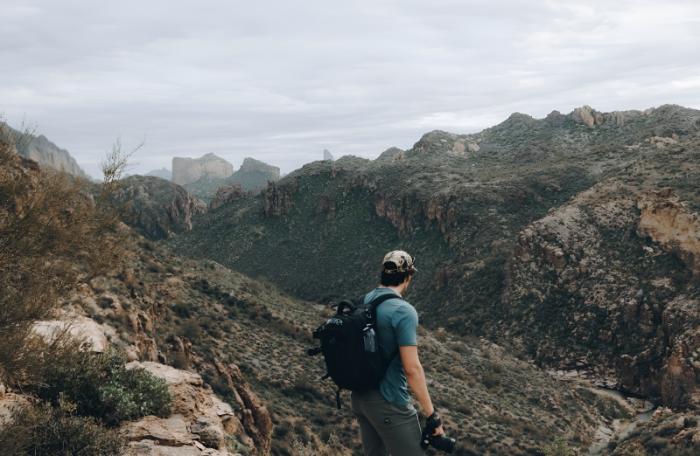 Imglarger AI Image Enlarger
Key features
Multiple Tools: ImgLarger, like VanceAI, has an edge over other platforms due to its ability to offer multiple AI-powered image editing tools that are capable of delivering high-quality results. With access to a variety of image editing tools, users can enhance their images in a multitude of ways to achieve their desired effect.
Wide Range: The Image Upscaler tool offered by the application can be used on many types of images, most prominently on travel photos, anime images, animals, and more.
Pros
The platform offers many useful photo editing and enhancement tools that are powered by AI.
The application is also available on mobile devices and desktops.
Cons
The ads can be bothersome to many users.
How to use Imglarger AI Image Enlarger?
Step 1: Once you arrive on the site by using the link given above, you can either select the Select Images option or drag and drop your desired image directly into the designated area.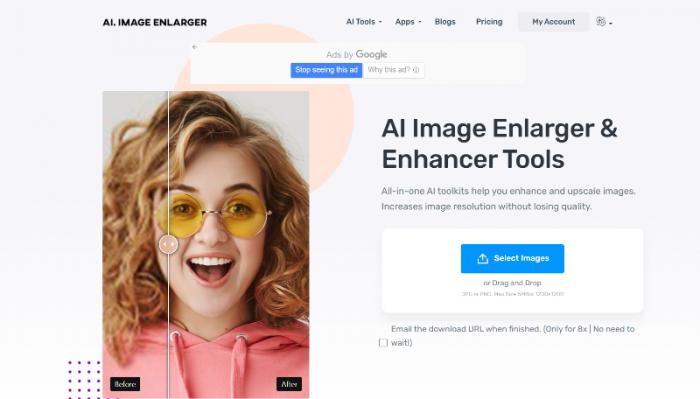 Step 2: Once you have uploaded your image, you have the option to immediately begin the processing or to further refine the image by clicking on the Edit option.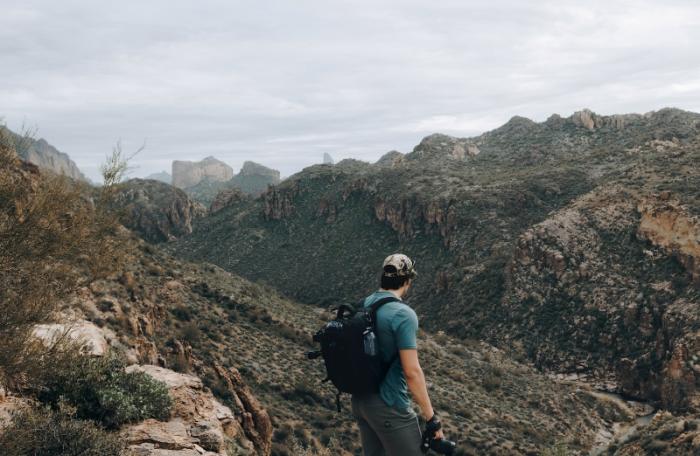 Step 3: Once the image processing is complete, you will be able to download the resulting image. Simply click on the Download button to initiate the download process. Click here to know more about ImgLarger.
Conclusion
Stockphotos.com AI image upscaler is a helpful application that can upscale images to massive sizes while being able to maintain or enhance the quality of the photo. One of the best advantages of using this platform is that it supports WebP and BMP image file formats, which is not the case for many online image upscaler applications. The two aspects where it feels limited, however, are in its free credits and number of photo editing tools. It offers only 3 image credits that you can use for image upscaling or background removal. It can certainly introduce more editing tools overall.
If you prefer a platform with image upscaling plus a range of other photo editing tools, then VanceAI and ImgLarger are great alternatives. ImgUpscaler is more similar to stockphotos in terms of features and what it can offer.
Do you find this post helpful?