To get you started, one of the tools you'll definitely need in this niche is an Image upscaler. Imagine you've taken the perfect shot, only to find out that it's either pixelated or doesn't meet up to the required resolution. Instead of deleting or trying to reset the location, this tool can come to the rescue. In essence, it's something you'll need along the line, especially in your post-processing effort.
Having said that, this article covers some expert-picked and filtered tips and sunflower photography ideas on how to get the best result from sunflower photography.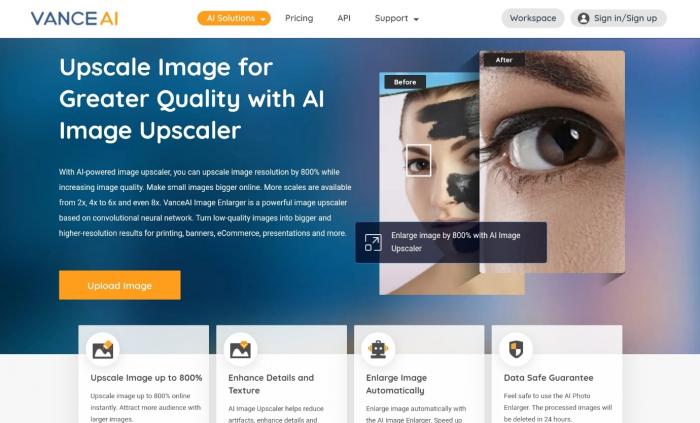 VanceAI is an innovative brand known for its excellence when it comes to photo editing tools. It is perfect for users of various expertise and experience levels as well. And of course, it actively translates this quality into its photo enhancer. In essence, this is a tool that can help you bring your quality from below par to over the roof automatically. It increases your resolution by several folds, depending on your preference while maximizing the quality as well. VanceAI image upscaler has a free trial, allowing you to improve the quality of images online for free and without paying a dime. However, the number of images you can process per month is limited. If you are not satisfied with the result, you can use some tools to make photo hd.
The image enhancer does these in a few seconds as well. The interface is pretty minimalist and straightforward, and as such, you don't have to worry about navigational concerns. As mentioned before, it has a free version. But if you're looking for more, there's a premium version to cater to your needs.
Follow these three straightforward steps to improve your photo in one-click.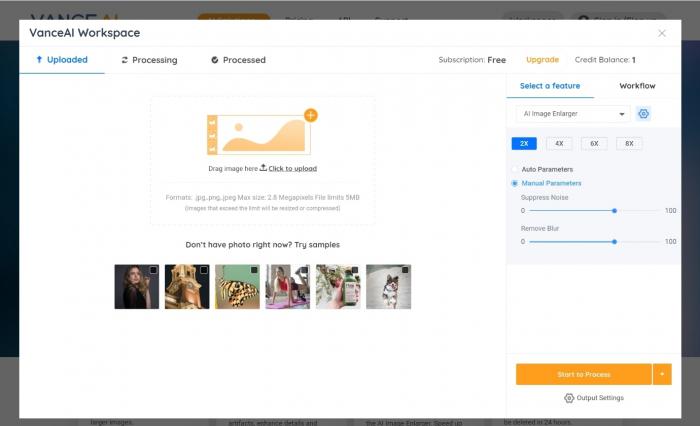 Step 1: launch the AI photo enlarger and upload your desired image. There is a straightforward drag and drop option for you. Or conversely, you may decide to use the Upload button to directly upload the image from your device.
Step 2: select a scale before using the image resolution enhancement feature. For free users, you can select better the 2x and 4x options. Now, hit the "start to process" button to upgrade your image seamlessly. If perhaps, you're looking to eliminate noise or blur from the image, hit the remove blur button to do that.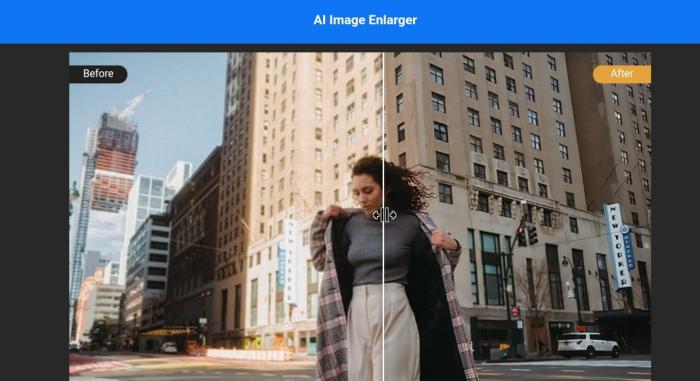 Step 3: download the enhanced image. To do this, hit the download icon and save the image right from the tool in just a click.
Now, let's examine the before Vs. after images.
From these images, you'll agree that quality went from 0 to 100 real quick. Details that were pretty difficult to note initially were more apparent. Besides, traces of pixelation, blur, or noise were catered to accordingly. So, evidently, no tool can give you this excellent quality so easily and within that negligible duration.
What is sunflower photography?
Sunflower photography is simply leveraging sunflowers as your primary photographic element. Sunflowers are known for their nonpareil ability to inspire delight and imagination. So, these are some feelings associated with this photographic form. It covers everything from taking a selfie with those beautiful golden sunflower swatches behind you, to taking their direct shot up-close. As long as sunflowers are apparent in the image, it is enough to the deemed sunflower photography. Sunflowers are grown globally, making this art form very accessible to everyone and without demanding a dime. All you have to do is visit a sunflower field, get the right setup and start taking some picturesque photographs. Still, it's not that easy.
Without the right guide, it is so easy to lead your efforts down the drain in sunflower photography. If you get the lighting, setup, and other settings wrong, you're only up to a fruitless effort. Therefore, to avoid this, here is an overview of some practical tips you may want to consider moving forward.
10 ideas necessary for sunflower photography
1. Try something unusual
Usually, taking a picture of the front of the sunflower is the norm. But why not try photographing the back of the flower or other unusual parts? To do this, it is necessary to assess the subject carefully and identify the visual details that pique your interest. Explore it with your macro lens alongside some abstract shapes. This works just perfectly with cross lighting regardless of location.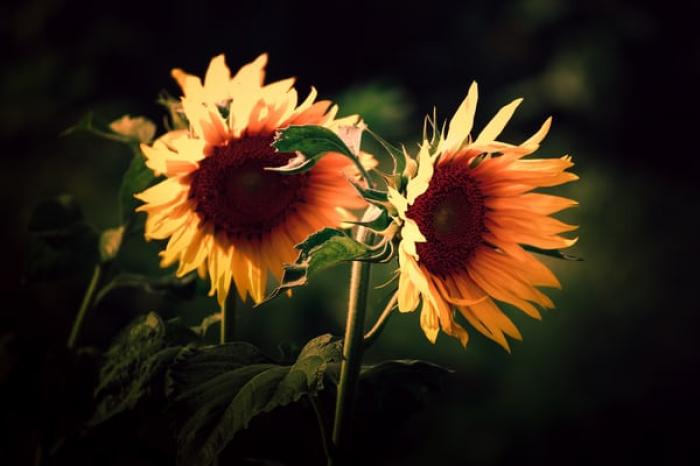 2. Introduce variety with different angles
Don't just take the sunflower photographs straight up. Instead, get down to its level, vary your angles and get creative with the story you're looking to tell. But remember, if you're looking to shoot from the ground, be sure to come with a blanket, so you or the subject won't get to sit in the mud. You may even get creative with it by using a chair to compliment the images.
3. Use your flash
Getting your flash photography and exposure right can add some creative feel to your flash photography. However, be sure not to overdose on those flowers. If you can, it is even better to use a remote cord to position the flash away from the camera. Bringing the flash closer to the flower and holding it straight up can even help you create more realistic shadows. In this case, also be sure not to light sideways.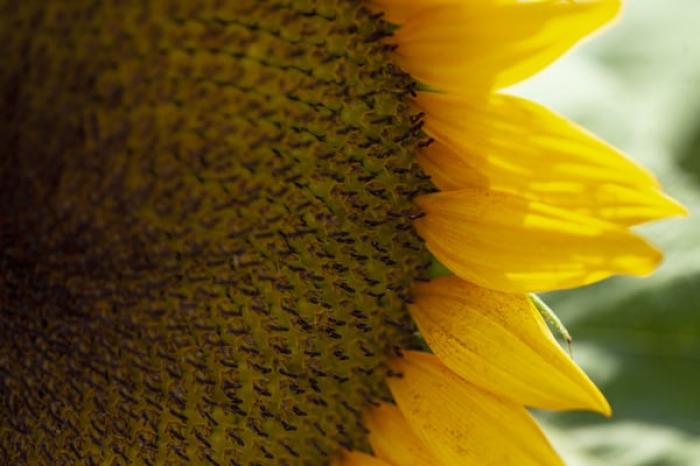 4. Try macro photography
That brilliant golden yellow is the primary attraction of every sunflower. So, why not focus your attention on it and bring more color to your frame? With sunflower macro photography, you can get closer, and feature even the tiniest details with your macro lens. You can even capture other things like bees and insects to add to the beauty and overall creativity.
5. Add dimension and drama with an optimized field depth
When taking a simple flower shot using your widest aperture is usually the most logical decision. This helps you create some beautiful background effects while allowing you to shoot at optimized shutter speeds. In essence, you don't have to worry about those stressful tripods. You'll be left with a more refined and spontaneous as well. Be sure to focus on the petal edges as well to get the best results.
6. Get the best of art filters
there's no denying that sunflowers have some beautiful colors. But if your camera has inbuilt art filters, why not leverage it? You can even add drama with black and white rendering, accenting the flower's texture. With the dramatic art filter, you have a lot of texture to work with. However, whilst using this as well, you want to be sure that the exposure is optimum to preserve the texture.
7. Take pictures of dried sunflowers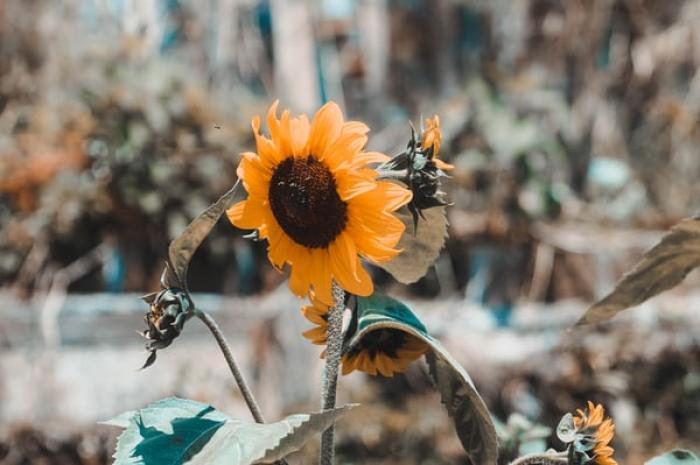 After taking some shots of living sunflowers, why not cut some and keep them in the cupboard for a few days? Capture the resulting, and you'll be amazed by the result, especially when captured close up. Withered sunflowers render most perfectly when in black and white. You may also need strong window lights to bring out the monochrome texture. This is a great way to give another perspective to this beautiful photography form.
8. Use backlit
When taking photography sunflower field pictures or outdoors, the closer you get, the more intense the dramatic feel you introduce. But add in more backlight and watch the entire thing glow. You can even hat a silhouette effect by taking an against-the-window shot. Conversely, if it's pretty sunny, shoot it against the sun without including the sunlight. A close focus brings a dramatic glow to even the tiniest fiber of the plant.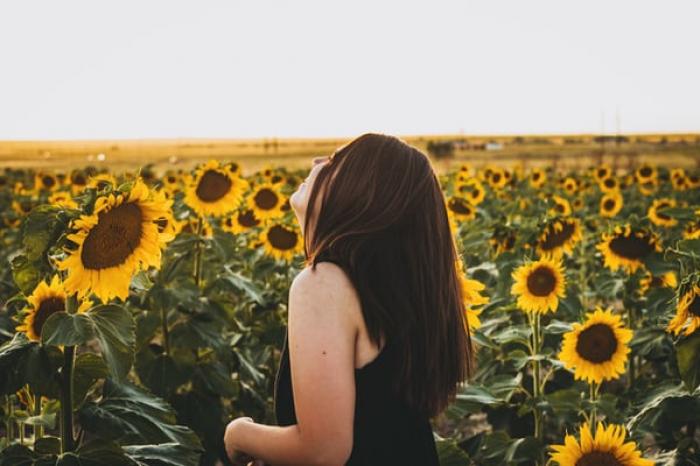 9. Emphasize the location
The best way to get the best shot in sunflower photography is by showcasing the true scale of the venture field. And to do this, go down low and let the sky serve as your backdrop. As such, when taking wide photos, bend down and let the shot ascend a bit. Always take your shot via the rows, allowing the sky to show. Remember, when framing your shots, always pay attention to the rule of third.
10. Make it pop with the right color additions
Color can be all your image needs to go from flat to Wow. Considering this, adding bold and beautiful colors to your sunflower photographs is a great compensational tool you don't want to miss. If you find creating an idea difficult, using complementary colors works like magic every time. And without a doubt, it offers a more practical way to create an eye-catching sunflower photography. Regardless of your photography sunflower field, be sure to get creative with your colors, especially when you have a photo enhancer in your corner. In that case, your picture will be enhanced to a newer level with no effort no matter whether it is related to a logo, digital art, or landscape. With the aid of the service, you may show the full details of your picture and impress other viewers each time.
Conclusion
If you've followed this guide up to this point then you'd agree that you can never run out of sunflower photography techniques to try. With the right tools such as your image quality enhancer, it will help you finish the task of image enhancement with one single click even if you have not sophisticated skills. Following the tips and ideas indicated, you're sure on a path to creating compelling sunflower photography. However, remember consistency is key!
Do you find this post helpful?
Yes
No