Many different kinds of tools that work with the help of AI are getting widely popular these days. One such tool that does not fail to stand apart is the AI Painting tool. Various companies have built unique tools that can help you create a painting in seconds. Let's take a look at some of the best tools that are available online.
VanceAI Art Generator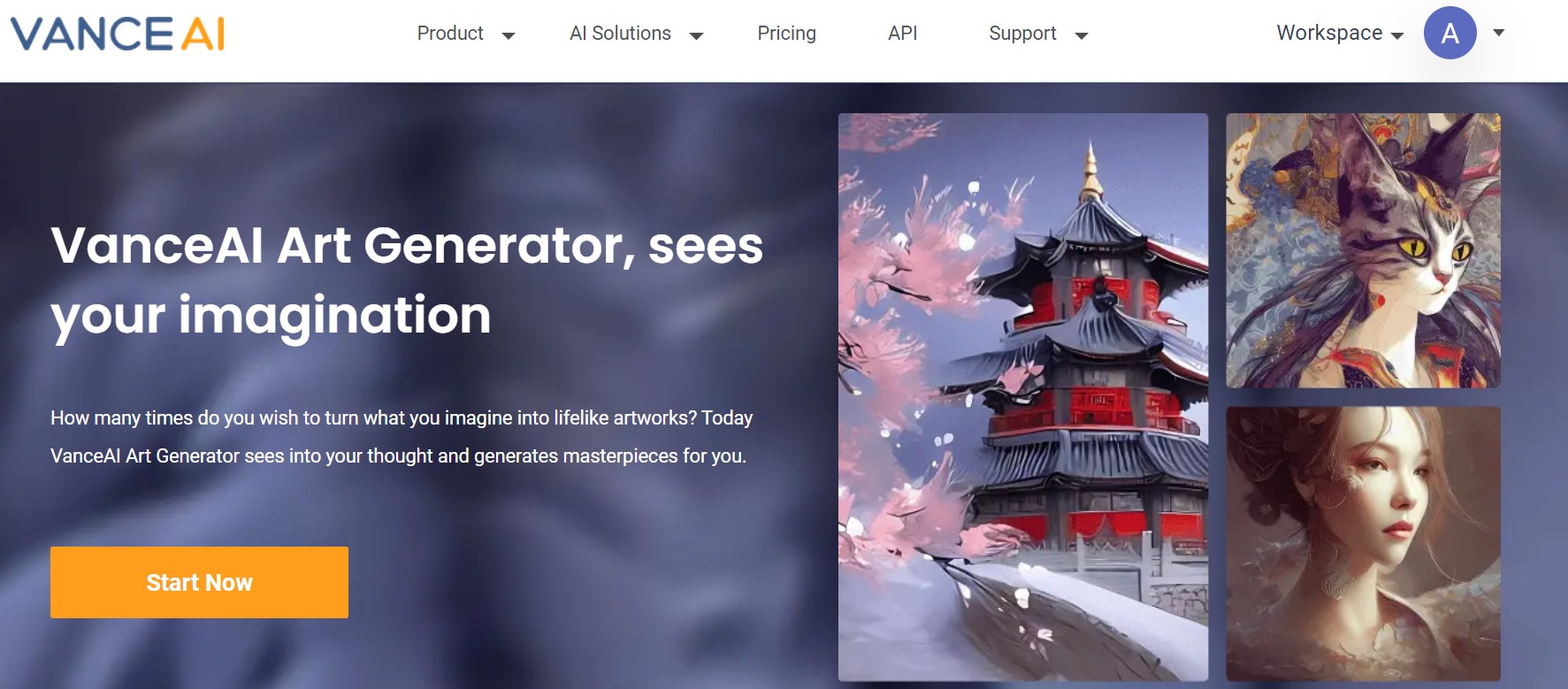 VanceAI Art Generator is a new tool from VanceAI, generating any kind of image you can imagine. Like other VanceAI tools, it also has an intuitive workspace wherein you can enter your requirements, such as image type, style or size. Having done that, you need to wait for a moment because the time consumed by the Stable Diffusion model to generate an image is about 20-40 seconds. So you have don't have to paint in person, AI art generator will paint artworks for you in a short space of time.
Pros:
AI art generator offers Quick Guide and FAQ on workspace for your convenience.
Offer popular artist style like Van Gogh, Monet and more.
Allow you to enter more than 200 words on the input text.
Cons:
Slow generating speed
Limited free use
Top 10 AI Painting Tools
| | | | | | |
| --- | --- | --- | --- | --- | --- |
| Tool Name | Price | Quality | Features/Options | Support Device | User Friendly |
| Vance's Toongineer Cartoonizer | Free (3 credits/month), Paid | High | Advanced algorithms, stock of millions of cartoon pictures, unique effects | Online | Easy to use |
| InstaPainting | Free | Medium | Cool effects, turn photos into prints, hire an artist | Online | Medium |
| Deep Dream | Free | High | Automatic editing, artificial neural network, interprets painting styles | Online | Easy |
| Nvidia Canvas | Free (Beta), Paid | High | AI-assisted drawing, exceptional features, endless possibilities | Software (Windows 10) | Medium |
| NightCafe Creator | Free (2 creations/day), Paid | High | Neural style transfer technique, printing and delivery, mobile and computer support | Online | Medium |
| AI Gahaku | Free | High | AI-powered paintings, different painting styles, oil paintings | Online | Easy |
| Deepart.io | Free (limited), Paid | High | Stylistic features, predefined styles, unique artwork creation | Online | Easy |
| Hotpot.ai | Free | Medium | Colorizing black and white photos, removing background, restoring old pictures, personalized art | Online | Easy |
| Painnt | Free, Subscription | Good | 1000+ filters and styles, new filters add frequently with updates | Mobile devices (iOS and Android) | Easy to use |
| Fotor | Free, Subscription | Good | Both modern and classical styles, best results in classical paint style, style recommendations for each picture | Web-based | Medium |
1. Toongineer Cartoonizer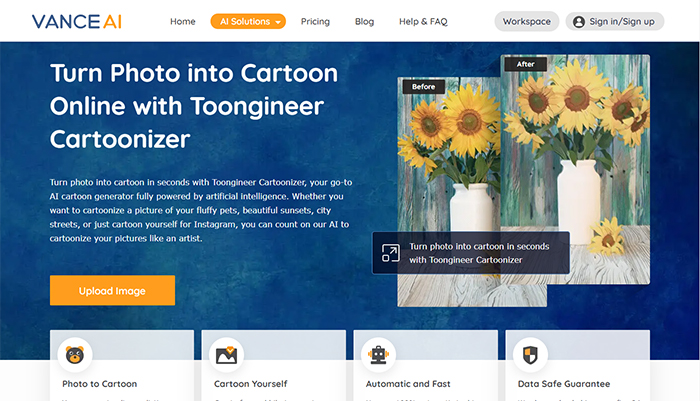 Vance's Toongineer Cartoonizer is a great tool to turn photo into cartoon. All you have to do is upload the desired image and click a button. What makes this tool stand out is that it creates unique effects on your photos. Since the software uses a stock of millions of cartoon pictures taken from all over the world, it pretty much gives you a different result each time. It uses advanced algorithms to animate your pictures effortlessly and also preserves their natural aspect.
Pros:
● Generate realistic and high-quality animated pictures
● Free version with three credits per month
● Easy to use online tool
Cons:
● Limited to low-quality usage in the free version
● Slow processing speed
● Produces similar-looking results quite often
Also read: Countdown of the Top 10 Tools For Converting Photos to Paintings.
2. InstaPainting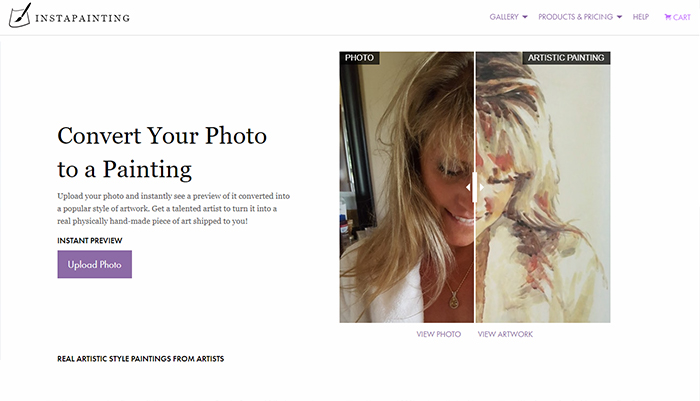 InstaPainting is a free website that turns your pictures into cartoons or sketches with just a few clicks. All you have to do is upload, and you can preview different kinds of effects on the uploaded photo before transforming it into a sketch. To take things to the next level, you can turn your artwork into a physical painting and get it delivered. You can even hire an artist directly from the website to get a hand-made sketch of your favorite picture.
Pros:
● Free online tool
● Bunch of cool effects
● Turn photos into prints
Cons:
● High-intensity effects
● Lacks editing options
● Slow processing
3. Deep Dream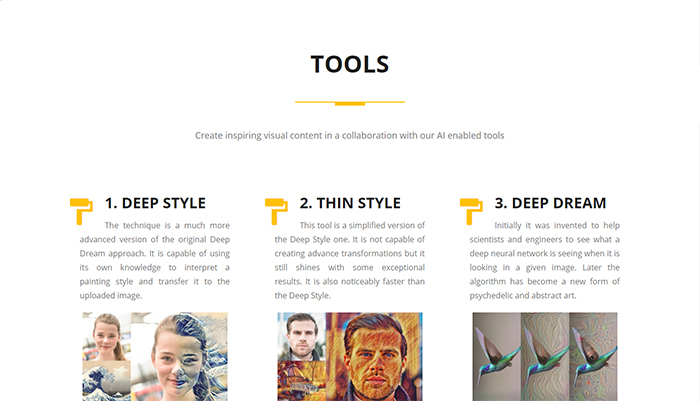 Google's Alexander Mordvinstev created DeepDream, a computer vision program that deliberately over processes an image and enhances its patterns giving it a dream-like appearance. You only have to upload a picture, and it will render it in seconds. Its functioning relies on an artificial neural network (ANN) which is a self-learning computer system. It even uses its knowledge to interpret a painting style and transfer it to the uploaded image.
Pros:
● Free to use software
● Quick and easy to sign-up and get started
● Automatic editing of the uploaded image
Cons:
● Subscription required for more editing features
● Repetitive effects
● Less editing options
4. Nvidia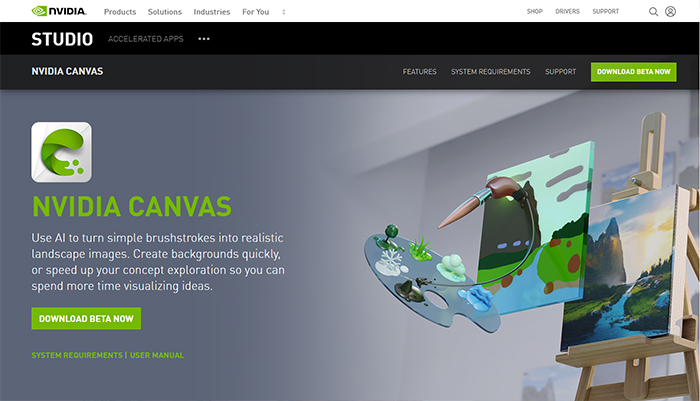 Nvidia has created this revolutionary painting software called 'Nvidia Canvas' with exceptional features. With this tool, you can choose the kind of painting you want to draw and use AI to assist you with the drawing. For example, if you draw a landscape, you can create a realistic image by simply drawing lines and shapes that would automatically turn into clouds and mountains in real-time. There are a bunch of other editing features with endless possibilities in this software.
Pros:
● Available as a software
● Exceptional features for easy drawing
● Powerful results
Cons:
● Requires a high-performance GPU
● Supported in Windows 10
● Beta version available
5. Night Cafe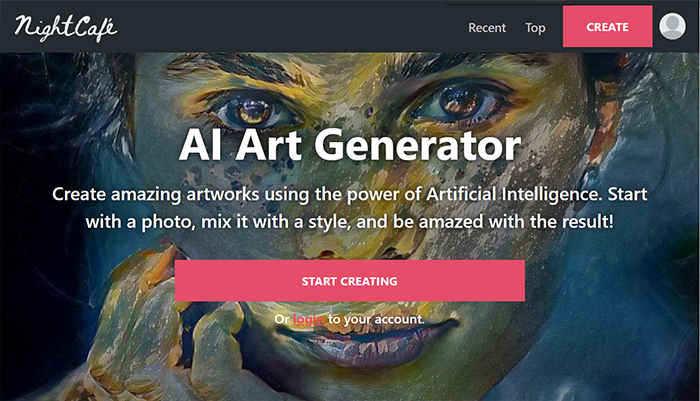 NightCafe Creator is an AI Art Generator app that uses a neural style transfer technique to re-imagine your images in any style of your choice. You can mix your uploaded photo with various effects offered by the tool to create something unique. You can generate, edit, and download up to two artworks per day for free without a watermark. By paying a small fee, you can get your creations printed and delivered.
Pros:
● Unique styles and results
● Works on both mobile and computer
● 2 Free creations per day
Cons:
● Buy credits for higher resolution
● Slow processing on phones
● Too much abstract
6. AI Art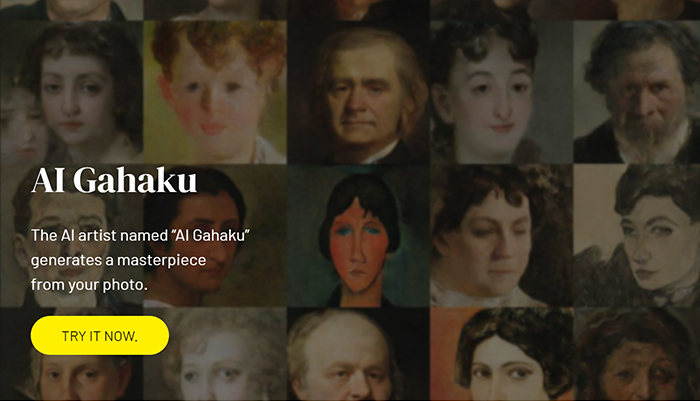 AI Gahaku is an online tool used to generate AI-powered paintings. With the help of this tool, you can turn your photos into spectacular oil paintings in seconds. To get started, choose a picture from your gallery that contains a human face so that the software quickly observes it along with the facial features. Initially, it will draw a standard image for you and give you ten options having different painting styles. After choosing the effect, the picture gets processed in a few seconds.
Pros:
● Free to use
● Directly share on social media
● Easy to get started with no registration
Cons:
● No more than ten styles to choose from
● Limited to creating oil paintings
● Can only edit pictures having a human face
7. Deep Art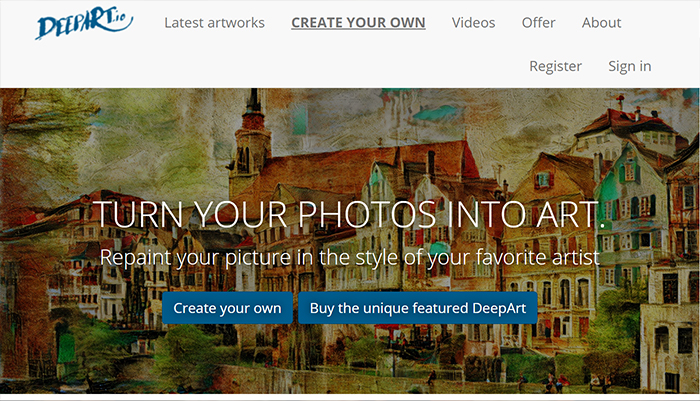 Deepart.io enables you to draw the contents of an image using the stylistic features of another. Keep in mind that your first image will define the theme of your artwork. After uploading the photos, you get to choose from some predefined styles available on the website. The server will automatically process your image and notify you via email once it turns into a painting. However, free usage limits your photos to the size of 500×500 pixels and increases the processing time because of a queue.
Pros:
● Old and trusted website
● Unique artwork creation
● Easy to use interface
Cons:
● Free usage limits photos to 500×500 pixels
● Longer waiting to download the artwork.
8. Hotpot AI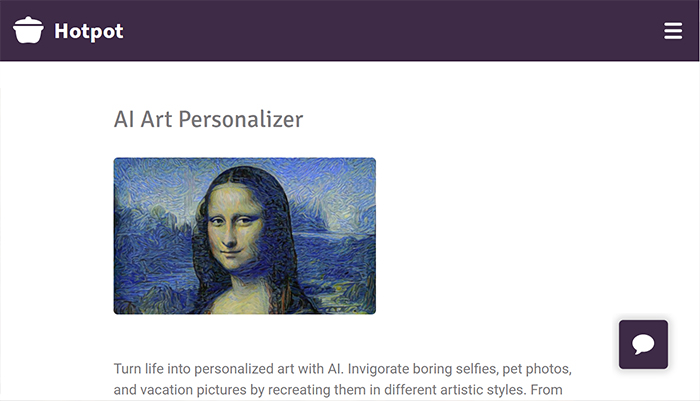 Hotpot.ai is a free web tool having many editing options like colorizing black and white photos, removing background from an image, restoring old and scratched pictures, and auto face blurring. With its AI Art Personalization tool, you can turn real-time photos into personalized art. You can transform any image into different artistic styles like Van Gogh, Pixel Art, Chinese Paintings, etc. However, the tool is not free and costs around $5 for 25 images.
Pros:
● Variety of tools on the website
● Create Personalized AI Art
● Good collection of artistic effects
Cons:
● Paid subscription and no free trial
● No editing options other than filters
9. Painnt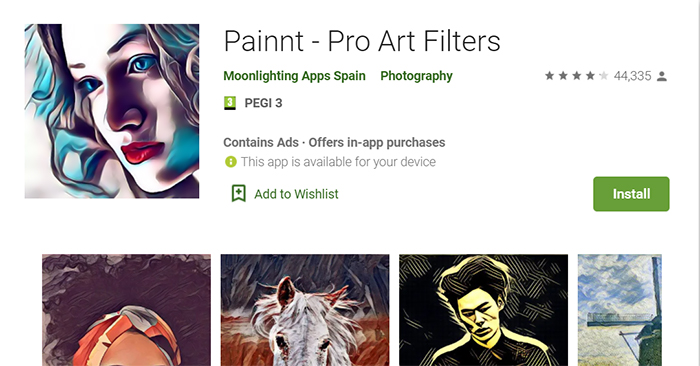 Painnt is a mobile app that can turn your photos into masterpieces using advanced AI technology. You get to choose from 1000+ filters that include various styles such as classical, comic, modern, abstract, and many more. The developer of the app keeps on introducing new filters regularly. The most used filter is the classic as it preserves the natural aspects of your photo and turns it into a realistic painting. You need to have a subscription to get the maximum resolution in your photos, remove ads, unlock the entire filter library, and hide watermarks.
Pros:
● 1000+ filters and styles
● New filters add frequently with updates
● Positive app reviews
Cons:
● Subscription required for max resolution
● Ads and watermarks without a subscription
● Not many significant filters
10. Fotor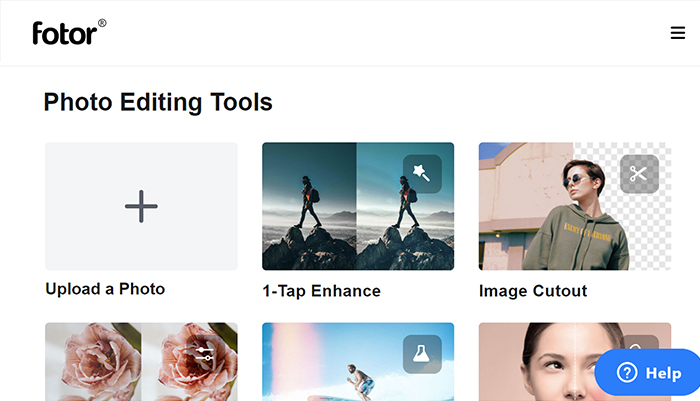 GoArt at Fotor.com is a unique tool with both modern and classical painting styles as effects. If you want to turn your photos into a classical painting style artwork, then this tool is considered one of the best for the job. Its other effects include Pop Art, Expressionism, Fauvism, and Ukiyoe, etc. All these effects give a unique look and feel to the artwork. The tool also suggests the kind of effect that would suit best with the uploaded picture.
Pros:
● Both modern and classical styles
● Best results in classical paint style
● Style recommendations for each picture
Cons:
● Limited editing on the website
● Subscription required for more settings
● Many unnatural looking filters
Conclusion
Many people are using AI-powered tools on social media without even knowing. Although, some people are aware and tend to explore more in this category. All the tools listed above are great for experimenting and creating new and unique-looking artworks effortlessly. You can grab all the attention on social media by creating and sharing some unconventional artwork with the help of AI tools. If you want to produce a high-definition AI painting or art images and they will never loss quality even when enlarged by 8 times, try VanceAI's image enlarger. The effect will surprise you!
VanceAI PC is full-featured desktop software developed by VanceAI that lets you instantly process local photos in bulk with more customization options, which will significantly simplify your workflow and boost your productivity. Free Download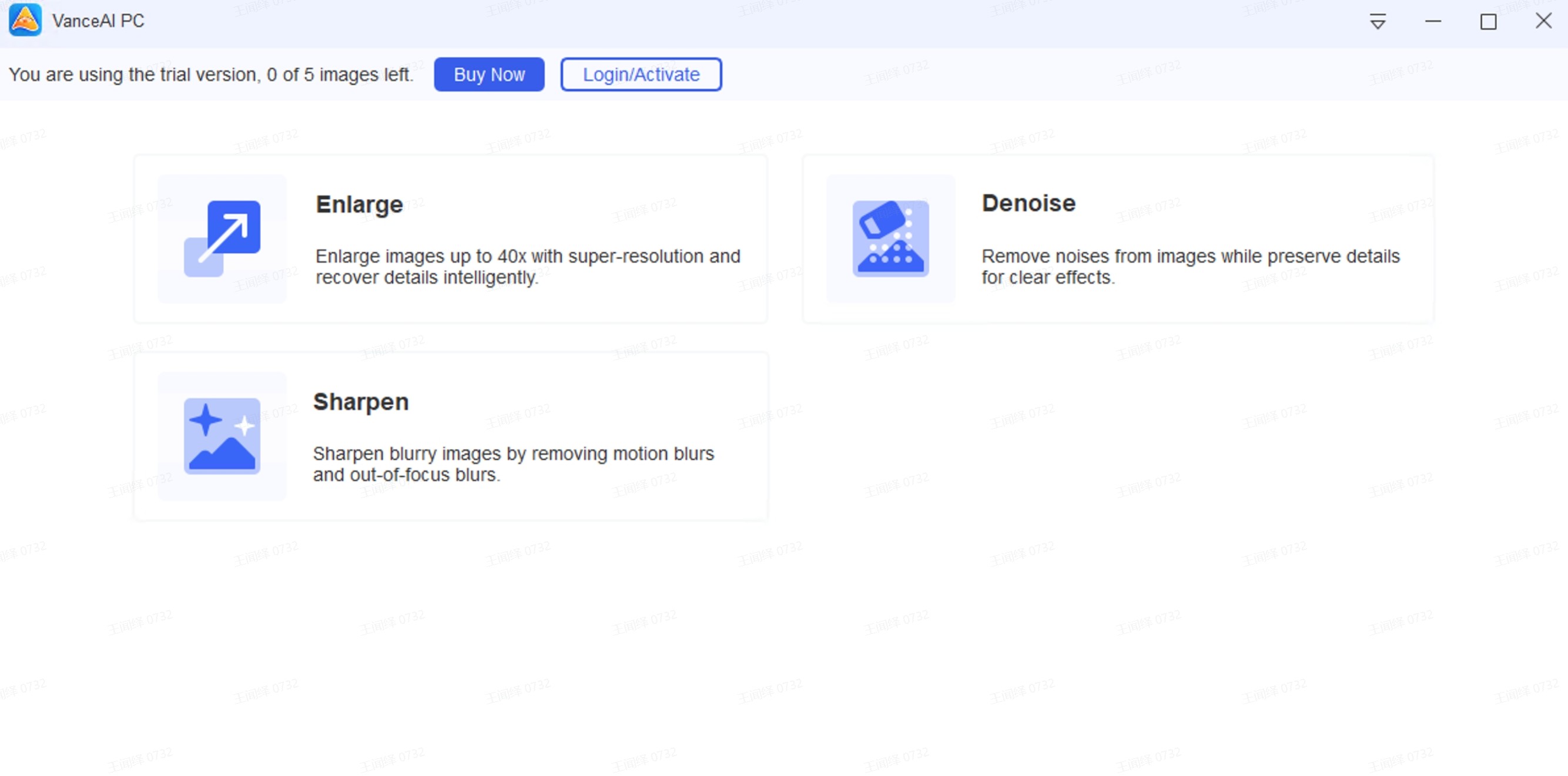 FAQs
1.Which is the best AI painting app?
Nvidia Canvas is the best AI painting app because it still gives control over the artwork while making the drawing process a lot easier. You can choose a style such as landscape or portrait and create a realistic painting by drawing lines and shapes on the digital canvas.
2.How to use Nvidia AI Painting?
To use Nvidia AI Painting, you have to select a scene to paint, such as a portrait or a landscape. After that, you only need to draw lines and shapes on the canvas where you want some specific things like mountains or clouds in the real-time image. You can easily monitor the changes being made and adjust your painting accordingly.

Do you find this post helpful?
Yes
No