Mosaic is the kind of image editing effect that you have probably seen in movies and shows but don't have a name for it. With a mosaic maker application, you can easily mosaics, which is like a collage of the main image have been split into really small tiles of the main image itself. So, you have the main image made up of itself, but in extremely tiny parts.
This is a list made for showcasing five of the best mosaic maker applications, free photo mosaic maker or otherwise, which you can refer to before going ahead with purchasing any of them. You will also find a 'how to…' section for each application like VanceAI Image Sharpener here and an additional application that can let you remove mosaic. You can use these photo mosaic maker applications for a lot of purposes besides creating or removing mosaic effects, which can take your work to another level. Let's first look a little into the mosaic effect itself, to better understand the products as well. 
What is the Mosaic Effect?
A mosaic effect also called photomosaic, is more of a photography technique of dividing a picture into a huge number of small squares or tiles that instead make up the entirety of the picture. A thousand instances of those small tiles come together to create that big picture. Thus, there's also an aspect of perspective and magnifying an image.
Due to the mosaic's nature, the image looks a bit different when zoomed-in versus zoomed out. Zooming in will reveal one of the small tiles whereas zooming out will view all the small tiles together like a collage. The mosaic effect is considerably popular, for it is used widely not only for images but also for videos. Many artistic media works have made use of mosaic maker tools to create such effects. There are also multiple types of mosaics but their purpose is more or less the same. 
You may also be interested in 16 Of The Best Video Enhancers 2022
Most Recommended Free Mosaic Maker Tools
| | | | | | |
| --- | --- | --- | --- | --- | --- |
|   | Fotor | Picmyna | Mosaicmaker.com | Go4Mosaic | Pictosaic |
| Price | Free (premium features available) | Free (watermarks) | Free / Starting at $19.95 | Free (with watermark option) | Free |
| Compatibility | Works on most browsers | Works on browsers | Works on any browser | Works on any browser | Works on any browser |
| Quality | High image compatibility, easy removal of mosaic effects | Default resolutions, landscape/portrait options | Prints of various sizes, focus adjustment, dimension table | Customizable tile designs, image enhancement options | Wide variety of default resolutions, themed tile selection |
| Features | Image enhancement, mosaic remover, text and shape elements | Default resolutions, landscape/portrait options, rows/columns adjustment | Prints of various sizes, focus adjustment, dimension table, public collection | Customizable tile designs, resolution adjustment, image enhancement | Wide variety of default resolutions, themed tile selection |
| User Friendly | Intuitive UI and performance | Simple to use | Easy to use online tool | Ease of use | Many adjustments available, good quality images |
1. Fotor
Price: Fotor is a free mosaic maker as well as a highly popular online image editing tool. You can still opt for its premium features by upgrading your account if you feel like Fotor is good enough as per your needs. If you are not satisfied with the result, you can use some tools to make photo hd.
Compatibility: The Fotor online tool will work on most browsers, including the ones through mobile phones. Learn more about Fotor.
Features:
Fotor is filled with image enhancement features that can be used with enough flexibility to completely transform an image. You can always pair up this picture mosaic maker free tool's mosaic maker with other features to get everything done in a single place. 
Fotor is also arguably one of the easiest online image editing tools out there, since almost all of its tools, mosaic maker included, merely require you to click and drag the cursor around to apply its effects. Not to mention that it has an effective Undo option in place, in the case you want to go back. 
If you are wondering how to remove mosaic from the image, this mosaic maker has covered that too. By using its mosaic remover, or rather the eraser, you can easily drag your cursor to the parts of the image where you do not want any kind of mosaic effects. 
Fotor has high compatibility when it comes to image file formats, which can be a lifesaver considering the nature of mosaic images and the types of applications they are used in. 
You can add elements such as text and shapes, useful when you are making an advertisement or design with a mosaic effect image.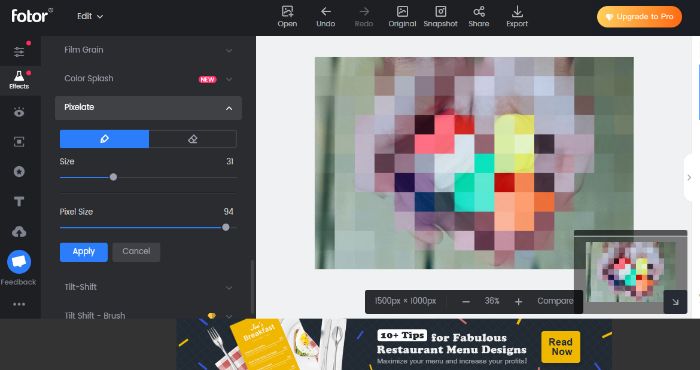 How to Use:
1.Use this link and click on Get Started in order to proceed. There are also tabs on top to help you get familiarized with the Fotor application. 
2.You will automatically be taken to the Pixelate tool once you click on Get Started. Choose your brush size and pixel size from the bar as per your preference. 
3.Paint the effect using the cursor given. Once done, you can click on Export to save your work. 
Pros:
It is really packed with useful features, for an online tool. 
The UI and performance are as intuitive as it gets. 
Cons:
It could use more options when it comes to image enhancement. 
2. Picmyna
Price: You can always get a free mosaic effect image generated from here though with watermarks. If you are looking to buy it, prices start from $2.99. 
Compatibility: This mosaic maker application should work on browsers. 
Features:
There are a bunch of pre-editing tools provided by this application to users. For one, you can simply choose from the many default resolutions for your main image. 
You can choose to present the image either as a landscape or a portrait. The difference, on the surface level, is of course the looks of the image and the mosaic effect. However, it can also be used to experiment with various small images that look different for landscapes and portraits. 
Adding another fine detail, this application has an option for you to set the number of rows and columns before processing the image. By using this, you can bring drastic changes to the mosaic effect of the main image.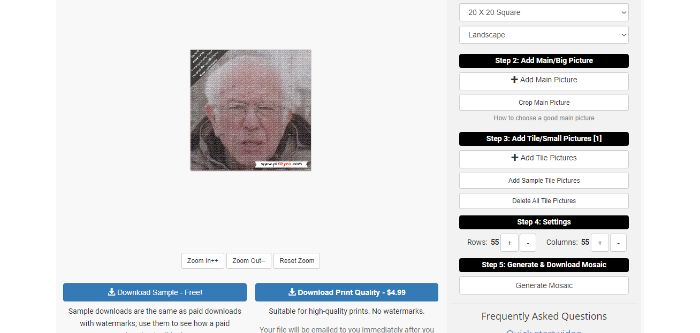 How to Use:
1.Upload an image from the right-hand side option. Also, add an image as a Small Image that will fill up the main image. 
2.Set the Rows and Columns as per your choice and click on Generate Mosaic. 
3.Click on Download Sample once the application has displayed the output.
Pros:
Simple to use. 
A good number of mosaic effect editing options before processing. 
Cons:
You will get watermarks after processing the image. 
3. Mosaicmaker.com
Price: You can use mosaic-maker for free. No downloads or signups required either. Although, you can still opt to buy for more features, starting at a $19.95 one-time payment.
Compatibility: It will work well on any browser. 
Features: 
This mosaic maker application is geared towards e-commerce and similar ventures since it offers prints of various sizes that are compatible with commercial platforms as well as social media platforms. You can prepare a canvas print, posters for the internet, social media wallpapers, metal prints, etc from this online tool with payment. 
You can easily set the focus of your mosaic from the small images to the main one by simply dragging a bar. Focusing on either one will result in a completely fresh look so you can have two different images through one. 
They also offer a detailed dimension table explaining each image ratio and size. You can always refer to it before ordering posters and images. Furthermore, these posters can go upwards in terms of image quality with extra payment. The qualities can go all the way up to 4K Ultra HD. 
There is a public collection up on the website from which you can take inspiration and create your own style. The collection theme ranges from Holidays to Weddings and everything in-between.
How to Use:
1.Go to its official website. Select your main image and hit Next. 
2.Now, select your images that will be covering the main image. 
3.Simply right-click on the image, choose Save As, and download the image. 
Pros:
Cons:
It could use better UI and mosaic effect options. 
Price: Go4Mosaic lets you mosaic effects on your images for free but with a small watermark at the end. However, you can choose to not have watermarks. 
Compatibility: You can use this mosaic maker tool online with any browser. 
Features:
It offers a ton of options for tiles. They have a custom set of tile designs ready to apply to the main image and all you have to do is select and see the preview beforehand. Additionally, you can also set the resolution simply by a bar. 
There are some image enhancement options as well in the application. You can adjust brightness, color, and more through the settings.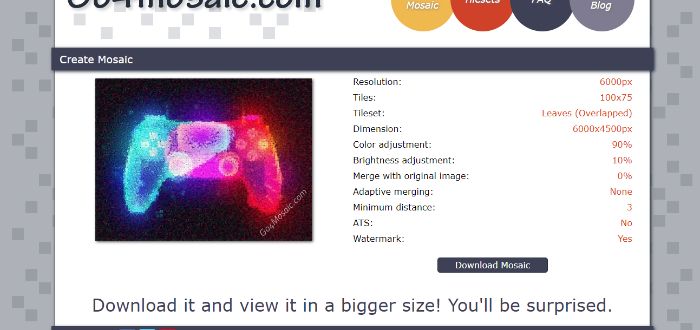 How to Use:
1.Click on the Yellow circle that says, "Create Mosaic", on the top bar. 
2.Click on the upload function to open an image there. Use the settings on the right as per your convenience. 
3.Click on Create Mosaic and later, hit Download to save the image to your device.
Pros:
Offers a great tile design selection. 
Ease of use. 
Cons:
Price: The online tool is free to use. 
Compatibility: It will work on any browser. 
Features:
You can adjust the resolutions of your image through the wide variety of defaults provided. 
The tiles are grouped into many themes and categories to choose from.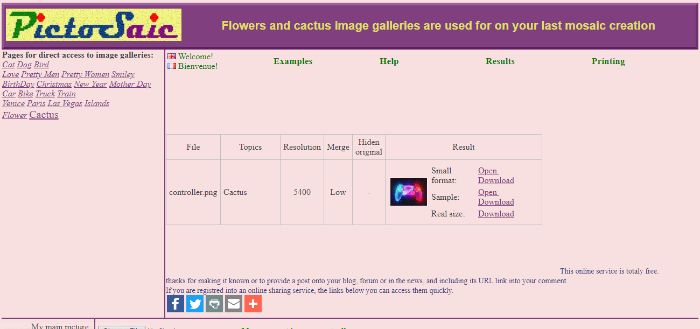 How to Use:
1.Use the link to get access to the website. Scroll below and click on Choose File. 
2.After uploading your main image, simply select any of the tile images from the selection the application provides. You can additionally choose the number of tiles and other details below. 
3.After processing simply hit Download in order to save the image on your device. 
Pros:
There are a ton of adjustments you can make before processing the image. 
Good quality images. 
Cons:
The UI can be better organized. 
How to Remove Mosaic from Videos and Images?
VanceAI Image Sharpener
VanceAI Image Sharpener makes a blurry picture clear as the AI is trained to enhance millions of pictures. With deep learning algorithm, the image sharpener powered by AI thus can enhance image quality, and show more details, making blurry pictures clear. On its workspace, you can also unblur image through AI Models or adjust Parameters to make blurry pictures clear. If you are interested, you can try to sharpen your image now or download it directly from the pop-up window on the right.
1.Find AI Image Sharpener on

VanceAI

 home screen.
2.Upload a blurry image to VanceAI Image Sharpener.
3. Preview and download your sharpened image.

DeepMosaics
Removing mosaic from videos is not considered to be possible because once a video is rendered with the mosaic, those pixels are fixed and cannot be returned to their original state. We can use the DeepMosaics mosaic remover algorithm to at least mitigate some of the mosaic effects, though full recovery is not yet possible. 
1.You can head on over to the data page of this algorithm by clicking on the link above. Once there, you will need to download the application. 
2.Run the application and use the window prompt to upload your video and click on Run. 
3.Save your file.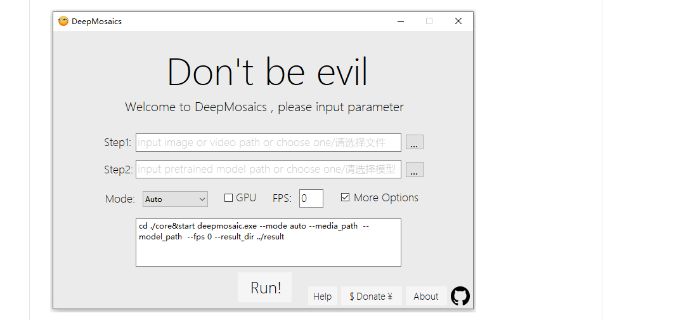 Conclusion
You can use these applications to easily add mosaic effects onto your images without sacrificing image quality or any other resources such as time and money. They are easy to use and equally effective. Applications such as Fotor can be of huge help to you considering how it can not only be a mosaic maker but also enable you to remove mosaic with just a simple click. Though removing mosaic from video is a much trickier task, the DeepMosaics algorithm can at least mitigate some of the mosaic effects. Also if you want to try different photo editing tools, you may visit VanceAI to unblur image online.
Click to check how to remove product photos background for Magento.
Do you find this post helpful?