Top 10 Best HDR Photo Software
HDR, which is also called High Dynamic Range, is a fantastic feature in most cameras that enables you to capture visuals with a balanced amount of light. For instance, if you are trying to photograph something indoors with a window in the scene, the camera can under-expose or overexpose the light and as a result, make the entire scene heavily imbalanced. With that said, we will be looking at a list of photo HDR software applications that fix the imbalance issue while also providing additional useful benefits to the user. The HDR photo processing software apps will also be considered for their performance, design, and prices. With the right HDR photo software, you can create amazing photos or enhance photo with tools like VanceAI Image Enhancer anywhere without worry.
Best 10 Photo HDR Software
| | | | | | |
| --- | --- | --- | --- | --- | --- |
| Software | Price | Quality for 3 kinds of comments | Features Options | Various Styles | User Friendly (grades) |
| Photomatix | Free trial, $99 | Good | Six HDR styles | Presets available | Easy to use |
| Fotor | Free, $2.67/month | Extensive | Automatic and easy | Watermarks on free HDR | Can be buggy |
| Skylum Aurora | $100 | Highly sophisticated | Many great features | Intuitive and smooth | Need a decent system |
| easyHDR | Demo version, $33 | Offers good results | Simple to understand | Good UI | Can be buggy |
| Nik Collection | Free trial, $149 | Easy and automatic | Offers good results | Excellent design | Need a good system |
| Adobe Lightroom | Free trial, $9.9/month | Provides great features | Intuitive UI design | High compatibility | Need a good system |
| ON1 | Free trial, $90-$185 | Offers decent results | Automatic processing | Customized paid options | Can have bugs |
| HDR Projects | Free, $99 | Good accessibility | Simple and effective UI | Active updates | Limited free use |
| Oloneo | Free trial, $59 | Quick processing | Good presets | UI can be improved | Limited free use |
| Luminance HDR | Free | Offers good results | Variety of tone mapping | Can have a better UI | Can add more features |
1. Photomatix
Price: You can run this HDR photo software free of cost for a while with the free trial. For full access and more features, you can purchase the software one-time for $99 on Windows and Mac.
Photomatix is one of the best HDR photo software applications if you want to convert images to HDR as well as edit them with more filters or brushes. This software offers a few good features that suit the HDR conversions such as six different HDR styles, a number of HDR presets, and brush tools. Not to mention that it also has a ton of presets available for real estate photography, which is an area where HDR is definitely needed many times. Try it on!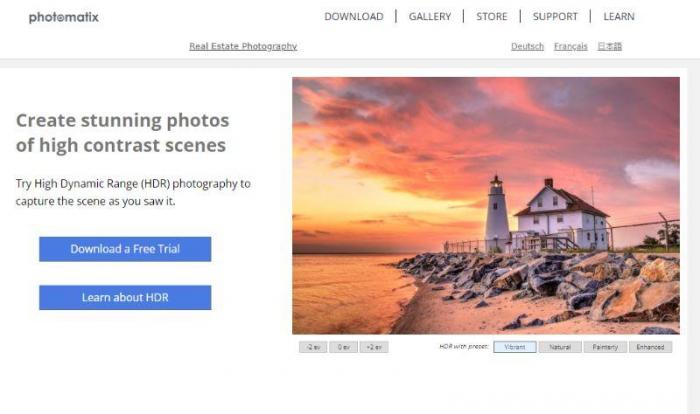 Pros:
Good features.
Good website and app design.
Easy to use.
Cons:
Limited free use.
Most presets are not in top quality.
Can have performance issues from time to time.
2. Fotor
Price: All of its features are completely free to use but the premium features carry a watermark. The HDR and other premium features require you to purchase at least the Fotor Pro version which costs $2.67 per month.
Fotor is a HDR photo editing software free of cost online that provides one of the most varied and extensive video editing and enhancement features. It is also a popular online application for HDR, and does the processing automatically. You can get HDR ready images just by uploading and clicking on the Start button though it doesn't have the feature to increase resolutions, but only for decreasing. For that, you can use the AI image upscaler instead. The premium edition offers additional features without watermark, more stock photos, and faster servers.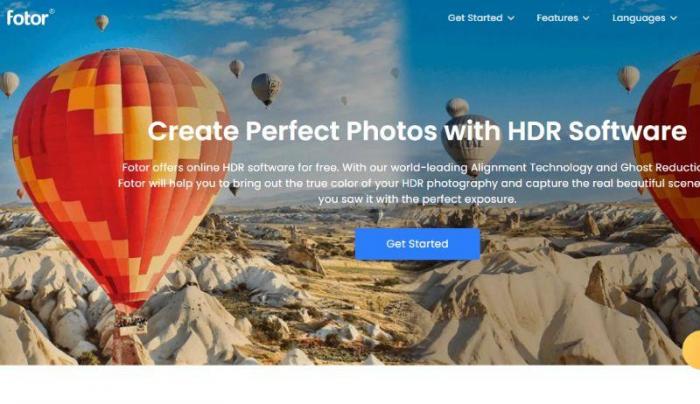 Pros:
Extensive features.
Offers most features for free.
Automatic and easy to use.
Cons:
HDR has watermarks on the free version.
Can be buggy at times.
The storage can be limiting.
Also read: How to Convert Low Resolution Image to High Resolution Online?
3. Skylum Aurora HDR
Price: Aurora is a HDR photo software for Mac and Windows at the cost of around $100 but the license is granted for up to 5 computers.
The Skylum HDR software is a sophisticated one, offering a list of HDR tuning features that users can play around with to get the absolutely perfect visual for their images. Not to mention that many of the features in this software are automatic and don't require any inputs from the user. The app can automatically recognize issues with an image and fix them. Apart from that, this app can also work as a plugin for other software apps such as Photoshop, Lightroom, Apple Photos, etc. Try it on!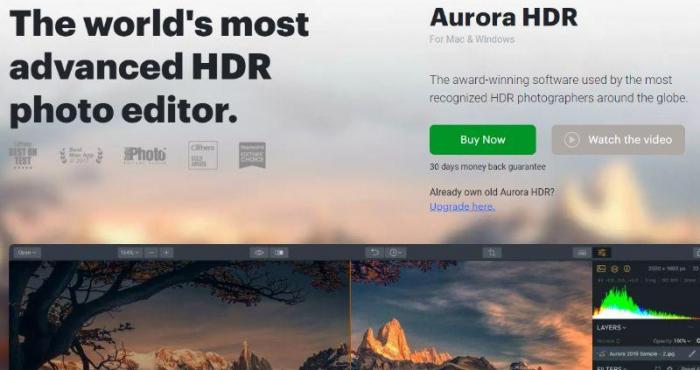 Pros:
Intuitive and smooth UI design.
Highly sophisticated app.
It has many great features.
Cons:
No free use.
The plugins tend to be unresponsive.
Need a decent system.
4. easyHDR
Price: You can download the demo version of the HDR photo software that restricts TIFF and J2P exports and has watermarks. The paid version grants unrestricted access for $33.
This HDR photo software can be really advantageous for users who are into professional photography or video editing since it offers compatibility with a wide number of formats such as TIFF, JPEG, and most importantly, RAW. The UI of the application is also simple enough for any user to pick up. It also has a few other features such as removing objects from an image, presets and color management, etc.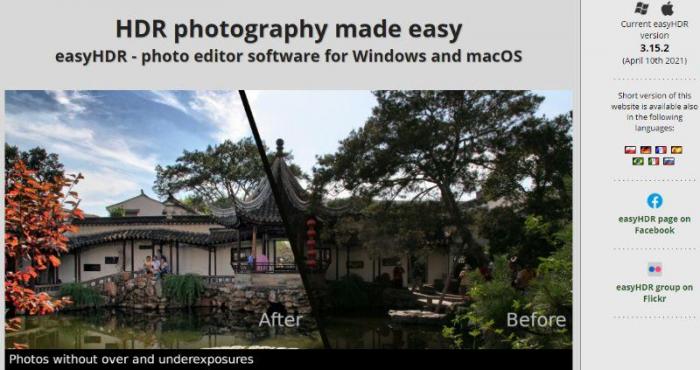 Pros:
Offers good results.
Simple to understand and use.
Has a good UI.
Cons:
Limited free use.
Can be buggy.
Can have HDR tuning features.
5. Nik Collection
Price: You can get yourself the free trial of this photo HDR software by submitting your email id on the website. The paid versions cost $149 for a one-time purchase.
Nik Collection is a really good tool for creative photography and polishing photographs with its intuitive and smart features that allow you to make subtle changes to your visuals as smoothly as possible. You can simply focus on an area in a photograph and make multiple adjustments to it in one click. Have a try!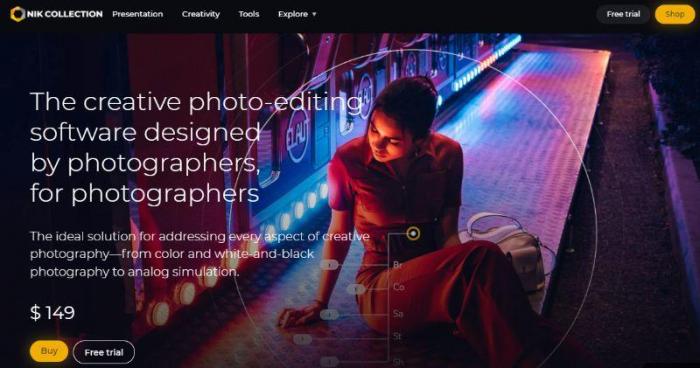 Pros:
Excellent design.
Easy and automatic to use.
Offers good results.
Cons:
Limited free use.
Can be a bit expensive.
Need a good system.
Also read: Imglarger vs VanceAI: Which AI Makes Image HD Better Than Expected?
6. Adobe Lightroom
Price: The product can be used first with a free trial though the paid option costs $9.9 per month as part of the Creative Cloud package that includes other software apps too.
Lightroom is a highly recognized and used photo HDR software that has many awesome features for users to create the ultimate HDR picture. For instance, you can merge multiple photos together to create an ideal look. Not to mention that most features in the app are just a click away, making this software easier to use than Photoshop, for example.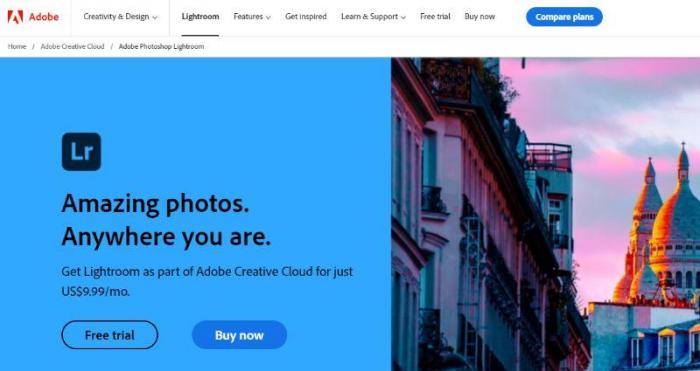 Pros:
Intuitive UI design.
Provides great features.
High compatibility with file formats.
Cons:
Limited free use.
Can be expensive.
Need a good system.
7. ON1
Price: This photo HDR software has three paid plans, which cost around $90, $185, or a subscription depending on which type. Other than that, you can also get a free trial.
As you can notice, there are many paid options that you get with this product and it helps users with their requirements as well. If you purely want the standard HDR features, then you should only buy the $90 plan that includes nothing else. The other plan offers image resizing, effects, and other AI based features like noise reduction. This function is extremely similar to what the VanceAI photo enhancer offers for you overall. For instance, the function of photo enhancement is able to enhance the resolution of your picture to a higher level within several seconds. One click to increase image resolution and get your images crisper, cleaner, and ultra HD. Have a try.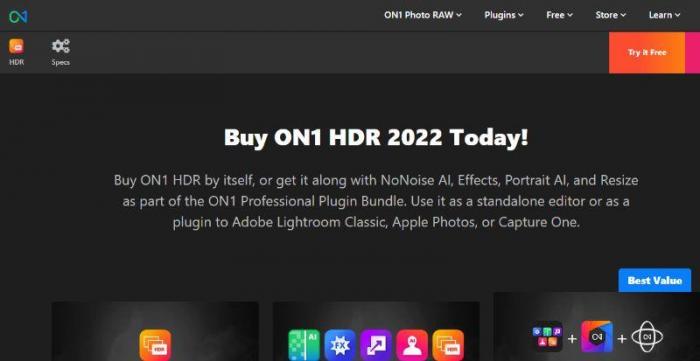 Pros:
Customized paid options.
Offers decent results.
Automatic processing.
Cons:
Limited free use.
Can have bugs at times.
Can add more HDR features.
8. HDR Projects
Price: The software offers a free version but with limitations in usage and features. To get access to all features, you will need to purchase the Professional version that costs $99.
The photo HDR software does have good accessibility since it is available to use as a stand-alone app as well as a plugin with other tools. It also has a decent range of features that touch upon all the HDR essentials with an easy to understand UI inviting enough for all users. Also, it has an active team that provides updates and polishes consistently.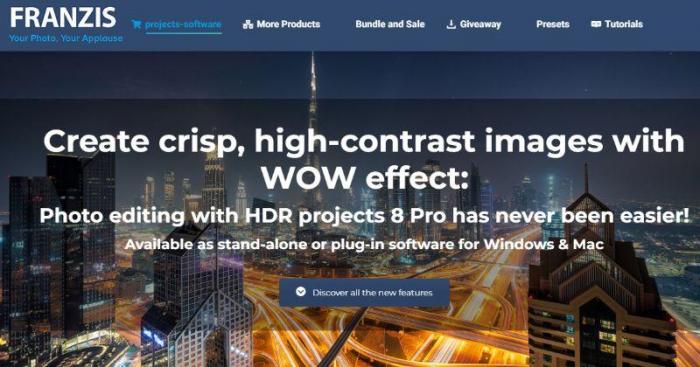 Pros:
Good accessibility.
Offers a simple and effective UI.
Active updates on the app.
Cons:
Limited free use.
The HDR results are sometimes underwhelming.
It can have bugs.
9. Oloneo
Price: This HDR photo editing software can be used for free with limited use on a free trial version while the paid one costs $59 with everything unlocked.
With this HDR photo software, you can deal with images from multiple image formats, including RAW, which makes the process much easier and likely to have high quality and make photo hd results. The app does look on the older side because of its UI design though it is regardless easy to use. Not to mention that the software can be used as a plugin with Adobe Lightroom for more accessibility.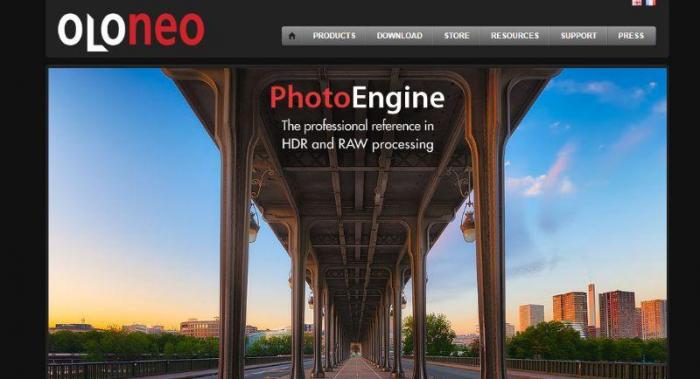 Pros:
Quick processing.
Supports the RAW format.
Offers good presets.
Cons:
Limited free use.
The UI can be improved.
Plugin performance can be better.
10. Luminance HDR
Price: This is an open source program which costs no money for downloading or using. Also, there is no need for account creations either.
You can make use of this app to cover all kinds of HDR toning effects. This software offers a variety of tone mapping functions. Also, you can adjust the gamma and saturation levels of your images with ease through the simple to use UI. This application is available on Windows and MacOS, though exclusively for 64-bit operating systems. Have a try!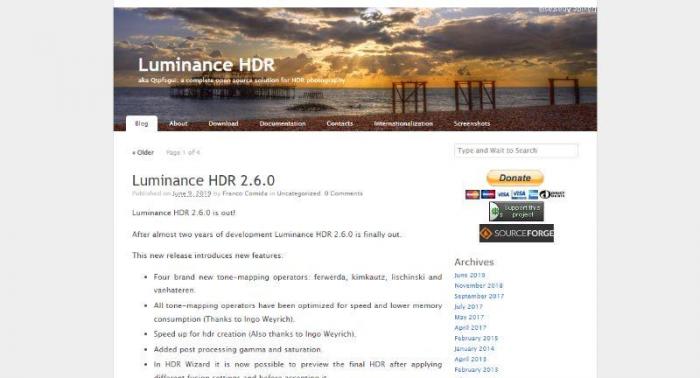 Pros:
It is an open source program.
Works smoothly.
Offers good results.
Cons:
Can have a better UI.
Can add more automatic features.
Needs more presets.
Conclusion
HDR is a really important aspect of photography because without it, there are high chances that your otherwise well shot photographs may end up looking overwhelming due to light. A good HDR photo software provides you with the much needed balance in light in order to capture photos with less or more light. In this list, you will find free HDR photo software apps and many other types as well. Make sure you select the one most suitable to your needs and follow the good practice of upscaling or enhancing your images after processing. There are many apps that can be used online, offer many different features, prioritize quick processing, etc which leaves you with many options. And photo editing tools like VanceAI can also be a big help to your work.
VanceAI PC is full-featured desktop software developed by VanceAI that lets you instantly process local photos in bulk with more customization options, which will significantly simplify your workflow and boost your productivity. Free Download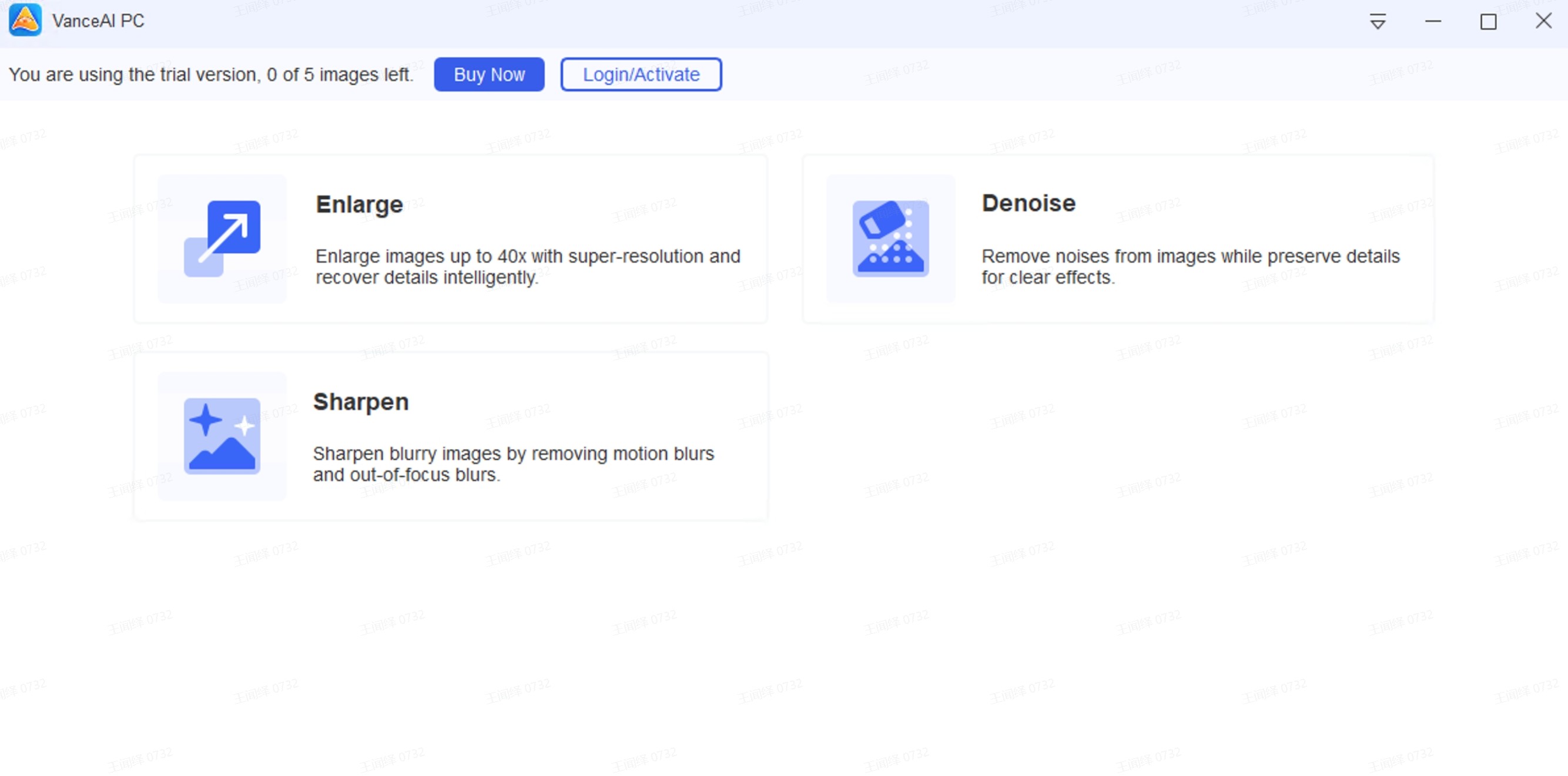 FAQs
How do I make HDR photos?
When it comes to most of the photo HDR software tools, they can convert your photo and apply HDR automatically. Thus, the process is now pretty simple for users. You just have to upload an image, start the process, and wait for a few seconds as the app converts the image. Some apps also have a slider bar or presets that you can select for the HDR effect.
Do you find this post helpful?
Read More to Know Deeper: