With the advent of the Internet wave, trendy young people are used to using mobile phones, digital cameras, and computers to store photos. And memories or stories about photos can be shared on social media. But we may often ignore those thick photo albums in the cabinet. When these photos are yellowed or fragile with time, will anyone remember the color of the dress of the mother or grandma at the prom? In order to help my loved ones recall some memories, I tried to google how to scan them into digital photos and then share these photos.
In this process, I found that different photo scanning services have their own unique advantages. This article will briefly describe some digitizing photo software like VanceAI. I hope that those who are facing the same headache situation with photo scanning services can get some inspiration from this article and bring old photos back to life.
Best photo digitizing services: our picks
Suddenly plunged into the Internet, you may have great doubts about how to digitize photos and trying to find which tool is most excellent at photo digitizing service. Apart from slide scanning services, now the Photo Scanning Services rely on phones, software, and online pages to do some excellent work for converting slides to digital. Here is a comparison of a few great tools providing photo digitizing services. But they all have different unique advantages. After reading, you can choose the most suitable photo scanning tool for your current situation.
Best Convenient: VanceAI Photo Restorer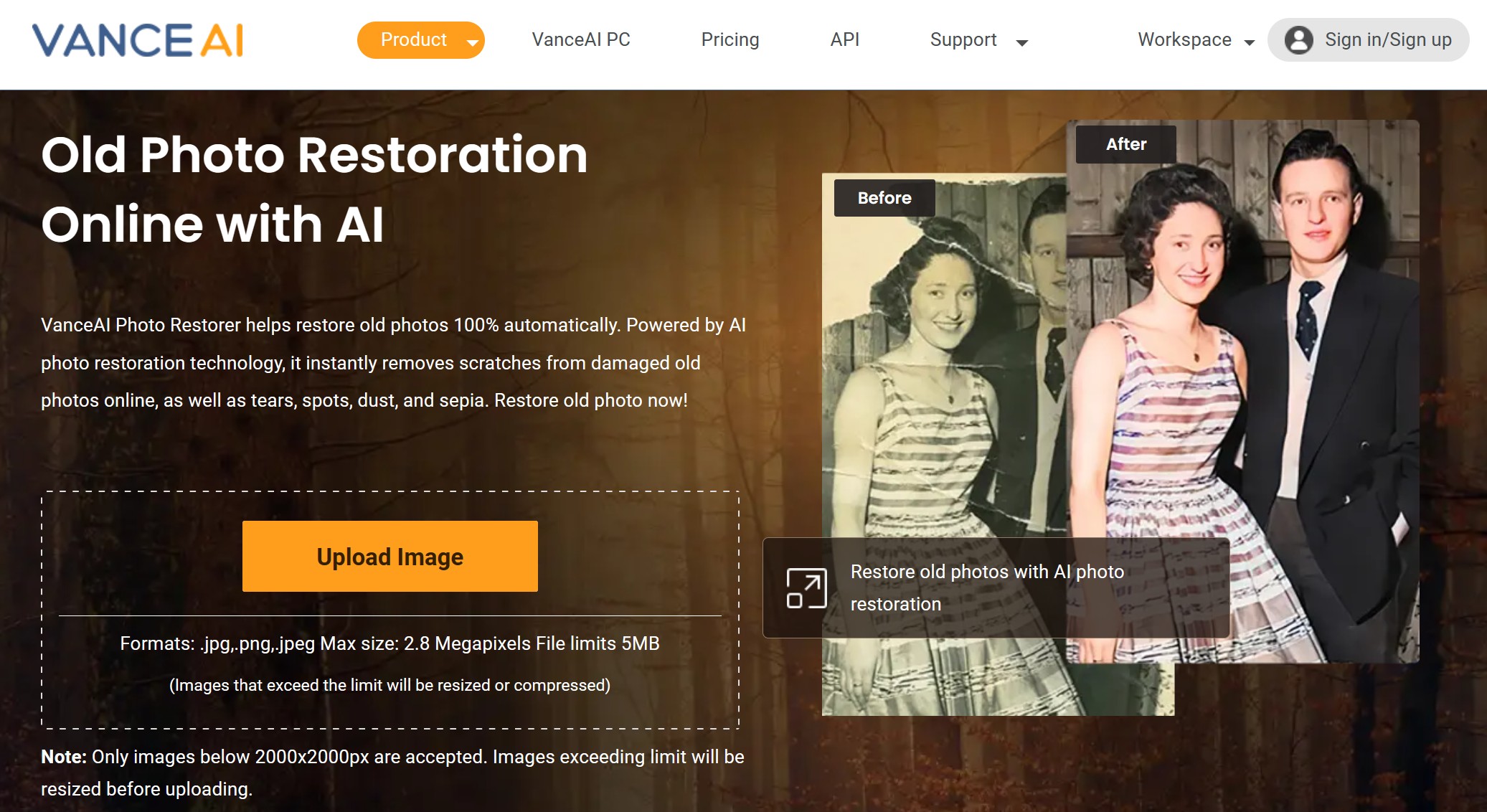 Why it made the cut:
VanceAI Photo Restorer can easily remove scratches, tears, and spots from old damaged photos online with AI in one click to accomplish photo scanning services. Aside from photo scanning services, it also can automatically enhance face and details, and further, colorize black & white photos to help users get photo repair and save on digital media.
What makes it special is that apart from those base functions, all repair records on it will be saved on the cloud for 24 hours and will be automatically deleted afterward. So don't worry about privacy. Security issues are also unique to it. If you are interested, you can try to restore your image now or download it directly from the pop-up window on the right without leaving this article.
Key features:
Convenience on the device: VanceAI Photo Restorer supports operations on the web page without downloading software.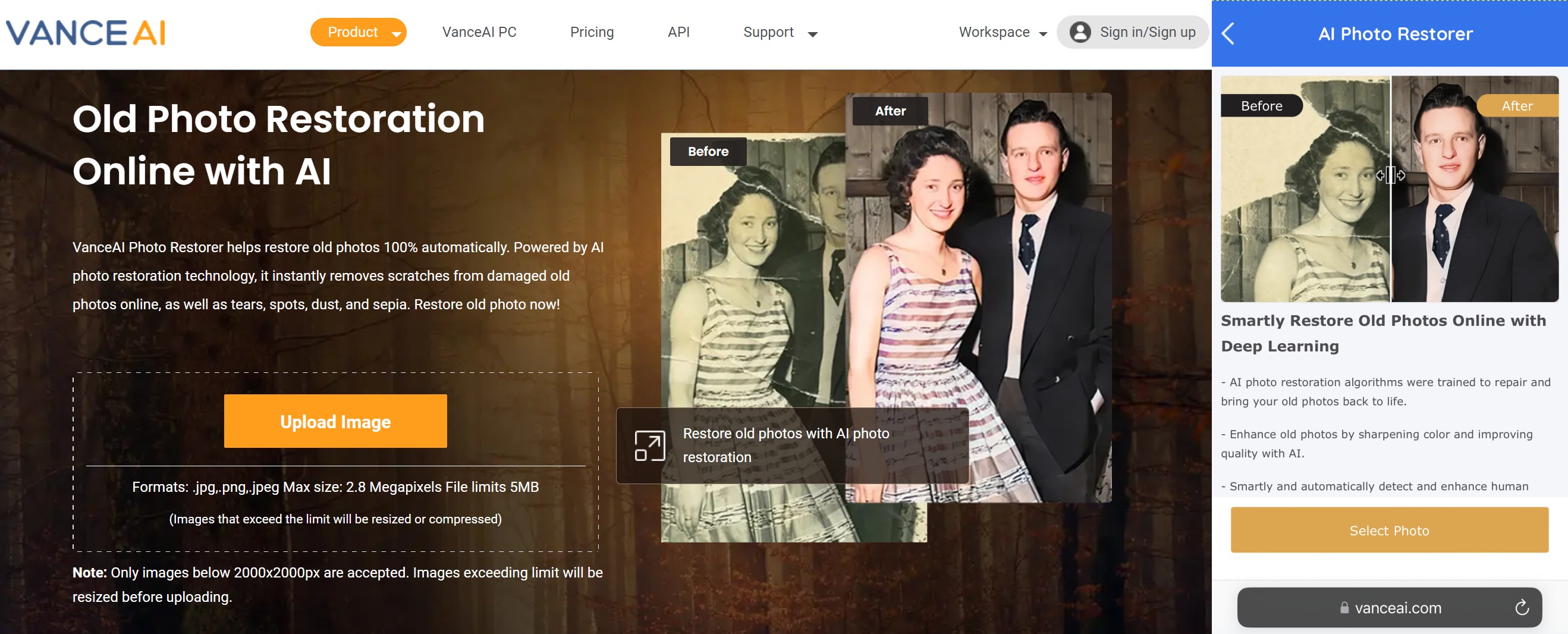 Convenience on time: VanceAI Photo Restorer has powerful AI support, it efficiently processes damaged images through AI algorithms, and can complete the restoration in a very fast time.
Convenience on operation: VanceAI Photo Restorer is extremely user-friendly. The operation is extremely simple and can be completed in 3 steps.

Pros
The price is a little cheaper than other similar products.
Extremely user-friendly, 3 steps can accomplish the whole process.
AI processing is fast, and your waiting time is less than 1 min.
Support online working, you don't have to download onto your device to digitize a photo.
Cons
Trials are limited, 3 credits can be sent free each month.
How to digitize photos with VanceAI Photo Restorer?
VanceAI Photo Restorer is extremely user-friendly, all digitizing photo processes can be done online with simple clicks. The following is a brief introduction to the steps, which can help you understand its operation steps briefly. As an auxiliary basis for judging whether to use it.
Step 1: Start by clicking on "Upload Image" to enter VanceAI Restorer Workspace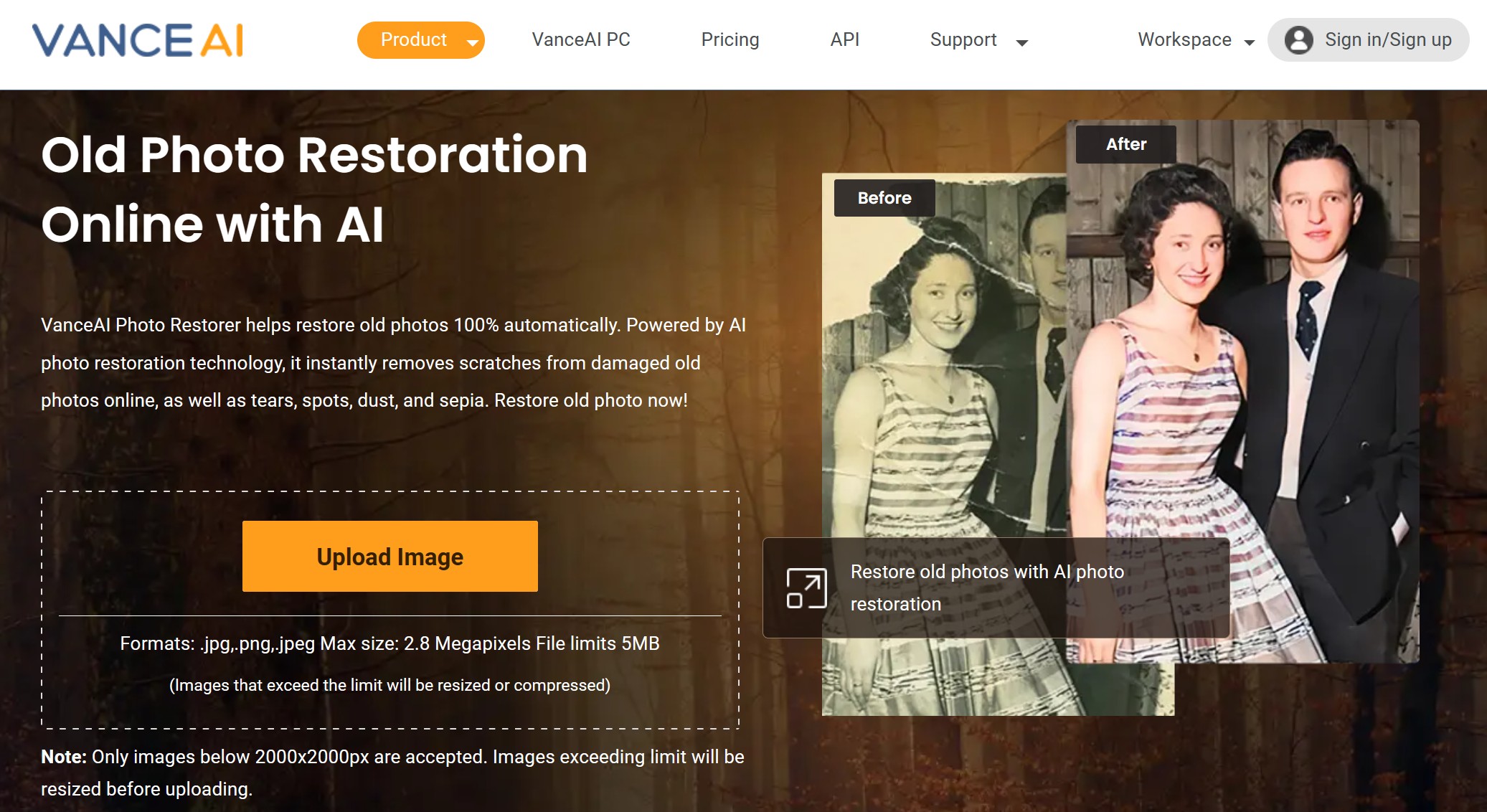 Step 2: Choose the mode and click on "Start to Process".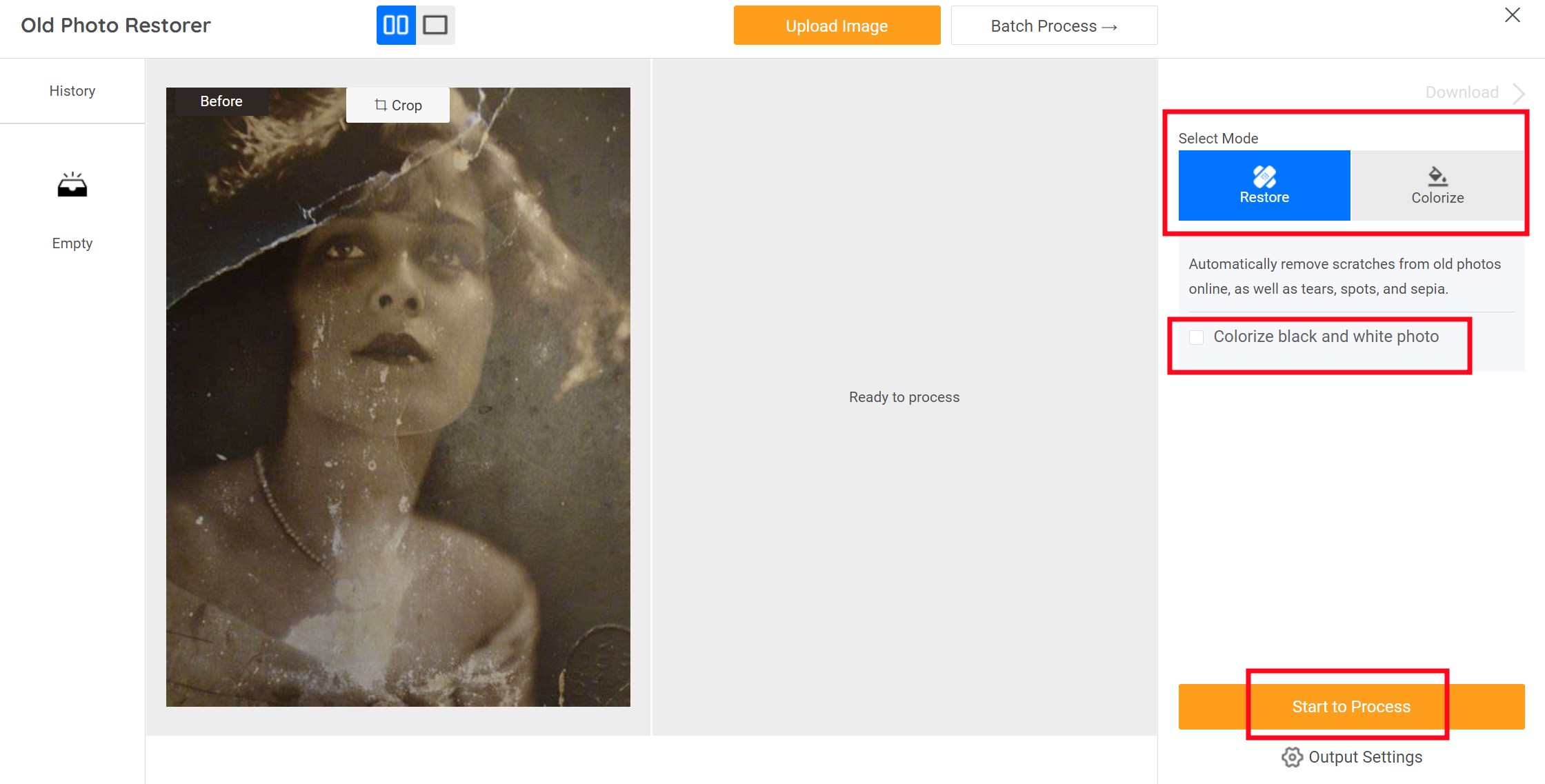 You can only choose to restore or you can choose to colorize black and white photos at the same time.
Step 3: Preview and download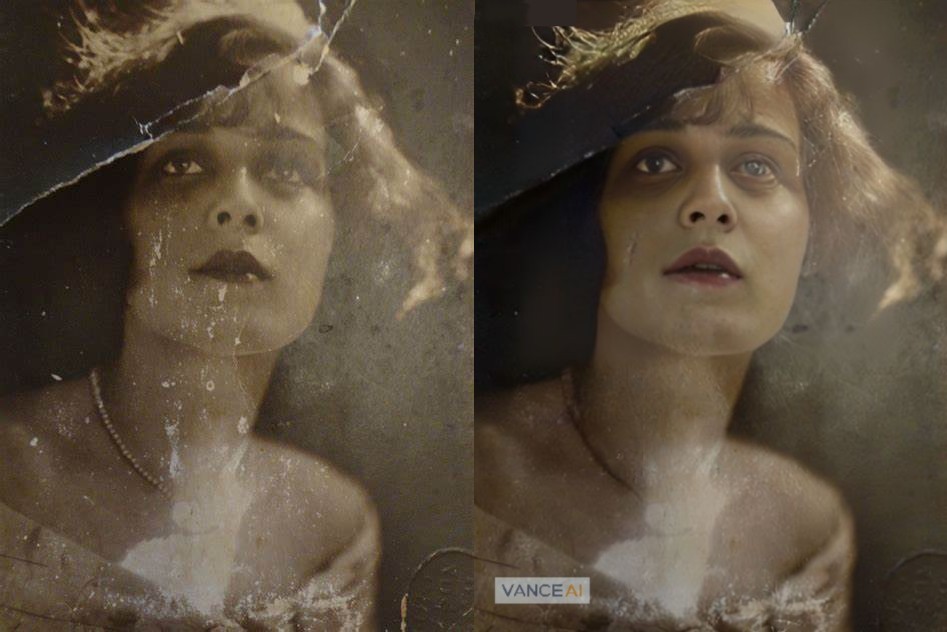 After seconds of waiting, you can see the preview in front of you. If satisfied, click on "Download" to save it onto your device.
Best Professional: Photoshop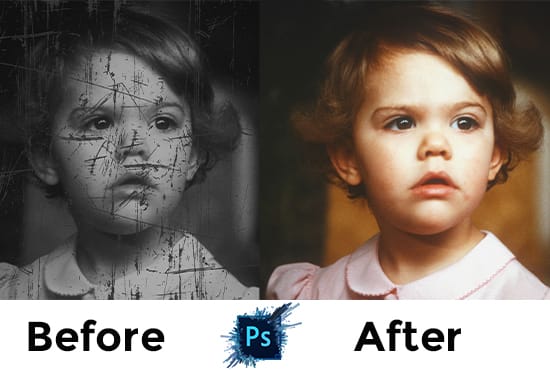 Why it made the cut:
As one of the photo editing software with the longest history, Photoshop is well-known in existence, and many professional photographers and photo editors are using it. Moreover, it has been optimized for a long time, and the system version is constantly adjusted according to new requirements. Which makes it become a professional existence at photo scanning service. Learn more at Photoshop.
Key features:
Extremely detailed functions, ranging from color to light parameters
Instruction is widely produced on YouTube, and everyone can easily find and start to learn.
Pros
Professional software for Windows system.
Cons
Not free and is a little more expensive.
Don't support work online, need to download it onto a computer and do further work.
Too complicated for new users, they need professional instruction to operate.
Best Comprehensive: Hotpot.ai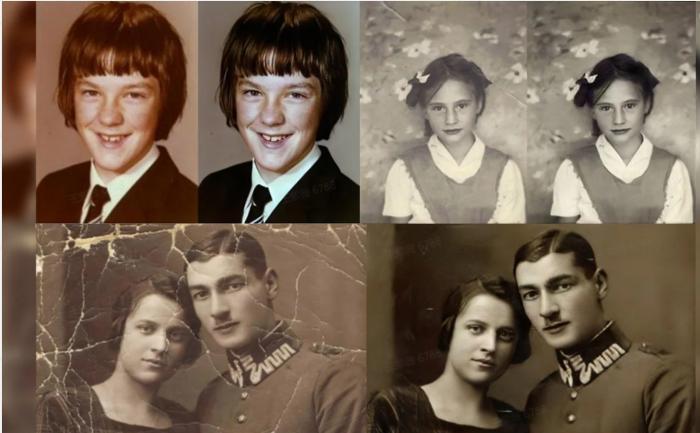 Why it made the cut:
As an AI photo scanning services tool, Hotpot is the one with the most extensive content. Its AI technology is applied in text, tables, pictures, social media materials, etc., and it can be regarded as the most comprehensive tool. The richness of the comprehensive experience makes it more favored and visited. Learn more on HotPot.ai.
Key features:
Not only focusing on photo digitizing services, but also on creating text, market games, or social media design resources.
Online use, no need to download.
Pros
A rich selection of derivative experience tools.
Credits can be used between different tools on the same website without purchasing new credits.
Cons
Not free to use, each process costs different credits
Best Various: PhotoGlory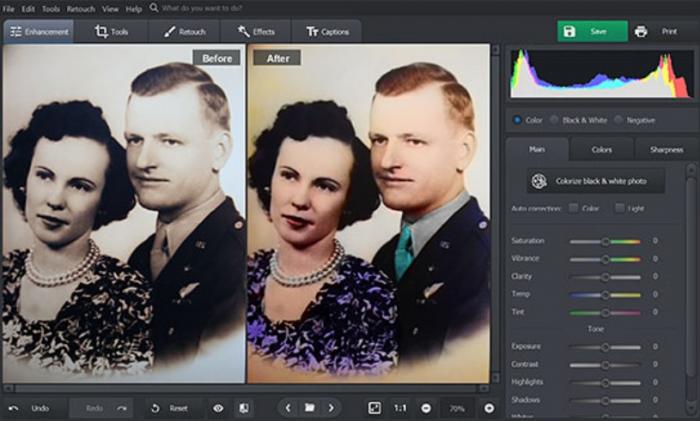 Why it made the cut:
PhotoGlory is software for Windows systems. It is compatible with Windows 11, 10, 8, and 7. It is newbie-Friendly Software providing photo scanning services mainly for repairing old photos. And it supports almost 100+ pinch of retro vibes or changes the atmosphere of your photos completely with one-click effects.
Key features:
Chooses from Standard Version, Deluxe Version, and PRO Version.
Colorize black & white photos automatically
Remove scratches, tears, spots, and stains
Perform pro-level color correction
Apply 100+ one-click photo effects
Pros
Vibes or atmosphere of photos come into multiple types
Different versions target different groups of people.
Cons
Not free to use, different types at different prices.
Only support PC, and need to download
Best Social Characteristic: MyHeritage

Why it made the cut:
MyHeritage is the most social photo scanning services tool that supports online digital photos. It not only has the functions of coloring, repairing, and upgrading, but its most unique point is that it can make its own family tree based on photos and names. This makes your digitized photos have more social attributes and can be spread among relatives.
Key features:
Interesting operations are supported after the photos are digitized.
Photos can be added to the family tree and shared with loved ones.
Pros
Support up to 14 days trial.
After repair, it supports subsequent diverse operations, such as facial animation in photos.
Cons
Trials only have 14 days for each email account.
Unregistered relatives cannot use the family tree function.
Final thoughts on digitizing photos tool
The process of digitizing photos is not only about the new vitality of each photo, but also about the story of each growth, and it can also be the story of aging that has been accumulated over time and reappears in this process. Old photos carry not only the memories of the past but also the place where the emotions of future people gather. Among the tools mentioned above for digitizing photos, it is not difficult to see that they are not only doing photo restoration and digitization work but also derived new and unique functions that can be combined with old photos. These functions can be connected to family trees or creative creations. Under the new AI technology, old images continue to have modern characteristics. Of course, we hope that this is not the end, and look forward to more exquisite and unique tools from them.
Further perfect digitizing photos with VanceAI
Each of the above digital photo tools has its own unique characteristics. When choosing the tool you prefer, you can also combine some other tools with improving the overall feeling of the photo after digitization. You can try photorestoration.ai to make old photos alive come true. If the photo quality is good and there are no signs of damage, you can directly use VanceAI Photo Colorizer online to simply color it.
FAQs
How to scan pictures to digital automatically?
PhotoScan by Google Photos
Google's PhotoScan is a free app for iOS and Android that scans your photos multiple times, then stitches all the images together to remove glare and improve the quality of the final image. The app works on matte and gloss prints, and photos inside or outside albums.
Do you find this post helpful?
Yes
No