There is almost no doubt that Canva is a great design tool for non-designers, but the features can sometimes become monotonous. There are several sites like Canva that can offer similar results while offering unique templates and features.
Additionally, you might be missing out on other attractive Canva alternatives that you might end up enjoying more. Let us take you on this new journey where you get to explore a world outside Canva.
Get High-quality Image Content before Design
Before we dive into the design part, let's first consider how you can enhance the image you are planning to work on. After all, there's no point in building a tall structure on a weak foundation.
Many websites allow you to edit and improve your images online. One of them that we particularly enjoy is VanceAI. It offers users excellent features that can transform old, dull, and boring pictures into vibrant pieces of art.
This is a one-stop shop for perfect pictures. With powerful features backed by AI, you can transform your images in no time. Here are some interesting features that VanceAI has to offer:
Anime Upscaler
Image Denoiser
Image Sharpener
Background Remover
JPEG Artifact Removal
Photos Dehaze
Image Compressor
VanceAI promises to enhance image resolution up to 40x while reducing blur and recovering original details. It also removes noise from images, giving crisp and clear results. You can significantly reduce motion and Gaussian blue in a couple of seconds.
Let's assess the Pros and Cons of this image enhancing tool:
Pros
The enlarge tool improves the result of an image by 40 times.
It does a great job at sharpening images.
The denoise feature lives up to its promise.
Highly functional AI editor.
Flexible pricing policy.
Fast processing.
Good AI-powered effects.
Cons
The image enlarger doesn't recover details accurately, but future improvements in the software might resolve the problem.
It does not remove motion blur but sharpens the blurry streaks.
The free version has many restrictions.
We know how challenging it is to maintain the sharpness and quality of an image after upscaling it, which is why VanceAI's Image Enlarger uses deep learning to upscale images up to 800% without compromising on quality.
How to use VanceAI Image Enlarger
Upload an image from your device.
Select how much you want to upscale it. (You can upscale up to 2x using the free version, but you can choose up to 8x with a premium account).
Choose between auto parameters or manual parameters.
Click 'Start to process.'
Best 10 Sites Like Canva
Now that we have covered how to get your image ready, we can look at sites that are alternatives to Canva and how they can help you achieve desired results.
1. Pixilied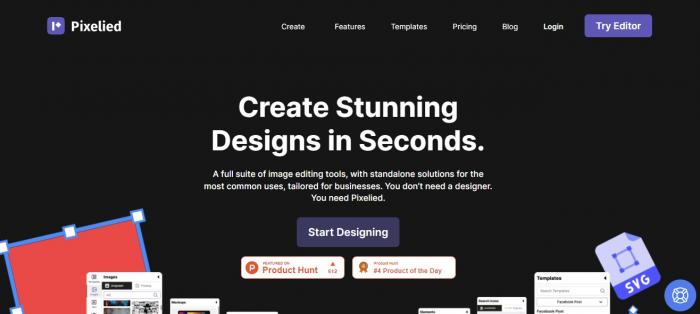 Pixilied is very similar to Canva, with hundreds of ready-made templates and icons and an extensive collection of stock images. It offers many photo-editing features, such as removing background in a single click.
Out of all the exciting tools that Pixilied has, there are two that are sure to make the designer in you very pleased. One is that you can create product mockups for your unique brand using the mockup editor.
The second highlight is the workspace feature that allows users to switch between workspaces easily, where each has its separate team members, designs, and assets.
2. BeFunky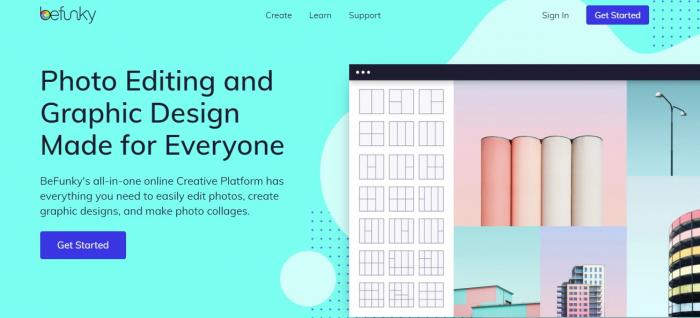 Befunky is a powerful photo editing tool that is used by graphic designers. It is user-friendly and great for beginners. The platform empowers designers to create professional-level photographs using effective tools and innovative features.
It allows users to turn ordinary photographs into artworks using various presets. This versatile app helps not only photographers but also graphic designers. The customizable graphic tools with their own invitation and banner maker make it a must-have for graphic designers. Click on Befunky and you will know more.
3. Stencil
Stencil is a simple graphic design tool that has limited features. It allows you to use a background and place text over it. It offers simple shapes and icons that you can end to the design.
This graphic tool works well for business owners, bloggers, and social media marketers as it offers millions of stock photos, templates, quotes, and Google web fonts.
The editing features are easy to use, but there are no animation or video backgrounds compared to Canva. An added element is the quotes section, where you can just choose a quote, and it gets instantly added to the image.
While Stencil has limitations, it is ideal for people who need to create content fast without needing advanced tools. You can use it on any web browser or even install their WordPress plugin that allows you to create images directly on your website.
4. Snappa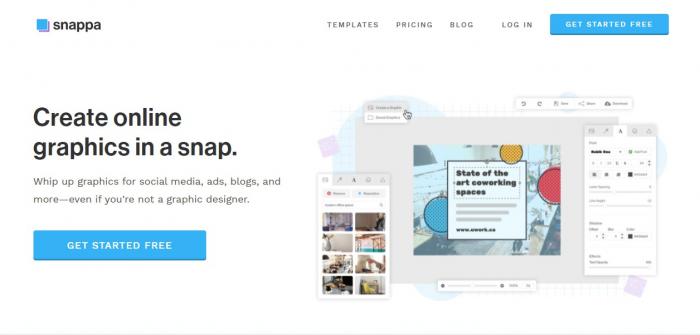 Snappa is an excellent DIY graphic tool that has lots of templates to choose from, including a variety of royalty-free images. You can also upload your own image to include in your designs.
What makes Snappa stand out from Canva alternatives is that it lets you import your own custom fonts and also allows you to post your designs to social media without leaving Snappa.
It is easy to use with simple design elements, including vectors, icons, photos, and shapes. While the vectors are displayed in black, the colors can be customized.
Snappa limits downloads for free users to five each month, and they can't share images directly to social media. So if you want complete access to your designs with the ability to share images from Snappa to your social media account, a Pro subscription is a better option for you.
The graphic design templates only cover sizes for blog graphics and social media channels. Other than those, you can't find templates related to business, such as documents or business cards.
5. Fotojet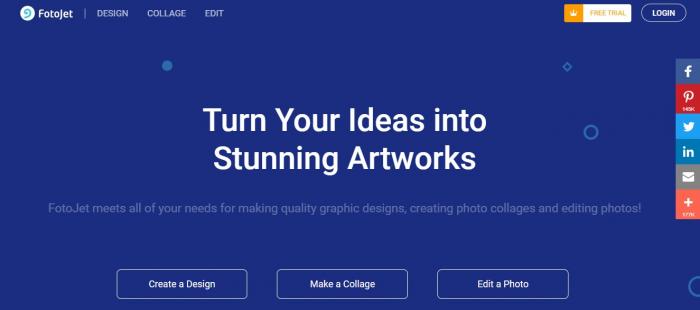 Fotojet is an online graphic designer and collage maker which is simple and easy to use. While it offers some unique features when compared to its competitors, it does lack some more basic features.
It has a clean and simple user interface, and you can choose a custom canvas size if you are using the Plus version. If you are looking to create graphics such as Twitter promo, Facebook cover photos, company newsletter, and similar graphics, the Fotojet designer is a good choice.
6. Fotor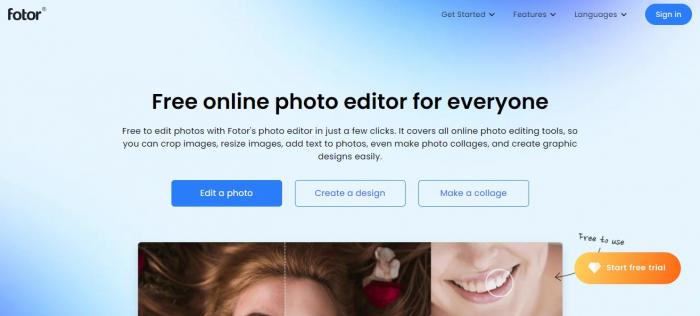 Fotor is yet another great online photo editing tool that comes with various edits, design options, and collage features. The design feature comes with ready-made templates that you can use to make graphics for your blog or social media.
Fotor has a design interface that is like Canva so users can quickly create web designs and edit images. Fotor also keeps its users updated with video tutorials, so they're always informed about the tool's capabilities.
7. Visme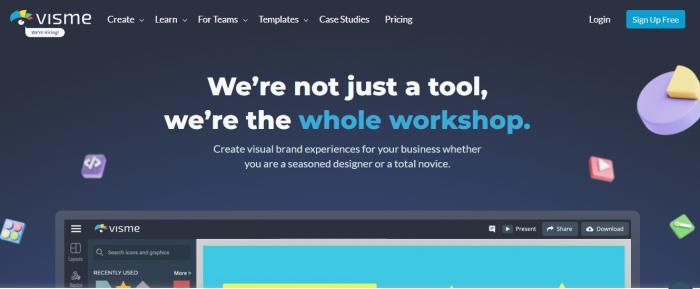 Visme is one the most versatile Canva alternatives where users can create infographics, interactive presentations, videos, documents, graphics, and much more.
The tool offers easy-to-use templates, thousands of icons and images, more than 50 charts, and data widgets. Customization and editing are a breeze with this tool. You can use Visme templates to create stunning flyers, social media graphics, and multi-page documents for print or embedding on your website.
8. Placeit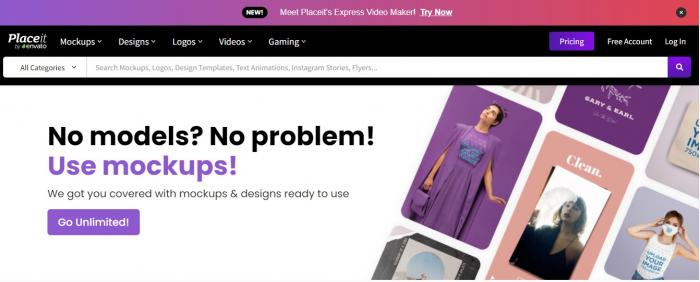 Placeit offers hundreds of video, apparel, and graphic design templates that you can download and edit in a flash. They not only have tons of exciting templates, but they have plenty of other marketing and branding tools.
With Placeit, users can create branded items efficiently and quickly without any technical expertise. They have a vast library of mockups that keeps growing every day, offering users a lot of options to choose from.
9. Piktochart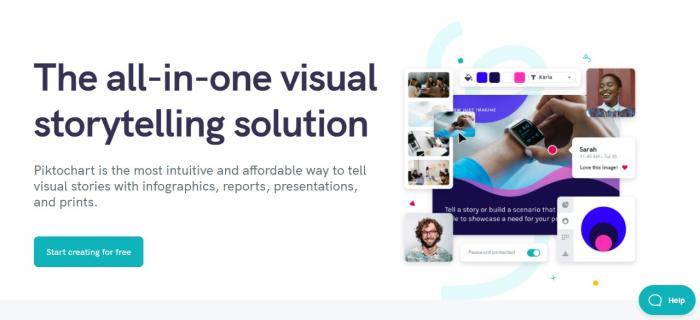 Piktochart has a vast library of data visualization templates that allow users to create graphics, charts, and infographics. You can create your own presentation slides and social media images with an easy-to-use interface.
When compared to Canva, it offers more options for creating visual content.
10. Desygner

Desygner is another Canva alternative that is available for both Android and iPhone users. It is created for social media marketers, writers, and bloggers and offers creative marketing materials for those who have no experience in graphic design.
You can create social media images, web ads, flyers, email banners, posters, and other materials that can be distributed in print or on the web. Through Desygner, users can share their designs through emails, private links, or on websites.
With Desygner, you can download designs in various formats such as JPG or PNG.
Conclusion
We have listed some great options for other sites like Canva that you can use to create graphic designs as a beginner or a pro. We have also discussed VanceAI- the image editing software that can prepare your image for graphic designing. After all, only a good image can create a great design.
While some listed Canva alternatives are free, there are limitations to the features that you can use. If you are looking for basic functions, you can easily work with the free version, but if you want a more advanced experience, then you should consider paying for Pro versions.
Do you find this post helpful?