We live in a decade in which we have the opportunity to share more and more of our daily experience and we do this, most of the time, through images. Because most of us may not be the best photographers or do not always have access to the best shots, photo processing programs become a necessity and are always present in our phones and computers. Do you have a picture or more that you want to turn into cartoons just for fun but you don't want to complicate yourself with advanced image editing programs? You landed in the right place. More interestingly, there are also some popular Vtuber Maker which use similar technology. Try it if you like.
A new fun 'toy' is making waves among Internet users: cartoonizer. In this article, you will learn how to turn your portrait to cartoon through it. This a great tool that would also make any professional cartoonist jealous. It can help you to cartoon yourself, to transform a selfie into something awesome, through which you can stand out on all social media platforms. You will find out how easy is to get cartoon portrait online. With just one click you will completely transform your photo. You may also find more interesting online photo editing tools in VanceAI.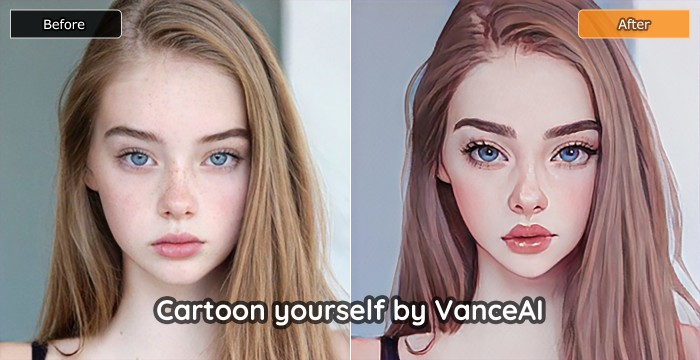 Let the fun begin with a video, and then you can check the step-by-step below to get a better understanding.
Step 1: Click the link above. You will be redirected to the official page of this software. Now all you have to do is click the" Upload Image" button.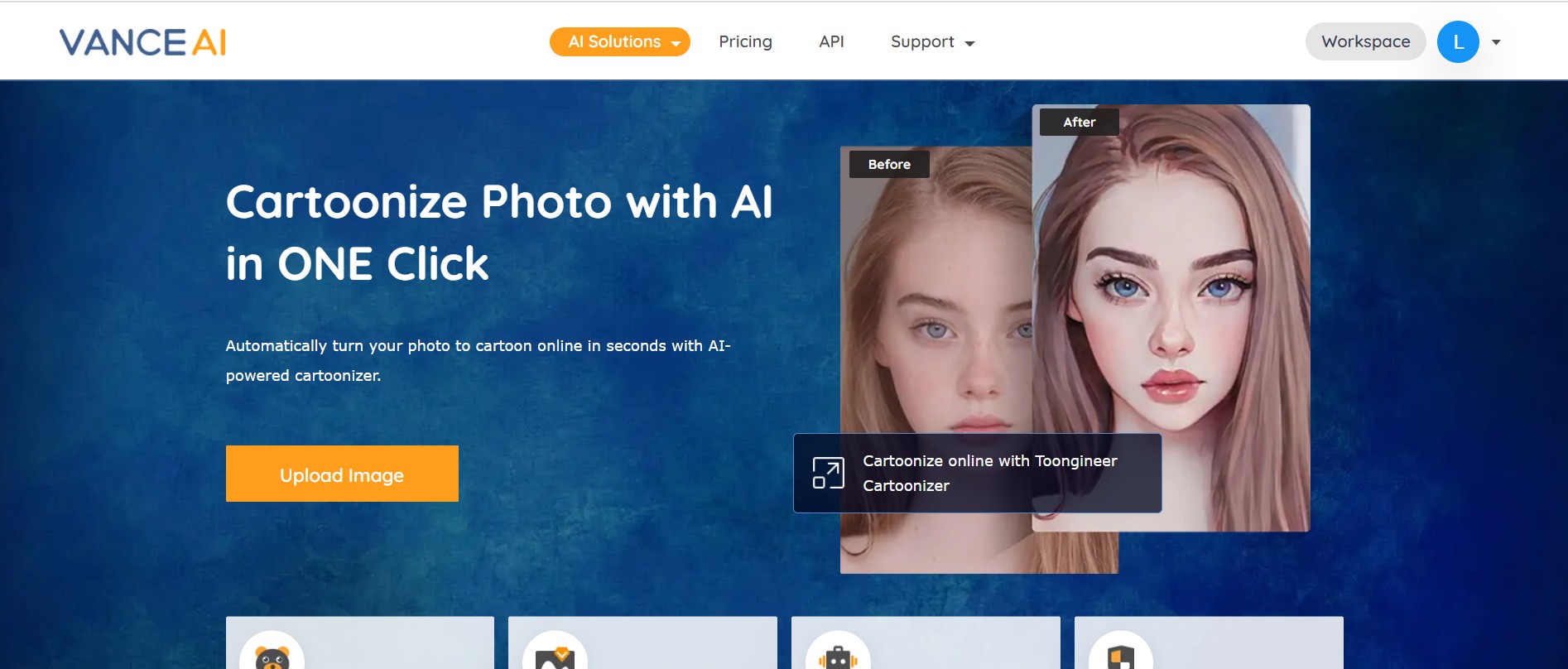 Step 2: Assuming you are new to using this tool to turn portrait into cartoon, I have to tell you that you can upload 5 pictures for free every month (the equivalent of 5 credits). Ok, now you know, you need to upload your picture, then select the picture. After this, click " Start to process" to turn photo into cartoon, as you can see below. 
The waiting time is short. Processing an image takes 10 to 30 seconds and you will be able to get a new version of your selfie that is artsier. A batch processing is possible if you uploaded more pictures.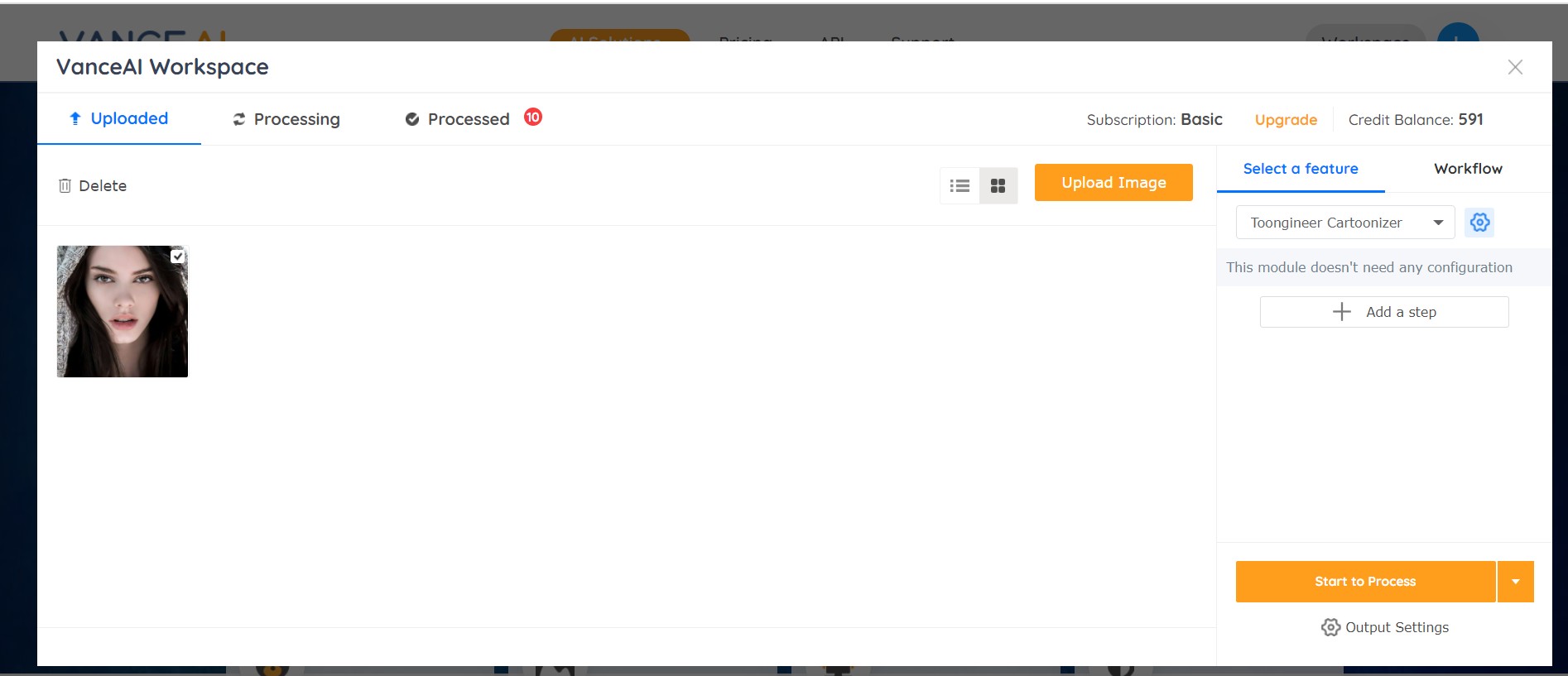 Step 3:Now, go to the " Processed Images", from where you can download your cartoon selfie. You can download all photos at once, or you can download one at a time. Next to each picture you have a download button. The resolution of the initial photo will be kept. Apart from that, there comes some fancy AI Portrait Generator, making fancy selfies at a fast speed. Get to know more about it.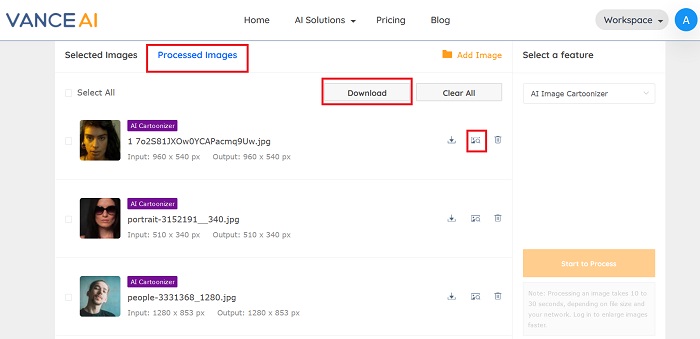 More details can be found in "How to Draw a Cartoon Face with AI? ".
If you want to see first a comparison between the original picture and the new one with the cartoon effect, you will see that next to the photo you have a dedicated button for that. Of the three icons, the one in the middle is the one you have to click if you want to see the comparison. Prepare to be amazed! Click to check out more best alternatives to selfie2anime.
The results speak for themselves
With this amazing tool, you don't need to know how to cartoon yourself online. Thanks to the AI used by this web service, you can turn any portrait to cartoon in an instant. Just have a closer look at these screenshots and to the final results downloaded. This effective AI cartoon generator can make win more likes on social media. They are truly amazing. 
Example 1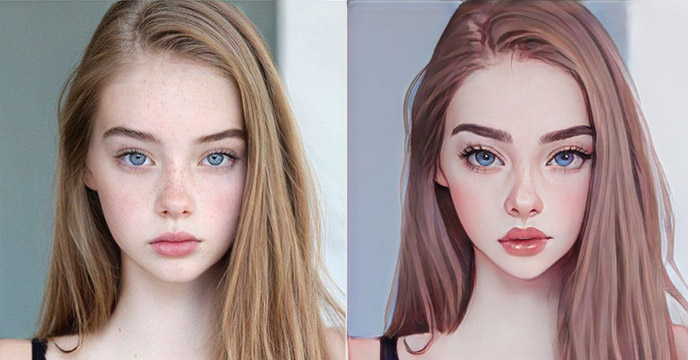 Example 2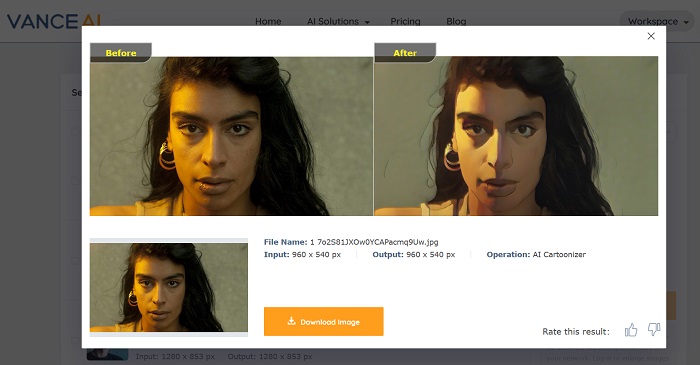 Example 3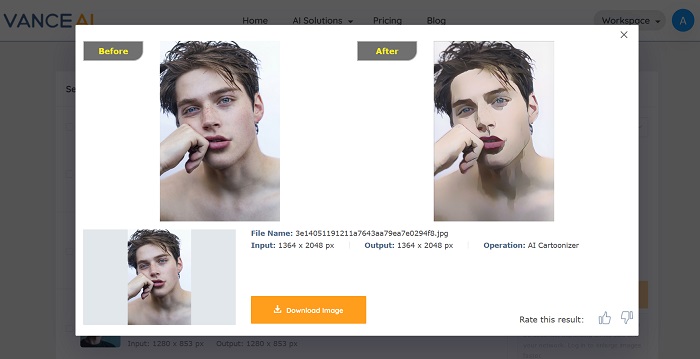 If the results convinced you, try it too. You can give it a try. The results are really great and you get the impression that someone painted them. Undoubtedly, you can proudly post your picture turned into a cartoon on social media or wherever you want, in order to stand out and be unique. What are you waiting for? 
Also read: Discover How Easy to Convert Picture to Cartoon 2022.
How is possible to cartoon portrait automatically?
This tool utilizes a technology based on artificial intelligence. This operates with algorithms and trains them with thousands and thousands of real images and cartoon pictures. The AI technology used by VANCEAI Technology developers is truly revolutionary, including for this program. It's fun to use, but behind the curtain is an amazing and complex technology. Besides that, more people also seem to be interested in AI Face Generator. You can know more from the link.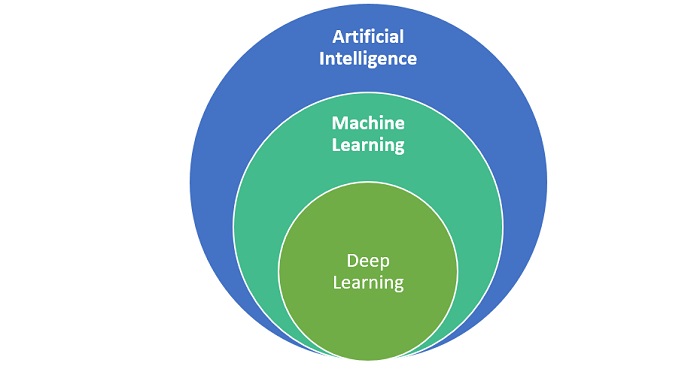 100% automatic tool;
The cartoon effect can be applied even on other subjects such as buildings, animals, landscapes, and so on ;
Fun to use
The process of transforming the picture is fast ;
You are protected: the uploaded photo is deleted after 24 hours ;
Free to use every month up to 5 photos ;
If you opt for a subscription, you can use all the tools offered by VanceAI, at reasonable prices
Conclusion
I hope that this cartoon portrait generator will be fun for you to turn portrait to cartoon. You can cartoonize photo online, free, without installing adjacent software. Unleash your creativity with this striking tool and you will not regret it. You will stand out among everyone and at the same time, you will get out of the ordinary pictures loop.
Click to get to know how to fix out-of-focus pictures easily.
Do you find this post helpful?