The eCommerce ecosystem is not only one of the most profitable in recent years but also riddled with its fair share of competitiveness. If your images are not up to par with the competition, no prospect or audience will even break a sweat on them. This leads to the relevance of photo editing for eCommerce. Sometimes your image may be of low quality, and in other cases, you may be left with an unarresting background that doesn't command interest. If you find yourself in any of these, join in as we explore some great photo editing searches to streamline your eCommerce effort.
VanceAI had quite a formidable range of tools tailored to Ecommerce edits. In essence, it is a one-stop for almost every of your eCommerce needs and undoubtedly a weapon you should have in your Ecommerce arsenal.
Part one: VanceAI: reliable photo editing brand
When it comes to image editing for eCommerce or other intents, VanceAI is second to none. It is a brand that rids you of the trouble of finding different image editing tools for different intents – it has all you need in one place. Best of all, the tools are largely free and they are powered by AI. So you're not only getting the best quality but as well getting it at a relatively meager price range.
Features
One-stop for every photo editing needs including an image sharpener, image upscaling, colorizer, etc.
Powered by AI and trained with millions of pictures to guarantee quality
Real-time performance preview
Effective details restructuring
Pros
Intuitive and straightforward interface
Impeccable user experience
Super easy to use
Offer cloud services
Cons
You may be locked out of some services due to a subscription
May lag on slow computers.
Part two: Why do we need VanceAI for E-commerce?
Maximized efficiency
Tools that rely primarily on manual efforts may be subject to human errors. However, this cannot be said about a tool powered by AI. In essence, the VanceAI suite of compelling tools is trained by millions of images to recognize even the tiniest details of your picture and maximize them accordingly. Hence, you can always expect the best output with a result devoid of errors. Another great thing is that it doesn't offer this efficiency at the expense of time. It strikes a fine balance between both, allowing you to access the best quality within the shortest time possible.
Professional performance
Using the VanceAI AI background remover as an instance. Everyone who has used this tool can testify that it rivals professional and heavyweight brands such as Photoshop heads on. It detects every edge and smoothens them as you would expect from a professional graphic designer. Hence, if you want to take a break from spending exorbitantly on designers, here is the right way to do so. This performance is not limited to the background remover, of course. It spans every tool native to VanceAI.
Easy to use
When it comes to ease of use, VanceAI reigns supreme. Most of the processes it requires typically need two to three clicks without any professional experience demanded. In most cases, you only need to upload the subject picture and click the start to process button. Then, all you have to do is sit back and watch the AI algorithms handle the rest for you. The interface is intuitive and quite straightforward as well, with almost everything you need to enjoy your experience displayed clearly on the home page.
Part three: How to use VanceAI tools for E-commerce?
The following parts are excellent tools offered by VanceAI for showing you how to use them for E-commerce photo editing.
As you would expect from a VanceAI tool, the image enlarger tool is AI-backed and equally powerful photo editing software for eCommerce. Put simply, it is a tool tailored to help you maximize your image resolution and quality. It allows you to increase the resolution by up to 8x without worrying about pixelation, blur, or noise. If you find out your eCommerce picture resolution is not up to par or there are traces of pixels dotted around, run the picture through this photo editing for E-commerce and watch it perform its magic. Follow these steps to use the tool for photo editing for E-commerce.
Step 1: Upload the subject picture using the upload button present on the home page. You may as well use drag and drop for this.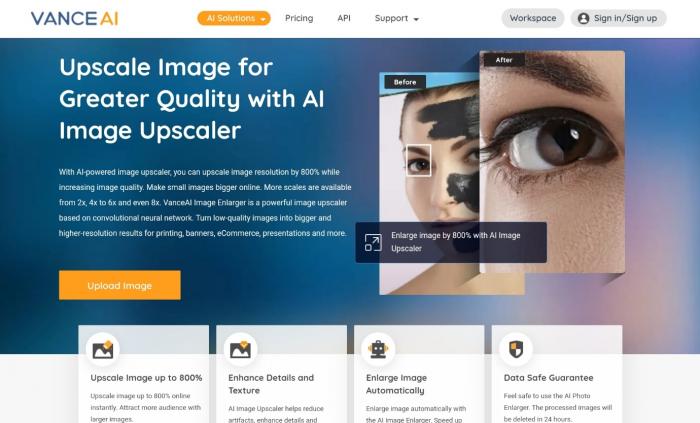 Step 2: On the workspace, select your preferences in terms of the enlargement you want and the setting of the noise and blur. Then, click start to process.

Step 3: Download the output.
If your eCommerce picture is captured with long exposures, chances are you'll probably notice traces of noise or grains. This can be quite annoying, especially if you've spent a long time getting that perfect shot. But not to worry, this tool offers an easy way out. It is also AI-powered and can help you eliminate traces of noise and blur effectively within the shortest time possible. Follow these steps to use.
Step 1: Upload the picture using the upload button.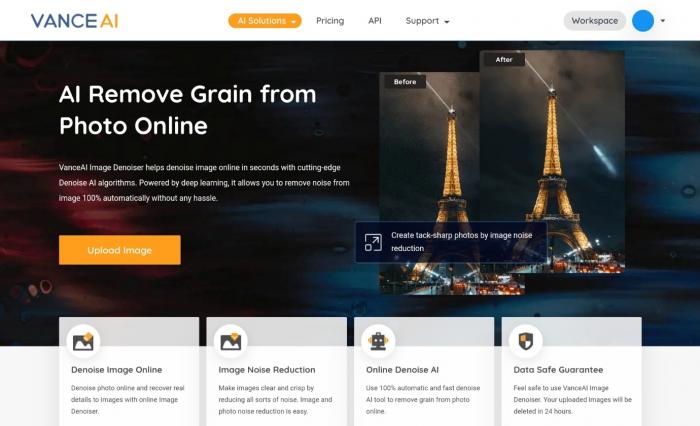 Step 2: On the workspace, set the blur and noise according to your preference. If you're unsure, click the auto option and select Start to process.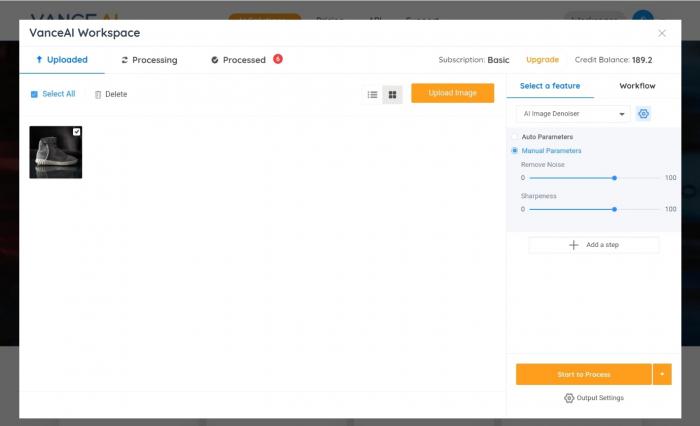 Step 3: download.
As hinted earlier, this is an AI tool to remove background from pictures. This is especially relevant if you're working with an eCommerce website like amazon which has specific regulations for backgrounds and interests. Needless to say, the background can make or mar your eCommerce efforts, so if you want professionalism and efficiency in this regard, this fits your bill perfectly. Follow these steps to use.
Step 1: Upload the picture you want to eliminate its background.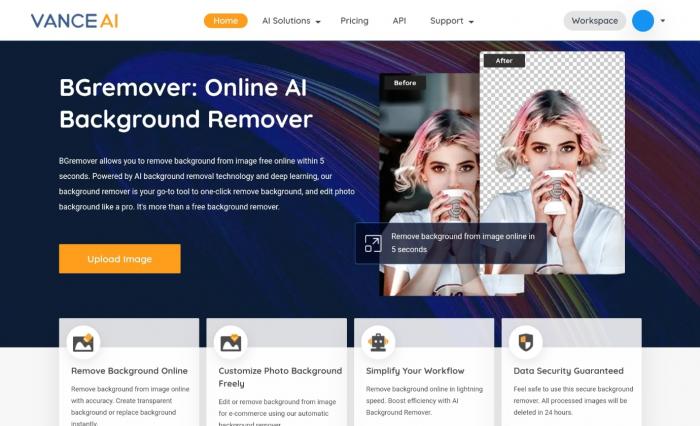 Step 2: select the intensity of the background removal feature you want and select the start to process button.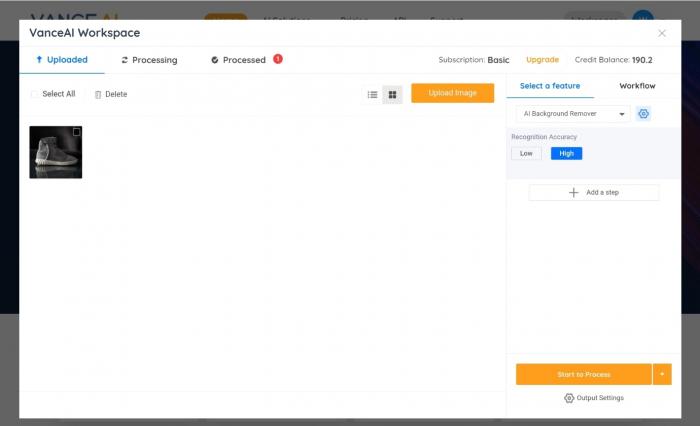 Step 3: Wait for the tool to complete processing and download.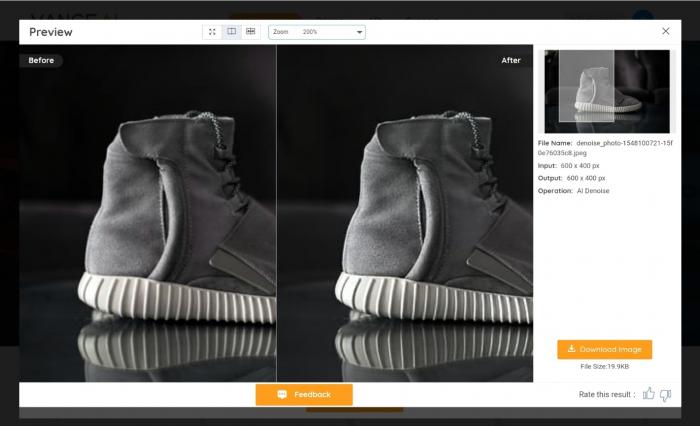 Part four: VanceAI's performance review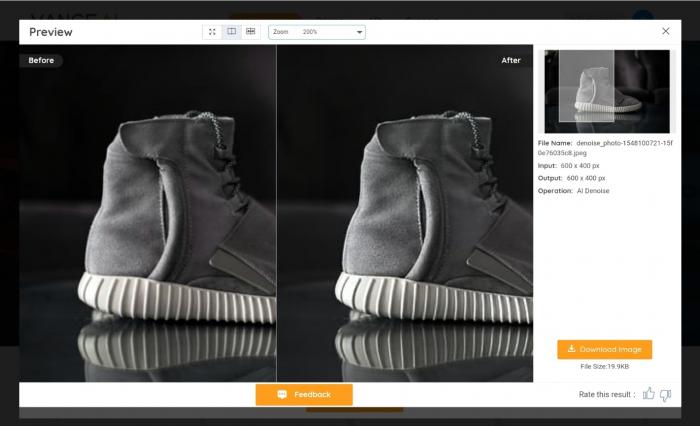 Firstly, the output above represents how excellent the performance you can expect from the image enlarger. It not only took care of the resolution but also catered to the quality, leaving us with a clearer and more defined picture.
Then the BGremover took care of the background quite well without leaving you jagged edges or low-quality foreground. There is something uniform about the performance images displayed above – they are all professional with top-notch delivery.
FAQ
What are the 5 best eCommerce photo editing tools?
VanceAI
This tool has state-of-the-art algorithms to deliver high-quality output without a hassle and within the best time possible. VanceAI is as well a one-stop for almost every photo editing service for eCommerce. An example is the AI image upscale and background remover.
Photoshop
This is arguably one of the best options for photo editing for eCommerce. It is revered for its professionalism and efficiency. However, the steep learning curve may be a concern.
Canva
Canva has tons of templates, images, and tools to make your eCommerce photo editing worth it. When it comes to photo editing for eCommerce, it strikes a balance between simple and complex. Hence, you'd want to explore. Know more about canva.
LightRoom
This is suited for your photo editing for eCommerce is functionality is your thrill without factoring in the steep learning curve.
Fotor
Lastly, this is another effective tool for eCommerce editing. It is flexible as it has online and offline options for you. It is equally effective and very functional as well. Know more about Fotor.
Conclusion
If you've followed this guide to this point, you should be able to find photo editing for E-commerce as seamless as possible. Especially with VanceAI at the nucleus of your operations, you can navigate this space without the hassle.
Do you find this post helpful?
Yes
No