Fix Grainy Background in a Jiffy with AI
Are you wondering: " why are my photos grainy"? If you ask it means you need a hand.
Often, in low light conditions or perhaps due to a wrong setting, due to a high ISO, your images may not be exactly perfect. If the result is image noise, you can do something about it. There are certain web services that promise solutions in order to fix a grainy photo but not all of them can restore a grainy background. The result you get from using such tools will make your images look much better. We have prepared this material in which you will find out how to fix grainy photos with one of the best online tools you can use for better results. VanceAI Image Denoiser can be your savior. This Denoise tool can remove with 100% accuracy the noise from an image.
What causes image noise?
I can't see anything, it's too much noise. You`re dealing with grainy photos or noisy photos ( is the same thing) due to several reasons: 
the camera is cheap or it doesn't work properly
ISO is too high
exposure was too long
the scene is underexposed (the exposure time is too short, the aperture is too small, ISO is low, camera poorly set )
the light conditions are not good 
Even if you are taking photos with your phone some of the aspects above may apply.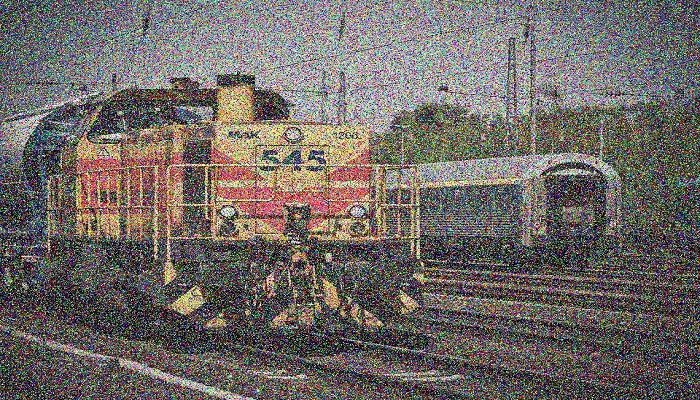 The noise in photos is of several types, but two are main: 
luminance - black and white pixels 
coloured, pixels of different colors
In other words, image noise is a variation of brightness or color information in the photo.
If you use a dedicated grainy background remover, you will see that the details from an image are preserved while removing the color and luminance noise. VanceAI Image Denoiser can drastically reduce a wide range of types of noise. 
How to fix grainy photos with VanceAI Image Denoiser
VanceAI Image Denoiser is the guarantor of quality photography. It can easily increase the quality of a photo and make photo hd. Using this denoising online software you will notice that the whole process is fast, easy, and automatic. This Denoiser is a software that has a single purpose - to reduce image noise. It works by collecting data from the image, then using the data to eliminate noise and recover details.
Also, the operation process is based on complex training with hundreds and hundreds of photos. So, the cornerstone is the latest AI technology and due to that, it can deliver clearer images with no grainy background, while increasing the quality.
You can use this software every month for free but the only limitation is that you can edit 5 images only. If you give it a try you might realize that you will need a subscription. The price is friendly, so don't panic. A basic subscription costs $9.90/month ( 200 photos) and $19.90/ month ( 500 photos). A subscription comes with a desktop app and you can use all tools offered by VanceAI in terms of post-processing an image.
Now let`s see how this software really works. Just follow these steps and you will be able to fix a grainy background in a blink. And you don't even have to be tech-savvy.
Step 1: Go directly to VanceAI Image Denoiser software and press the "Upload Image" orange button.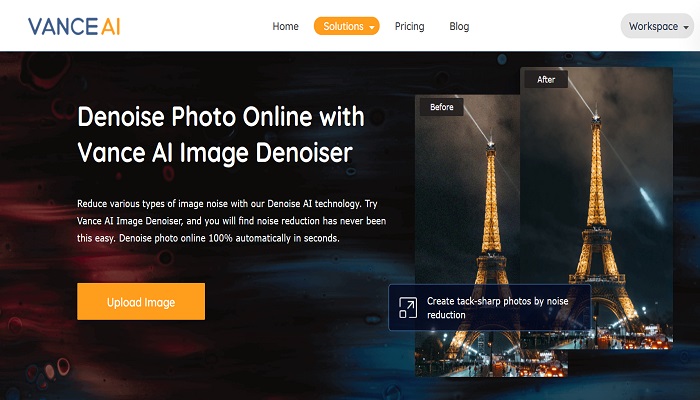 Step 2: Upload the grainy photo that you want to restore, select it and press "Continue". Keep in mind that you can add only a .png or a .jpg file.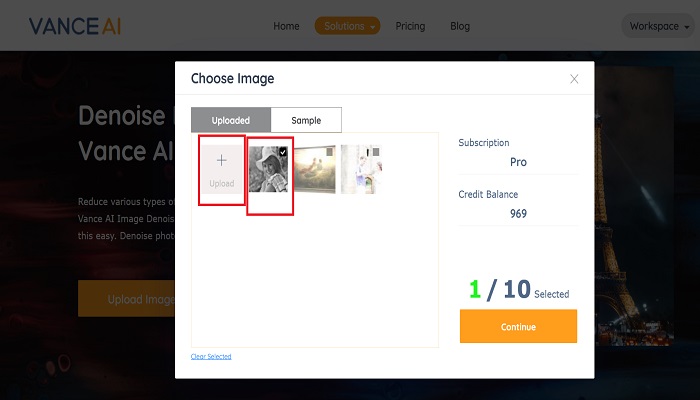 Step 3: Adjust how much you want to reduce the image noise from the sidebar named "degree". Now all is set to start the process. You will wait few seconds until this software will bring your grainy photo back to life.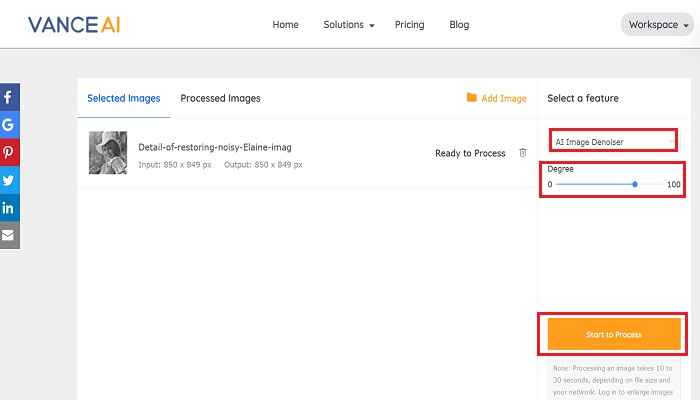 Step 4: Processing an image takes between 10 to 30 seconds, depending on network and file size. In my case, I waited only four seconds and I received a successful result. This tool totally removed the grainy background and the grainy subject. The grainy photo is now soft and clear. It is something else entirely, as you can see.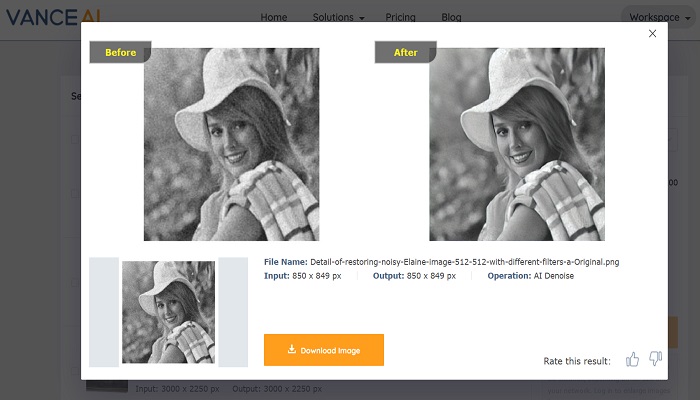 Note that you will download the image at the original size. Now let's try the capability of this Denoise software even more.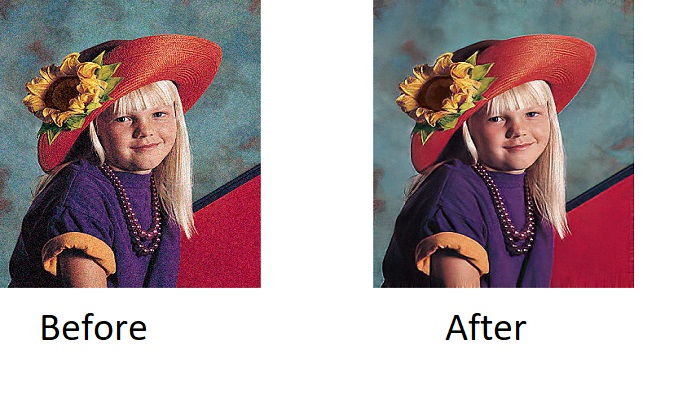 The original photo has a grainy background and you can tell that the subject has not many pieces of information but with Denoise AI it seems to have added information where it was not in a matter of seconds. VanceAI Image Denoiser: a friend in need, a friend indeed. The result is wonderful as the girl in the picture.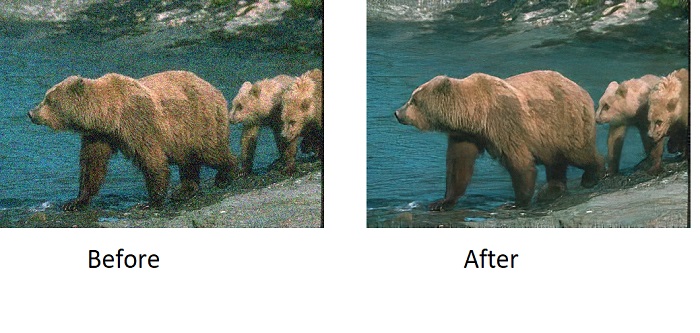 Grainy background. Grainy bears in the foreground. No more. Even in this fury case, this tool stands out with a phenomenal result. Even if it is not so sharp due to the fur, this can be solved later.  Although, the water is more clear and the furry subjects are more crisps. Also, you can upload more photos simultaneously and can opt for batch processing in order to fix grainy pictures. Click to see how to zoom icon image without losing quality.
Conclusion
This was about this article and I hope it was useful and you learned a trick to fix a grainy background. Instead of using complicated software ( Photoshop or anything similar) to restore a grainy photo, you better take the shortcut: VanceAI Image Denoiser. The quality is the same, and in many cases is even better. In addition, you can enjoy more free time.
Without a doubt we live in a visual world, its role is more and more important, so the value of image optimization cannot be overlooked. Revive your grainy photos and give them a professional look or make them more eye appealing. It's time to embrace technology and let it work for you. Also read: 10 Of The Top Blur Background Tools.
Do you find this post helpful?
Read More to Know Deeper: