One of the best approaches to advertisement is creating advertisement posters. The advertisement posters contain every important message that the business aims to pass across.
Making advertisement posters can be challenging since it has to be unique, and catchy and communicate important information while prioritizing your brand too. So, having the right tools to leverage will ease the process of creating your advertisement posters.
It is of essence to have improved quality for your advertisement posters and the best tool for that is Image Upscaler. You can make use of this tool to enlarge your poster while improving the quality of the poster.
For effective creative advertisement posters, there is a need for improved quality images and this is what VanceAI image enlarger offers. This advanced AI-powered tool can upscale images up to 8x the normal size while preserving original quality. This tool is built for both professionals and everyday users.
Since it uses convolution neural and generative adversarial networks, image upscaling for advertisement posters doesn't work on pixels. Hence, the image quality is enhanced.
With this tool, you can upscale posters while presenting extra details that might have been lost to noise in the original design. This will help improve overall advertisement performance.
To use this tool, follow these step-by-step instructions:
Step1: Navigate to the site by clicking on the link above and click to upload an image. This will take you to the media page for image uploading.
Step2: Uploading the image for upscaling can be done either by simply uploading from the device or through the drag and drop option. After this, click on 'start to process'.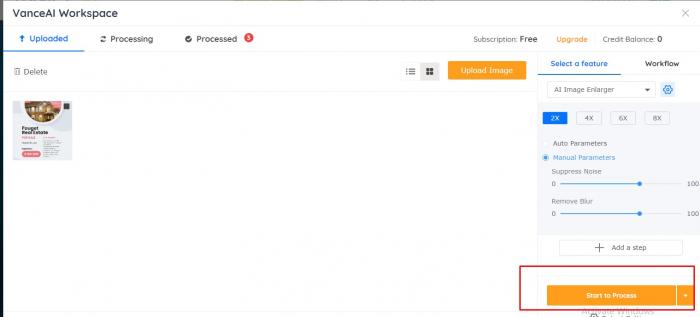 Step3: Wait for the tool to automatically process the photo and upscale the image. From the 'processed' page, there is an option to preview the output with the original image. Also, the upscale image can be further edited by clicking on the edit icon.
Step4: Proceed to click on the 'download' icon to save the image.
Before vs After comparison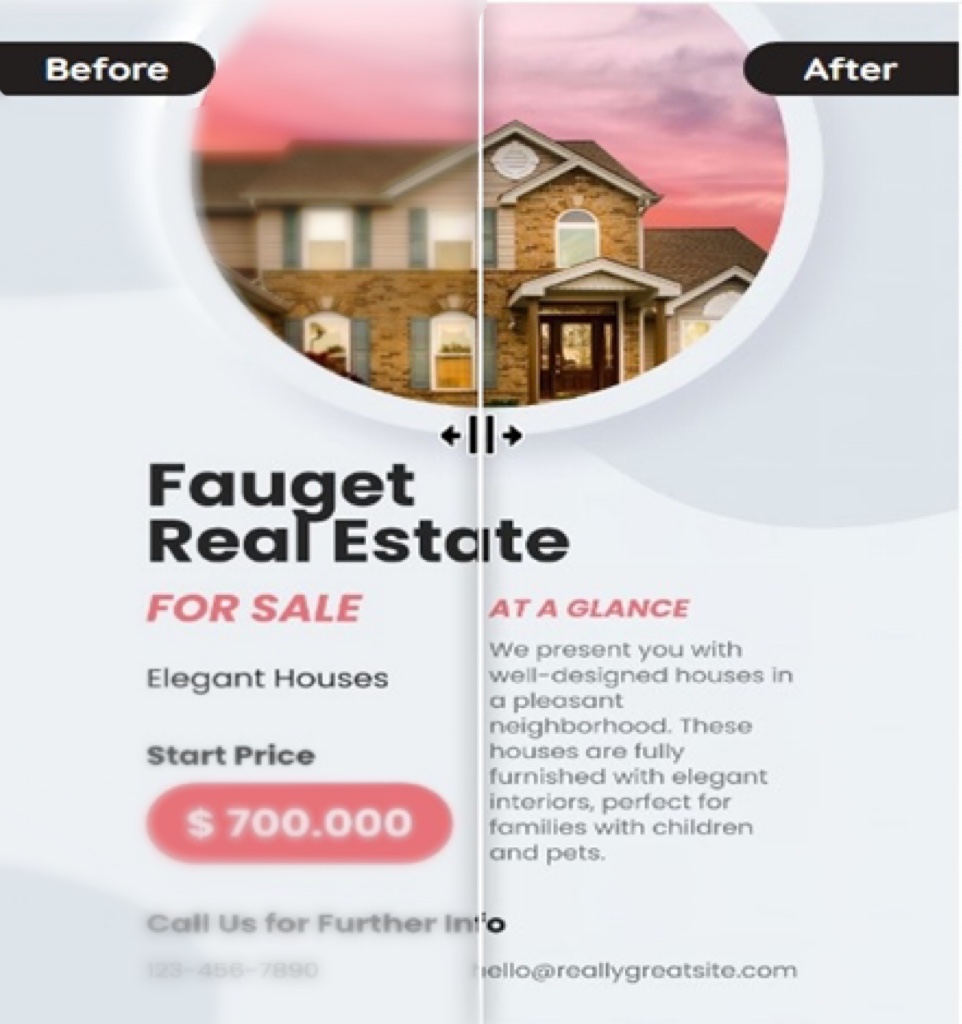 From the poster advertisement example above, the changes are quite evident. Image Upscaler has enlarged the poster on the right side while preserving the quality. Also, the details in the image are more obvious because of the enlargement. Further, the after image shows more clarity and has a much better overall quality when compared to the before.
What is advertisement poster?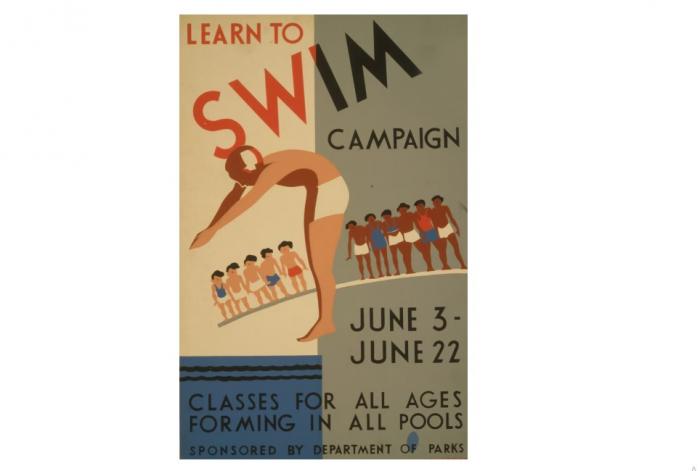 Advertisement posters are a print promotional technique that includes designs, brand colors, images, and text to communicate brand message for awareness. Simply, it is a print means of creating visually catchy messages to promote brand awareness.
Advertisement posters are effective and necessary. If done right, it can improve the company's acceptance and recognition from the audience while helping the company achieve its conversion goals.
Best 5 poster maker recommendation
1. Canva
Pricing: Free and paid versions (Start at $30/mo)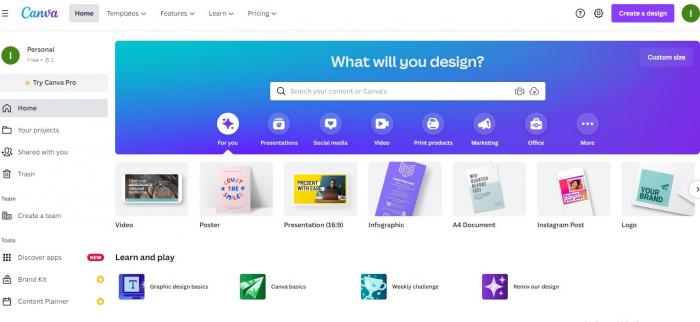 Canva is a professional tool for making creative advertisement posters. Boasting powerful intuitive navigation, you can easily navigate around the tool. Canva also provides thousands of templates for your advertisement posters and it makes the design process easier. Since you can easily edit or drag and drop. Also, the user interface is immersive and straightforward for even dummies.
Pros
Easy to use
Template designs available
Free to use
Cons
Limited access to the free version
Pricing is steep
2. Fotor
Pricing: Free and paid (Starts at $8.99/mo)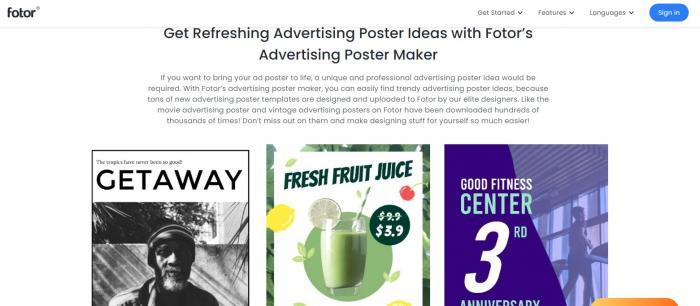 This free advertisement poster maker is a one-stop for all things poster-related. From intuitive design and easy navigation to thousands of ready-made design templates for your poster, Fotor is surely worth trying. The library offers tons of stock photos and you can also upload your images from your device. In addition, you can add brand tool kits to identify with your brand. After mastery, you can design your posters in a few minutes using this tool.
Pro
Available templates, logos, vectors, and stock photos
Free to use
Easy to navigate
Cloud storage is available
Cons
Design is limited to a basic version
3. Adobe Creative Cloud Express
Pricing: Free and paid versions (Start at $9.99 per month)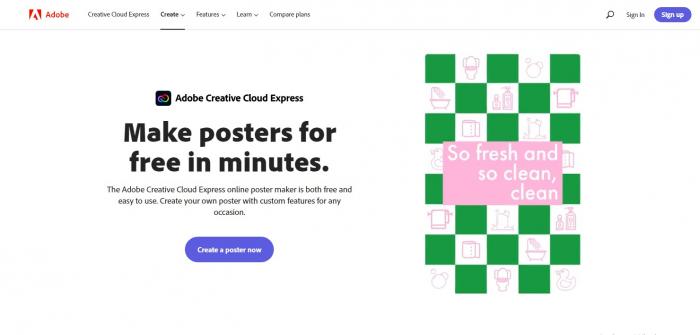 Adobe Creative Cloud Express is an online poster maker to customize attention-grabbing posters for your brands. This tool can improve the quality of messages delivered in your poster by providing ready-made poster templates that can aid your success.
With access to logos, brochures, infographics, and many more, you can leverage this tool to create car advertisement posters and many others within a few clicks and edits.
Pros
Access to free templates
Free to use
Accessible across all platforms
Cons
Subscription is steep
Pricing may be inconsistent
4. Postmywall
Pricing: Free access and paid version (Starts at $9.95/mo)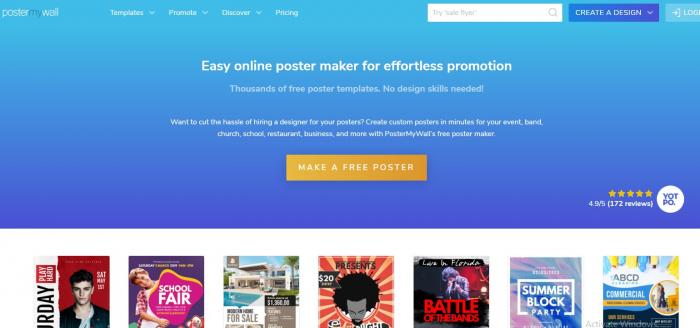 With this tool, you have access to make advertisement posters online without hassles. Whether you are a professional who needs it for business or simply for anything else, this tool has it all for all spheres. While there are many templates available, it also provides access to a great user interface. The menu is well laid out to ensure easy navigation across the site with all the buttons labeled.
To make print-worthy advertisement posters, this tool offers all print sizes available. Also, all social media graphic sizes are available so, you don't have to need more editing after your design is created.
Pros
Professional looking posters
User-friendly interface
Ready-made poster design templates are available
Cons
Limited editing
Stressful to get the right suggestions from searches
Limited on small devices
5. Photoadking
Pricing: Free and paid (Starts at $4/mo)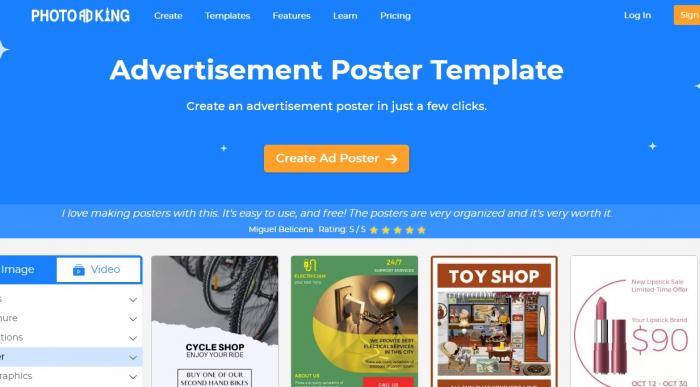 Unlike all others, this design maker is more bent on influencing your creativity rather than just presenting what to do. While they offer the templates to create your designs, you can create from scratch here. They give you advertisement ideas with the templates and let you decide on how the advertisement poster design goes.
They offer stickers, fonts, 3D texts, and stock images to improve your overall design quality.
Pros
Access to poster templates
Easy to use
Free to use
Cons
How to make an advertisement poster?
Canva is a professional tool for making creative advertisement posters. Boasting powerful intuitive navigation, you can easily navigate around the tool. Canva also provides thousands of templates for your advertisement posters and it makes the design process easier. To make a food advertisement poster with Canva, follow these step-by-step instructions:
Step1: Locate the site using the link above and click on Start designing a Poster.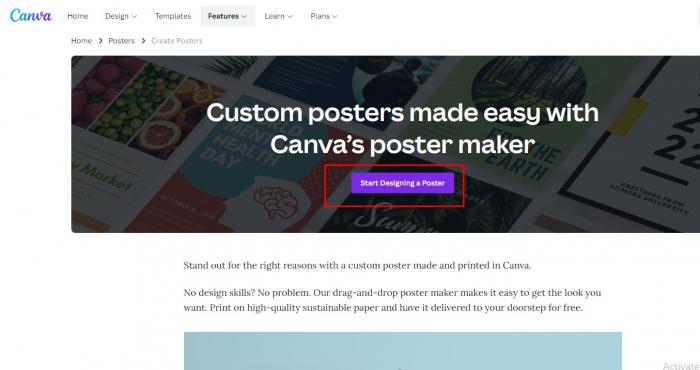 Step2: Search for food advertisement posters in the search button on the left pane. Then click one from the templates suggested. However, if you wish to create by yourself, simply choose from the editing options in the left toolbar.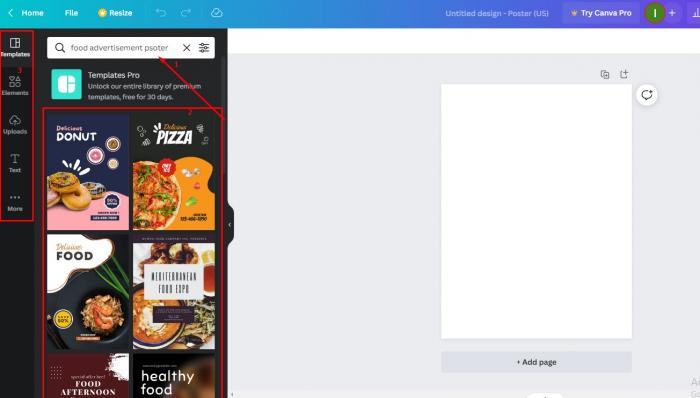 Step3: Edit the template chosen by double-clicking on each of the objects in the poster. Then change the information to yours.
Step4: Add more design elements by browsing through the library of images, photos, illustrations, stickers, filters, and many more. Keep editing till you are comfortable with the outlook.
Step5: Download your food advertisement poster to your device either as a PNG, JPG, or PDF file. You can however order the print through Canva and get it for free.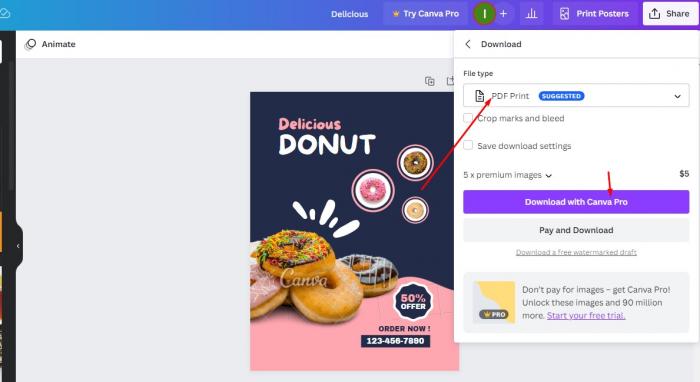 From the steps above, it is clear that Canva is an adequate tool to create your advertisement posters because it has it all. This tool can provide quality posters within a few minutes of customization after selecting the template to use. Surely, this is one of the best tools available for your advertisement posters.
FAQ
What makes a good advertisement poster?
Attention-grabbing headline and readable from afar.
Catchy and short titles must be included.
The business name must be present.
Bullets and numbering must be prioritized for easy reading.
Graphics or images can be used to incite emotions.
Conclusion
From this article, we have given a detailed overview of what it entails to create a quality advertisement poster. While the process in itself guarantees quality design, improving on this to ensure the image maintains its quality after enlargement to the poster is important and this is the reason you need photo enhancer for post-editing before printing.
Read more you may also interested: Tutorial for Making Gaming Posters.
Do you find this post helpful?
Yes
No