Top 5 Best Old Photo Restoration Software Review and List 2022
Part 2: Best 5 Photo Restoration Software Reviews
Price: You can restore old photos to Photoshop at $9.90 per month or try a seven-day free trial first. Also, it offers customized packages for Individuals, Businesses, Education, and more.
Compatibility: The software has compatibility for Windows and macOS systems.
Features:
Photoshop is arguably the most feature-heavy software out there for image editing of any kind.
It has a comprehensive build.
It is made for professionals and serious artists because of the plug-ins it offers.
Supports many image file formats.
One of the most popular applications.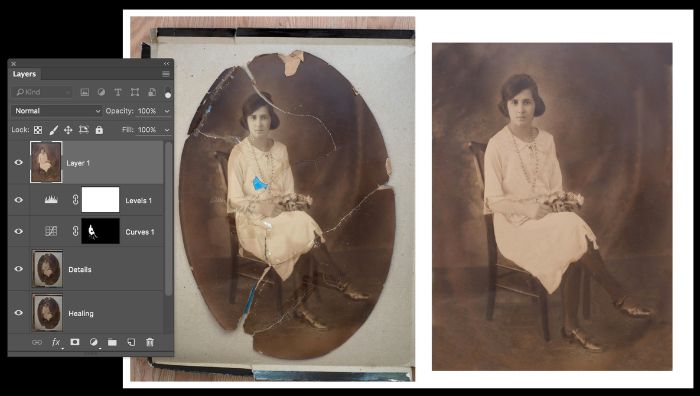 How to use:
Open your image in the app and create a duplicate layer of it.
Under the Adjustments tab, use the Auto Color and similar tools to make edits on the image. You can also use Clone and Patch tools.
Click on Filter and use the Reduce Noise for further enhancements.
Save the image.
Pros:
Comprehensive features.
Customer support and services.
Can be a single application for all needs.
Cons:
Expensive.
Beginners will need time to learn it.
Price: This software will cost around $69.49 for a permanent license supporting any one computer system. There are more packages for different kinds of users as well.
Compatibility: Luminar supports Windows and macOS systems. Apart from that, this application can be downloaded as software or attached as a plug-in.
Features:
It can be used as a plug-in for the system or even applications such as Photoshop and more.
It has wide support of image file formats, including RAW files.
It is easy to understand software due to its design.
Its features work on artificial intelligence-based algorithms hence automatic image processing.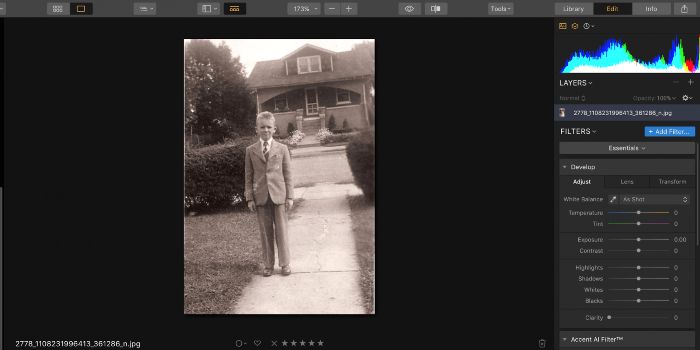 How to use:
Launch the app, upload the image, and go to the Tools drop-down menu.
Use the toolbars present there, such as the Haze Remover, to change the unneeded details on the image.
Go to File in order to save the image.
Pros:
Simple to use software.
Good amount of photo restoration features.
Cons:
The paid option can be a bit too expensive.
Price: PhotoWorks can be used for free through a free download else you can choose any of its paid subscriptions. The Standard edition, for example, costs $19.25 annually.
Compatibility: It is compatible with Windows systems only but the support goes back to Windows XP and Vista too.
Features:
More features than just the ones for photo restoration.
Enhances images automatically thanks to its technology.
Supports a wide range of image file formats including RAW and TIFF.
Offers free upgrades when they arrive.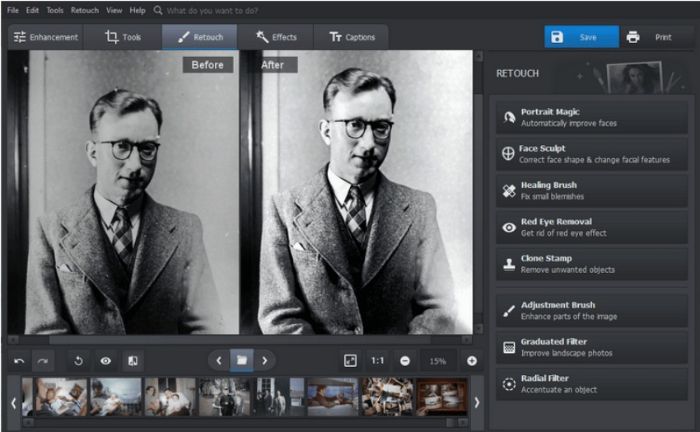 How to use:
Launch the application and upload the photo.
Go to the Retouch tab and select the appropriate tool size from the right.
Add any filters if needed. Once done, save the image from the software.
Pros:
It offers precise old photo restoration software to work with.
Good enough image file format support.
Price is worth it.
Cons:
It does not work well on certain images.
Price: The software can be purchased as a plugin or a software application for $49 for a one-time buy and there are other paid options as well. You can also download a free trial version from the website.
Compatibility: Akvis supports Windows and MacOS systems.
Features:
It can be used as a photo restoration software and/or as a plugin.
It has smart AI techniques that assist the user when dealing with photo restoration tasks and others.
It is really good at removing unwanted objects from the image.
Similar to Photoshop and other premier applications, Akvis has a library of tools that you can use and edit images from.
The UI is designed for all kinds of users.
Batch processing options are given.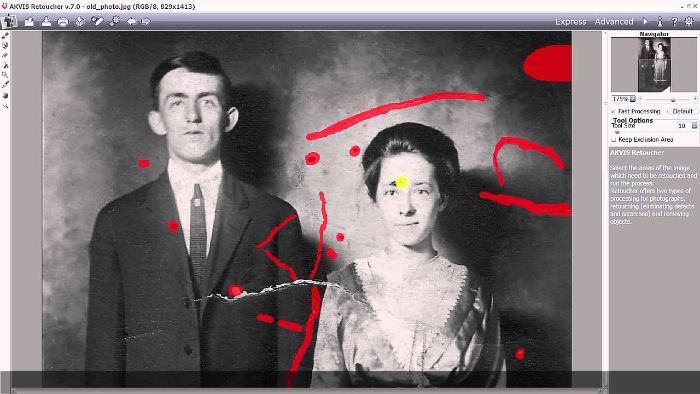 How to use:
Open the application and upload the image. From the toolbar on the left, select the first option.
Hover over the image and mark the areas in the image that you need to change. Click on the arrow on the top right-hand side.
After the changes take effect, save the current image.
Pros:
Simple UI design.
Smart AI techniques for photo restoration.
Cons:
Does not offer much in features or options.
Price: Wondershare offers a free trial of Photophire or you are welcome to purchase a year long subscription at $49.99 while the lifetime license costs $79.99.
Compatibility: It works on Windows and MacOS systems.
Features:
It can remove unwanted details in your photo and replace them with similar textures using its AI-based algorithms.
It also offers a watermark remover tool.
Supports a wide range of image file formats, including 16 bit and 8 bit images.
For comprehensive software, they have also provided built-in tutorials.
Wondershare Photophire is one of the popular image editing applications and has good user support.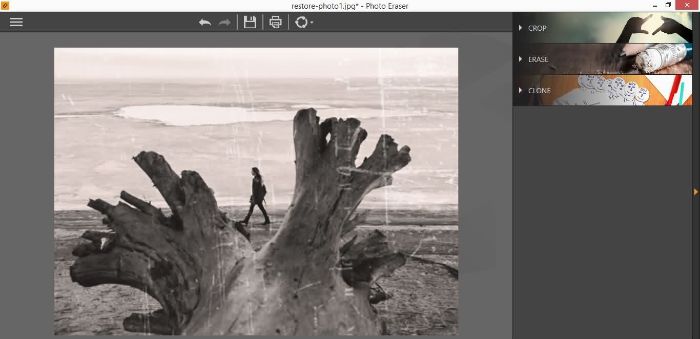 How to use:
Launch Photophire and select the image to upload it there.
Go to the Erase tab on the right-hand side. Use the drop-down menu.
Use the brush to mark the unwanted areas and hit Erase.
Save the image.
Pros:
Automatic and reliable AI technology for photo restoration.
Support for new users.
Supports multiple image file formats.
Cons:
The price is a bit too high.
Conclusion
All these are fully professional old photo restoration software that requires a long learning curve. Using this list, you can think about the pros and cons of each software and make a decision easily. At the same time, if you want to find an easier way to restore old photos, an AI-based tool like VanceAI Photo Restorer would be an ideal choice because its photo restoration online service may amaze you if you give it a try. Click to know more details about How to Cartoonize a Photo easily.
Do you find this post helpful?
Yes
No