Fortunately, now we have the technology to restore old damaged photos online free, as you will see in this list. Besides, this list will also include a 'how to restore old photos' section for all applications. Depending on the user and their expertise, there are applications that are suitable for casual users as well as for professionals. After all, photo restoration has more uses than restoring old photos. With technology like this, you never have to worry about settling for a damaged image. Let's go through some online, software-based, and mobile apps best suited for photo restoration.
Tools To Restore Old Photos Online
Price: Vance AI offers a free trial that includes most of its tools, including AI photo restoration. You may start with 3 free images per month. To obtain more credits and enable all the features, you can purchase its paid plans starting from $9.9 per month.
Compatibility: This is an online image editing software that works on browsers.
Features:
It supports common image file formats, JPG, PNG, and JEPG.
It has in-depth automatic features. Except for removing scratches, fractures, and spots, it also can automatically enhance the portrait and sharpen colors.
You can go through old photo restoration online easily with this tool due to its simple and clear UI design.

How to use:
Click on Upload Image once you reach the website from the link given.
Upload your image and click on "Start to Process".
Click on Download, and save the image.
Pros:
Friendly to beginners with a clear and simple interface
100% automatical
Enhance photo details as well
Cons:
Manual editing is not allowed for better accuracy.
Limited free images
Price: The online application of InPaint is free to use with limited features. You can buy the application for $19.99 for a permanent license.
Compatibility: The InPaint online application works on browsers and its software version supports Windows and MacOS.
Features:
For photo restoration, it includes the brush methods, which makes the process more user-controlled.
It supports JPG, PNG, and WebP as well which makes the application image-friendly.
The paid versions of this application have no restrictions on image sizes and image resolutions.
Multiple uses of the photo restoration tool.
It works on artificial intelligence-based methodologies.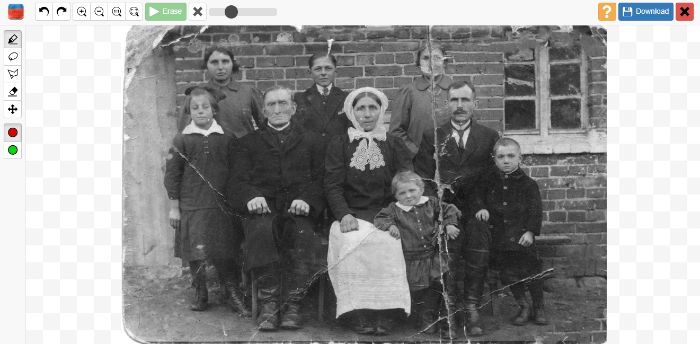 How to use:
Use the link given and visit the official website of InPaint. Click on Upload Image.
When you see the editor after uploading the image, search for the green and red dots.
Marks the areas you want to restore by clicking or holding left-click. Hit Download after you are done.
Pros:
Quick and easy to use.
Good support on image types.
Cons:
Not many features to play with.
Price: Fotor is one of the best photo restoration software that is also free to use. It has a Pro version, however, if you are looking to use all of its features. Its cost starts from $3.33 per month to be billed annually. It also has a Pro+ version at $7.5 per month.
Compatibility: Fotor is online software that works on browsers.
Features:
Fotor is a good application for beginners due to its UI design.
It has a wide variety of tools for photo restoration and other editing.
You can share your output images from Fotor to social media.
Offers cloud storage and extra editing features for paid users.
You can upload upto 50 images and have them in your library for instant use.
How to use:
Visit the link and click on Edit Image.
Go to the Beauty tab from the left toolbar and select Wrinkle Remover.
Use the brush to make the changes and hit Export to download the image.
Pros:
Good for beginners.
Easy to use.
Cons:
The paid options are not worth it.
Restore Old Photos with Software Products
Price: You can restore old photos photoshop at $9.90 per month or try a seven days free trial first. Also, it offers customized packages for Individuals, Businesses, Education, and more.
Compatibility: The software has compatibility for Windows and macOS systems.
Features:
Photoshop is arguably the most feature-heavy software out there for image editing of any kind.
It has a comprehensive build.
It is made for professionals and serious artists because of the plug-ins it offers.
Supports many image file formats.
One of the most popular applications.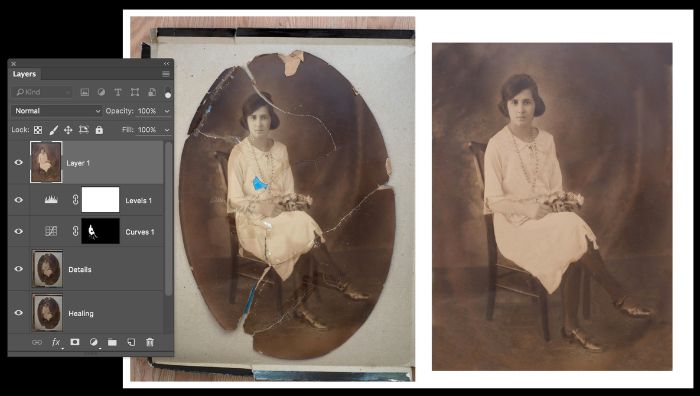 How to use:
Open your image in the app and create a duplicate layer of it.
Under the Adjustments tab, use the Auto Color and similar tools to make edits on the image. You can also use Clone and Patch tools.
Click on Filter and use the Reduce Noise for further enhancements.
Save the image.
Pros:
Comprehensive features.
Customer support and services.
Can be a single application for all needs.
Cons:
Expensive.
Beginners will need time to learn it.
Price: This software will cost around $69.49 for a permanent license supporting any one computer system. There are more packages for different kinds of users as well.
Compatibility: Luminar supports Windows and macOS systems. Apart from that, this application can be downloaded as software or attached as a plug-in.
Features:
It can be used as a plug-in for the system or even applications such as Photoshop and more.
It has wide support of image file formats, including RAW files.
It is easy to understand software due to its design.
Its features work on artificial intelligence-based algorithms hence automatic image processing.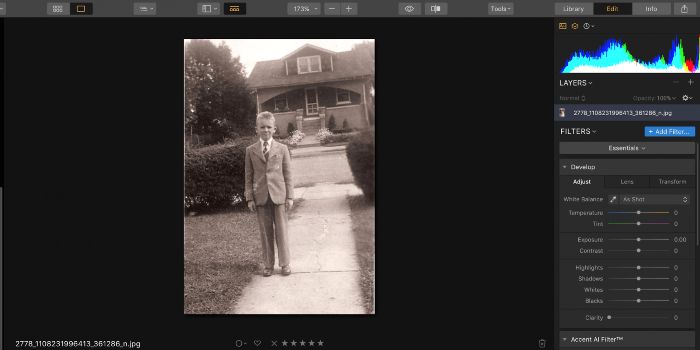 How to use:
Launch the app, upload the image, and go to the Tools drop-down menu.
Use the toolbars present there, such as the Haze Remover, to change the unneeded details on the image.
Go to File in order to save the image.
Pros:
Simple to use software.
Good amount of photo restoration features.
Cons:
The paid option can be a bit too expensive.
Price: PhotoWorks can be used for free through a free download else you can choose any of its paid subscriptions. The Standard edition, for example, costs $19.25 annually.
Compatibility: It is compatible with Windows systems only but the support goes back to Windows XP and Vista too.
Features:
More features than just the ones for photo restoration.
Enhances images automatically thanks to its technology.
Supports a wide range of image file formats including RAW and TIFF.
Offers free upgrades when they arrive.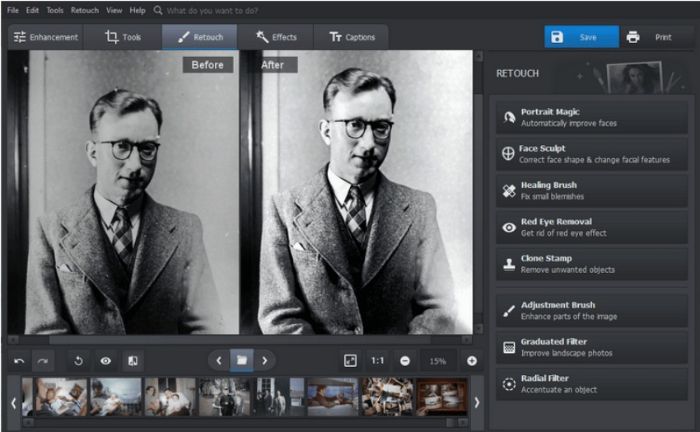 How to use:
Launch the application and upload the photo.
Go to the Retouch tab and select the appropriate tool size from the right.
Add any filters if needed. Once done, save the image from the software.
Pros:
It offers precise photo restoration tools to work with.
Good enough image file format support.
Price is worth it.
Cons:
It does not work well on certain images.
Price: The software can be purchased as a plugin or a software application for $49 for a one-time buy and there are other paid options as well. You can also download a free trial version from the website.
Compatibility: Akvis supports Windows and MacOS systems.
Features:
It can be used as a photo restoration software and/or as a plugin.
It has smart AI techniques that assist the user when dealing with photo restoration tasks and others.
It is really good at removing unwanted objects from the image.
Similar to Photoshop and other premier applications, Akvis has a library of tools that you can use and edit images from.
The UI is designed for all kinds of users.
Batch processing options are given.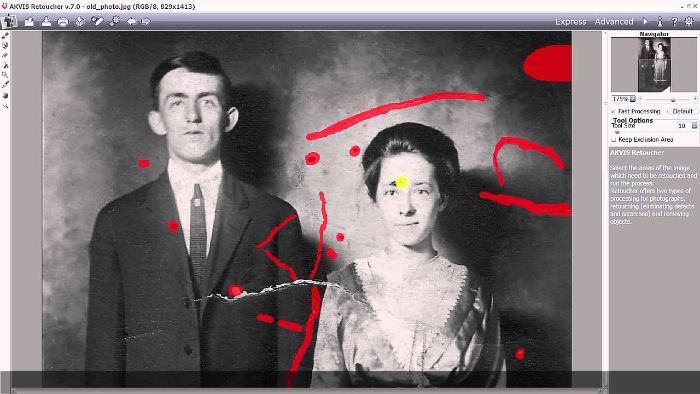 How to use:
Open the application and upload the image. From the toolbar on the left, select the first option.
Hover over the image and mark the areas in the image that you need to change. Click on the arrow on the top right-hand side.
After the changes take effect, save the current image.
Pros:
Simple UI design.
Smart AI techniques for photo restoration.
Cons:
Does not offer much in features or options.
Price: Wondershare offers a free trial of Photophire or you are welcome to purchase a year long subscription at $49.99 while the lifetime license costs $79.99.
Compatibility: It works on Windows and MacOS systems.
Features:
It can remove unwanted details in your photo and replace them with similar textures using its AI-based algorithms.
It also offers a watermark remover tool.
Supports a wide range of image file formats, including 16 bit and 8 bit images.
For comprehensive software, they have also provided built-in tutorials.
Wondershare Photophire is one of the popular image editing applications and has good user support.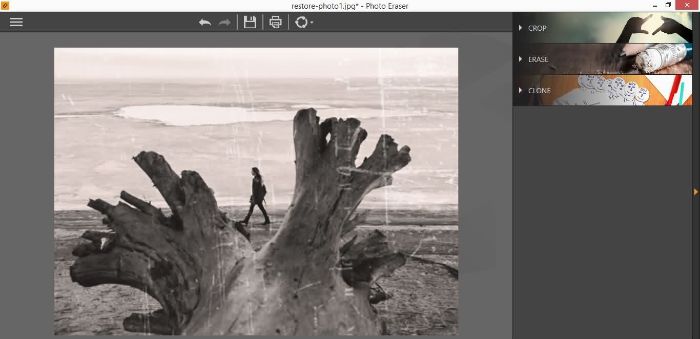 How to use:
Launch Photophire and select the image to upload it there.
Go to the Erase tab on the right-hand side. Use the drop-down menu.
Use the brush to mark the unwanted areas and hit Erase.
Save the image.
Pros:
Automatic and reliable AI technology for photo restoration.
Support for new users.
Supports multiple image file formats.
Cons:
The price is a bit too high.
Restore Old Photos with Mobile Apps.
Price: This application is priced at $8.99 and it is a one-time, lifetime purchase.
Compatibility: GENOVA Softworks is designed for Apple products and so it supports iPhone, iPad, and the iPod Touch. Additionally, it requires iOS 11.0 and higher for it to work.
Features:
It is capable of removing all kinds of scratches, blemishes, stains, etc from the given image.
You can hide the text from the image, which is pretty handy when dealing with annoying text-based watermarks.
Though it deals with images on its own automatically, it also has the option of manual editing designed for professional users.
It provides tutorials for beginners and amateurs.
Since the new update, there is also the option to Undo.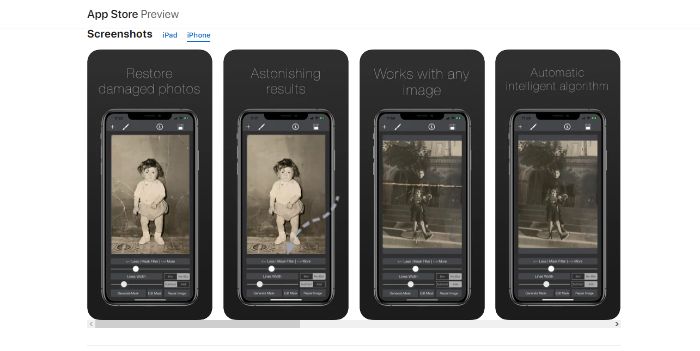 How to use:
Press on the app to start it and use its upload function to open the image.
Go to the Gears option and select the brush.
Use the brush to mark the areas and the sliders below to mark the intensity.
Save the image.
Pros:
A professional app with easy interface and tutorials.
Automatic and manual options for photo restoration.
Cons:
There can be differences in performance for different iOS versions.
Price: Remini photo restoration application is free to use but it does contain optional in-app purchases that can range from $4.99 to $99.99.
Compatibility: This application is built for Android mobile phones.
Features:
Similar to GENOVA Softworks, this application is mainly apt at clearing out blurriness, stains, and other unwanted details from the image.
Remini can also clear out videos.
Its image processing techniques are automatic since it too makes use of artificial intelligence-based methodologies.
You can further enhance your photos using Remini.
You can also use the social media option to instantly share your outputs.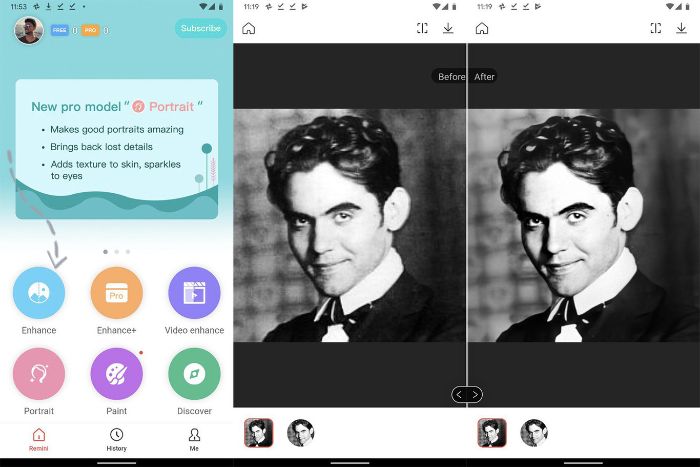 How to use:
Launch the Remini app and locate your image to open it.
Choose the Enhance option and wait for the app to make edits.
Save the image.
Pros:
AI-based techniques.
It has a ton of options.
Cons:
It is more a beginner app than anything else.
Conclusion
These applications, be they online, software, or mobile apps, are highly competent when it comes to photo restoration and image enhancement in general. You can also pick up the free applications and end up with more than satisfactory results thanks to the technology behind these applications. All you need to do is follow the how-to restore old photos sections we've provided for each tool. Tools such as Fotor and PhotoWorks are really beginner-friendly whereas Photoshop is fully professional. Using this list, you can think about the pros and cons of each software and make a decision easily. Click to know more details about How to Cartoonize a Photo easily.