Best 10 AI Photo Editors
Price: Free & Paid
The VanceAI Image Sharpener is one of the many amazing AI photo enhancer tools online from VanceAI. The application uses AI and Deep Learning techniques, which goes by ConvNet for image processing tasks, to analyse images in-depth. It is then able to replicate the additional pixels needed in the image to further sharpen it. The tool is also capable of getting rid of unwanted blurriness and image noise which results from the sensors of cameras. As a user, you will never need to worry about any complicated steps, since the tool only requires an image upload and that's it. In short, the Image Sharpener tool is convenient and great on performance.
Pros:
100% automatic
Easy-to-use with simple UI design.
Fast processing.
Cons:
Want to know how to use this AI image sharpener? You may watch the video below to get all you want.
2. Luminar AI - Exclusive AI Photo Editor
Price: You can purchase the standard Luminar software license for around $75 for one system. Otherwise, you can try the free trial first before purchasing.
Luminar is one of the popular software tools in the market and also a really sophisticated one. For instance, it can effortlessly replace entire backgrounds with just a click. Additionally, it also has a bunch of features, all designed with specifications. You can enhance just the face, body, or even skin. You can also add Bokeh or change composition. The AI photo editor tool is compatible with Windows and Mac operating systems.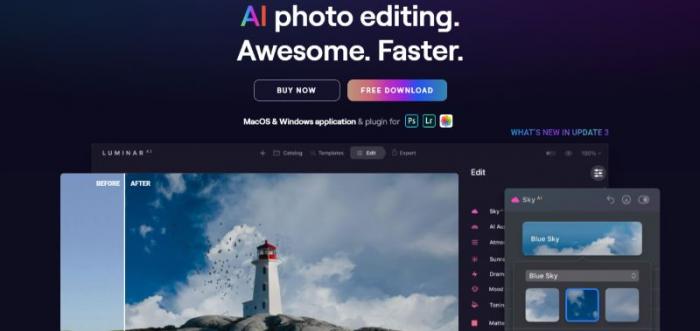 Pros:
Automatic
Amazing and smooth UI design on website and application.
Good number of AI features.
Cons:
It can prove to be expensive to casual users.
Takes time to process images.
It can be buggy sometimes.
3. Pixlr - Creative AI Editor
Price: You can use this automatic editing software for free online with access to basic tools. For premium, you can consider the $4.90 monthly plan which gives access to additional features.
When you visit the Pixlr AI photo editor online, you are presented with two options. The first application is designed for professional and experienced editors or designers. The second application, on the other hand, is suitable for all kinds of users, beginner or not. This alone sets apart Pixlr from many other AI editor tools. Other than that, you can also upload images through URLs.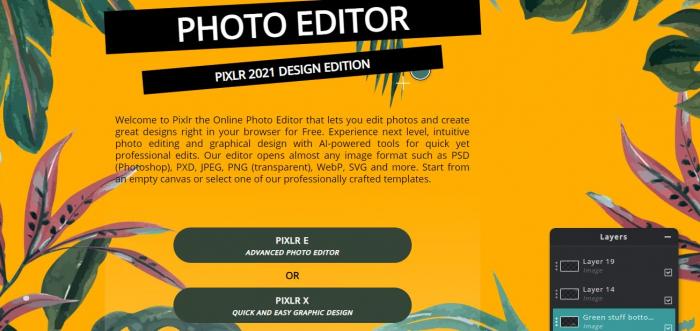 Pros:
Easy to use online software.
Choice between applications.
It has some really good stock photos.
Cons:
The free version is limited.
Templates lack quality.
You still need some editing experience.
Price: Though you can use the auto photo editing tool for a while for free, you will need to purchase either the $9.90/mo plan or the $19.90 one.
While you can certainly unblur image online with the Image Sharpener tool, you can also do the same offline with VanceAI Image Enhancer. Built from the same AI and Deep Learning technology, the Image Enhancer is the perfect software application for you if you prefer complete automatic image editing. Simply upload an image and watch as the application handles everything after that.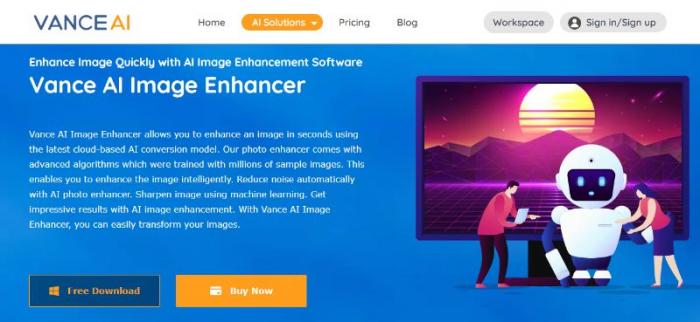 Pros:
One of the best AI-powered photo editor tools.
Software is not heavy on size.
Multiple features.
Cons:
Limited free trial.
Doesn't offer manual editing, which may be preferred by professional designers.
The software has yet to include all of VanceAI's applications.
Also read: How to Enhance Image with VanceAI?
5. Prisma AI-powered Photo Editor App
Price: This AI-powered photo editor is free to use though it contains in-app purchases.
Prisma is an insanely popular and well credited application, having been named App of the Year by Google Play back in 2016. Even today, the photo editor is going strong with fresh new features arriving regularly. It currently has over 120 million users and releases a new art filter every day. With that number of users, you would obviously expect a community and this tool has community features too. You can share and view other user's works.
Pros:
Popular application.
Good features.
Active community and filters.
Cons:
In-app purchases for features.
It can be laggy.
The editing tools can be better.
6. Pho.to - Simple AI Picture Editing
Price: This AI photo editing software for mobile devices is free but it does contain in-app purchases.
Also known as Photo Lab, this mobile application is also a popular application that offers many features, especially for image enhancement. With Pho.to, you can photo montages, have image filters, photo frames, and much more. The developers regularly add new frames and filters for users. Also, you can easily share your images on social media through this tool. Try it here!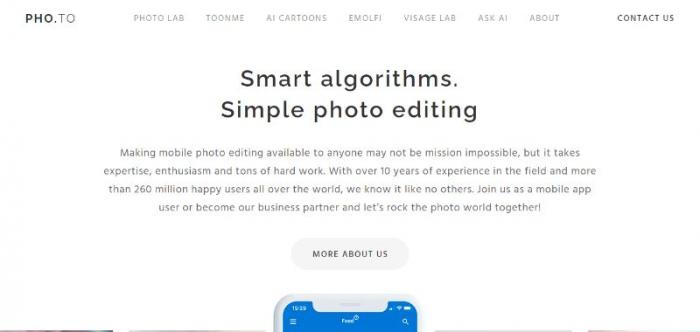 Pros:
Regular updates.
Easy to use.
Good photo montages.
Cons:
Doesn't have many features.
Contains ads.
Processing takes time.
7. Photokit - AI Photo Editor Online
Price: The AI editor tool is free to use.
One of the most attractive features of this tool is its background removal tool. The reason being that it can not only smartly remove background but also provide options for keeping new creative backgrounds in its place. Other than that, it has other features like perspective change, color splash, and much more. You can also play around with different effects that reflect different genres such as cartoon, wing, mixo, Atari, etc.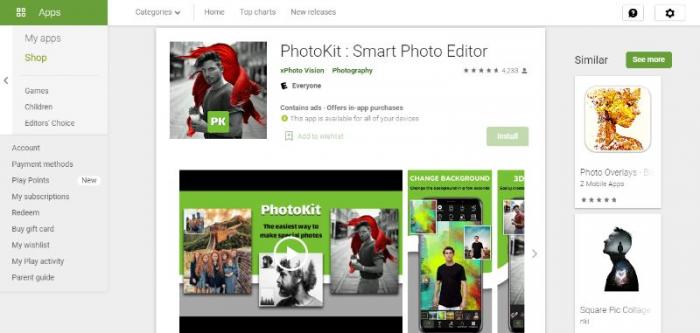 Pros:
Great background removal.
Good features.
Multiple unique effects.
Cons:
In-app purchases.
Bothersome ads.
Paid versions are not worth it.
8. Cre8tive AI - Creative AI Photo Editor Online
Price: This AI picture editing application is free to use for a limited amount of uses. Paid subscriptions start from $48 per month for 200 image credits.
The CreativeAI online photo editing tool is a fairly diverse one, as it offers editing and enhancement for both images and videos with different features. You can increase your picture's resolutions through the upscaler tool, convert images into the style of famous artists using Enpainter, convert image to video, and more. Try it here!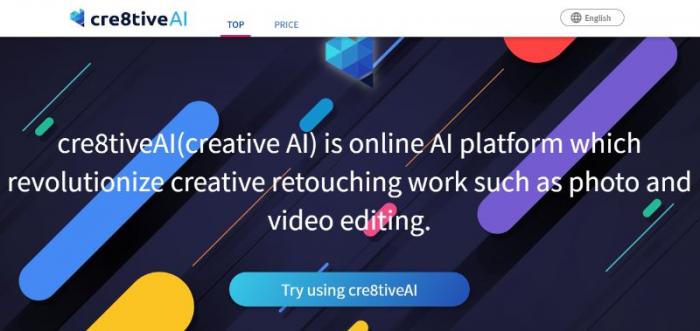 Pros:
Various features.
Easy to use.
Smooth UI design.
Cons:
Limited free use.
Long processing time.
Paid plans are somewhat expensive.
9. Superenhance - Easy to Use Photo Editor
Price: You can use this AI photo editor online with the five free credits you receive on sign up. After that, the paid plans start from $25 approx.
As it goes with an AI-powered photo editor, this application can also process images at a faster than usual rate. Additionally, this tool has enough features to be useful for many kinds of image editing requirements. You can upscale images, enhance image quality and make photo hd through color correction, enable users to edit specific parts of images only, and more. Try it here!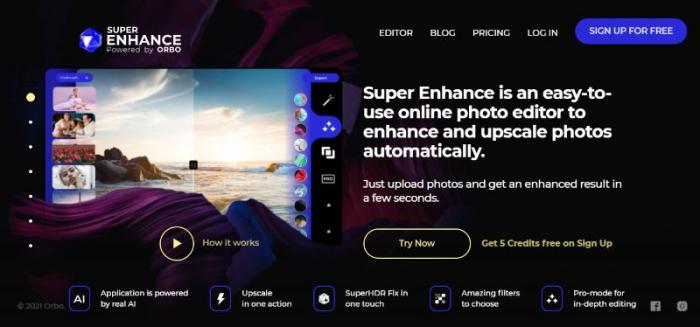 Pros:
Engaging UI design.
Good features.
Affordable.
Cons:
The AI isn't as intricate as it is in other tools.
Limited free use.
Requires an account.
10. Image AI
Price: This is an AI-powered desktop application that you can get by signing up for free. After the free trial, you can either choose the $7 or pay-as-use version, depending on your usage and preferences.
The most unique aspect of this tool is that it does a detailed reading of your creator profile in order to match it with its features and settings. As for features, it can basically do pretty much everything a standard image editing software can. This application, similar to VanceAI Image Enhancer, can enhance photos through dehazing, color correction, adding vibrance, etc. You can also crop photos and change tone through contrast settings. Try it here!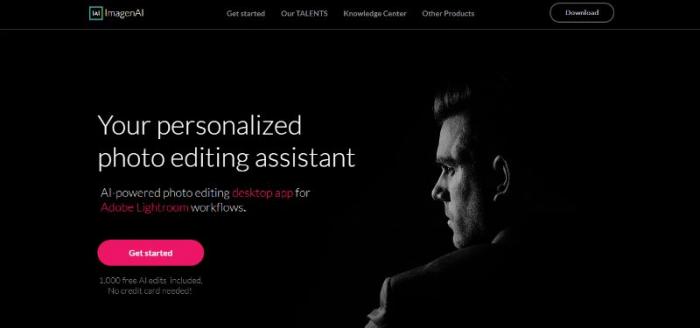 Pros:
Personalized tool.
AI-powered software.
Good features.
Cons:
Limited free use.
Mostly suitable for experienced designers.
Exclusive app.
Conclusion
The sheer volume and variety of AI photo editor applications are stunning. Even among these AI photo editor tools, you can see how some tools differ from others and offer unique features. On one hand, apps like AI image enhancer tools from VanceAI are truly easy-to-use photo editing tools because users don't need to do anything besides upload. On the other hand, tools like Imagen AI and CreativeAI offer exclusive features. Also read: How to Effortlessly Change Resolution of Picture with VanceAI Image Upscaler?
Do you find this post helpful?
Yes
No