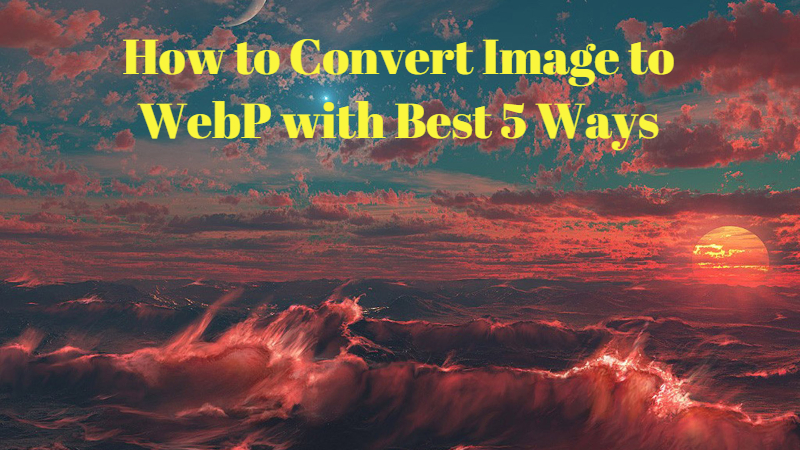 To convert image to WebP format can be pretty beneficial, especially if done for web hosting purposes. The WebP format is particularly known for being the same quality as JPG or PNG formats yet being smaller in size. This allows for great efficiency as you could upload more photos on your website without worrying about page size. Furthermore, if you want to explore more possibilities to your photos, you may try VanceAI. With that said, let's get to our list of the top five ways to convert to WebP.
Best 5 Ways to Convert Image to WebP
Price: You can convert image to WebP for absolutely no cost with this tool.
Online Converter is one of the best choices for you if you want to convert image to WebP because it offers a wide range of compatibility. You can convert JPG to WebP, PNG to WebP, and more. Alternatively, you can also convert other images into PNG, JPG, GIF, and more. You can upload images through URL and Google Drive as well, making the process easier.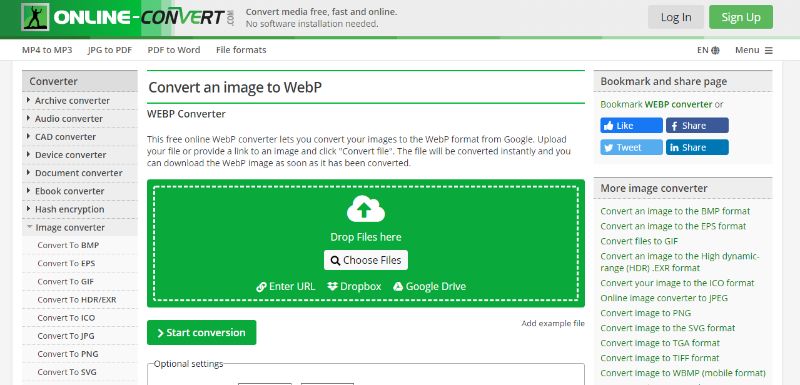 1. Use the link above and click on Choose Files. Otherwise, use the options below to upload an image.
2. Use optional settings if needed. Click on Start Conversion.
3. Download the image.
Price: This online application allows up to 25 conversions per day. For more, you can purchase a paid plan starting from $9.
Cloud Converter is another really reliable application that has a high compatibility. You can even convert RAW image file formats to any other format from the list. The online application also offers other cool features such as video converter, presentation converter, audio converter, and more. You can use Dropbox, Google Drive, URL, etc to upload an image as well.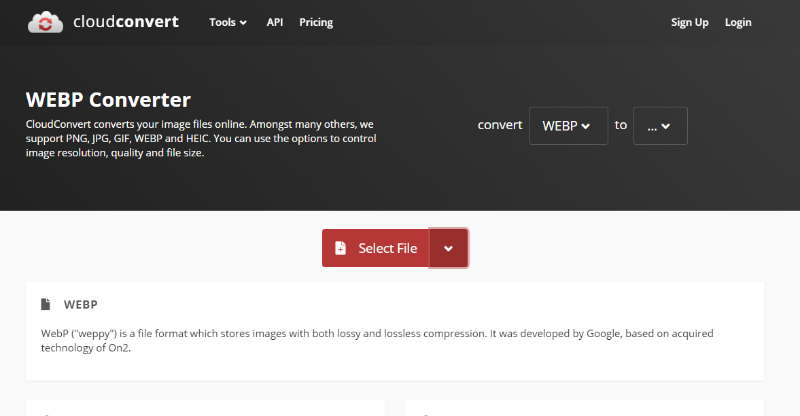 1. Click on the link and upon accessing the website, change the "convert" settings as per your requirement.
2. Click on Select File and upload an image.
3. After the application has processed the image, download it.
Price: You can convert image to WebP for a limited amount of time. The paid plans start from $9.99 per month with extra features and images.
Similar to the previous application, this tool also has a bunch of file formats that you can convert or convert into. It also offers other useful features such as batch processing, which starts with the limit of 25 with the $9.99 Basic subscription and goes upwards.
1. After getting to the website, first choose the formats you want to upload and convert into.
2. Click on Choose Files or any of the other options displayed on the right. Upload the image and start converting.
3. Download the output after it is displayed.
Price: This online convert to WebP application is absolutely free to use.
The 11zon online converter application is a really simple to use tool. It offers additional features as well, such as being accessible to Mac and Linux users as well, having a secure server that makes sure of your image privacy, etc. The application also has extra features that deal with ZIP files, GIFs, HTML, and more. You can also create your own GIF by using this tool.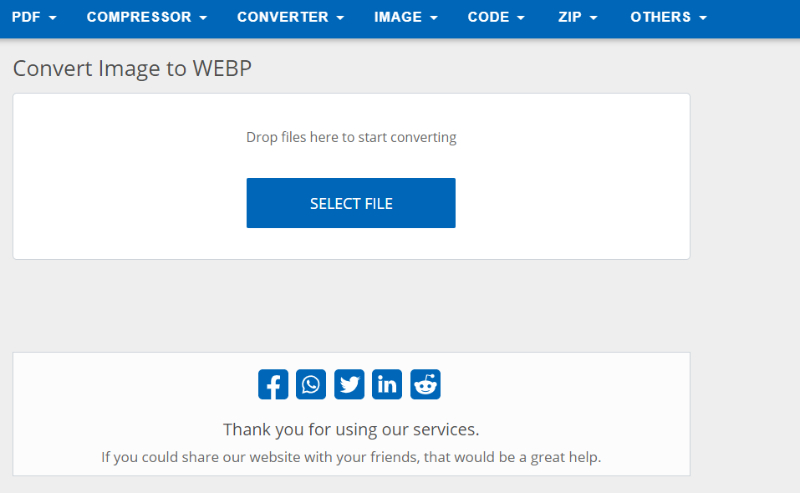 1. After using the link, go to the page and click on Select File, as seen above.
2. Search for the file in your device. Wait as the application processes the image.
3. When the result is displayed, download it using the download options.
Price: This application is absolutely free to use.
You can convert image to WebP quite quickly and easily by using this application. You can actually convert a lot of formats into WebP, such as JPG, GIF, PNG. You can also convert a video into WebP. On the other hand, it is also possible for you to convert WebP into MP4, GIF, and more. It also offers basic image editing such as cropping, basic coloring effects, adding text, etc. Overall, this tool is a good mix of a converter and an editor.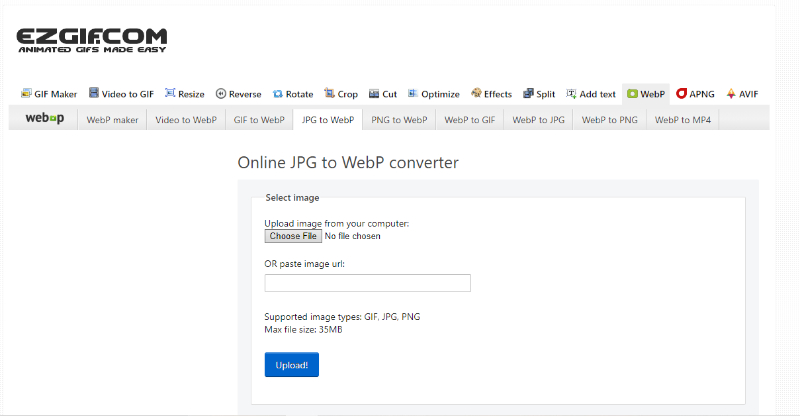 1. Click on the link and get to the website. There, either upload an image or use the URL textbox. Make sure your image is one of the supported file types.
2. Click on Upload and wait as the image is converted.
3. After conversion, the output will be displayed below in the page. Download it by using the button.
FAQs
1. How do I convert an image to WebP?
If you want to convert image to WebP easily, simply use any of the tools mentioned in the list. You can also follow the steps given for each product. Basically, you'd only need to upload images and choose the format you are uploading. When you have done that, start the processing and wait as the tool works on the image. Once the image is displayed, just download it.
Conclusion
To convert image to WebP has never been easier and quicker thanks to the awesome tools that are available on the Internet. Not only are these applications apt at converting an image to WebP, they also offer high compatibility with many other image formats as well. You can also use your WebP images to convert them into other formats. The options are nearly endless with such applications. Also read: Find out about the Best Tools to Compress JPEG