There are many reasons why you might want to edit images. Most of the time, it's about the limitations of the platform you're interacting with. Sometimes, when you try to make your image fit the target size, you have no clue but crop it. Of course, it is indeed a way to help you with a handy free tool like VanceAI Image Cropper. Another example, it doesn't matter that your phone takes photos at 3-4 MB because it becomes difficult to send them to someone in native resolution in large numbers. No matter why you need to compress a JPEG, in this article you will discover what are the best tools to do this in the most efficient way.
At the risk of being redundant, let`s have a look at what is image compression. The process of compressing a JPEG aims to eliminate information about the type of camera used, lens, focus, author, and many other details. At the same time, there is a process of compression and optimization of image quality without visible loss of quality. For that, you need to use a reliable tool to compress a jpeg file.
Recommendation for JPEG Artifacts Removal After Compression
VanceAI JPEG Artifact Remover
VanceAI JPEG Artifact Remover is your best choice to remove JPEG artifacts when you try to compress a photo by saving it in JPEG format. It is based on AI technology and can remove JPEG artifacts automatically. All you have to do is to upload the image of JPEG format and get the high-quality result with one clidk.

Also read: 10 Selective Tools to Reduce PNG File Size.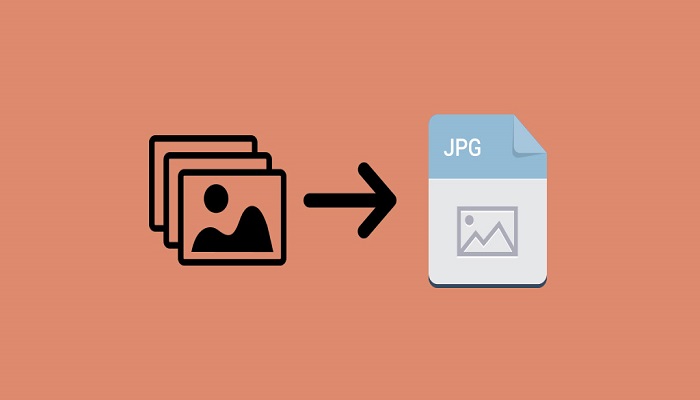 Why Do You Need to Compress JPEG?
Many of us have thought that the JPEG format is already quite efficient for calibrating images, and recompression of these files would probably be the worst thing we could do to the quality of a photo. However, most of DSLR cameras are capable of generating very large JPEG images. For example, an image taken from an Olympus OM-D E-M1 device has a size of 7.9MB. And this happens on a camera of only 16 megapixels. But what happens in the case of cameras that take images even bigger than that? What storage capacity of the personal computer will we need to download them?
Related article: Compressor.io VS VanceAI Image Compressor.
A study shows that 40% of people abandon a site that loads harder than 3 seconds, and every second gained increases the conversion rate by 7% and a better experience. The lack of image optimization is the main factor for which a site is difficult to load. Here, you will find out about the best tools to compress jpeg. Through them, you will optimize your photos to publish them on your site using compression. If you compress JPEG files you can save up to 70% more space on the server.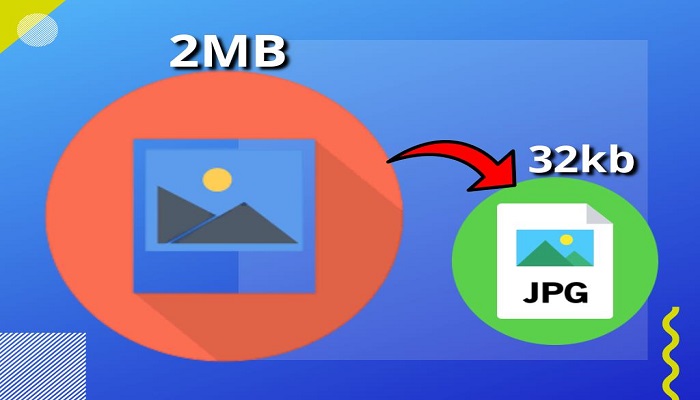 Most mailboxes are limited to 25MB per message and may not reach the recipient. For that, you need to know how to compress a jpeg with the proper tool in order to send them safe and sound. Well, exactly for such situations many tools were designed. I'm sure there are other reasons but one thing is clear: it is imperative to compress a jpeg file. You need to know that image resizing programs exist for all your needs and operating systems, you just need to choose a program that you think you like, download it to your PC or laptop and get to work.
Also read: How to Compress an Image in Photoshop?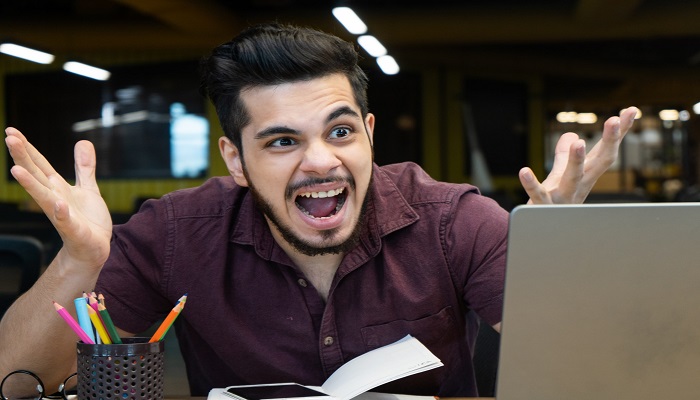 Part 2: 10 Products to Compress JPEG Recommended
You've finally reached the part that interests you, right? Because on my new job I interact daily with dozens of photos in digital format, I've often wondered how to resize them in the fastest way. I searched for many tools to compress JPEG files and I created a list of 10 with the best recommendations. Tools numbering is random.
| | | | |
| --- | --- | --- | --- |
| Tool | Price | Quality | Features Options |
| VanceAI Image Compressor | Free | Excellent | Upload multiple files at once |
| Caesium Image Compressor | Free | Good | Compression to 200kb without quality loss |
| Mass Image Compressor | Free | Good | Batch compression |
| JPEGmini Pro 3 | $59 | Excellent | Reduces image size by up to 80% |
| TinyJPEG | Free / $25 | Optimal | Compress at pro-level with subscription |
| Optimizilla | Free | Efficient | Control compression level with slider |
| FILEminimizer | Free / $78 | Excellent | Compression up to 98% |
| ImageOptim | Free | Excellent | Remove junk and optimize for web |
| Photo Size Optimizer | $14.99 | Minor | Batch resizing with minor quality loss |
| Image Size - Photo Resizer | Free / Paid | Good | Resize images for mobile use |
1. VanceAI Image Compressor
Let's start this list of tools to compress JPEGs with VanceAI Image Compressor. Free web-based app with a minimalist and intuitive interface, which allows you to upload several JPEG files at the same time before compressing them. It does an excellent job and delivers amazing quality when it comes to compress JPEG. You don't need to download anything. With VanceAI Image Compressor, you can compress JPEG on any device as long as you have internet.
About VanceAI
VanceAI is a full-suite image enhancer based on advanced AI algorithms. This suite is becoming more and more indispensable for photographers because of how incredibly useful it is. You can enlarge photos without losing quality, fix blurred pictures, remove backgrounds, and so on. Besides the technical sides, it offers fun and creative tools such as Toongineer Cartoonizer or VansPortrait.
2.
Caesium Image Compressor
How to compress a jpeg? Nothing easier with this free desktop version - Caesium Image Compressor. You can compress JPEG to 200kb without visible quality loss ( up to 90%). It is simple to use and it is helpful to photographers, bloggers, webmasters, and so on. This software is compatible with Windows and MacOSX. This program is free but has a donation section. Someone worked for it, though.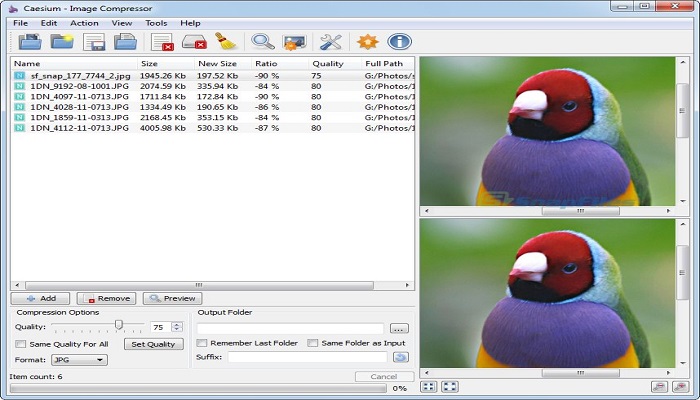 3. Mass Image Compressor
Another free desktop version that is compatible with any version of Windows. This tool (Mass Image Compressor) is also perfect for batch compression. You can compress a JPEG to e-mail, thumbnails, and so on. Even if is doing his job, the interface is a bit overloaded with buttons. If you ignore it, you can definitely handle it.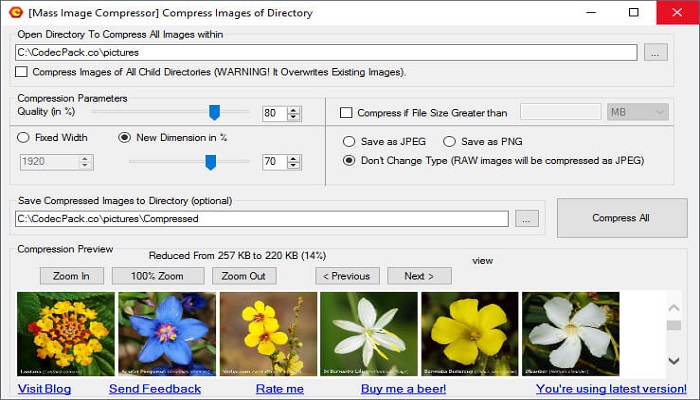 4. JPEGmini
JPEGmini Pro 3 is a powerful but simple tool that reduces the image file size by up to 80%, without visibly compromising quality. The application is compatible with Windows / Mac OS systems, and optionally there is also a version with plugins for Lightroom / Photoshop. It is extremely suitable for those who have a business and they have to compress JPEG on a daily basis. You can use a free trial, but otherwise, you have to buy this product ( $59). But once you buy it you will have it forever.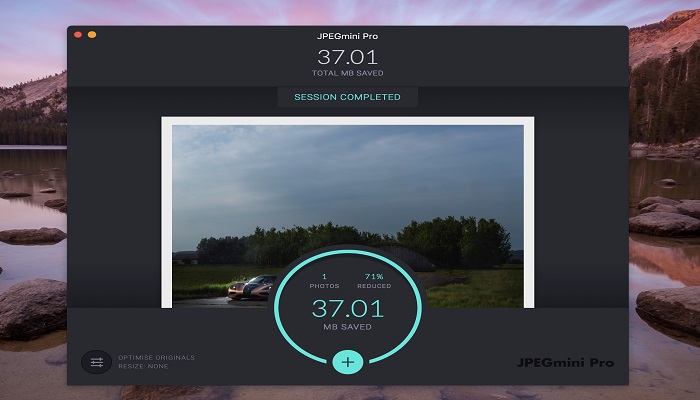 5. TinyJPEG
This is a free web service that allows you to compress JPEG in an instant. You can upload 20 images at once, with a maximum of 5 MB each without big sacrifices in file size. You can get an optimal image but you can compress JPEG at a pro-level by buying a subscription for $25 per year. Of course, the file size limit will be 75MB and you can drag and drop more than 20 images simultaneously.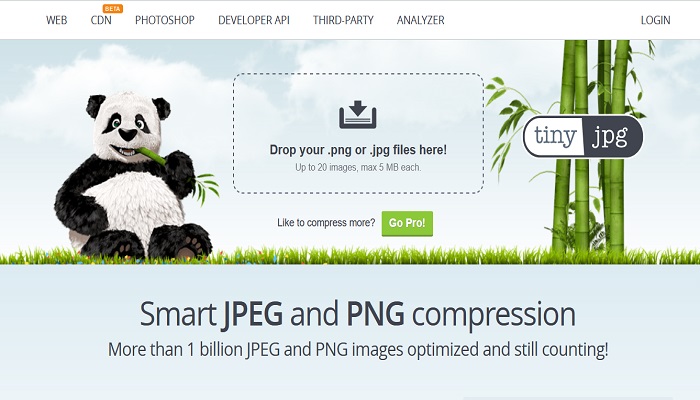 6. Optimizilla
Compress JPEG at 100 kb with one click and for free. You can upload up to 20 images and you must use the existent slider to control the compression level while you can compare images. This is an efficient tool to compress JPEG files because of that slider; you can find the right balance for the lowest file size possible.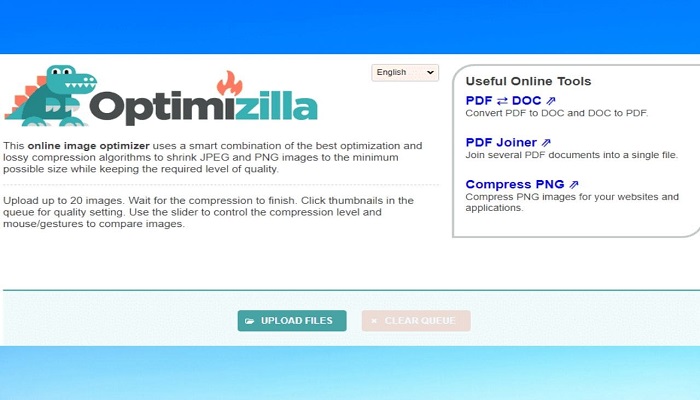 7. FILEminimizer
Reliable and fast software that allows you to compress JPEG up to 98%. You can even reduce your JPEG files from 5MB to 0.1 MB but you can choose the compression level and keep the file format. It works with several files at once and it is compatible only with Windows 7 and Windows 10. This compress JPEG tool has a free version and a paid one. If you want to compress JPEG only then you can use the free version, but if you want to work with other file formats, you can not. $78.00 is quite expensive but your developers provide you a suite of programs.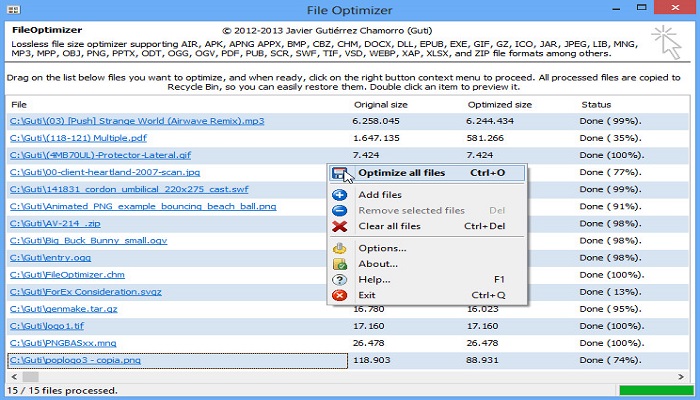 8. ImageOptim
This is designed only for Mac/ iPhone/ iPad users. Free, open-source, it is an excellent desktop software to compress JPEG, in order to publish images on the web. It removes invisible junk( embedded thumbnails, comments, and so on), metadata, and exposing private information like GPS position, camera`s serial number. Of course, you can keep it if you want. You can get the smallest file size possible but you can adjust how aggressive should be the optimization. By default, the software it will be very cautious in order to preserve the quality.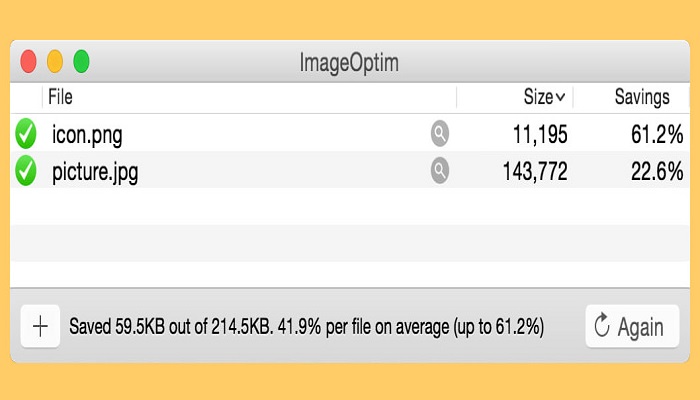 9. Photo Size Optimizer
Another product for Mac. This tool supports batch re-sizing many photos in the fastest way with one click. While compress JPEG file, the quality loss will be minor. This is not free of charge. It costs $14.99.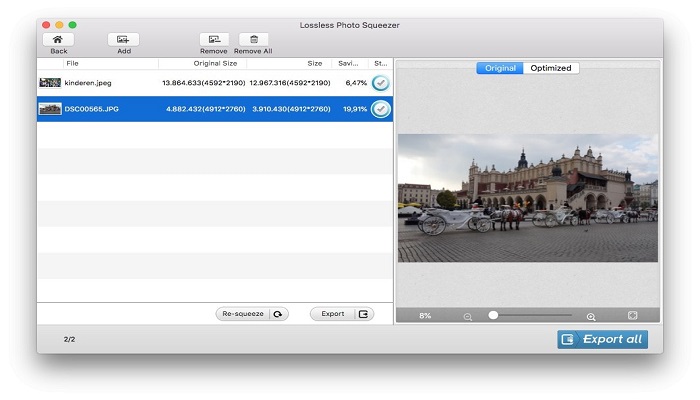 10. Image Size - Photo Resizer
For the last product on my list, I choose to talk about a mobile app through which you can compress JPEG without many headaches. I tested resizing on several apps, both for iOS and Android, but I recommend you to try Image Size ( dedicated to iOS and Android ). The application directly asks you for the resolution at which you want to resize. Once the image is loaded in the application, you can drag it to restore the composition. The application is free but displays ads, but for a small amount of money, you can get rid of ads. It is perfect if you are a blogger and you usually use the phone to take photos. You can compress JPEG and upload it to your blog or your social media platforms.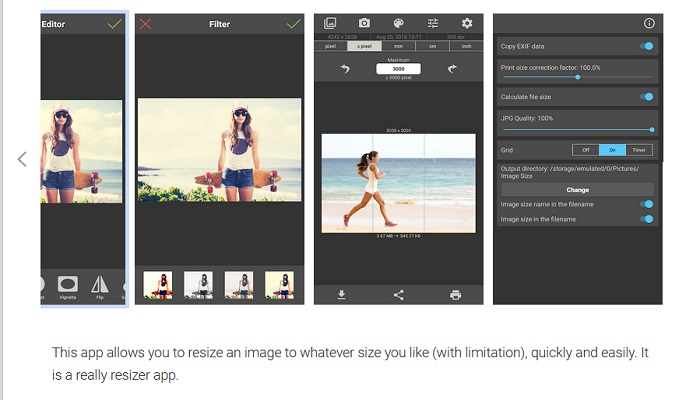 Also read: How to Convert Image to WebP with Best 5 Ways
Conclusion
You should know that there are many applications for compress JPEG, but in my opinion, the applications mentioned above are the best in this category. You already know that the process to compress JPEG is easy and almost automatic. I think the most helpful programs are those that allow you to compress multiple photos at once.
Compress JPEG with one of these products and you will see how easy it is and most all, how useful. In conclusion, we need to compress JPEG because of the website's limitations and it's best not to rely on the site's process of resizing the pictures like in WordPress. If you use an external program, you have more control. Image quality does not change drastically and this aspect is major. Click to know more about touch up portrait photo easily. Also read: Top 10 Tools to Convert JPEG to AI

Do you find this post helpful?
Yes
No