When you come across beautiful scenery outside, do you often take your phone to record the beautiful moment? Or are you eager to take such attractive pictures accompanied by lovely animals or impressive scenery and then post them on your Instagram or Twitter? Of course, you can easily use your mobile device to record them with just one click. But if you want to take stunning photos with your phone, you need to carefully avoid some problems like a camera shake. Avoiding such problems including a camera shake requires that your camera be perfectly still, so carrying a tripod is a good solution if you don't care about its weight.
This article aims to provide you with the best choice to produce super-resolution pictures with the aid of Remini app and Remini for pc. They are free and efficient ways to turn low-resolution, blurred, or less vivid photos into HD. In particular, Remini aims to recreate full details of photos with a sharp and clear facial focus. In that case, you just take desired photos without worrying about a camera shake and then use Remini app whose weight obviously is not a problem to enhance them. If you are not satisfied with the result, you can use some tools to make photo hd. The article will give you basic instructions on how to easily enhance your pictures by using Remini and its best alternative from VanceAI.
VanceAI PC is full-featured desktop software developed by VanceAI that lets you instantly process local photos in bulk with more customization options, which will significantly simplify your workflow and boost your productivity. Free Download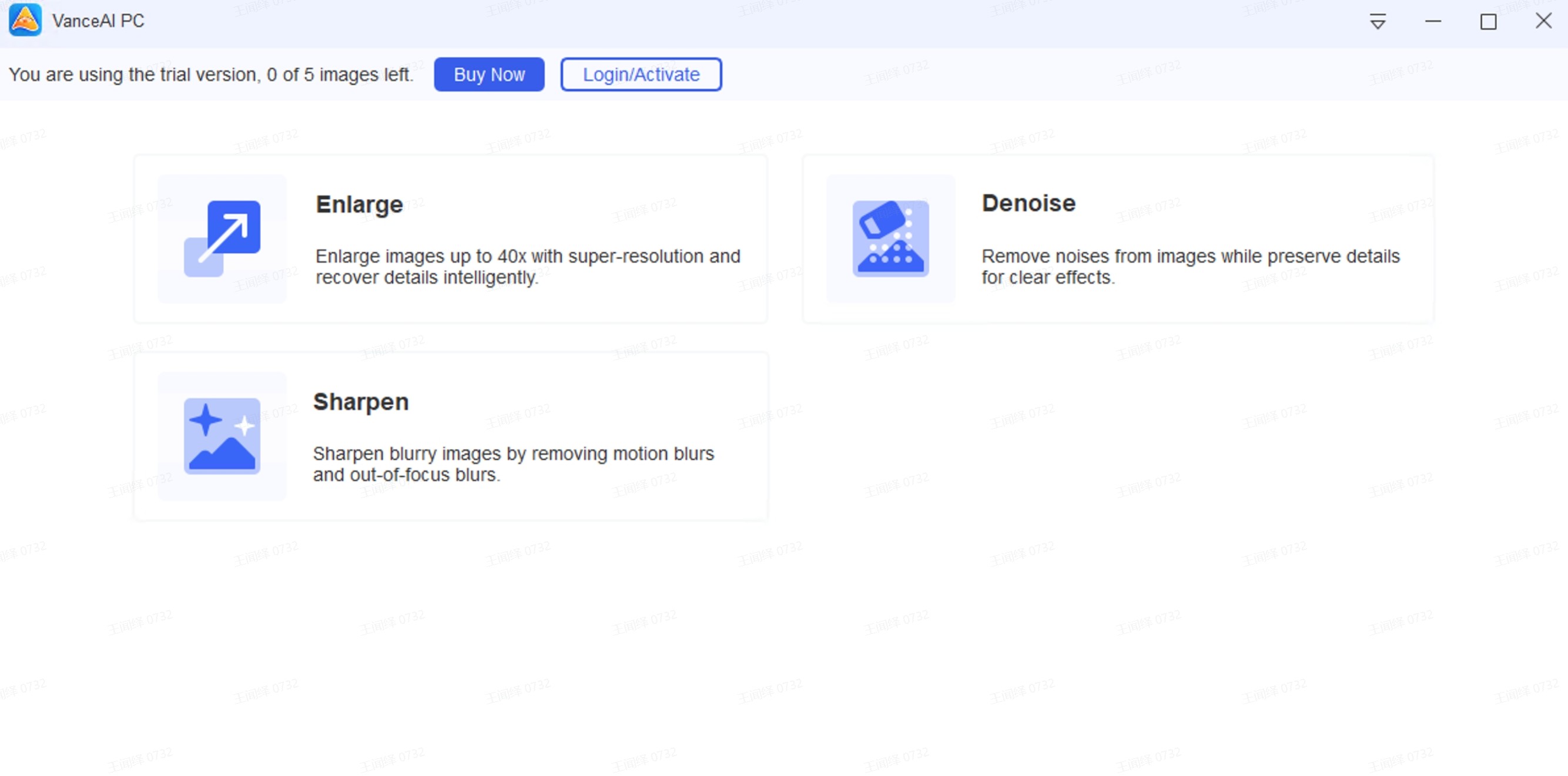 Why should you enhance photos?
Photo enhancement generally refers to the process of dealing with your low-quality photos in a digital way. During the course, you often use some tools like Remini to change whole properties or some part of a photo. To be specific, many image enhancement tools can only change the contrast or brightness of a photo. And some, of course, are able to change the colour of a photo. As for why it is necessary for you to enhance your photos, you need to know the following benefits.
Turning low-quality photos into high-quality ones.
Showing clearer and sharper pictures on Instagram.
Catching attention and increasing the number of your visitors on social media
Reminding you of beautiful scenery in the past via photo enhancement
Part 1: How to enhance your photos with Remini?
Remini is an image and video editing mobile software which you can use to enhance your visuals by a considerable margin. The photo enhancer app is available for both Android and iOS and is a free photo enhancer app as well. On the basis of advanced AI algorithms, it can produce authentic and high-quality results. These algorithms are exceptional at getting a read at the image given to it. When you want to enhance an image, the tool replicates the parts of the image that are probably noisy, damaged, or blurry, and remakes it as something original. That is to say, Remini can change old, blurry, damaged and low-quality photos into HD with sharp and clear facial focus. Then you can learn how to enhance your photos with this tool under the guidance of the following steps. Read more about Remini.
Step 1: Go to the official website
It is not difficult for you to use Remini. At the beginning of using the mobile app, you need to go to the Remini official page and then choose iOS or Android. From there, download and install the app.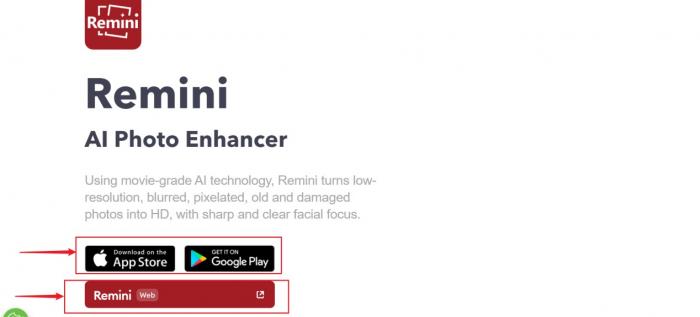 Through the picture, you can clearly know that the tool has not only offered an application service, but also a user-friendly online service. In that case, you don't need to download the app and can get the enhanced photo online.
Step 2: Upload a photo
In the case of the Remini website, you can just drag and drop your photo here. Hence, even if you are a green hand, you also do not need to worry about your knowledge level while using Remini because it is an automatic image processing website.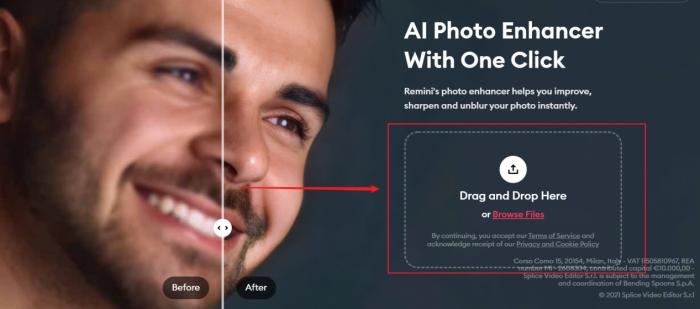 Step 3: Download the enhanced photo
Now, it is time to download your enhanced photo. On the website, you can easily see the difference between the Before and After one. The After part is obviously much clearer and smoother than the Before one. You can click on the Download button to save the enhanced photo if it does not disappoint you.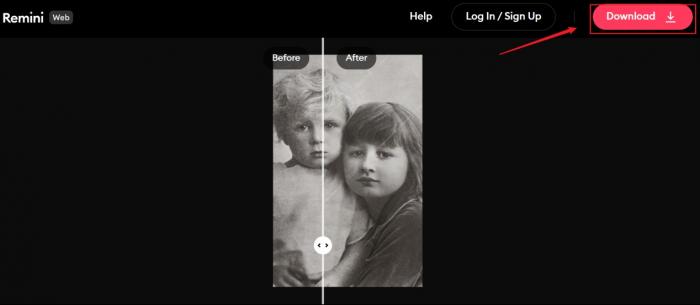 Part 2: Best Remini's Alternative - VanceAI Image Enhancer
It cannot be denied that the Remini app and its website have become quite popular recently, but there are also many photo enhancement tools that offer similar services. Among the useful tools, VanceAI Image Enhancer can be seen as the best alternative to Remini. For instance, Remini mainly focuses on the enhancement of portraits and often produces satisfying enhanced photos. But it is not good at enhancing scenery pictures. So as for overall functions, the Image Enhancer has an edge over Remini as it is well equipped to deal with both portraits and scenery pictures. Except for the basic function of enhancing photo quality, the Image Enhancer also can sharpen, denoise, and retouch photos. Those are the special advantages of VanceAI Image Enhancer that other photo enhancer apps haven't owned recently. The following simple steps will help you better enhance your photos online.
VanceAI Image Enhancer has been launched on the Launching Next. Please check it by the link: https://www.launchingnext.com/?n=81021
How to enhance photo quality online with VanceAI?
Step 1: Then you can just go to the homepage of the product to enhance image quality without changing the original size of your picture. Aftering clicking on that link, you will easily see the picture below.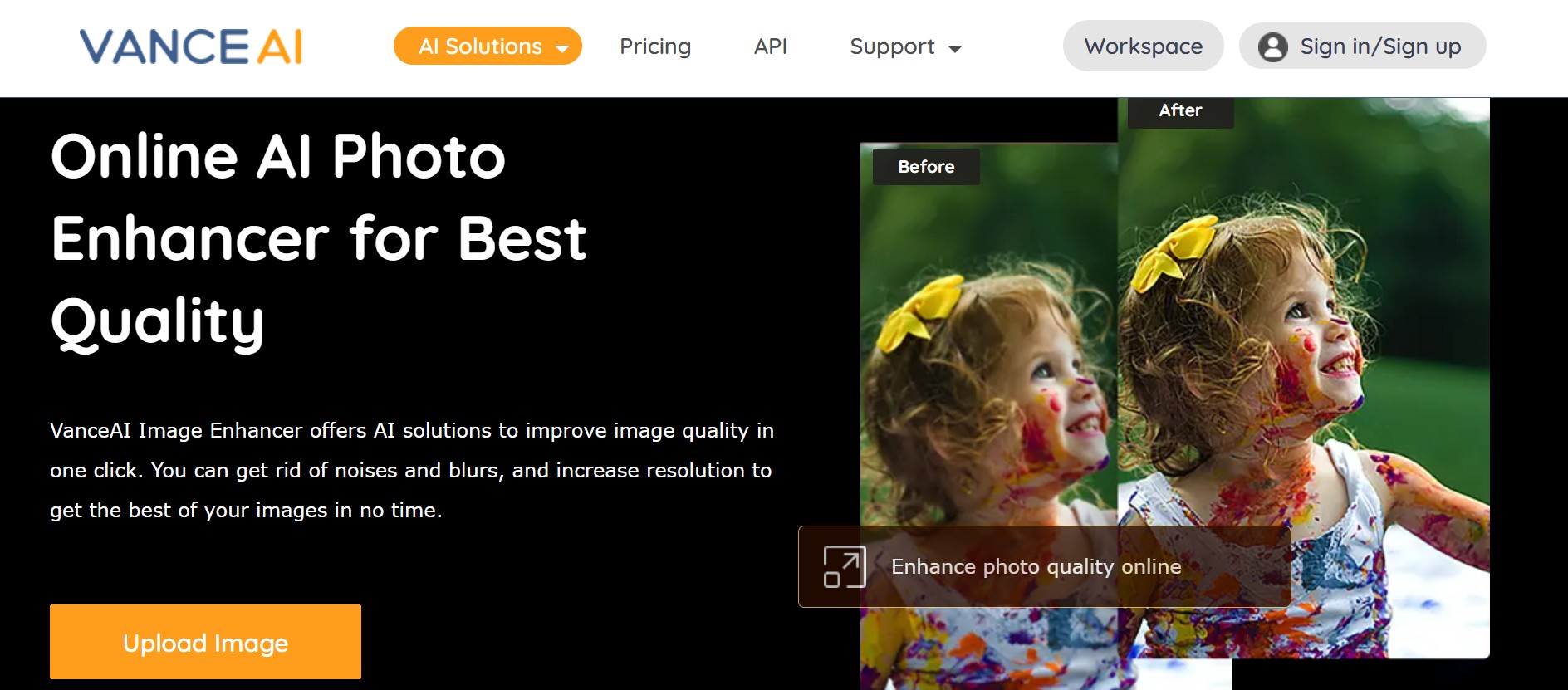 Step 2: Upload a photo to VanceAI Workspace
Having seen the picture, you need to press the button Upload Image to upload the target you want to enhance. Then you will naturally see VanceAI Enhancer Workspace below. After that, you should hit Start to Process and wait for several seconds.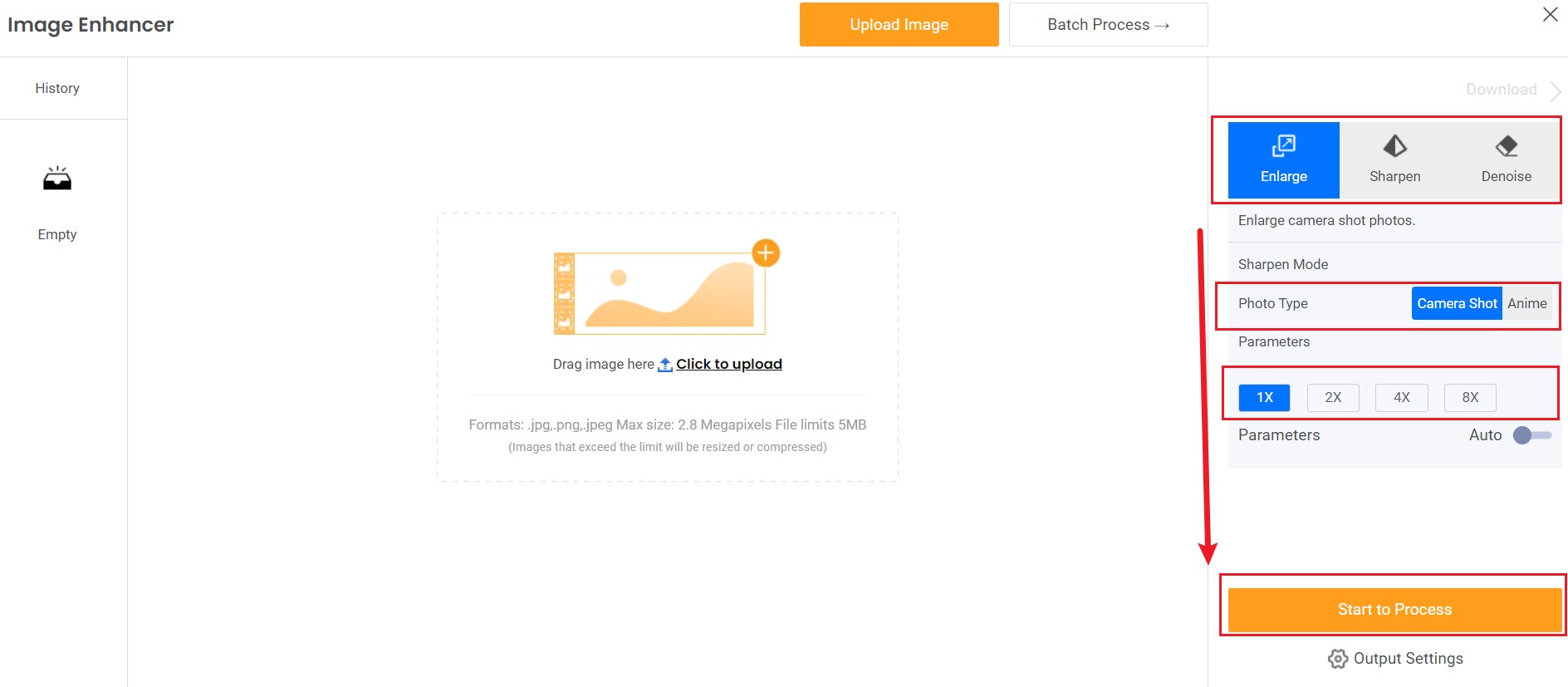 Step 3: Download the enhanced photo
You can go to the processed tab to find it after the photo has been enhanced. Click the preview button to see a before-and-after comparison. Finally, if you are satisfied with the result, you can go ahead and click on Download Image to save it to your local device.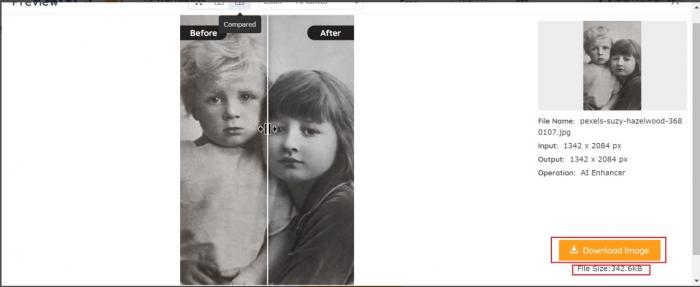 Part 3: Remini VS VanceAI
In comparison with the enhanced photo by Remini, the one below by photo enhancer has not only removed image noise but also transformed low quality image to high quality. Meanwhile, the AI Enhancer does not change the original size while enhancing its quality. But obviously, Remini almost doubles the original size.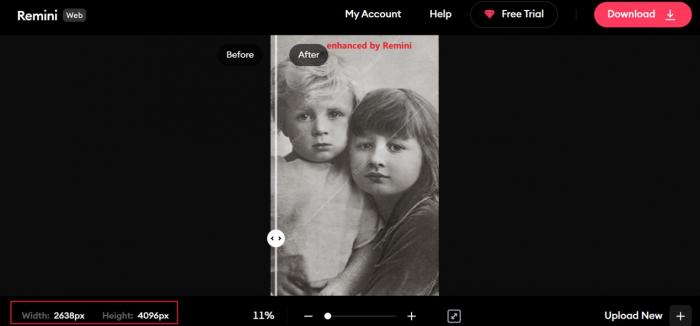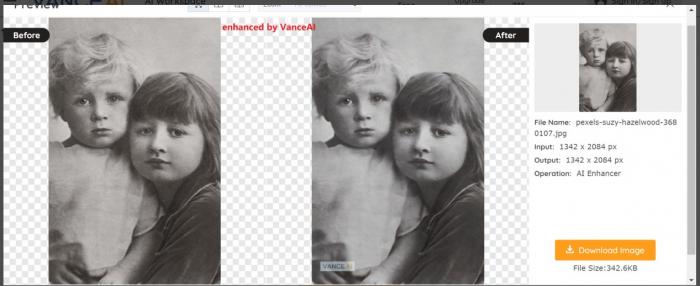 Conclusion
It is advisable for you to first consider Remini if you are a consistent mobile user. In that case, you can use such an application as the Remini photo app. The photo enhancer app is especially competent in enhancing photo quality on mobile devices. Although it has launched the website service, the website's functions are not as rich as those of the app. So, image enhancer, or VanceAI Photo Enhancer can be your best choice if you don't want to be troubled by installation.
People also ask:
Best 10 Remini App Alternatives
How to Enhance Image With VanceAI?
Do you find this post helpful?
Ammar Kachwala
Having started writing for a year now, I have written articles, guides, and reviews about various topics that deal with gaming, Linux, science, literature, and now, AI-based image processing technology such as Vance AI. I enjoy writing about technology in-depth because there's so much to know.
Read More to Know Deeper: