No matter what kind of users we are, professional or otherwise, we tend to take pictures on a regular basis. It is a popular thing to do. With increasing camera advancements, we not only expect crystal clear clarity but also bigger and bigger resolutions from images. We need apps to remove background from images, remove the blemish from photos, enhance photos, etc. With that said, today we look at BGremover, an online software application that is meant for similar tasks as those mentioned. Images are essential and are used heavily in every kind of business, education, and art. Hence, getting a hold of an application that can deliver on such requirements can be a boon. Let's go through some of the best applications out there that will suit your needs. 
Also read: PhotoScissors VS BGremover.
Top Recommended Product: BGremover
BGremover is one of the many tools that come under the main VanceAI product. The takeaway from this is that the BGremover, similar to other Vance products, works online and for free with limited uses. As we already know, images are getting more intricate by the day and so, processing them is definitely not an easy task. How VanceAI attempts to tackle this is through the use of Deep Convolutional Neural Networks, otherwise called ConvNet or CNN. In other words, this is a set of Machine Learning and Artificial Intelligence technological systems designed for putting out crisp images. BGremover also works automatically and requires no further work on the part of the user besides the simple upload. You don't even need to download any additional pieces of software. 
Price: This online software is free to use with 5 credits given per month. Each image process consumes 1 credits, so that amounts to 5 photos per month. You can otherwise opt for the paid options which are named Basic and Pro. The Basic plan enables you to use up to 200 images per month and costs $9.90 per month. The Pro plan is VanceAI's downloadable software version of the product which costs $19.90 per month and allows for unlimited images. 
VanceAI PC is full-featured desktop software developed by VanceAI that lets you instantly process local photos in bulk with more customization options, which will significantly simplify your workflow and boost your productivity. Free Download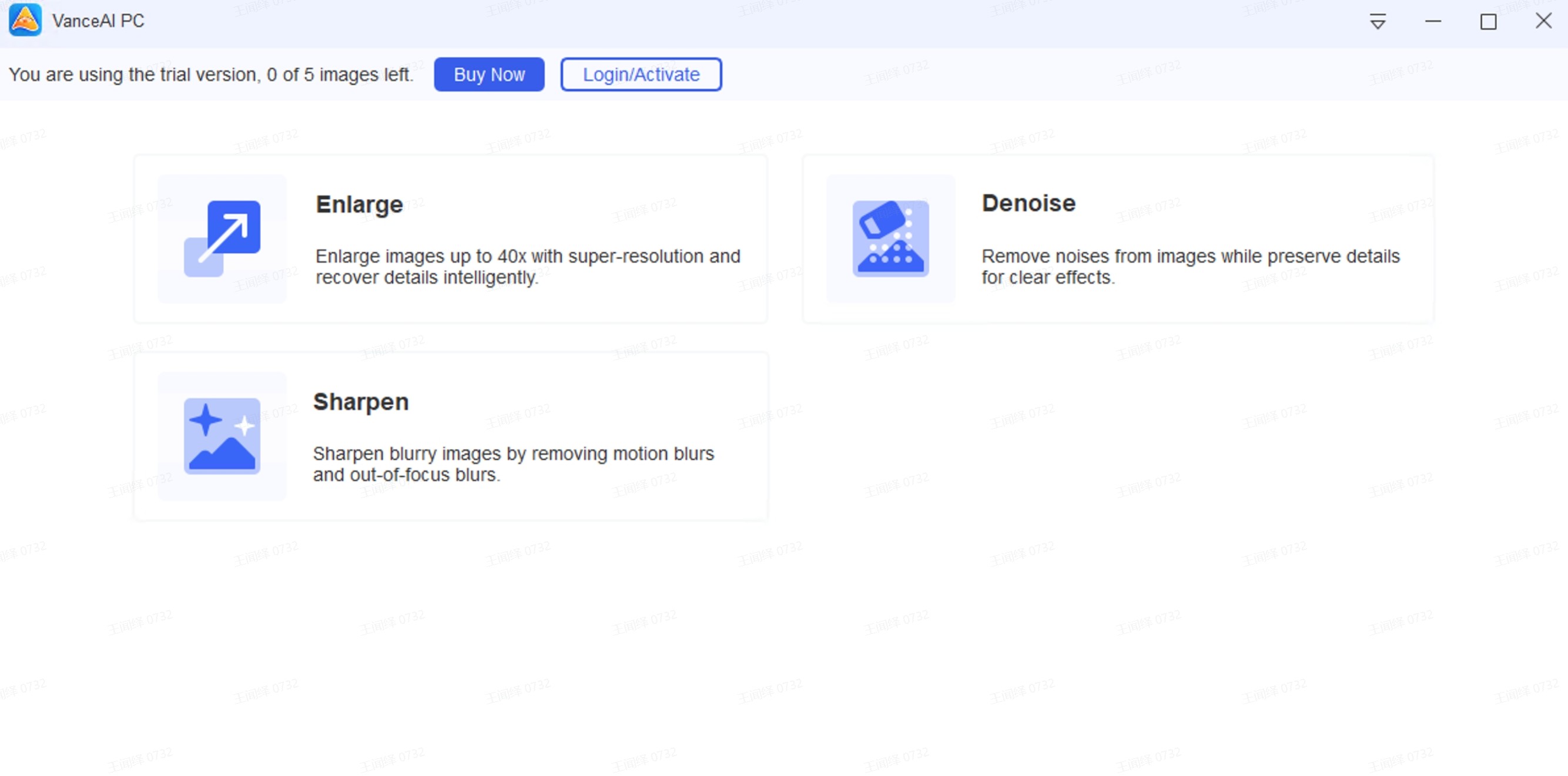 Compatibility: VanceAI extends support to Windows, Android, MacOS, Linux, and iOS operating systems. It is recommended that you are running modern browsers like Chrome, Firefox, etc, however. 
Features: You can get a taste of what the BGremover has to offer on its home page. Similar to other VanceAI applications, this one works automatically as well and completely online. A good touch to this application is the background replacing feature. Basically, you can replace your erased or transparent background with a colored one with a simple click. They have also included a couple of scenic backgrounds along with the colored ones. It also states that it is optimal for images used on Amazon, eBay, and other e-commerce websites.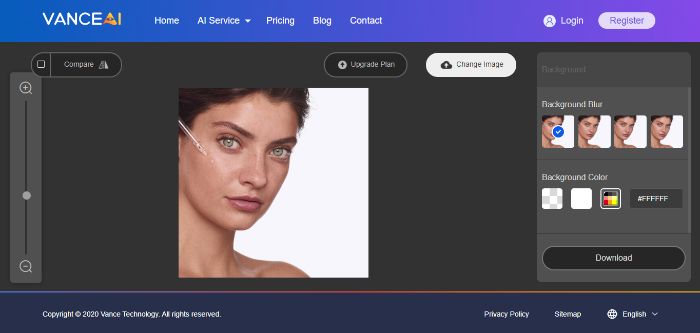 How to use: 
1.You can remove background by visiting its home page. The images need to be at most 25 megapixels and 10 MB. It supports jpeg, jpg, and png formats. 
2.Click on the upload button to select the image and upload. You can otherwise drag and drop the image or paste the URL image from the Internet. 
3.Once uploaded, the software will automatically process the image and show you the result. 
4.You can click on download to instantly get a preview image or use a simple Google or Vance sign in to download the full-size image. 
5.You can also compare the output with the original by clicking on Original and edit it using the Edit option. 
Pros: 
Pretty good accuracy. 
A few core editing features are offered. 
Multiple ways of uploading images.
Cons:
No batch processing for the free version. 
List of 5 Selective Blemish Remover Applications 
| | | | | |
| --- | --- | --- | --- | --- |
| Software | Price | Quality | Features Options | Support Device |
| Movavi Picverse | $29.75 | High | RAW support, Various filters, Whiten teeth, Insert own fonts, Mobile, and Online Versions | Windows, Mac, Mobile, Online |
| Fotor | $3.33/mo | High | Markup tools, Wrinkle Remover, Clone, Teeth Whitening, Social Media Plugins | Online |
| makeup.pho.to | Free | Medium | Automatic process, Acne and pimple removal, Colour Enhancement | Browser, iOS, Android |
| BeFunky | $2.89/mo | High | Tools for various parts of the body, Artistic themes, Add effects and graphics, Stock Images | Online |
| Adobe Photoshop Express | Free | High | Resize and crop images, Remove blemish | Online |
1. Movavi Picverse
Price: Movavi Picverse blemish remover software is a paid tool that also has a free trial download, which usually lasts for seven days. The simplest option would be to purchase a lifetime license of Picverse which costs around $29.75. Of course, Movavi offers more than just Picverse and you can get access to all Movavi has to offer by buying a yearly license for $75 if you are looking for tools to complement Picverse. There are different plans available for Business type account holders.
Compatibility: Picverse photo blemish remover supports Windows and Mac operating systems. There are also mobile and online-based versions available of this software. 
Features: 
Movavi Picverse is a comprehensive software that has more to offer than removing blemish. It can also enhance your photos with a simple bar tool.
You can select from hundreds of filters and effects for spicing up your images even after you are done with removing blemish. No need to go somewhere else. 
It offers detailed editing options such as to whiten teeth, remove specific objects only, apply makeup, and many more. 
It is compatible with RAW files and you can convert them into JPEG format after uploading. It also offers a wide range of image format compatibility otherwise. 
You can insert your own font, backgrounds, colours into the image you want to edit with a good number of customization options. 
How to use: 
1.Make sure to download the software for the optimal operating system by checking the logo beside the Try Free text. 
2.The download won't take long as it is just over 50 MB. Once done, launch the app. 
3.The app will open up and show you the options to upload. You can upload by searching the file or by drag and drop. 
4.Once you have the image in front, look for the symbol that reads Retouching. It will be a smiley face symbol. 
5.You will see a drop-down for the Blemish removal option. Click on it and use the brush to get rid of blemishes. 
6.You can download the file by clicking on the save logo on the top right corner. You can adjust your image quality before saving it. 
Pros:
Excellent UI which is also really detailed. 
A variety of different tools to play with.
You can do more than just blemish under the Retouching feature. 
Cons:
The editing brushes sometimes do not work precisely. 
2. Fotor
Price: Fotor is a free blemish remover app but it does have Pro and Pro+ versions you can purchase if you want to get access to all features. Fotor Pro starts at $3.33 per month billed annually. Under the Pro edition, you will no longer have to deal with ads, and will be able to enjoy your own dedicated cloud storage space and premium stock images provided by Fotor. The Pro+ edition provides a bigger library of premium stock images and costs $7.5 per month billed annually. Other than that, there is not much difference between Pro and Pro+.  Learn more about Fotor.
Compatibility: Fotor is an online blemish remover app.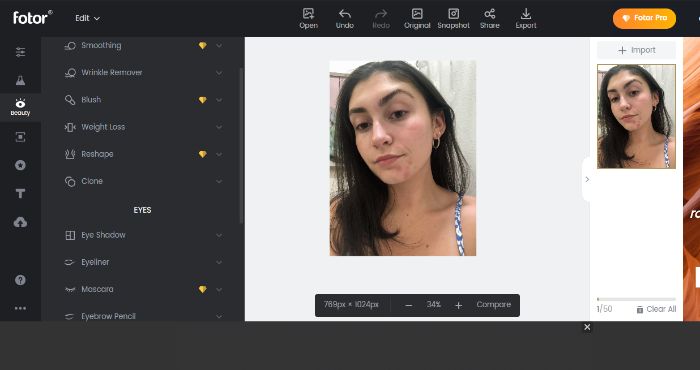 Features:
Fotor offers markup or touch-up tools that allow for greater precision when dealing with blemishes or minute skin marks. 
Similar to Movavi, Fotor isn't restricted to blemishes. It hosts a diverse toolset for creating clear looking faces including Wrinkle Remover, Blush, Clone, Teeth Whitening, etc. They are all divided as per body parts. 
It also features the classic Undo and Redo buttons so that you can quickly backtrack without having to worry about losing your progress. 
Fotor has a few social media plugins through which you can directly your desired image to Facebook, Pinterest, and others. 
How to use:
1.Visit Fotor and click on the option to Edit a Photo on the left. 
2.Once the image is uploaded, go through the left sidebar and click on the Beauty symbol. 
3.You will see a Blemish Fix dropdown appear. Click on it and set the brush size as per your convenience. 
4.Click on the spots that you want to erase and choose Apply. You can then compare the output with the original by clicking on Original located above the image. 
5.You can then download the image by clicking on Export. 
Pros:
Completely online yet feature heavy.
It has good accuracy. 
Interesting editing tools.
Easy to use. 
Cons:
The paid options are not compelling enough for purchase. 
Using multiple tools on one image can become messy. 
3. makeup.pho.to
Price: Makeup.pho.to is a free to use photo blemish remover. Moreover, it is a fully online process that will not require you to download any kind of software or sign up. 
Compatibility: This online application works on browsers. You can otherwise try their mobile application called Visage Lab which is available on iOS and Android systems.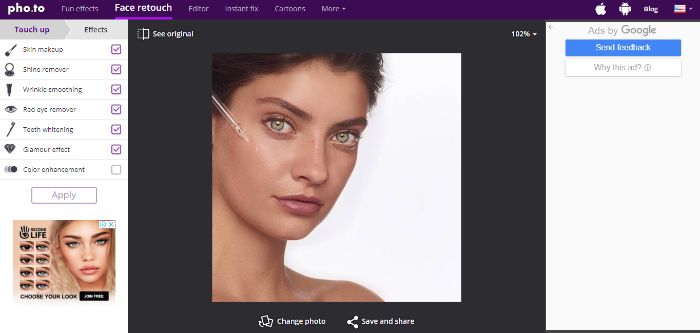 Features:
This software is online and uses techniques that automatically process and display output to the user. 
It goes beyond blemish removal and offers solutions for removing acne, pimples, and smoothening.
It allows editing of various parts of the face, with teeth whitening, red eye removal, skin makeup, etc options. 
You can enhance your image with its colour enhancement tool.
How to use: 
1.Click on Get Clear Skin when you arrive on the website. 
2.You can either upload an image from your system or directly from Facebook. Perhaps, you can test out the sample images they have provided on the dialogue box. 
3.When you upload an image, the online tool will process the image and apply all of the enhancements to your image. You can unselect or select the ones you need.
4.Glamour Effect is the blemish remover tool.
5.Press and hold the Show Original option above the image to compare before and after. 
6.Click on Save and Share to download your image or share on social media. 
Pros:
Automatic process with good accuracy. 
Easy to use and quick UI. 
Cons:
It is not as extensive as the other applications. 
4. BeFunky
Price: BeFunky can be used for free with limited features, blemish remover included, or you can choose to unlock everything by going for BeFunky Plus starting at $2.89 per month billed annually. 
Compatibility: BeFunky works online on browsers.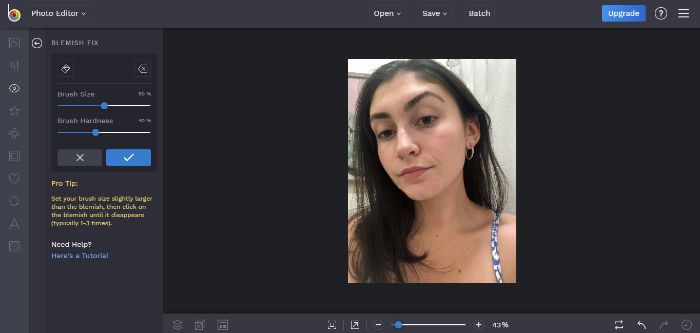 Features:
It has a toolset for various parts of the body on which it can apply enhancements or corrections from a faulty camera shot. 
You can blend your images with some really artistic themes such as oil painting, sketching, digital art, watercolor, etc. 
There are options for adding effects and graphics into the images which can be valuable for designers. 
Users can also access stock images provided by the software. You can upload your own too.
How to use:
1.Visit the website and click on the Create tab located above. 
2.You will now see the main editing page of the software and you can click on Open to upload the image from your system or from the other choices given. 
3.Look for the symbol that looks like an eye, that's the Touch Up symbol. Click on it and go to Blemish Fix. 
4.Use the brush to edit your image. 
5.Click on Save to download the file. 
Pros:
The stock images and artistic editing are one of the best yet.
The UI design is great. 
Cons:
Many features are blocked until you pay for them.
5. Adobe Photoshop Express
Price: It is free to use. 
Compatibility: Photoshop Express works online on browsers.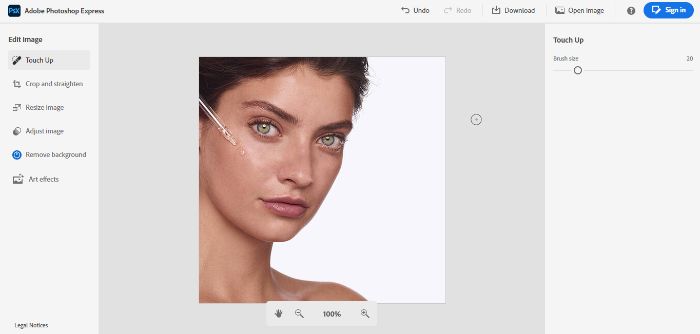 Features:
It is a straightforward tool mainly designed for retouching photos and removing blemish. 
You can resize and crop images. 
If you are logged in or have an account, you can make use of its background remover and art effects. 
You can add oil paints, cartoonish, etc filters and effects under art effects. 
How to use:
1.Visit the website and click on the Retouch a Photo button. 
2.Choose a photo of your own or a sample image and go to the editing page. 
3.Click on Touch Up to start erasing the spots through the brush. You can use Undo if you need to backtrack. 
4.Click on Download to save the image once done editing. 
Pros:
Simple and effective tool.
Provides additional features upon logging in.
Cons:
The brush is a bit ineffective around the edges. 
Also read: Best 5 Red Eye Removers Review
Conclusion:
These applications are the best at various image editing tasks, be it background related or to remove the blemish. You can refer to this review and list for getting access to these tools while reading through the steps on how to remove blemish for each of them. If you're also looking for tools to depixelate images, click on to read more details. Click to know more details about Selected Tools to Create Bokeh Background.
Do you find this post helpful?