In this article, you will find out about one of the best touch up photo editor in 2022, VanceAI. You can touch up a portrait photo with one click and the differences will be seen with the naked eye. And we know how important it is to have a perfect photo to post on social networks. Photo Retoucher gained its popularity easily. This web service is a perfect tool to touch up a portrait photo or other kind of photos at an irreproachable quality.
Now with social networks, we post more and more photos. We realized that the meaning of a  photo is more than just a post. There are few people who do not put their photos with them on their page. Usually, people want to be seen and heard and social platforms are a way to meet this need. Yes, it is a necessity. We know very well that on these social platforms we post photos that we consider perfect. How many of us have uploaded pictures that would put us at a disadvantage? Nobody. At least the profile picture must be perfect. That's why we ask our friends to take portrait photos or we take selfies.
Also read: Best 5 Portrait Photography Tips.
Most often, the picture is perfect but needs something more. Sometimes the colors in the photo are flat or there are some halos, artifacts, and chromatic distortions. In this case, we must edit the photo. Photo retouching is easy when you use reliable software. In the following lines, you will discover how simple is to use the tool. You will love to do a touch up portrait photo with this tool. Your photos will look spectacular.
Retouch Your Portrait Within 2 Seconds for Optimization
Portraits can create a lot of impact for promotional and marketing campaigns as they succeed better in giving a sense of authenticity and trust to viewers. Other than that, they are simply one of the best kinds of photographs that you can have anywhere, regardless of who you are, whether a business or an individual.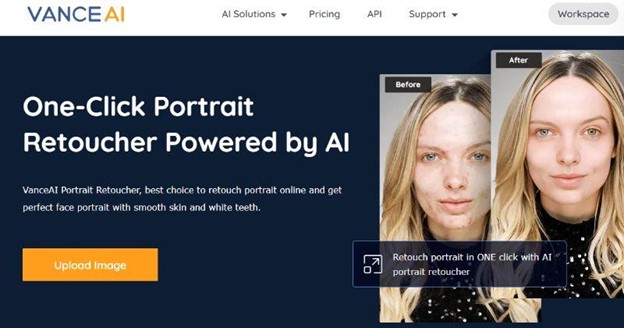 It is absolutely crucial to have a great portrait ready at all times and that is why we will be taking a look at the Portrait Retoucher app from VanceAI. You can use this app with any VanceAI subscription, with the most affordable being the Annual plan for $4.99 per month. Regardless, you have other great options for subscriptions as well. You can take a monthly plan for $9.99 per month or a "pay as you go" system that gives you 600 image credits, valid for 3 months, for a price of $24.99.
It also has one of the best online UI designs along with multiple features to choose from. You can have natural looking portrait images that work effectively for whatever goal you have set. Not to mention that VanceAI has multiple image editing tools such as AI background remover, AI photo colorizer, AI image compressor, and many more. VanceAI is basically an entire image editing software rolled into one package online.
VanceAI Portrait Retoucher Performance Review
Now, we will make comparisons between a few original portraits versus the same portraits after being processed with the VanceAI Portrait Retoucher. You can retouch portrait online as well by using the link given. The link will take you to the official page of the app.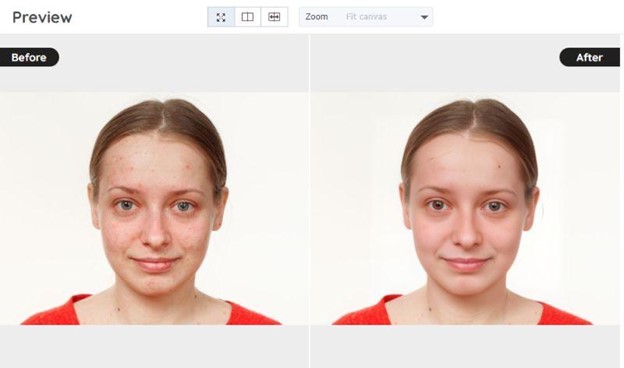 As we can see from the above image, there is a huge difference between the before and after images. While the before image has a lot of acne and pimples, the after image gets rid of almost all of them. The after image doesn't change or alter the face but makes subtle changes instead. The resulting image looks clean, authentic, and most importantly, natural.
This image can definitely be used for profile pictures on practically any social media platform and it is also a useful image for official documents relating to the government. Documents often require clear images with a face that looks identical to the owner and the photo blemish remover makes your image eligible for such documents through image enhancement.
The VanceAI Portrait Retoucher manages to get a clear portrait out of a semi-clear image again. The app also offers two different options for portrait enhancement. One option is meant purely for removing acne, blemishes, and similar things from an image. The other option is meant for enhancing the quality of a portrait further. The app manages to provide results in a few seconds every time. However, the app also tends to slightly change the eye color of the portrait at times. With this issue fixed, the app can be pretty much flawless.
Overall though, the VanceAI Portrait Retoucher is an amazing application if you want to repair portraits or even enhance them. The AI based system works wonderfully and provides one of the best results.
What Makes Different the VanceAI Photo Retoucher from Others
Photo retouching is the process of preparing an image for the final presentation. It involves adjusting brightness, colors, removing blemishes, and other imperfections. By doing this procedure your photo will become stunning and more presentable. What makes a difference between VanceAI Photo Retoucher and others alike? First of all, the latest technology propels this software in front of other post-processing services.  Based on artificial intelligence, with trained algorithms with numerous photos and deep learning, you can touch up a portrait in a blink.
The whole process is automatic and with help of the AI, this touch up photo editor can detect and repair areas that require texture/ details, rich colors, and luminosity. For example, you can touch up a portrait photo taken with old generation phones and remove chromatic aberrations. The second argument is that you will gain more spare time. Even a beginner photographer knows how much time you spend do to a photo touch-up. This tool is compatible with Windows, MacOS, Linux, iOS, and Android and can be used by professional photographers and beginners alike. And one aspect I care about a lot is that the photos uploaded on the site are permanently deleted after 24 hours, so I don't worry about the safety of personal information. This Photo Retoucher can transform a dull image into a breathtaking photo with just one click. It`s like reading your aesthetic thoughts.
Touch Up a Portrait Photo as You Say "Say Cheese"
With a few clicks, you can increase the potential of a photo. Read the following tutorial on how to touch up a portrait photo, while you will be amazed by the results. 
#1. Go to the AI Photo Retoucher website and click the "Upload Image" button.
After this, a new window will pop out, in order to upload your photo. When you are ready, you must click " Continue", in order to do a photo touch up. 
#2. Here you will check your uploaded photo like in the image below, then click "Continue".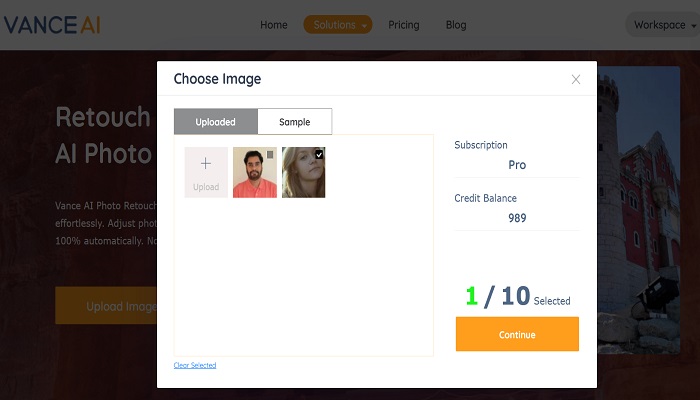 #3. You will see your uploaded photo and the input and output options. You must click " Start to process".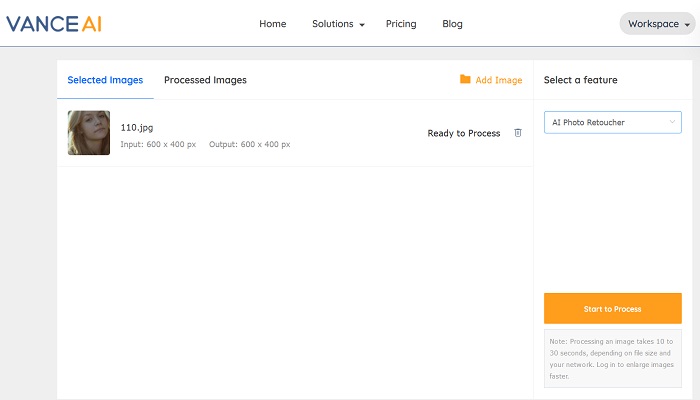 Also, you can opt for a batch photo retouching in this touch up portrait editor.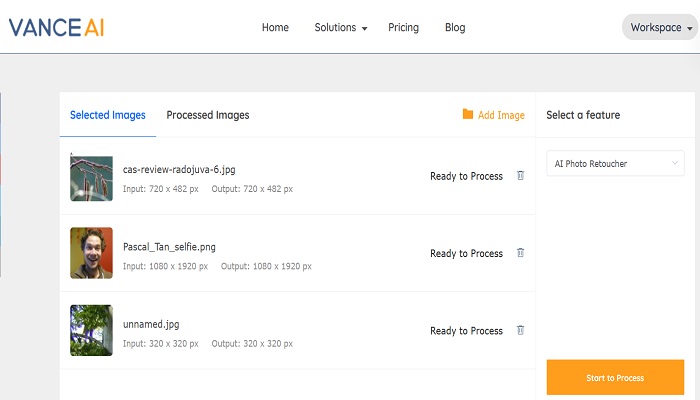 #4.  After a couple of seconds, this program will automatically touch up the portrait photo. You just need to download. If you need to compare the photos before downloading, just press the compare icon. 
Also read: How to Enhance Portrait Photos with VanceAI Image Enlarger.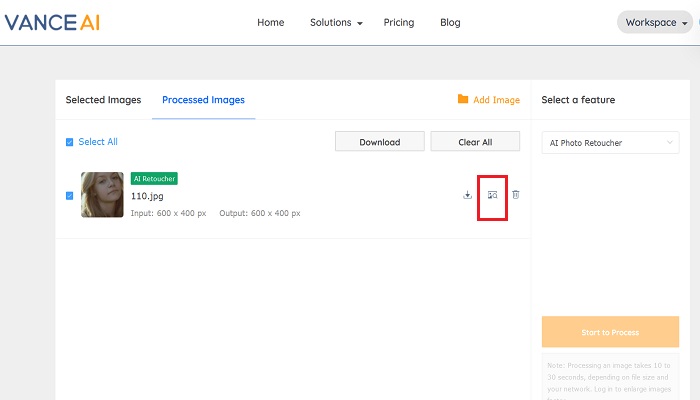 The performance of AI Photo Retoucher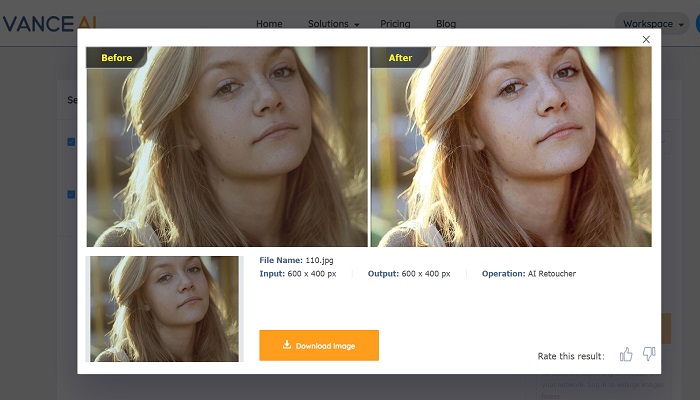 As you can observe, there is a huge difference between them. The transformed portrait photo is more brighter, the subject is sharper and the background colors are enhanced too. 
Download the touch up portrait photo. Keep in mind that the input specifications will be the same for the output.
That was the whole tutorial. It took me longer to write it than to use this portrait photo editor. My photo retouching was a success and my effort was only to drop and download the image. Since one example is not enough, I will do some more photo adjustments using this online software.
Surely, this touch up portrait photo is an improved version of the initial photo. Now, the subject is not anymore blurry and the colors have better contrast.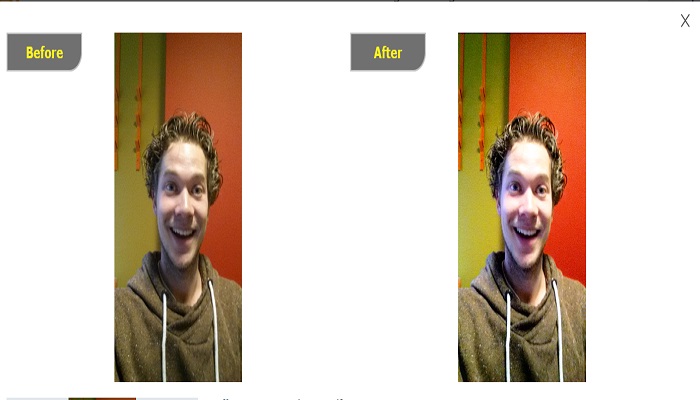 In the third example, the colors are more intense, and like in the previous example, the face of the subject is clearer.
Conclusion
It is really amazing to see how simple is this portrait photo editor and realize that behind its simplicity lies a complex technology. VanceAI Photo Retoucher is a great way to give your photos a spark. Just give it a try. There is a free trial that allows you to do 5 touch up portrait photos. If this photo touch up editor will convince you as he convinced me, then you can opt for a basic or a pro subscription. Both are affordable for any pocket and it is worth it. A subscription includes all the editing programs offered by the VanceAI developers. You can find out what tools are included here. Unlike the policies of similar sites, if you are not satisfied with the results, a full refund is guaranteed. 
Click to see 5 Best Deepfake Makers and get some fun to look at.
Do you find this post helpful?