10 Best Crop Tools for Effortless Photo Crop Review
A crop tool is something that you will find in almost all kinds of devices that have anything to do with visuals such as images and videos. So, your smartphones and laptops are definitely able to photo crop and work on pretty much any image. However, the appeal of a dedicated crop tool is that they often have extra depth and features to go along with the basic function to crop an image. Also, they usually include some other features that go hand in hand with the basic crop tool. An example can be the feature of editing specific parts of an image which is possible on high-end tools and cropping those specific parts or making them the focus. Not to mention that you can use an online crop tool much faster than using apps on smartphones or laptops.
We will give a list of ten of the best crop tool applications including VanceAI Image Cropper that you can use as online image crop tool or offline in some cases. Nonetheless, you can conveniently use these crop tool applications for your work instantly. We will give you a quick summary of each application that includes features, prices, and more.
Top 10 Best Crop Tools List
| | | | | | |
| --- | --- | --- | --- | --- | --- |
| Tool Name | Price | Quality | Features Options | Support Device | User Friendly |
| VanceAI Image Cropper | Free | Basic | Multiple image upload, detailed cropping | Online | Easy to use, no advanced features |
| Adobe Photoshop Express | Free | High | Preset dimensions, AI-based straightening | Online | User-friendly, complete tool |
| BeFunky | Free (Watermark) / $59.88 per year | High | Complete editor, easy to use, batch processing | Online | User-friendly, need to pay to remove watermark |
| img2go | Free | Basic | Quick crop tool, multiple image upload options | Online | Simple UI design, no advanced features |
| LunaPic | Free | High | Four different cropping methods, many editing features | Online | Complex UI design, takes time to learn |
| PicResize | Free (Advanced features at $30 per year) | High | Batch processing, revert to default | Online | Easy to use, good number of features |
| Croppola | Free | Basic | AI-based technology for best cropping ratio | Online | Easy to use, no advanced features |
| smallseotools | Free | Basic | Few features | Online tool | High |
| Fotor | Free/Paid | Advanced | Bunch of cool features | Online tool | High |
| Gifgit | Free | Basic/Advanced | Few options for uploading images | Online tool | Moderate |
1. VanceAI Image Cropper
Price: VanceAI Image Cropper is also an image crop tool online that is free to use.
When it comes to uploading images on this tool, you have a lot of options to choose from. The image cropper comes with many other image editing features like Photoshop Express that you can use along with the image crop tool. You can drop any image as long as it is a PNG, JPG. When cropping, you can input numbers for that extra bit of precision.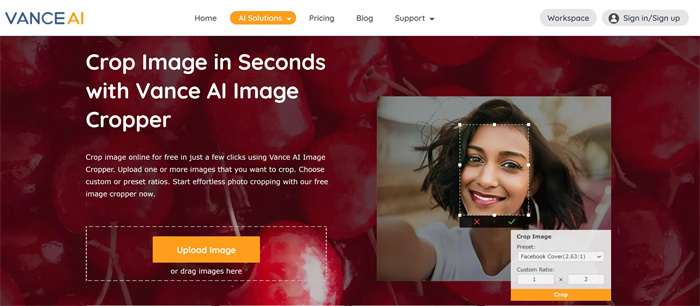 Pros:
You can upload multiple images all at once
Detailed cropping of images possible.
Cons:
Also read: How to crop an image in Photoshop?
2. Adobe Photoshop Express
Price: Adobe Photoshop Express is a free to use online crop tool application provided that you have created a free account. You can use your Facebook, Google, or other accounts to quickly get a free account.
Adobe Photoshop is really user friendly when it comes to image editing overall but what makes the crop tool convenient is that it gives a list of preset dimensions that fit the social media numbers for image dimensions. There is also an AI based function in the tool that automatically straightens up the image. You can use that instead if you are just looking to fix an image through cropping. Other than that, the UI is really intuitive and the design is really less clunky than what you would have in the software version. Know more about Photoshop.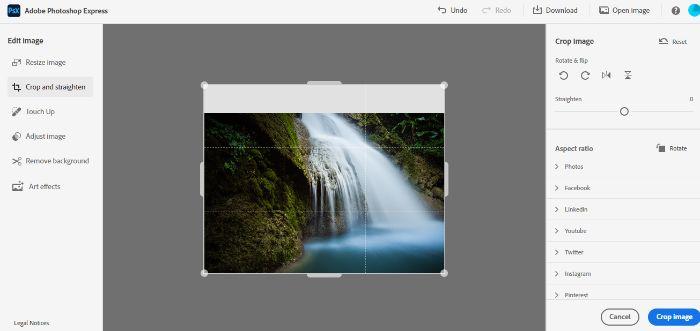 Pros:
It is a complete online tool for editing images with great features.
Preset social media dimensions given beforehand.
Cons:
There is no considerable disadvantage of using this tool but the free account can be a bit annoying for some users.
3. BeFunky
Price: You can expect the tool to work as an easy crop tool for free anytime. For all features though, you will need to buy an upgrade starting from $4.99 which totals into $59.88 for a year.
This online tool is more than just for cropping an image as it has an entire editor section full of image editing features similar to Photoshop Express. When it comes to its photo crop tool, things are easy. You can crop an image with ease and accuracy. You can also choose to have the image in either landscape or portrait mode. Apart from that, you can also choose image ratios that are usable in different scenarios. There is also the option to batch process a ton of images at once. You can learn more about BeFunky.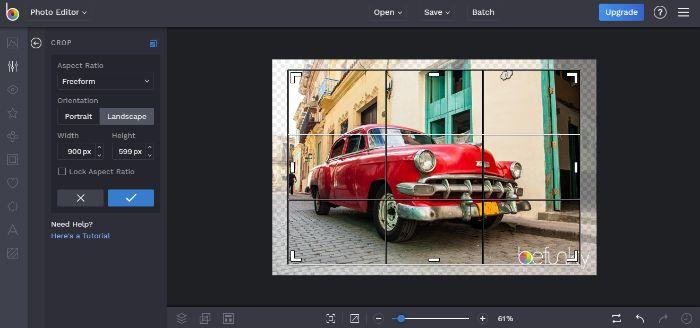 Pros:
A complete editor for a crop tool.
Easy to use.
Cons:
You have to deal with a watermark if you are using the free version.
Also read: How to Sell Photos on Shutterstock
4. img2go
Price: This is a quick crop tool as well as a free one.
As the name suggests, this tool is specially for those looking to crop pictures really quickly. You can either select an image from the device to upload it. If not, you can drag and drop images and you can also paste the URL of the image directly, which probably is the fastest way of doing this online. After uploading, you are given the image and a few options. These options are aspect ratios that you can select to crop the image in the same way. You can then instantly download the image.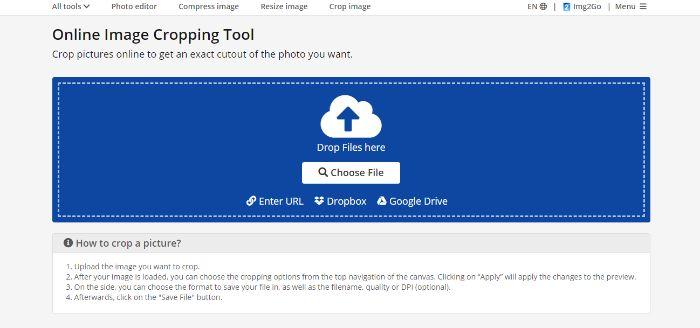 Pros:
It has a simple UI design and editing mode.
Multiple options to upload images.
Cons:
It is not a features based tool like the previous ones.
5. LunaPic
Price: LunaPic is a multi-feature online tool that is free to use.
LunaPic is more than just a traditional crop tool and you will notice that when you start using it. When you crop an image, you will have around 4 different methods of cropping the picture. The first is the traditional way, then you have a highlighter shaped in a circle, freehand, and the last is where the tool selects the area to crop by itself. Not to mention that there are a bunch of features you can use on the image to enhance it. You will need to get a hang of the tool first, but it has a lot to offer after that.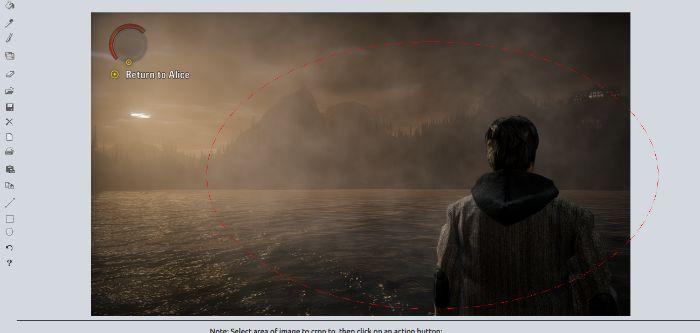 Pros:
It has a lot of unique features that many online tools do not provide.
Cons:
It takes some time to learn the online tool.
6. PicResize
Price: You can use this tool for free when it comes to most of its features including the crop tool. Its advanced features are behind a payment of $30 per year.
You have many options to upload an image on this tool as well. You can drag and drop images or paste links in the box given. Other than that, you can also use the batch processing feature that has its limit set at 100, which is more than enough in most cases. You have a good number of options in the editor as well, allowing you to crop and rotate images with simple clicks. You can revert back to default too, if you want to start over again. 
Pros:
Easy to use.
Good number of features.
Cons:
The paid version isn't too compelling.
7. Croppola
Price: Croppola is a free to use crop tool.
What sets this crop tool apart from the rest is the fact that it uses AI based technology to automatically detect the best cropping ratio for your images and presents it when you upload your image. This is particularly useful if you are looking to crop pictures purely for aesthetic. What's more is that you can still select different aspect ratios for your images. You will also see the color palette of your image just below it.
Pros:
Smart detection for cropping pictures with automatic results.
Manual options to crop images provided too.
Cons:
Does not work equally well for all images.
8. smallseotools
Price: It is a free to use online tool.
This is one of the basic tools to crop pictures with but it does work well. You again have multiple ways of getting your image to the site, either by uploading it from the device or from Drive or Dropbox. You can drag and drop images to it as well. This is a well known tool that has been used by many world-famous companies.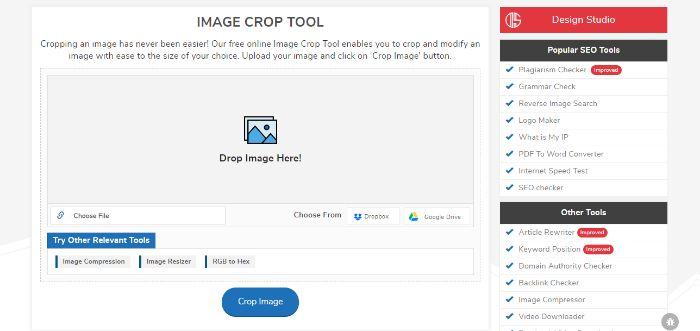 Pros:
A popular application which is also a user friendly application.
Cons:
It does not have many features.
9. Fotor
Price: Though it does have paid options, you can crop pictures for free.
Fotor is a popular online tool for image editing and enhancing. It has a long list of features that rival even the best offline software image editing tools. So, with Fotor, you can never go wrong as far as images go. It will give a bunch of preset ratios like Photoshop that batch popular image dimensions for Facebook, Apple, etc. Cropping can be done with a few steps only.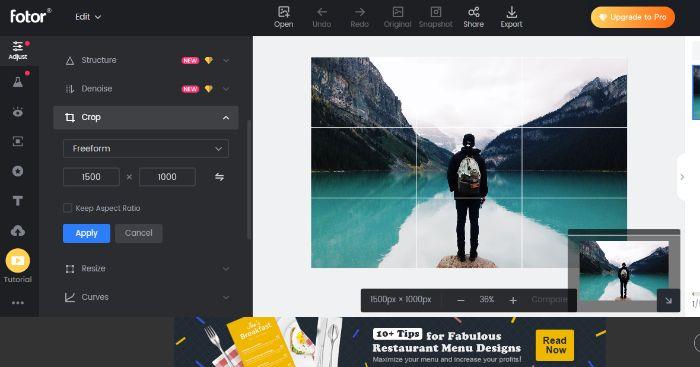 Pros:
A bunch of cool features.
Cons:
It is a big online application and so it can be buggy sometimes.
10. Gifgit
Price: It is a free online crop tool.
This tool has two modes. The first is the basic one for simple image cropping and the other is a more sophisticated tool with extra features. Regardless, you can crop your pictures easily and add some effects to them. Its editor UI is similar to the old Paints UI, so you should feel welcome when using it.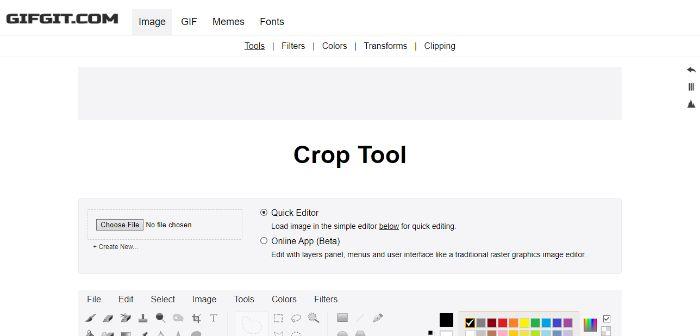 Pros:
Two modes for a single tool.
Cons:
Not many options for uploading images.
Conclusion
You can use any of these great tools mentioned in the list, not just for cropping pictures but also for enhancing them at the same time. Also, you will find tools that can simply crop pictures quickly without requiring much from the user. Tools like Croppola add a unique twist to cropping whereas tools like Fotor and BeFunky give you a bunch of features to add onto the cropped image.
No matter you encounter any problem about pictures, you can turn to VanceAI, which can provide you with powerful AI tools and traditional photo editing tools that you can integrate into your workflow. 
And VanceAI PC can effiently solve problems about pictures, the full-featured desktop software is developed by VanceAI that lets you instantly process local photos in bulk with more customization options, which will significantly simplify your workflow and boost your productivity. Free Download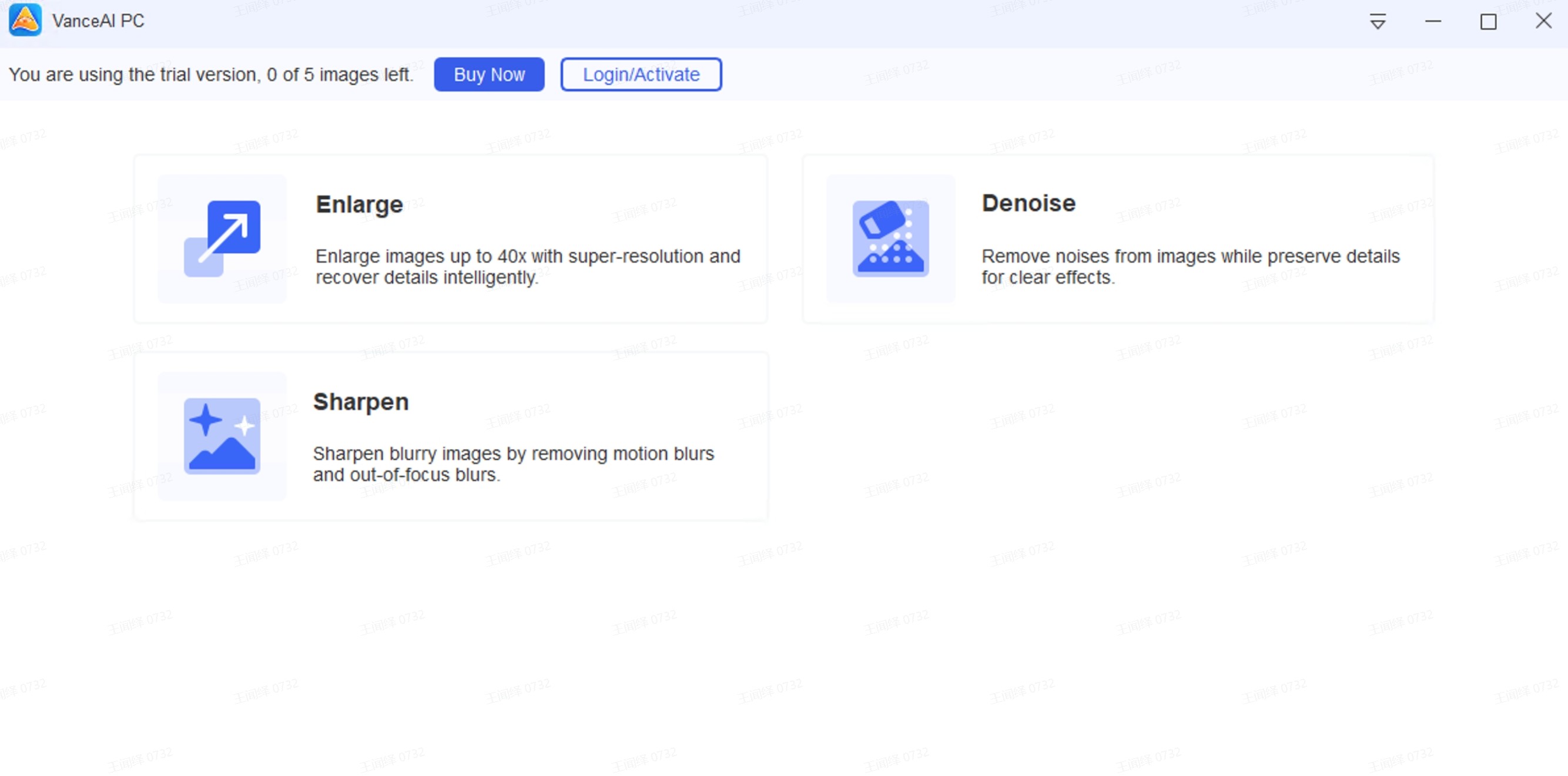 Related article: How to Flip an Image in Photoshop and 5 Best Alternatives
Do you find this post helpful?
Read More to Know Deeper: