5 Selective Tools for Sky Replacement
Editing a photo nowadays can be quite tedious and challenging given the high definition quality being used. To be more specific, it is a big blow when you are trying to perfect but just cannot arrive at being able to fix blemishes and discoloration during sky replacement or background removal of an image. Being able to remove background from an image with AI is now made easier than ever with AI background remover. Made possible only thanks to the help of deep learning techniques and Artificial Intelligence techniques used in websites like VanceAI and Adobe Photoshop, amongst others. Because of technological advancements, there has been a meteoric rise of several trouble-free, easy to use kinds of software that we are going to familiarize you with. 
VanceAI Product: BGremover
Background removing/sky replacement, denoising, sharpening, enlarging are some types of software under the VanceAI umbrella. It is one cut above the rest. They get our thumbs up and our approval. For professional or personal purposes, it is the place to go. The website is being used on a day to day basis for businesses on e-commerce websites like Amazon, Shopify, eBay, and so on. Especially while compiling, editing, and marketing images of their products. 
VanceAI PC is full-featured desktop software developed by VanceAI that lets you instantly process local photos in bulk with more customization options, which will significantly simplify your workflow and boost your productivity. Free Download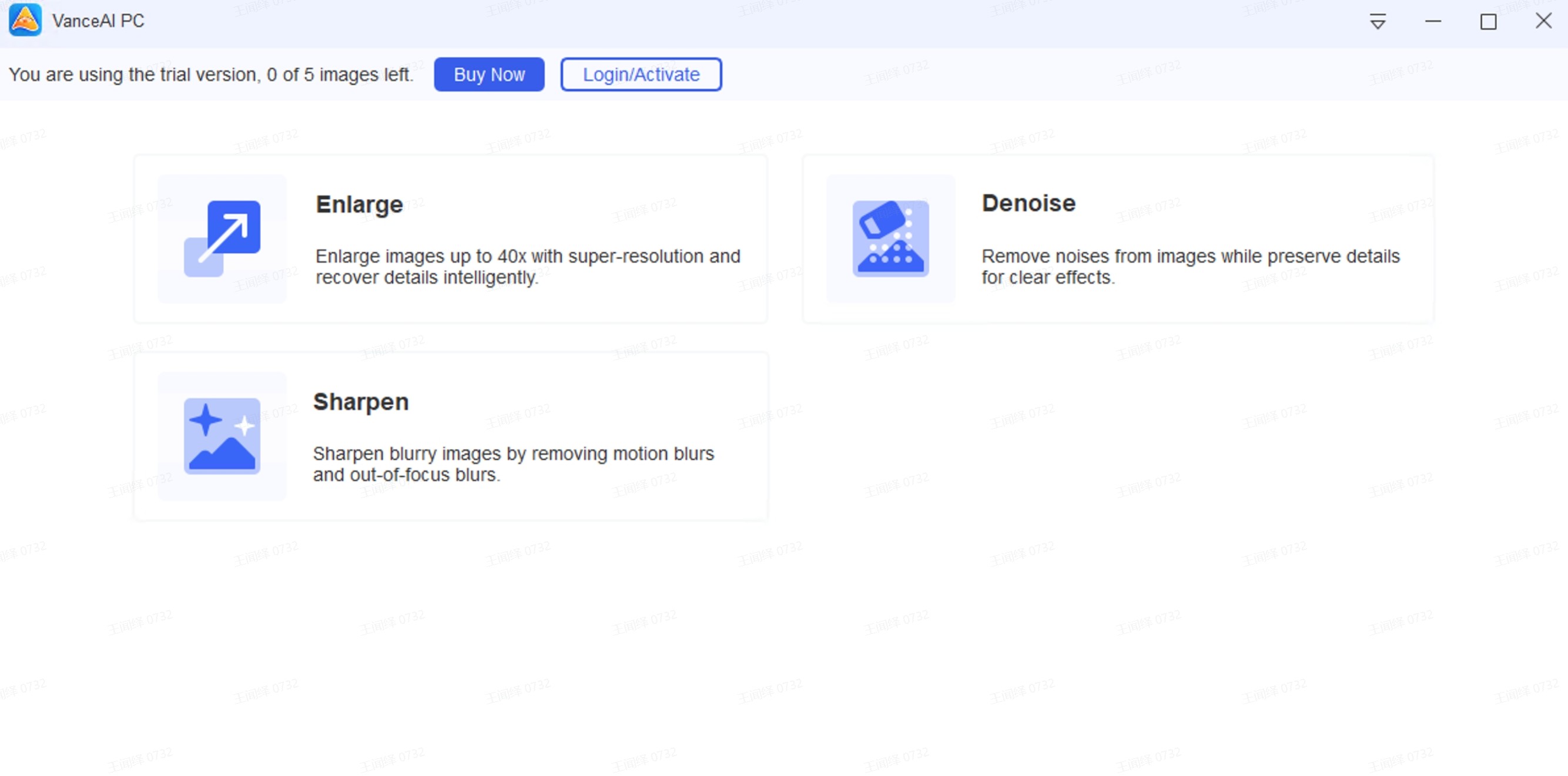 You can remove background with AI, replacing it with another background of any solid or gradient color of your preference. It has heavily sloshed (i.e. reduced) time for the photo editor, which can add to your overall efficiency. These are some of the admirable factors of this particular software/website. Following is a sample of what you can expect the result to look like: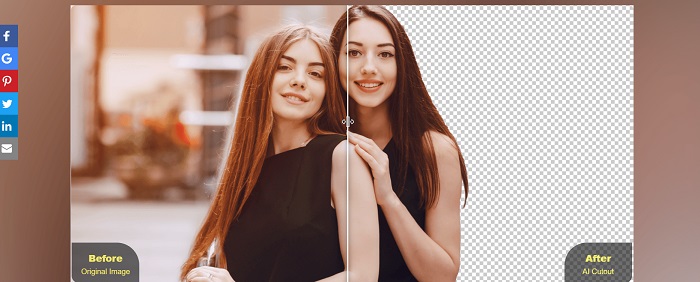 According to the website, this feature works best on sky replacement images, nature, animals, graphics, products, people as well as cars. You can replace the background with anything appropriate of your choice, the possibilities are just endless!
Other Tools Under the VanceAI Umbrella 
The sharpening tool, AI Image denoiser, enlarging tool as well as some of the other products under the Domain is pretty comfortable to work with. Let's introduce you to some of the other tools under Vance. 
VanceAI Image Sharpener
VanceAI Image Sharpener enhances and beautifies your otherwise dull, blurred out photos transforming them into pieces of artwork. Using the aid of CNN/ConvNet or otherwise known as Deep Convolutional Neural Networks, an up and coming technology which analyzes and manipulates visual imagery. Resizing of images is also much needed in today's day to day business and personal affairs. VanceAI Image Enlarger Online tool is helpful for those who want to enlarge image resolution without any danger of losing quality. Here is an example of the AI Enlarger:

VanceAI Image Denoiser
VanceAI Image Denoiser is also one of the most well-designed, well-crafted, user convenient features under the VanceAI domain. It helps to reduce noise and disturbance seen in images by a drastic margin. Even if you click pixelated pictures, AI Image Denoiser will give it a new, updated, wholesome look, alleviating the sharpness of the uploaded picture by rather big margins. Supported by neural networks, it auto recognizes the noise and the distortion in the background of images. Here is what you can expect the end result to look like: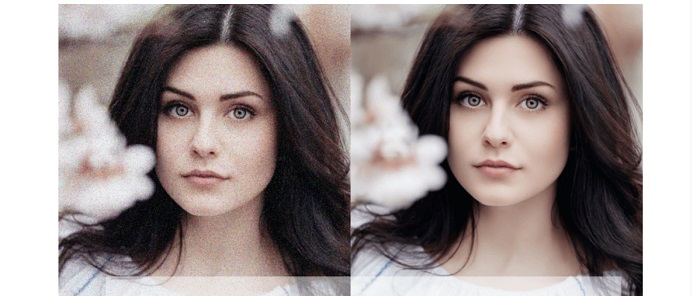 You need not worry about clicking pictures in low light, dark areas, etc. This software is a good handler of unnecessary and unappealing background noise and removes it right in its tracks, exhibiting a natural-looking, high-quality photograph. 
VanceAI also has plenty of other photo editing tools that can help you to save your precious time. Next, we will be talking about the paid plans of VanceAI. Click to check some best alternatives to selfie2anime.
The Paid Plans Of VanceAI
You can unlock the tool's full powers by partaking in the paid plans. If you feel that you are now liking this particular software and are considering it as a long-term strategy then buy away! The Basic and Pro plans can set you back about $9.90 per month and $19.90 per month, respectively. Both have their own added advantages. 
Here are the features of the Basic Plan:
1) You can process up to 200 images in a month. 
2) You cannot download the software onto your electronic device, you can solely use it online.
3) The maximum file which is to be uploaded is to be not more than 10MB.
4) Maximum resolution can strictly be up to 3000x3000px
5) Batch processing can be done up to 5 images.
The following are the features of the Pro Plan:
1)  There is no limit to the number of images you can process.
2)  You can easily download the VanceAI software onto your computer. You can then use it for sky replacement or use it as a background remover from your computer itself. There is no need to even be online and connected to the internet.
3)  The maximum size which is to be uploaded is the same as the basic plan i.e. of 10MB.
4)  Maximum resolution is again the same of 3000x3000px but now, you can enlarge pictures to 4X and also an astounding 40X.
5) In the online mode, you are allowed to batch process up to 10 images. In the downloadable software, there is no limit.
There are multiple types of software out there in the market that are available for use, but they might not be as convenient and well within one's reach. VanceAI has caused major waves and will continue to do so. This software has been up and running for not too long, it is fairly new. So, it is pretty fair to expect a few upcoming updates in the near future. 
Alternatives and other types of software
Sky replacement and/or background removal can be a taxing task. Luckily, due to progression and development in the image editing space, we now have a wide variety of different kinds of software that help you to do just that, in a way that doesn't need you to break your back. Let's take a look at a few of them.
| | | | | | |
| --- | --- | --- | --- | --- | --- |
| Software | Price | Quality | Features | Style | User-Friendly (Grades) |
| Luminar | Expensive | Excellent for outdoor and landscape photography | Sky replacement, additional features, plugin | Slick | Not for beginners |
| PicsArt | Free | User-oriented | Sky replacement, multiple sky options | Diversified | Layman-friendly |
| BeFunky | Free | Professional editing service | Sky replacement, image editing features | Top class user interface | Free version limitations |
| Landscape Pro | Paid | Professional use | Landscape image editing, RAW file support | Artistic | Not specified |
| Adobe Photoshop | Expensive | Detail-oriented multifaceted software | Sky replacement, image editing, design tools | Versatile | Complex |
1. Luminar 
Luminar is a slick website that helps you to elevate your photography which is used to remove background from image with AI. According to the website, it is optimal for flat skies or even overexposed skies. This software can also be used as a plugin, which may or may not be more convenient for you.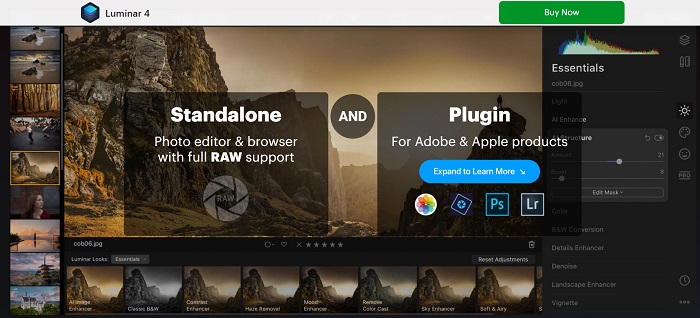 Pros
Excellent for outdoor and landscape photography which involves a lot of pictures of the sky as this software offers impeccable sky replacement features. 
For the professional level editors as they have access to many additional features too.
24/7 assistance available after purchase.
Cons
It is on the expensive side, costing $89.
Learning the process of sky replacement and other features can be a little challenging.
It is not for beginners. 
2. PicsArt 
PicsArt has been in the image editing game for quite a while, which has now lead to a lot of diversification. It is completely online and eases the process of sky replacement photoshop. All you need to do is upload the image which consists of a sky. Then simply choose and replace it with another sky, redefining the image, giving it a whole different feel and look. Change the bright blue sky into night time by adding a dark sky without any hard, tedious manual work.

Pros 
It is user-oriented. Even a layman can make good use of this website and software.
You already have multiple choices of sky replacement to choose from.
The AI does most of the heavy lifting. You will acquire a new sky in the background of an image with the help of merely a few clicks.
Cons 
You have to get yourself registered and enter your personal details before making use of this software.
The edges of the image at the focus are not handled very delicately. You might find a flaw or two at a few instances as the edges are not very softened. 
Only a limited number of options for skies to select from. 
3. BeFunky
BeFunky provides you with a professional type of service for all of your image editing needs. Use it for sky replacement, retouch portraits, make collages, remove backgrounds, learn the basics of graphic designing, and the whole other lot. This website or software consists of over a million stock images as well as free to use vector graphics and icons, which can save you tons of time and hard work which would have to be done otherwise. You also have a mobile version of BeFunky.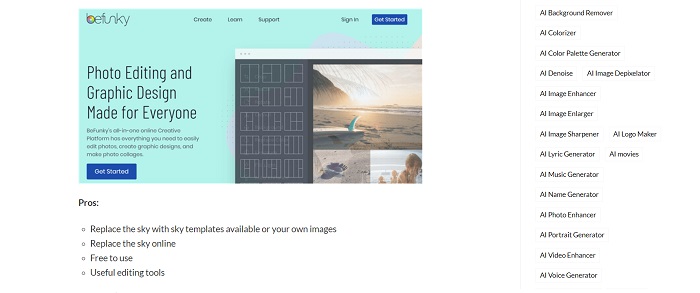 Pros 
The use of this website is free of cost. 
Multiple amounts of features made available for photo editing right at your fingertips. 
The user interface is top class. 
Cons
The free of cost version comes with a lot of limitations. One requires the paid version to unlock the true potential of BeFunky. 
Not the most ideal for sky replacement, the edges lack behind on the precision required. 
Fails to handle the edges between the background as well as the foreground. 
4. Landscape Pro
Landscape Pro is designed for professional use, specifically targeting landscape photographs. With intelligent adaptive control over your landscape images, it turns them into pieces of artwork without much hassle. The paid version of Landscape Pro also allows you to deal and process in RAW file formats along with the standard JPG, PNG, and JPEG formats. You can also get a taste of some of the very much advanced editing tools if you unlock the paid versions, which are called as Studio and Studio Max. After taking a glance at the below image, you will get a better gist of what the website is able to perform.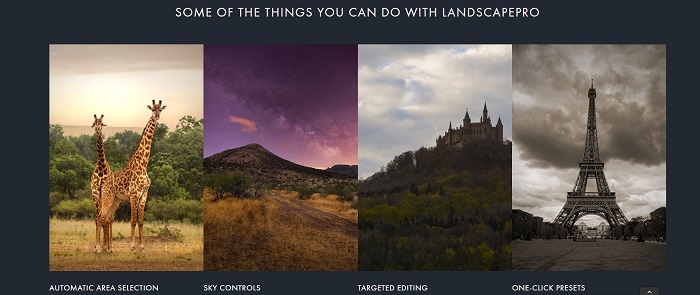 5. Adobe Photoshop
Adobe Photoshop brings business solutions to people all over the globe. The intricate features of this software are simply amazing. Sure, it is pricier than the whole other bunch of subscription plans around there, at around $40. Abode Photoshop does live up to the price when it comes to sky replacement images, as a background remover, imaging resizing, creating designs and elements from scratch. For that reason, it is one of the most common and popular software all-over the world. Here you can see an example of how to replace the sky in Photoshop: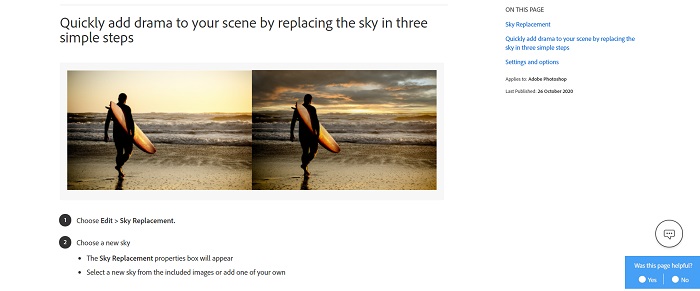 Pros
One of the most detail-oriented multifaceted photo editing software at your disposal.
Used by some of the big-name companies for online as well as traditional marketing.
A whole new array of editing tools to play around with. 
Cons
Can be a little towards the complex side. The mastery of Photoshop for sky replacement, image resizing, quality-enhancing can take years of practice. 
Your minimum system requirements to be able to run Abode Photoshop need to be high-end coupled with a decent graphics card.
Meant for heavy usage as there is a wide variety to choose from and is not suitable for the regular user.
The Final Verdict 
After familiarizing yourself with BGremover and the other kinds of software used for sky replacement, it is safe to say that it all boils down to your own personal preference. It really depends on what precise feature you are looking for, if you want a variety of photo editing tools or if you are in need of only a single feature. If you want to unblur image with some useful tools, click on to have a look at our details article. Base your choice around that and calculate your expenditure budget well, and we trust you to make the right decision. If you select any of the following software of websites above then to rest easy, you cannot make a wrong choice anyway. Click to know more details about Selective Blemish Remover Tools.
Do you find this post helpful?
Read More to Know Deeper: