5 Selective Methods to Animate a Picture 2023
Visuals are meant to be striking and lasting to an individual's memory long after he or she has seen it. This is not only a valuable aspect of any kind of advertising but also really essential due to the extremely high number of businesses and agencies coming out in this digital age. As a result, everyone is under the pressure of ideating innovative ways of grabbing a customer's attention, not just once, but for the long term. Plus points if they keep coming back. One way of innovation is to level up advertising and how you deal with visuals in the first place and the answer to that can be image animation. Besides that, more people also seem to be interested in AI Face Generator. You can know more from the link.
With abundant applications just waiting to be tested, you can not only learn how to animate a picture in a really short time, but you can also go further and get creative with it as well. With just a little help, you can animate an image to a level that is considered to be a professional's work. This review list will show you five products that can help you in image animation and provide you with all the necessary info to get into them. You can then animate a picture online or through applications, mobile, and otherwise. Plus you can upscale your image quality using VanceAI tools after animating them.
Also read: Top 6 AI Applications and Trends in Media and Entertainment 2022
Part1: Animate a Picture Online 
| | | | |
| --- | --- | --- | --- |
| Feature | Photoshop Spark | Kapwing | PixTeller |
| Price | Free (with paid plans) | Free (with paid plans) | Free (with paid plans) |
| Quality | Targeted towards businesses | Wide range of features | Basic editing functions |
| Features | Brand integration, collaboration, templates, custom dimensions | Ratios, visuals editing, subtitles, timeline, recording options | Editor mode, templates, image dimensions, overlay tools |
| User-Friendly | Beginner-friendly, variety of templates | Easy-to-use interface, no account requirement for editing | Beginner-friendly, small preview for design options |
| Compatibility | Online tool, with download option | Online tool | Online tool |
| Common Features | Templates, customization options | Animation editing, recording options | Editor mode, templates, image editing |
| Unique Features | Brand integration, public libraries | Subtitles, recording options | Image search, detailed animation editing |
1. Photoshop Spark
Price: Photoshop Spark is available for free to any user, provided that they have an account with Photoshop. There are many options for registering an account, however. You can have an account through your Google account. Other than that, Facebook, Apple, Email, or of course your separate Adobe account will suffice too. School accounts have a separate way as well, for students and teachers. 
Compatibility: Photoshop Spark is an online tool for image animation and can be used that way for everything. There's an option for download as well if that's your preference. More interestingly, there are also some popular Vtuber Maker which use similar technology. Try it if you like.
Features: 
Since it is an Adobe product, you can expect a lot of features that are targeted towards businesses and similar. Some of them are features such as being able to include your brands into projects for instant access across projects, saving time. 
You can share your project with multiple people, which is nowadays important when working on group-based projects in a company or anywhere. 
One of the best features as a beginner in designing that you can have is a collection of templates. Adobe Spark makes sure that you are supplied with enough templates for your projects to keep each one fresh and creative. 
You can start off your projects with custom dimensions and the popular ones such as those of an Instagram post, Slideshow, Facebook post, and many more. 
You can also get access to public libraries to get new ideas.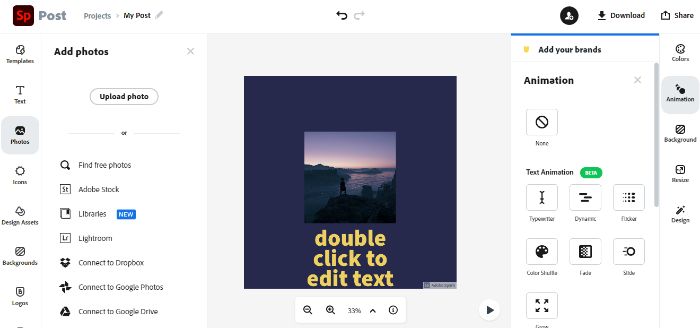 How to Use:
Use the link given in order to access the online application and reach the home page screen. 
Click on the blue plus sign to your left on the main screen and select any dimensions that you want. 
You can use the Animations tab on the right sidebar which also has other options such as Design, Colors, etc. Select animations and apply them as you see fit. 
Click on the Download button on the top right to save the image. 
Apart from that, there comes some fancy AI Portrait Generator, making fancy selfies at a fast speed. Get to know more about it.
Pros:
The application is online and free to use. You only need an account before you start using this image animation tool. Also, Adobe offers a Starter Plan, seemingly targeted towards complete beginners. Though it only gives access to basic and free templates, it is fully free to use nonetheless. It also has a 14 day free trial on Individual type plans.
There are many amazing features offered by Spark. Templates, brand-related features, quality of life improvements, trendy articles, etc. are all included. 
Cons:
Although it is packed with features, you will still not find as many options for image animation as you'd find in a traditional Adobe-based software application. 
2. Kapwing
Price: The online image animation tool from Kapwing is available for free with a few limitations. With a free account, you can still make image animation with access to all tools and up to 7 minutes long. You can publish up to 3 hours of content per month. As for the paid options, you have a Pro version and a For Teams version, both priced at $17 per month per user. The paid versions provide additional features such as access to all tools plus the premium ones, the ability to make your work private, and more. 
Compatibility: The Kapwing image animation tool can be used online completely. 
Features:
There are a ton of cool features that you can use to animate a picture online with this application. For starters, you can choose ratios and dimensions before even getting into animation. 
You can also edit the visuals to some extent with background color options, various font options, or by adding graphic elements. Furthermore, you can add subtitles into your animations as well, which is handy when making entertaining content such as memes or using movie dialogues in your creative designs. 
More towards the side of the animation, Kapwing offers a timeline wherein you can edit each and every second of the overall animation of the image. Apart from that, you can add delays and similar effects to the animation. 
There's an option for you to record your animations through various recording methods offered by the application. You can record the screen, record just the audio, or just the camera. This can be saved and used for extra editing later if needed.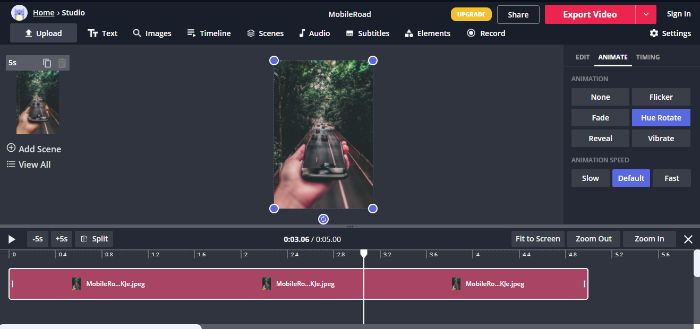 How to Use:
This will take you to the image animation application's main editing page. From there, either select an image from your device by clicking on the Upload button or paste the URL link of the image just below the button. 
You will need to look for the Animate tab on the right-hand side, just beside the Edit tab. There are a set amount of animations already provided by the application. You can choose any, apply it to the image, and start editing the animation itself. 
Once you have the animation, you can click on Export Image and choose how you want to save the image. 
Pros:
Similar to Adobe Spark, Kapwing is a free-to-use online tool that has many features, almost like that of an image editing software. A plus point for the application is that you don't need an account before editing your images. 
The UI is elegant and pretty easy to get a hang of. 
Cons:
Though the animation options are good enough, they could be even more than there are now. 
3. PixTeller
Price: You can always animate images with this application for free though there are paid options if you want to access all that PixTeller has to offer. There are two paid versions: Pro and Diamond, priced at $7 and $12 per month respectively. 
Compatibility: The PixTeller image animation application can be used online. 
Features: 
The application has an in-built editor mode on the website and as such has the traditional editing functions you would expect from it, such as ratio fixing, zoom in and out options, undo and redo buttons, etc. It also has a comprehensive list of various image dimensions usually needed for all kinds of social media posts. 
It has a good variety of templates that you can use and start editing from there, avoiding the tedious task of getting all your image assets together before actually designing anything. If not, you can always start from scratch. 
It provides various overlay tools in the form of Text tools, Drawing, Shapes, etc. Furthermore, you can add images into the mix. The images can be either from your local device or from the application's database. You can search keywords in there to get the kind of images you want. 
It also provides detailed options for editing your animations. You can use different animations at different frames.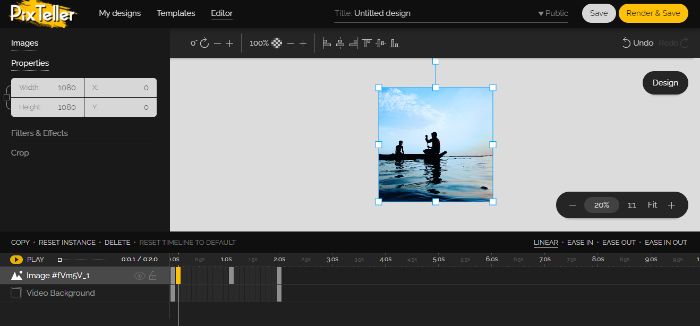 How to Use:
Use this link to reach the editing page of PixTeller. You can upload your image from the Images tab on the left. 
After uploading, click on the floating Animate tab. Choose the animation effects that you want and edit them. 
Click on Save Image on top to download the file.
Pros:
It has a beginner-friendly design. For every design option, you will be displayed a small preview so that you know what it does before applying it. 
It doesn't need any prior knowledge from users so you don't have to worry about how to animate an image. 
Cons:
It is not as feature-heavy compared to the other applications here. 
Part2: Animate Images with Mobile Apps
| | | |
| --- | --- | --- |
|   | Motionleap | GIPHY |
| Price | Free-to-use with in-app purchases | Free |
| Features | 3D image animation, overlays, effects, etc. | Virtual library of memes, GIFs, clips, etc. |
| Options | Advanced editing features, find other artists through hashtags | Edit clips with GIPHY's resources |
| Style | Image animation | Memes, GIFs, clips |
| Pros | Sophisticated features and application in general | Biggest library of memes and animations |
| Cons | Saving format needs more flexibility | Can take up considerable space on your mobile |
1. Motionleap
Price: Motionleap is a free-to-use mobile application that contains in-app purchases. The purchases usually contain additional features and tools for image animation. 
Compatibility: Motionleap application works both on Android and iOS. Click to check some best alternatives to selfie2anime and turn your selfie into photos automatically.
Features:
It is one of the most sophisticated mobile applications for image animation due to its advanced features such as 3D image animation, overlays, effects, and more. 
You can pause an animation mid-way and then apply extra effects on that single frame to enhance the image even more. 
You can also find other artists through this app, specifically through the application's most used hashtags, and post your own art in the space with a chance to get featured.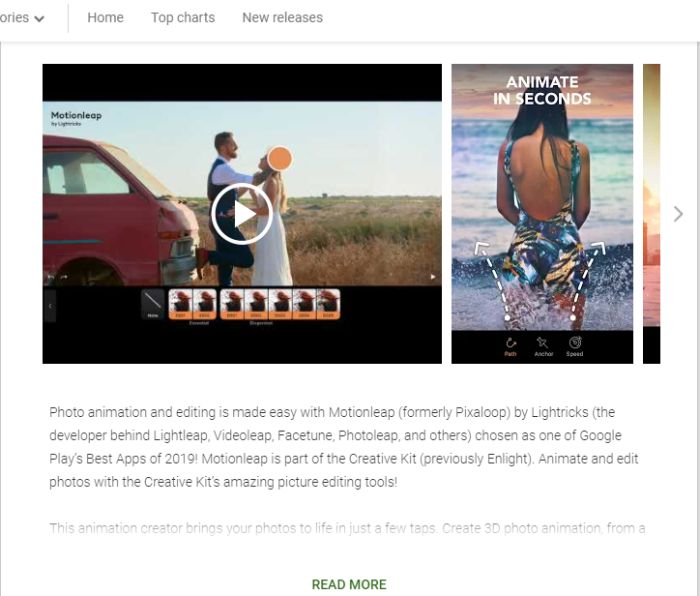 How to Use:
Open the application and search for your image to upload it.
Use the animation effects present below the image in a slide bar form.
Once edited, you can download the image. 
Pros:
Sophisticated features and application in general. 
Cons:
The saving format needs a little more flexibility. 
2. GIPHY
Price: GIPHY mobile application is free to use. 
Compatibility: GIPHY works on both Android and iOS. 
Features: 
GIPHY is known to be the biggest virtual library of memes, GIFs, clips, and similar. It is also at the same time connected to all the popular social media platforms where we usually share memes and GIFs as well. Facebook, Snapchat, etc are included. 
You can record any short clip on your own and upload them in the Creation or Editing mode of this application. Later, you can edit those clips with GIPHY's resources to make it entertaining. 
You can simply type in phrases and the application's database will fetch the right GIF for you. You can get a lot of ideas simply by searching for GIFs.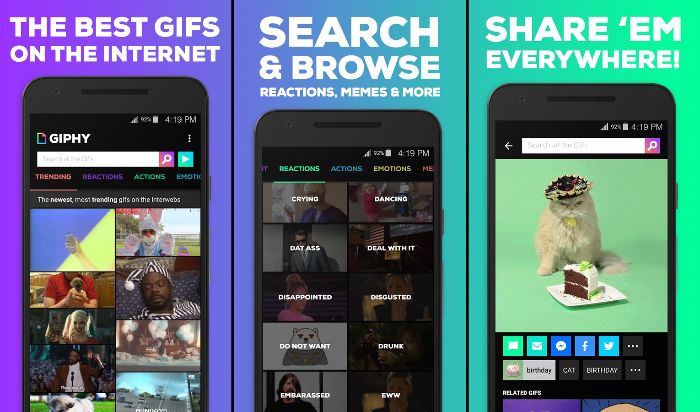 How to Use:
Launch the application and go to Create. 
Upload or take a picture and add stickers or any other effects. 
Click on the Next arrow colored in purple to save the animation. 
Pros:
Probably the biggest library of memes and animations you will ever find in a mobile application.
Cons:
It can take up considerable space on your mobile. 
Conclusion:
These applications should suit your every need when it comes to image animation. They are free-to-use applications with enough features to make you keep using them. Tools like GIPHY and PixTeller not only offer editing but also a vast library of images to get creative with. On the other hand, an application like Kapwing's can give you that professional edge through its security features. Nonetheless, you will find all your requirements met with these applications.
After you make your animed photos, if you want to upsale them without lossing their quality, VanceAI Image Upscaler can be your best choice.
VanceAI PC is full-featured desktop software developed by VanceAI that lets you instantly process local photos in bulk with more customization options, which will significantly simplify your workflow and boost your productivity. It provides a great AI cartoon generator makes cartoonish become an easy thing.Free Download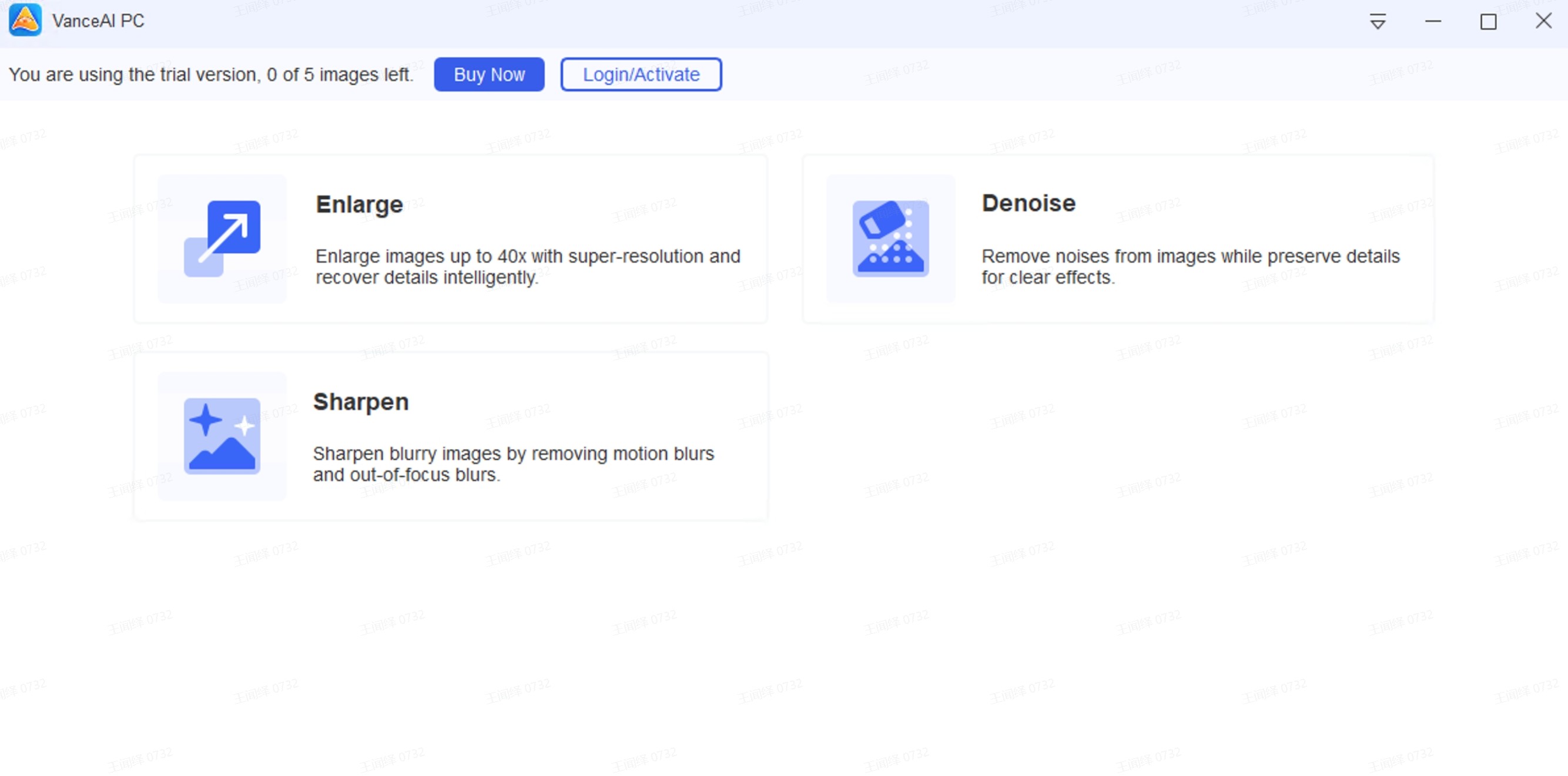 Click to see how to fix chromatic aberration with and without photoshop.
Do you find this post helpful?
Read More to Know Deeper: